Bloody Nightmare, as its name suggests, is a collection of over 550 horror–type noises aimed at sound designers who need to create chills and scares on a regular basis. All the samples are in WAV format, but they have Soundminer and Basehead metadata embedded within them so that they can be searched for easily (Soundminer and Basehead are audio-file management systems). Soundmorph are clearly expecting users of the library, which amounts to 4.4GB in total size, to browse its content using one of the two systems, so the file structure is simple and there are no sub folders.
The folders that do exist, however, have been named using movie trailer music parlance and are Stutters Choppers Cuts Glitches, Horror Impacts, Nightmare Pulses, Breaths and Whispers, Death Pacts, Stingers, Curses, Mega Hit, Psychological, Ambience Mood Drones, Tones, Textural Atmosphere, Risers, EVP and Dirty Dark Hits.
By and large the samples sound like they have been created almost entirely using soft synths. Soundmorph describe Bloody Nightmare as 'modern', which is probably why the samples have that particular sound quality, but some more analogue–sounding content would not go amiss.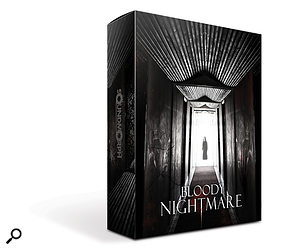 Many of the sounds have a definite pitch and so there is a blurring of the lines between effects and music. Consequently it is a pity that there is no key information in the sample titles. Similarly, there are plenty of rhythmic effects, so having tempo info would be useful for matching the samples to musical scores. That said, the WAVs tend to be quite long compared to typical sample library files, and therefore could be used as mini–compositional elements in their own right.
Missing from the library are foley–type effects, but it would be unreasonable to expect Bloody Nightmare's creators to second guess every sound that might appear in a horror film or video game. Still, a collection of creaking and slamming wood and metal door sounds would be handy, as would a variety of cutting, breathing and tearing sounds, to name just a few obvious examples. Instead, modulated tones, deep sub basses, massive reverbs and huge impacts are the cornerstones of this library. Movie-trailer designers are served very well, but there aren't many subtle creepy sounds for general use between the big scare and action moments.
Without a doubt, using Bloody Nightmare will ensure that your productions sound modern, slick and cinematic, but it's probably also fair to say that what's on offer isn't innovation or originality. The library is certainly very professional, but it makes no attempt to push the boundaries and should be looked at as a workhorse product created by a sound library company that knows its market inside out. Ideal for busy sound designers who take a no–nonsense approach to their work. Tom Flint
$99