24-bit 96kHz Digital Recorder
Tascam have made their smallest, lightest and most straightforward pocket recorder so far.
For several years now, Yamaha's Pocketrak recorders, namely the 2G and the more recently released C24, have been the smallest and lightest solid‑state stereo recorders of their kind on the market, with only Olympus making anything demonstrating similar characteristics. Tascam's DR08 challenges Yamaha's dominance in this area and, like their C24 and Olympus' LS11, it's capable of recording 24‑bit audio at 96kHz.
The DR08 saves its audio files to micro SD or HCSD cards of up to 32GB, and there is the inevitable USB port for backing up to a PC or Mac, or transferring MP3s into the flexible file structure so that the device can be used as a player. As is standard for a recorder of this type, recordings can be made by connecting an external plug‑in‑power mic, line‑level instrument, or using the two cardioid condenser capsules mounted on the end of the device for immediate stereo use.
The most obvious thing setting the DR08 apart from similarly priced competition is the innovative mounting of its microphones, which allows them to be moved into a variety of positions independently of one another. From a neat X‑Y formation, the capsules can be folded outwards to create a 90‑degree spread, or rotated upwards to face away from any surface the recorder is seated on. The combination of the two planes of articulation and the independence of each capsule opens up a variety of recording possibilities, which we'll focus on in a moment.
Looking at the dimensions in detail, Tascam's model is still a couple of centimetres longer than Yamaha's C24, but manages to be a fraction slimmer and narrower. It is also very marginally heavier than the C24 and uses two AAA batteries rather than one, once again losing a couple of points in the size and weight war. Nevertheless, it's still remarkably compact and light, and it could be argued that the extra length is worth conceding, given that the microphones do things of which Yamaha's aren't capable.
Although there's no threaded socket on the underside for stand mounting, and it lacks a drum-mic clip like that used by the C24, the DR08 does have its own built-in, fold‑out, rubber stand at the mic end, which lifts it about a centimetre clear of a desktop so that it angles down to rest on a pair of rubber feet.
With its configurable mics, the DR08 allows you to change the direction and width of the stereo image.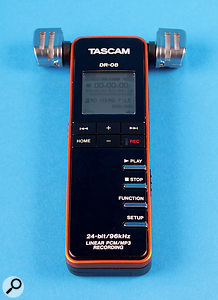 The screen is a respectable size for something so small, and somehow manages to present a great deal of useful information relating to things like sample rate, mic configuration, song position, file size, speaker status and so on, without becoming crowded or too unreadable. Communication with a PC or Mac is very simple, the recorder's card acting just like any other peripheral storage device.
In terms of controls, there is logic to the layout. The Play, Stop and Record buttons are lined up down the right‑hand side together, whereas navigation is tacked by the buttons below the screen, many of which have multiple functions. In some instances they facilitate movement through menus, in others they adjust volume, or simply make it possible to skip through tracks. Navigating menus and selecting options is all done using the Forward, Back, '+' and '-' buttons, prompted by the words 'Back' and 'Enter' appearing on screen whenever appropriate. It's all very straightforward and self‑explanatory, although a well‑written manual is still provided.
Tascam have split all the DR08's settings between two buttons labelled Function and Setup, in preference to having a single Menu page. Each button calls up five menu items, all of which appear visible on screen at once, although most of those have sub‑menus of their own. The System page, for example, which is found in the Setup menu, has a 10‑item menu!
On paper, the structure sounds complicated, but it works pretty well. The aforementioned Back and Enter cues prompt the user to move one step at a time through pages easily enough, but it's also possible to hop from anywhere straight back to the main display with a press of the Home key, or jump directly from the depths of the Function submenus to the Setup page (and vice versa), by pressing the relevant button.
The I/O, including the USB 2 port and card socket, is restricted to the sides of the casing. On the left, the power On/Hold button is found next to the Line out headphone mini‑jack socket, whereas the Mic/Ext input is on the opposite edge, together with a Record Level sensitivity switch providing High, Low and Manual settings. If this is set to Manual, a screen prompt pops up to allow the adjustment while the recorder sits in record standby mode. Otherwise, when using either of the two auto settings, standby is skipped and recording starts as soon as the self‑illuminating Record button is pressed. The Auto settings also have a limiter, which automatically kicks in to prevent overloads, but there doesn't seem to be an overload LED for these or the manual setting. Perhaps Tascam could make the record button's light flash rapidly as a warning?
Although the DR08 doesn't have on‑board effects or rhythm tools, like those offered by some of the competition, it is not short on features that directly relate to audio processing and playback. The Record menu page, where most of the record settings are made, for example, has EQ boost options named Voice, Treble, Middle and Bass, and a low‑cut filter that can be used at 40, 80 or 120 Hz. In Play mode, there are similar options, including Noise Cancel, Voice, Treble, Middle and Bass boost, plus high-cut and low‑cut filters.
There's also a feature I've not come across before, called Jump back, which enables the user to hop back a specified period of time simply by pressing the Play button while the track is ongoing. Playback speed is adjustable from 50 to 200 percent, in jumps of 10, although it is not possible to record at a different speed.
Tascam suggest positioning the mics in a wide position to capture a stereo spread, pointing upwards when recording conference meetings, and straight ahead in X‑Y formation for interview and more focused recording work. This all seems fairly logical, but one thing I wanted to try was recording a vocal and guitar at the same time by having one mic point up towards the face and the other in the direction of the guitar body. When doing this, the level meters didn't register a huge degree of separation, but the recorded file demonstrated an encouraging vocal weighting on one side and guitar on the other.
Recordings made with both mics in a wide, spread position give an excellent 3D image of the acoustic space, whereas the X‑Y configuration sounds good on single sound sources. Whatever the formation, in general the recordings have a pleasingly fulsome sound, not lacking in bass or obviously biased anywhere else in the spectrum. Although the noise floor is noticeable, it is not overly intrusive and pretty much what I've come to expect for a product at this price point. Tascam's DR2d has much less self‑noise but costs considerably more, for example. Handling noise is a problem, though, so this really is a product designed to be left alone during recording.
The DR08 has been designed really well, possessing an intangible logic that is often missing in product design. Tascam have not been sidetracked into adding effects, drum machines or peculiar recording options to boost the spec sheet, but have thought hard about what gives the user maximum control over the recording process, without holding them up with too many settings.
Admittedly, there's a bit of delving into menus when setting some of the levels and EQ parameters, for example, which could be avoided by having more dedicated buttons at an extra cost, but I think the balance is about right. Indeed, although there is no dedicated button for changing playback level, it can be tackled without confusion in the blink of an eye, just by using the generic controls.
The fold‑out rubber stand is a great idea, but some sort of stand-mounting option is something to include on future models, as are an overload LED and guitar tuner, the latter being a feature that is fast becoming standard for this type of product. Still, the DR08 brings a few good ideas of its own to the table, Jump Back being particularly noteworthy.
Overall, the DR08 is a really solid performer, and offers the sort of recording flexibility that could give it the edge over some of the competition.  
The clear competition comes from Yamaha's C24, which has a similar specification but slightly lower UK RRP, at £169and is also similarly priced. Olympus' LS11 costs significantly more. What's nice about the Yamaha is that it has a retractable USB connector so that, like a memory stick, it doesn't need a lead, and this doubles up as a means of connecting the recorder to a little drum‑mic-style clip. There's not much to choose between the two in terms of size. The C24 is shorter, but its mics are fixed. On balance, the DR08 feels the easiest to use and better constructed, but there's not much in it.
Pros
Straightforward design, easy to operate.
Lots of record and playback settings to tweak.
The articulating mic capsules open up an enticing range of recording possibilities.
24‑bit, 96kHz option if you need it.
Cons
No signal‑clip LED.
Lacks a fixing for stand‑mounting.
Prone to handling noise.
No on‑board guitar tuner.
Summary
A simple, well‑designed recorder that offers high bit-and sample-rate options, and all sorts of microphone positions. It is light and small enough to operate from a single hand position, and has a streamlined feature set aimed at recording rather than processing.
information
£205 including VAT.
Tascam UK +44 (0)1923 438880.
$199.99.
Tascam +1 323 726 0303.