Expansion packs for Superior Drummer 2.3
When Toontrack's Superior Drummer 2.0 was first released, the only significant criticism that could be made was that it was only supplied with a limited number of instruments. Since that time, Toontrack have addressed that with their SDX (expansion) packs, like this one, Roots. In fact, it's available as two separate packs: 'Sticks' and 'Brushes, Rods and Mallets', and there are no prizes for guessing what the difference is between them.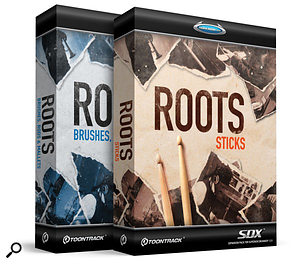 The two SDXs come in at a hefty 64GB of sample data, but you can choose a smaller-footprint installation if you wish. All the recording was performed in a top-notch Nashville studio and the kit pieces include Pearl, Gretsch, Ludwig, Zildjian and Paiste drums and cymbals. The Sticks SDX runs to 37 kit pieces, while the Brushes, Rods and Mallets SDX is a more restricted collection, but, of course, played with each of the different implements.
The 'Roots' title might mean different things to different people, but Toontrack suggest that these samples are intended to work with Jazz, Blues, Hip Hop and Rock. This wide range certainly applies to the Sticks pack, and there are some really excellent drum sounds here that would make useful additions to the default collection included with SD itself. The snares go from a crisp ping (a Yamaha) to a sloppy punch (a Leedy), while the kicks also offer good variety. The Brushes, Rods and Mallets pack is perhaps more likely to appeal to jazz and blues fans, but, again, the quality of the sounds is top-notch and the various playing tools all bring a different character.
Available with both packs is an associated collection of MIDI grooves that can be download from the Toontrack web site. As with all the modern virtual drum tools (BFD2 and Addictive Drums included), while these MIDI grooves are a tiny drop in the hard-disk-space ocean when compared to the samples, their value as part of the SDX should not be underestimated. The Roots MIDI grooves are split into Big Band, Ballad, Funk, Blues and Swirls categories, and do bring out the best in the samples. With the exception of the Funk grooves (which are a little more full-on), the playing is beautifully subtle. If you are a jazz fan, there is plenty to work with here, and the range of brushes just adds to the possibilities.
If you're serious about your drum samples, Superior Drummer is definitely up there with the best, and for jazz musicians looking for some utterly convincing drum sounds and performances, the two Roots SDX packs both sound wonderful. Highly recommended! John Walden
Bundle £179, or £125 per pack. Prices include VAT.