I was concerned to see Roger Nichols' article about 'Balanced Mains' in SOS September 2006. The concept of balanced mains is popular in the US (where lower supply voltages are an advantage) and is sometimes employed for medical applications in 230V regions where great care needs to be taken to get rid of ground noise. However it is extremely irresponsible to suggest that a balanced mains system can just be plugged-in to replace normal powering.
Balanced power in 230V regions gives two 115V legs and, with normal single-pole fusing, leaves equipment potentially live after a fault. The operation of all safety breakers — both simple overload and RCD types — also needs to be considered very carefully. It is perfectly possible to produce conditions where the addition of balanced mains could allow potentially lethal fault conditions to exist.
While it is possible to use balanced powering safely (as in hospitals), the entire system of mains supply and connected equipment must be viewed as a whole. The mains-switching, fusing and filtering of every item plugged in; the earthing and RCD arrangements of the supply side, and any local safety measures must be considered.
I would suggest that anyone using 'ground-lifting plugs' in a studio — as described in the article — will not realise that they should be using a specialist electrician to install a balanced mains system. By giving advice contrary to that, I think Roger Nichols and SOS are exposing themselves to as much risk as are the possible users.
Chris Woolf
Technical Editor Hugh Robjohns replies: Thank you for raising this very important issue. Roger Nichols' recent article has stirred considerable discussion on the SOS Forum as well, and I am grateful for this opportunity to clarify the situation.
Figure 1. Standard PME (unbalanced) power: If a fault should arise, the live side fuse will blow and the equipment is rendered safe.
The use of balanced mains supplies as an 'instant cure-all' for poor earthing practices or as a 'quick fix' for system ground loops is not an approach that I would recommend lightly. It might appear to offer an easy (although not cheap) solution — and I know it is widely used in America — but as you point out there are very serious and life-critical safety considerations for its use in the UK and Europe, principally because of the higher mains voltages employed.
Even in America where balanced power is recognised under the National Electrical Code (Article 530) for technical power applications, the documents state "access must be restricted to use by qualified personnel only." I wonder how many people using this arrangement actually understand the implications and dangers, let alone are legally qualified!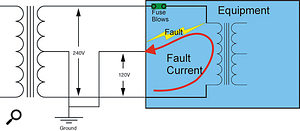 Figure 2. Balanced power fault: If a fault should arise, the live side fuse may blow but a lethal fault current can still flow via the Neutral side.
The critical issue is that virtually all commercially-available electrical equipment is designed for exclusive use with standard unbalanced domestic mains supplies, and is consequently only fused in the live side because that is the only safe arrangement. This kind of equipment is inherently unsafe when used with unprotected balanced mains supplies since, if a fault develops and the internal fuse blows, the equipment will still remain live via the 115V still present on the 'neutral' leg — and it will therefore be potentially lethal. In the US the remaining mains voltage would be restricted to about 60V, which is obviously less lethal, although still not a good idea!
To counter these inherent risks, some manufacturers of commercially-available, self-contained balanced mains supply units incorporate individual current balance ('earth leakage' or GFCI) trips on each balanced mains outlet. These will detect fault conditions and isolate both sides of the mains supply to protect both the equipment and the user, and so this kind of device is safe to use with normal single-fused equipment. Some products provide current-balance trips for a group of outlet sockets, and although less convenient, this arrangement is still intrinsically safe.
However, it seems that many balanced supply products are less well specified and are potentially lethal in Europe. For example, some units appear to offer a combination of both fully protected and completely unprotected sockets — and while there may be legitimate technical reasons for this, I doubt many users would appreciate the differences and dangers involved.
Figure 3. Using PME (unbalanced) power without an isolating transformer: Touching the live terminal will result in a shock as the body completes a circuit between live and earth.Far worse, some products appear to provide current-balance trips only on the mains input to the balanced supply unit. This arrangement will detect faults within the balanced mains unit itself, but it cannot protect the equipment supplied by it, or the users. Another arrangement I have seen is where only current-overload trips are provided to protect a group of sockets. This is an unsafe configuration since single-fused equipment faults could easily draw very large currents without tripping anything — potentially starting fires or killing someone.
While commercial balanced mains supply equipment sold in Europe should carry a CE mark, this does not imply in any way that they are suitable for unconsidered connection to any electrical equipment. The CE mark is a self-declared enforcement mark, not a certification of inherent safety.
While a balanced mains supply is not inherently unsafe in itself, the original installation and all equipment powered from it needs to be overseen by a competent electrician because the assumptions for normal unbalanced mains equipment are invalid for balanced mains (centre-tapped earth) systems. Of course, finding a competent electrician might prove tricky — few will even have heard of balanced power, let alone worked with it — so if you or your electrician are in the slightest doubt about using it, the best advice is don't! Far too much can go wrong and it's really not worth killing yourself or your colleagues just to reduce the system noise a little.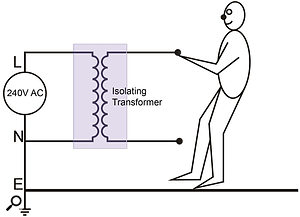 Figure 4. Using PME (unbalanced) power with an isolating transformer: Bridging between either terminal and ground is safe because there is no circuit through which the current can flow.
The saddest aspect of all this is that if we always worked with balanced audio connections for everything this whole balanced mains business would be completely unnecessary. The safety ground path has no business to be involved with the signal reference ground. If safety ground and signal references don't mix then the only possible interference from power lines is by magnetic induction and radiated electric fields. The latter is almost invariably avoided by simple screening of audio cables, and the former is unchanged by balancing the mains anyway, since the same current flows round the same conductors. In fact, switching to balanced mains supplies can make magnetic induction problems considerably worse as the electromagnetic fall-out from the huge transformers used in these products is considerable!
A much safer, much more familiar, and more accessible alternative to a balanced mains supply — but one that provides exactly the same benefits of reduced ground noise — is to use a mains-isolating transformer on standard unbalanced (PME) mains for each audio device that is susceptible to earth line noise (see figure 4). The working principle is that the output side of the mains transformer 'floats' — there is no earth connection at all — and you cannot, therefore, get a lethal shock off the equipment powered from it under any circumstances. Equally, there can be no leakage currents to or from the earth if there is no connection to it. However, it is critically important that you connect only one piece of equipment to an isolation transformer. Connecting multiple devices completely negates the safety aspect, and a fault in one item will render all connected equipment live!
I recently came across Martin Walker's informative article 'Entry-level Music Applications' from SOS April 2005, which compared different versions of a number of music software packages for the PC. Considering how widely Pro Tools is used (on the PC as well as Mac), I would like to ask the author why it was omitted from that article.
Russ Kallen
PC music specialist Martin Walker replies: I'm glad you found my feature informative — judging by discussions since it appeared, it does seem to have made a lot of musicians consider entry-level versions of various audio applications instead of going in search of illegal cracked copies of their flagship versions, which is encouraging news!
I intended this feature to plant such seeds, and to provide an overview of different styles of music software to suit different approaches to making music. There was no way I could cover every software application, which is why, in my discussion of MIDI + Audio sequencers, I said "I've deliberately concentrated on the Steinberg and Cakewalk ranges in this section, as these tend to be the first port of call for so many PC musicians. However, there are other MIDI + Audio products available, such as those from Samplitude and Magix, to consider."
Perhaps I should have added Digidesign's Pro Tools to that list, although there is one important difference to every other software application I covered in my feature: the vast majority of Pro Tools versions only run with Digidesign's own hardware — Pro Tools HD at the higher end of the market, and Pro Tools LE at the more affordable end with interfaces such as the Digi 002 and Digi 002 Rack versions, plus M Box and M Box 2, neither of which are cheap. As this was for 'entry-level' applications, I thought it was relatively irrelevant.
M-Audio's acquisition by Avid Technology (who also own Digidesign) has resulted in the entry-level Pro Tools M-Powered software, which, I might add, had only just been unveiled at the time of the article appearing in SOS. Pro Tools M-Powered is compatible with about 20 M-Audio interfaces and will let you load your sessions into far more expensive Pro Tools HD systems later on, and is proving very popular. If you already have a compatible M-Audio interface (www.maudio.co.uk provides the full list), then you should certainly download the software trial version and give it a try.
However, this still ties you to specific hardware, which may not suit everyone. The only hardware-independent Pro Tools software I'm aware of is Pro Tools Free, which was available several years ago as a free download. It was limited to eight audio tracks and 48 MIDI tracks, but the PC version only ran on Windows 98/ME and not the far more popular XP.
I read John Walden's article about Real Guitar and Virtual Guitarist 2 in SOS September 2006 and downloaded a demo version of Real Guitar so I could have a play around. My question is about recording with Real Guitar.
If I make any changes while recording, like changing the demo pattern I'm playing from, 'Picking/16th/P40_Basic_4'4' to 'Picking/16th/P47_Basic_4'4', for example, the changes affect what I am hearing as I record, but do not play back after I've pressed stop; it all plays back as per the current (latter) settings.
Real Guitar's Pattern Manager allows you to drag-and-drop patterns into your DAW's arrange window. Here, there are two MIDI tracks set up in Cubase SX: the first for the basic chord sequence and the second for the different patterns.
Presumably recording using Real Guitar has to be flexible enough to enable you to change various settings while you are recording? Or is this just a limitation of the demo version?
Neil Courtis
SOS Contributor John Walden replies: I'm glad you enjoyed the Real Guitar review. I think the answer to your question is actually quite straightforward, although I must admit that, at first, I also scratched my head a little over getting the preset patterns into my sequencer (Cubase SX) to build a complete guitar part. The behaviour you describe — where you can audition various patterns on-the-fly via the Pattern Manager as your project plays back — is exactly as it should be. The step you are missing is to copy and paste the various patterns you require onto a suitable sequencer track. This is done by clicking and dragging from the yellow area at the base of the Pattern Manager window — which shows a visual representation of the various Real Guitar Repeat Key sequences that produce each of the strumming or picking patterns — to a suitable MIDI track in your host sequencer's arrange window. Each pattern can then be copied and arranged within the host sequencer, as for any other MIDI clip, to build-up the complete part.
As I mentioned in the review text, within Cubase SX, I found it easiest to use two MIDI tracks for each instance of RG2L. In the first, I recorded my basic chord sequence that I want RG2L to respond to, while in the second, I dragged-and-dropped the required patterns. The software then plays back the chord sequence from the first MIDI track using the picking and strumming patterns contained within the second. This all worked without a hitch in Cubase SX.
I'm not aware that this drag and drop function is absent from the demo version, although the demo version does only contains a small selection of the patterns included in the 2L version of the software.