The choice of motherboard determines which processors can be fitted, the type of memory needed and the number of expansion slots available, but the model is rarely named by system manufacturers. The Abit BE6 shown here is fairly exceptional in supporting up to eight internal EIDE drives.
Martin Walker considers what to look for when buying a new PC or upgrading an existing one, if you want it to remain up‑to‑date for as long as possible.
With new developments in the PC world happening faster than many people can keep up with them, a machine that was state‑of‑the‑art a few months ago can end up struggling to run the newest software. When your computer begins to have difficulty, it is usually time to upgrade its processor, soundcard, memory, or hard drive — and it is at this point that decisions you made when you originally bought the machine can come back to haunt you. Some PCs will remain upgradeable in all respects for years, while owners of others will swiftly find themselves with the frustration of having no viable upgrade path. It makes sense, therefore, to plan ahead by making more informed choices when first buying a PC, in order to ensure that it is built to last — able not only to make the most of current developments, but also to stay in the running for as long as possible.
The often bewildering set of choices that confronts those attempting to choose a suitable model of computer are made even more difficult by the special requirements of MIDI and Audio software and hardware, since a machine that is ideal as a 'home computer' may prove troublesome or occasionally impossible to use for music applications. So, let's look at what's important for music, what isn't, and how to ensure that your new PC will have the longest and happiest life.
Fitting any Socket 370 processor (such as the Celeron range) to a Slot 1 motherboard is easy if you buy a Slotket adaptor board at around £10.
For musicians working with digitised audio, large, fast hard drives are vital. Thankfully larger and larger hard drives are now available at ever faster speeds, and inside nearly every PC there is room to fit at least two drives, so running out of storage space shouldn't be a major problem. The latest 7200rpm UDMA models also provide excellent performance and value for money, although there are still plenty of even faster 10,000rpm SCSI drives if you have more money available. There's little point in my trying to recommend specific drives, since the models change so frequently. The fastest ones also tend to make more acoustic noise, so choosing a drive can often be a compromise. While there are many web sites that include hard disk performance figures, Storage Review (www.storagereview.com) is one of the few that I've come across that also give you some idea of noise levels, which is a great help to the PC musician.
Several of the new motherboard chipsets (see later) feature Ultra DMA66 capability, which provides twice as much bandwidth for hard drives as the previous UDMA33 standard. No doubt many people are getting excited about buying a new UDMA66 drive and doubling the maximum number of audio tracks, but unfortunately this simply won't happen. Although the peak transfer rate of 66Mb/second has doubled, the important parameter for hard disk audio is always the sustained transfer rate of the drive itself, and even the fastest UDMA66 drives available at the moment still don't reach the sustained limit for the older UDMA33 interfaces. By all means buy a UDMA66‑capable drive, but don't worry that you will be compromising its performance running it on a UDMA33 interface — its sustained transfer rate will be identical, the access time identical, and the CPU overhead will be identical as well. However, for those with multiple EIDE drives, there is one extra incidental possibility that might prove extremely useful to some musicians. The new Abit BE6 Slot 1 motherboard provides two EIDE controllers — one supporting UDMA33, and the other UDMA66. This means that up to eight devices can be attached, rather than the usual four. This would allow further expansion even for those who have a CD‑ROM, CD‑R, and two EIDE hard drives.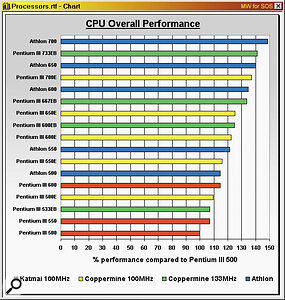 The new processor ranges can be confusing, but this chart shows how overall performance compares for each model. Floating‑point performance for the Athlon puts it even further ahead of the new Coppermines, but the extent of its superiority varies significantly depending on which tests you use.
The most rapid area of PC development is in processor speeds, and to make things more confusing, there is a range of different and incompatible processor chips, each of which needs a specific type of motherboard. This makes the choice of motherboard crucial to the long‑term future of your PC, so for the benefit of those who have rather lost the plot, here is a brief resume of the story so far.
Many people still happily use motherboards fitted with Socket 7 processors, which include the Intel Pentium and Pentium MMX series, as well as the AMD K6, K6‑2, and K6‑III. Intel have long since abandoned Socket 7, and it is only really AMD who have continued to champion it with their K6‑2 and K6‑III processor ranges. These have got faster and faster, and motherboard chipsets from companies like VIA have allowed the front‑side buss to be increased from 66MHz to 100MHz, the amount of motherboard cache memory to be increased to as much as 2Mb, and for an AGP graphics card to be fitted. There are still companies selling budget K6‑III systems, but their floating‑point performance lags far behind that of similarly priced Celeron systems, so they cannot be recommended for serious audio use if you want to run real‑time plug‑in effects. In addition, some soundcards (such as the Echo range) have problems running with VIA chipsets and Windows 98.
During the last couple of years, the most popular choice has been Slot 1 motherboards. First introduced by Intel in 1997 for their then‑new Pentium II processors, the Slot 1 format was a radical change in mechanical design, placing the processor on its own small circuit board with an edge connector, rather than using the multi‑pin plug and socket of all previous processor designs. The most popular motherboard chipset for Slot 1 processors was the Intel 440BX, which featured a 100MHz front‑side buss for the first time (I discussed this in the September '98 PC Notes column) and an AGP graphics‑card slot.
Slot 1 is still the most popular format at the moment, thanks to its use by the first Celeron processors and the newer Pentium III range. However, processors that had their own circuit board proved more expensive to produce, which led to later Celeron processors being manufactured using the rather simpler and cheaper Socket 370 format. This looks rather similar to the older Socket 7 design, but has rather more pins and needs a different motherboard. Socket 370 motherboards often feature the 440ZX chipset (a cut‑down version of the 440BX), but the new Intel 810e chipset is taking over rapidly and has the advantage of supporting the faster 100MHz front‑side buss, which will help when the new range of Celerons supporting this faster buss speed are launched in 2000.
However, nearly all Socket 370 motherboards present two major disadvantages for musicians. First, they are primarily designed for low‑cost machines, and therefore have limited expansion potential (many have only three PCI slots). Second, as part of the budget approach, the newer 810e chipset has built‑in graphics and sound. While this is useful in keeping overall cost down, most musicians will want to disable these features fairly quickly, fitting a high‑quality soundcard and faster graphics card. This would leave you with a single free slot for future expansion — not a very desirable scenario.
The solution for those who want plenty of processor power at a bargain price is to take advantage of the Slotket (Slot to Socket). This is a small conversion board which allows you to plug any Socket 370 processor (such as the current Celerons and future Pentium IIIs) into any Slot 1 motherboard. They are available from most PC suppliers at about £10, and let you take advantage of the much better expansion possibilities of Slot 1 motherboards. If you are thinking of buying a Celeron‑based PC then it is important to specify a Slotket, and have PC100 SDRAM fitted as well (see the Buddy, Can You Spare A DIMM? section), to allow a faster replacement processor to be fitted at a later date without having to replace your RAM and motherboard too.
Inevitably, alternatives to the Intel 440BX chipset have appeared for Slot 1 motherboards. The recent VIA Apollo Pro Plus provides superior speed and a better feature set. It supports Ultra DMA66, PC133 and VCRAM (Virtual Channel RAM), as well as a 133MHz front‑side buss. All of these new technologies will be covered later on. The Pentium III range still run a 100MHz FSB, but some people already overclock this to 133MHz. Intel have just launched the first 133MHz FSB models (see the Meanwhile At Intel section) along with the new i820 chipset, nicknamed the Camino, to support them. The Camino has an AGP 4x buss (once again, great for game players, but of limited use for music software), a 133MHz front‑side buss for the memory and processor (the improvements are likely to be minimal in most mainstream software, but may well benefit some memory‑intensive applications), RDRAM (or Rambus memory — more on this later) and Ultra DMA66.
Here (courtesy of the famous Tom's Hardware Guide web site at sysdoc.pair.com) you can see the physical differences between processor packages. At the top is the Athlon, while the middle and bottom packages are both Pentium IIIs (notice the different connector arrangement from the Athlon). The middle one is the newer Coppermine, and you can not only see that the central silicon chip is noticeably smaller than the Katmai at the bottom, but also that it has no separate L2 cache chips.
AMD's new Athlon processors (see box on page 166) have obviously made Intel redouble its efforts to launch new processors. The latest models to appear are the first from the new 'Coppermine' range. These are largely similar to the current Pentium IIIs, but are manufactured using a smaller 0.18‑micron technology, which means that they can be made more cheaply. They also run at a lower voltage and temperature, which means that clock speeds will eventually exceed those of theother Pentium III models (and that noisy fans might become unnecessary). The other major difference is that, rather than having 512Kb of L2 cache running at half processor speed, the Coppermine models have 256Kb of integrated (ie. on the same piece of silicon) L2 cache running at full processor speed, as well as various other cache enhancements.
Since the Coppermine models don't need the external cache chips of previous Pentium II and III models, Intel could release them all in Socket 370 format (just like the cheaper Celeron range). However, they are supplied in both Socket 370 and Slot 1 formats, depending on the clock speed: a bewildering choice of eight new models is available, with clock speeds ranging from 500MHz to 733MHz. Some run with a front‑side buss of 100MHz like the existing Pentium III range, while the rest run at 133MHz. Rather than bog you down with all the details, let me just say that Coppermine is about 10 percent faster than the old Pentium III for office applications and some games, but the Athlon is anything up to 40 percent ahead in floating‑point performance and is also cheaper.
The current Celeron processors can all use memory designed to run at a system speed of 66MHz, but it would be shortsighted to fit this to any PC now, either as an upgrade or in a new machine. This is because all faster processors use a minimum system buss speed of 100MHz, so you need to specify 100MHz SDRAM (more correctly known as PC100) to run with these as well. This will run perfectly well at the lower 66MHz buss speed, but will also work if you fit a Pentium II or III processor. In addition, a new range of Celeron Coppermine 128 processors using a similar 100MHz buss is to be launched next year. The majority of current PCs use PC100 SDRAM.
PC100 memory will eventually be superseded by one of two rival RAM technologies: PC133 SDRAM or Rambus memory. The VIA Apollo Pro Plus motherboard chipset supports both PC100 and the faster PC133 memory (exactly the same as PC100, but rated to run at a higher system speed), allowing the option of using the latest 133MHz FSB processors. On the other hand, Intel's i820 chipset supports only Rambus technology. Rambus‑compatible motherboards need RIMM (Rambus In‑line Memory Modules) sockets fitted with RDRAM. This has twice the bandwidth of conventional SDRAM, but until recently has come at a much greater cost. There is only a small increase in performance with the i820 and RDRAM over the Apollo Pro Plus and PC133 SDRAM. However, in the aftermath of the tragic Taiwanese earthquake the price of SDRAM has doubled, closing the gap with RDRAM. Many PC suppliers now advise people to ring for the latest price before ordering any form of RAM, since prices are so volatile.
It makes sense to plan ahead by making informed choices when first buying a PC, in order to ensure that it is built to last — able not only to make the most of current developments, but also to stay in the running for as long as possible.
However, a third technology, NEC's VCRAM (Virtual Channel RAM), is creating a lot of interest, largely because it is significantly cheaper than RDRAM and can use the standard DIMM sockets currently used by SDRAM memory as long as the motherboard is designed to support it as well. This requires an Apollo Pro Plus chipset, and can produce faster results than Rambus technology using existing machines.
At the moment it is fairly safe to assume that PC100 SDRAM will continue to be used for some considerable time, and that PC133 memory will start to be used more as well. As for the other two technologies, it is hard to say which will succeed. The main thing to remember is that if you want one of the fastest Pentium III processors you will need to have some sort of 133MHz memory.
Memory requirements are also getting bigger, largely due to the amount of buffering needed for samples and audio tracks used by multitrack audio sequencers, soft synths and samplers. Whereas 64Mb was considered perfectly adequate for most applications last year, many people are now installing 128Mb or more memory, especially when running a software sampler and sequencer alongside one another. The most ambitious soft‑synth machines may have 256Mb or more installed.
Most motherboards can have a huge amount of RAM fitted (mine quotes up to 384Mb, and many more recent ones can have 768Mb fitted), but it is the number of slots available and their usage that matters. When I bought my machine I specified 64Mb of 100MHz SDRAM in a single device using one slot. This left me two spare slots, giving plenty of expansion potential. Depending on RAM prices at the time, some dealers may instead fit two 32Mb devices, giving you fewer options later on. So, whether you specify 64Mb or 128Mb, get it in the form of a single DIMM.
Probably the most important long‑term consideration for PC musicians is the ability to add more expansion cards. Unlike the majority of home or small‑business users, who tend to get by with one of everything, the musician can always fill another slot. For a start, many people now routinely fit more than one soundcard in order to add more audio I/O channels, extra synth facilities, or DSP mixing and effects. However, a new PC could arrive already fitted with a soundcard, internal modem card, MIDI interface, PCI graphics card and SCSI host adaptor card, leaving little scope for further additions, especially in the case of smaller desktop units or those with Socket 370 motherboards.
If you are thinking of buying a new PC then there are various things you can specify to keep the maximum number of slots free for further expansion. First, it is important to consider whether you really need any of the older ISA (Industry Standard Architecture) card slots. Very few ISA devices are now being launched, as the newer PCI (Peripheral Component Interconnect) slots provide much better performance possibilities. However, you may have older ISA devices (like my AWE64 Gold card) that are still useful and warrant a slot or two. Fitting an AGP (Accelerated Graphics Port) graphics card can also save a PCI slot (see box).
The choice of motherboard is what determines the number and distribution of expansion slots. The most popular combination is now five PCI slots and two ISA ones, along with one AGP graphics slot. However, you can only ever fit seven cards plus one AGP card in total, since one of the PCI and ISA slots is always shared — it can be fitted with either type, but not both. So, for instance, a PC with five PCI and two ISA slots could be fitted with either one ISA and five PCI cards, or two ISA and four PCI cards. If you anticipate fitting lots of PCI cards then you could go for one of the few motherboards that do have six PCI slots and one ISA. If you have the option, it is important to choose the slot arrangement that most closely matches your requirements, since it is not something that can be changed later without rebuilding the PC with a new motherboard. Unless you still have any ISA devices, I would recommend getting a PC with as many PCI slots as you can find.
There are also various ways to keep as many expansion slots free as possible. Using an external modem rather than an internal one will relieve a slot, cost only a tiny amount more and have the advantage of giving you useful LED readouts — some models can even act as a stand‑alone fax/answerphone device when your PC is switched off. Similarly, using an external MIDI interface will save a slot by using a serial, parallel or USB port instead, and where multi‑port devices are concerned, having a readout of MIDI activity on an external box can be a godsend for fault‑finding. You can get motherboards with SCSI support built in, to save adding a separate host adaptor card; even if you prefer to use the latest UDMA hard drives, having SCSI can help you connect to external samplers and stand‑alone hard drives.
So, armed with this extensive knowledge of the latest PC options, what's the best bet for the PC musician? Well, as always it's horses for courses. First, we can discard the K6‑III range from AMD as too slow for running real‑time plug‑ins (although they're fine for MIDI work), and the Intel Xeon range (with the cheapest 500MHz model retailing at over £700 for the processor alone, these are priced way too high for the vast majority of musicians). This leaves us with the IntelCeleron range at the budget end of the market, the Intel Pentium III (including the new Coppermine range) at the upper end, and the AMD Athlon, which offers even better floating‑point performance than a Pentium III and may be cheaper.
If you are thinking of buying a Celeron‑based PC then it is important to specify a Slotket, and have PC100 SDRAM fitted as well, to allow a faster replacement processor to be fitted at a later date without having to replace your RAM and motherboard too.
Celeron‑based systems offer the best value for money, and if you specify a Slot 1 motherboard with a VIA Apollo Pro Plus chipset then you will be able to upgrade to PC133 and all the latest Pentium III Coppermine processors without changing anything else. Frankly, the Celeron offers such similar performance to the Katmai Pentium III with most software that it's just not worth laying out more money for the latter (see my 'Fast Lane' feature in the April '99 SOS for more details).
If you need a faster processor than the current fastest 500MHz Celeron model, you could either buy an Athlon or a Coppermine Pentium III‑based system. Either would be suitable for an all‑in‑one solution running a MIDI + Audio sequencer and a software synth or sampler. For those who really do crave the best floating‑point performance for real‑time audio, an Athlon system seems hard to beat, although once bought you can only upgrade to faster Athlon processors. Just for once AMD is ahead of the game, and plenty of people like to champion the underdog, but the dust has yet to settle, and Intel will no doubt be resorting to some pretty aggressive pricing until it releases yet faster processors. Isn't progress wonderful?
The latest batch of Intel Pentium III releases can be downright confusing, since there are now so many models with similar names. The E models all feature the smaller Coppermine 0.18‑micron core that runs at a lower voltage and temperature, while the B models all have a faster 133MHz front‑side buss. Those with the slower 100MHz FSB can be plugged in as direct replacements in existing 440BX motherboards (as used in the majority of current Pentium II and III PCs).
| | | | | |
| --- | --- | --- | --- | --- |
| Core | Model | Package | FSB (MHz) | L2 cache (Kb) |
| Celeron (0.25) | 333,366,400,433,466,500 | 370 | 66 | 128 (full speed) |
| P III Katmai (0.25) | 450,500, 550,600 | Slot 1 | 100 | 512 (half speed) |
| P III Coppermine (0.18) | 500E,550E | FC‑PGA370 | 100 | 256 (full speed) |
| P III Coppermine (0.18) | 600E,650E,700E | Slot 1 | 100 | 256 (full speed) |
| P III Coppermine (0.18) | 533EB,600EB,667EB,733EB | Slot 1 | 133 | 256 (full speed) |
Until recently only Intel processors were routinely recommended for audio use, since the floating‑point performance of processors made by their main rivals AMD was significantly slower. Both the K6‑2 and K6‑III ranges suffered from this limitation, despite running faster than the equivalent speed Intel device in most mainstream applications. However, AMD's new Athlon processors have proved to be typically 10 percent faster than Pentium IIIs running at the same clock speed for most general‑purpose applications. More importantly for musicians, their raw floating‑point performance is also around 20 percent faster than that of the Intel Pentium III range. As an added incentive, the Athlon is very aggressively priced when compared with the Pentium III.
However, one fly in the ointment is that it uses yet another mechanical format named Slot A, and therefore needs a completely different motherboard. This makes it more suitable as a choice for a new PC, than an upgrade, although with motherboard prices typically in the area of £100, many with DIY skills are already considering scrapping their existing Slot 1 motherboard and moving sideways. Slot A motherboards with the new AMD 750 chipset have been in very short supply, but once again feature UDMA66 support.
Many parts of the industry are being slow to offer Athlon‑based PCs — a general reluctance to abandon the comparative safety of supporting Intel is possibly being reinforced by a little behind‑the‑scenes pressure from the larger manufacturer. Much software has yet to be tested with the Athlon, and despite excellent benchmark figures some incompatibilities may yet surface, although I've yet to hear of any problems with existing software. It will be interesting to see how many musicians take the Athlon up as an option. However, those of us still following the Intel road also benefit, since Intel have been forced to drop the prices of their Pentium III range significantly to compete: in August the typical price of a Pentium III 500MHz processor was £400, while the October price was more like £200.
Nearly all modern motherboards now feature an AGP slot to allow the graphics card to be removed from the PCI buss. This doesn't necessarily improve graphics performance (although most of the latest fast cards are likely to be AGP ones), but it does eliminate a frequent source of audio glitches by removing the graphics overhead from the PCI buss. So, for this reason, and to leave as many PCI 'empties' as possible, always fit an AGP graphics card. If you're buying a new graphics card, don't be unduly tempted by the latest 3D models. Although these cards will make 3D games run significantly faster, music applications simply don't use 3D facilities at all, and a study of benchmark test figures shows that most cards have very similar performance when displaying 2D graphics, especially with slower main processors. You won't find many 2D‑only cards about nowadays (they nearly all have 3D facilities built in), but cheaper models should perform just as well as more expensive ones if you never play games. This is the reason why many specialist music dealers fit anonymous cards.
However, a faster processor (such as a Pentium III or Athlon), can shunt data to the graphics card far more quickly, and the faster graphics cards can take advantage of this, displaying graphics up to 50 percent more quickly. Whether or not this will make much difference to the performance of music software is debatable, but with fast AGP cards available at under £50 it's worth upgrading if you are still using a PCI one.