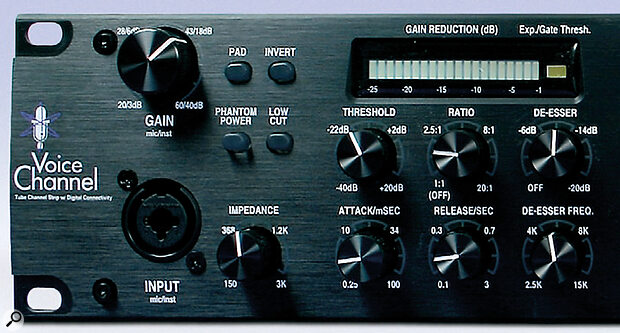 ART's Voice Channel has a variable input impedance: it won't be useful on all mics, but it can affect the voicing of moving‑coil dynamic mics and some others which feature output transformers.
I am trying out an ART Voice Channel, which has some interesting features, one of which is a dial to vary the microphone impedance continuously from 3kΩ all the way down to 120Ω. So I have been testing this with a bunch of dynamic and capacitor mics, which have output impedances ranging from 100Ω to 350Ω. I've also tried this with a Triton FetHead [in‑line booster preamp].
I've read Hugh's 'Understanding Impedance' article (SOS January 2003) and some other sources on the topic. I also know about the '10:1 rule' and understand that dropping below that ratio can cause a high‑frequency roll-off, but it's typically very high so not really audible.
What I've learned so far is that while I cannot hear any frequency response change, the mic sensitivity changes a lot when I lower the input impedance. So, naturally, I then turn up the preamp gain and then the sound can change a lot — the ART Voice Channel has a tube, but lots of mic pres do nice things when driven. There seems to be lots to discover here, but initially I have two questions. First, am I right that if I can't hear any HF roll-off I should not worry about anything? Second, if the impedance lowering also lowers the sensitivity, then I use the gain on the preamp to bring it back up, am I right that I am engaging more of the preamp's natural tonal breakup colour — or am I just introducing more noise because the preamp is not being overloaded in this scenario?
Andrew Culver
SOS Technical Editor Hugh Robjohns replies: The idea of switchable or variable input impedance is not new. The classic Neve 1073 preamp from the '70s had provision for selecting either 300Ω or 1.2kΩ input impedances, as did many preamps of that era — often by reconfiguring the input transformer windings between series and parallel. This was because some institutions were still working in a matched‑impedance environment, and others in the modern matched‑voltage format. But engineers/producers found that switching impedances was sometimes musically beneficial, and in more recent years manufacturers have seized on the idea as a selling point.
To address your main question, lower input impedances will definitely reduce the mic's signal level significantly because a greater portion of the mic's output voltage develops across the mic's output impedance, and less across the preamp's input impedance. So lower input impedances will need more preamp gain to restore the preamp output level. As you say, that will inevitably increase noise. In some cases it will increase the amount of distortion too, but not because you are 'driving' the preamp with signal level (if you're just compensating for the drop in level, then the signal is no hotter than before!) but because some preamps introduce more self‑distortion at higher gains — this depends on active device linearity and the amount of negative feedback. The preamp's own frequency response may also change at high gain, and when it does so it's typically a rolling off at the high end.
There may be tonal effects on the mic itself when driving a low impedance. Not just a change to brightness, but also a change to fast transients and dynamic range.
There may be tonal effects on the mic itself when driving a low impedance. Not just a change to brightness, but also a change to fast transients and dynamic range, potentially resulting in a thicker, more solid, denser sound. How much you hear this is obviously dependent on the source as well as the mic. Dynamic (moving‑coil) mics, and mics with output transformers, tend to be the ones that respond most to impedance changes because their output impedance changes significantly with frequency. Consequently, as the mic output impedance and preamp input impedance form a potential divider, the mic's frequency response changes depending on the preamp input impedance. Often subtly, sometimes dramatically.
The closer the preamp impedance is to the average mic output impedance, the more pronounced the changes will be, and the higher the input impedance the more consistent and neutral. Some vintage designs were intended to feed 30Ω or 50Ω inputs, but most expected 200Ω to 300Ω, rather than the 1.5kΩ standard we have today. So it could be argued that they only deliver the frequency response intended by the designer — and thus sound 'right' — when facing a low(ish) impedance.
I do have a couple of mic preamps with variable impedance (a Focusrite ISA 428 and an Audient ASP880) and both normally stay at their high setting. But having said that, most of my mics are transformerless capacitor mics or active ribbons. Capacitor mics with output transformers can respond noticeably to impedance variations (mainly vintage valve mics and vintage capacitor mics), but more modern transformerless designs don't respond well to low impedance loads at all: transient distortion and a reduced headroom are common indications of an unhappy mic. So it's best to keep the impedance above 1.5kΩ for them, and 2.5 to 5 kΩ is ideal. Most passive ribbons prefer much higher impedances, typically over 5kΩ, and dedicated ribbon preamps usually offer inputs at 15‑30 kΩ.
It's worth noting that even where you have a mic whose character changes with impedance, the sonic differences from changing the impedance usually won't be huge. They will often be noticeable, though, and whether the result is better or worse at different impedances is really a subjective and contextual thing.