I've sought advice on ways to attenuate the output of a Fender 65 Reverb amp, so that I can record it at home — it's too loud for this, despite me living in a detached property — and was all set to buy a power soak... probably a Tone King model. But then someone suggested I could just wire in a few power resistors and a switch, which would be much cheaper. Is this true, and if so, how easy is it, are there any hidden dangers — and what is it that makes 'good' power soaks so expensive?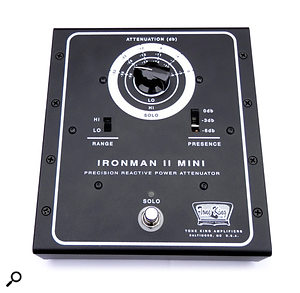 Although the output of a guitar amp may be attenuated using power resistors, many guitar-amp power soaks, such as the ToneKing one pictured here, include a reactive load in the design.
SOS Forum post
SOS Editor-in-Chief Paul White replies: The short answer is that an amplifier behaves differently when feeding a resistor than it does when feeding a reactive load, such as a loudspeaker, that has both resistance and inductance. You can use a simple resistor network as a dummy load or attenuator if it has the power handling (usually a series/parallel collection of wire-wound resistors on a heat sink equalling the necessary load resistance, and with enough power capacity to handle the amplifier running flat out), but the amplifier won't sound the same as when feeding directly into a loudspeaker.
The way the amplifier's output stage reacts with a reactive load has a profound effect on the way the instrument actually feels and on how tight or loose the bass end is. Putting resistors in series with the speaker changes that interaction. Making a suitable reactive dummy load or attenuator is much more costly than building a simple resistive load, as it includes coils, capacitors and resistors. That said, you may still be able to get satisfactory results with a resistive network (it all depends on what you're happy playing and recording), so it could be worth trying.
The very simplest approach for, say, a 50W amplifier that's set for an 8Ω load, would be to make up a combination of wire-wound resistors to give you 8Ω at 50W power handling or more. That goes directly across the speaker output to maintain a sensible load on the amplifier. Note that all the circuitry should be isolated from any box it is put into, so use plastic jack sockets rather than metal ones, as the cold speaker terminal will not necessarily be connected to ground. This 8Ω resistive load will keep the amp happy but now you need to put a resistor of, say, 80Ω in series with your speaker, then wire the other end of the resistor and the free end of the speaker across the 8Ω resistor. The combined resistance will be a hint under 8Ω but that won't be a problem for the amp. This will give you a voltage drop across the speaker of around 10:1. That may still end up being too loud, in which case you should experiment with larger series resistors. (Make the series resistor one with a 5W rating.) Alternatively there are plenty of circuits online, most of which are more sophisticated than this but are still fairly easy and cheap to build. I was able to find a few pretty quickly using the search term "guitar amplifier attenuator schematics".