The spaceship–like cloud panel used to control the acoustics adds a space–age touch to the Victorian surroundings of the AIR Lyndhurst hall.
The idea of using a church building to stage recording sessions was popular even in the early days of our industry, and in many ways is a natural one, since such buildings often resemble concert halls. Some very famous studios have been built in former churches, but, like Columbia's legendary 30th Street Studios in New York, many have not survived. AIR's recording facility in the borough of Hampstead, North London, is one which has thrived.
The AIR story begins around 1965, when Sir George Martin left EMI to found Associated Independent Recording with his partner John Burgess. In those days, even the most successful record producers received fixed annual salaries, with no opportunity to earn bonuses or royalty payments. Not entirely happy with this situation, Sir George led a group of producers who decided to establish their own business model, producing the music independently and then licensing the final masters to the record companies.
The Studio 1 control room, with its custom Neve desk.
Up to 48 channels of Neve remote preamps can be placed in the hall to help keep mic tie–lines as short as possible.The first AIR studio opened its doors in London's Oxford Street in 1970, and another followed a few years later on the Caribbean island of Montserrat. Both facilities gave birth to a string of seminal records by artists such as the Rolling Stones, the Police, Pink Floyd, Black Sabbath and Supertramp, to mention but a few, yet neither of them exists today. AIR Montserrat was severely damaged by Hurricane Hugo in 1989; according to George Martin, this coincided with a change in the music industry which didn't want to see artists beyond control in remote locations, and thus the studio was forced to cease operations. AIR's head office at Oxford Street remained in business until 1991, but when the lease for the premises expired, AIR had to look for a new home — which they eventually found in the converted Lyndhurst Congregational Church, a Grade II listed building by architect Alfred Waterhouse, who also designed London's Natural History Museum. Today the complex belongs to Strongroom owner Richard Boote, who acquired it from a Chrysalis/Pioneer joint venture in 2006.
The second large area of AIR Lyndhurst, Studio 1 offers a 140–square–metre floor space.AIR Lyndhurst comprises the large hall and a number of smaller recording, mixing and mastering studios. The 300–square–metre hexagonal hall is one of the largest recording facilities in the world. It can host an entire symphony orchestra and choir, and along with Abbey Road, is one of the leading recording venues for film soundtracks and classical music in Europe. The control room is built around a 96–channel Neve 88R, one of the largest desks of its kind in the world. The system includes no fewer than 48 channels of Neve AIR Montserrat remote preamps, which, being placed in the live room, help to keep mic tie–lines as short as possible.
The 'gold standard' for orchestral recording: three Neumann M50 mics in a Decca Tree configuration.Most churches prove too reverberant for recording purposes in their original condition, and the large Lyndhurst hall was no exception. Various measures have been taken to control the acoustic properties of the space, and the enormous cloud panel hanging from the ceiling is just one of them. Resembling a giant spaceship hovering above the main recording area, it offers an interesting contrast to the Victorian architecture of the building, further contributing to the rather spectacular aura of the studio.
The custom Neve console in Studio 1 boasts 56 Neve 31106 EQs, as well as a sidecar with 16 ISA110 input modules.Studios 1, 2 and 3 form the so–called 'Triplex': stacked on top of each other, they represent an internal structure built inside one of the church wings, which, in theory, could be removed at any time, restoring the building to its original condition. Boasting a live area 140 square metres in size, Studio 1, on ground level, is a space of impressive proportions by any standards. Yet its, arguably, main attraction can be found on the other side of the control room window: Studio 1 is home to one of three custom Neve soundboards which were built for AIR around 1980, and with many unique features, links two golden eras of recording console design. It was conceived by George Martin, Geoff Emerick and Rupert Neve, who was hired back for this project as a consultant by his original Neve company, which he had sold a couple years prior. This particular console was commissioned for AIR's Oxford Street facility, and it shares not much more than the colour scheme and the basic physical appearance with a standard 8078 from that era. Its many special features include ±15V power rails, TDA1034 operational amplifiers rather than discrete gain stages, and the use of transformers only for the signal leads to the patchbay, and not, as previously, also for all internal connections between the modules. The results include a vastly improved phase response, better noise floor and a signal path that is flat to 100kHz — a remarkable achievement for the time! The console also features 31106 EQ modules with special corner frequencies as well as, again, remote preamps to be placed in the live area. In 1986 Rupert Neve expanded the desk with a 16–channel sidecar based on input modules which would become the coveted Focusrite ISA110.
The outboard collection at AIR Lyndhurst includes more than half a dozen Fairchild 660 limiters.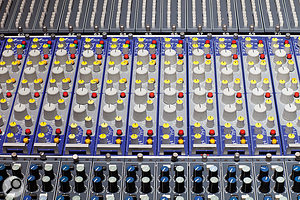 Studio 2, with an 80–input SSL 8000G, is largely conceived as a mixing room, while Studio 3, equipped with a 48–fader AMS DFC Gemini desk, offers ample facilities for mixing, especially in the field of film and game soundtrack post-production. Indeed, film scoring, TV post–production and audio for video games forms a large part of AIR's business; recent scores recorded at the studio include Interstellar and The Hobbit: The Battle Of The Five Armies. Yet the Lyndhurst facilities also continue AIR's glorious heritage in the field of pop music. Names like Paul McCartney, Peter Gabriel, Coldplay, Red Hot Chili Peppers, U2 and George Michael speak for themselves, and more recently, the studio has been used to craft records for Muse and Mumford & Sons.