Smartphones and tablets are giving artists new ways to explore multimedia. Does the 'album app' have what it takes to rekindle music sales?
It's official: the album is dead. It's a refrain we've all heard many times before. The death of the album has been loudly and regularly trumpeted for more than a decade. If the album really is dying, it's being damned slow and noisy about it.
The fact is that most record companies still plan their schedules around tent–pole album releases. More importantly, bands still want to make albums. For the majority of artists, the long player is still the definitive statement: a group of tracks linked by theme, time and place, presented in a set order and adding up to more than the sum of their parts. And from a practical and financial point of view, if you're going to gather a group of musicians together and book a studio, you might as well record more than one song.
There's no denying that the latest figures look grim. At the beginning of 2014, Nielsen SoundScan announced that US weekly album sales had hit a new low. In the week ending January 12th, 4.49 million albums were sold, the lowest weekly total since records began in 1991. That's less than a tenth of the all–time high of 45.4 million albums sold, in the week ending December 24th, 2000. The mid–year report was no more encouraging, with album sales down 15 percent on the previous year — when sales were already down 8.4 percent on the year before that. It seems that any 'new low' you choose to mark will be surpassed by a new 'new low' before very long.
The suspects wanted in connection with the album's decline will need to form an orderly queue. Illegal file sharing was the original culprit, but the panic began to recede after iTunes had established a credible model for paid digital downloads. But the 99p–per–song model that iTunes introduced turned out to be even more damaging for the album, effectively turning every long–player into a singles collection to be picked apart. Worryingly, digital downloads themselves are now in decline. Digital song sales fell 5.7 precent in 2013 — the first time a decline has been recorded since the iTunes store opened for business — and they were down again a whopping 13 percent in the first half of 2014. Step forward the latest threat: streaming. It seems that services like Spotify and YouTube may be harming not just album sales but music sales full stop.
The album's condition looks terminal, and there are those who believe we should all stop moping around the intensive care unit and get on with our lives. People want to stream playlists, not listen to albums, they say, so let's give them what they want. But sales are not the only thing that the album has lost to streaming and digital downloads. Much of the wider experience that made a great album by a great artist such an enjoyable artifact has gone, too.
Consider the good old vinyl LP. Despite decades of progress in digital technology, vinyl is still, for many, the definitive album format. It offers high–quality, uncompressed audio, large–format artwork, credits and sleeve notes for those who have to know who played on and produced each track, and the sense of physically possessing the music in a pleasingly tactile form — and these things are entirely absent from our interaction with MP3s and streamed music. It's interesting to note that vinyl is the one area where album sales are actually growing. The numbers are small compared to the overall market, but is it possible that, by retaining the old–fashioned virtues of the 'album experience', vinyl is being rediscovered by an audience not currently being satisfied by what's on offer?
That's where the concept of the 'album app' comes in. The idea is that an album presented in app format, bringing audio together with images, text and multimedia content in a handy, non–pirate–able package, can provide a 21st Century take on the immersive experience of old.
Several artists have already explored the idea. Though it subsequently appeared on CD and vinyl, Björk's album Biophilia was originally released solely as an app. More an interactive work of art than a conventional album, it invites the user to explore the tracks in any order through graphic visualisations and game–like elements that alter the music itself. Brian Eno, Peter Gabriel and Philip Glass have also produced intriguing music apps that encourage the user to rearrange and play with their work. Meanwhile, Lady Gaga's Artpop app was a typically idiosyncratic companion to the album of the same name, among other things inviting users to create animated GIFs to share on social media. But these creations are really more app than album. What can the format do if your priorities are the other way around?
Bernhoft's Islander app is a luxury product, featuring very high production values and a price to match.
The Islander app not only includes a conventional high–quality music player, but an eight–channel mixer allowing you to rebalance the stems of some of the songs.A great example is the Islander app created for Norwegian soul singer–songwriter Bernhoft by British developers HD360. Designed for iPhone and iPad and billed as "the first true HD music app", it features the full album in 24–bit/48kHz, with a built–in music player. It's a beautifully designed thing, inviting users to swipe across a series of different elements, including extensive background information on each song and hand–written lyric sheets from the recording sessions, complete with crossings–out and rewrites. With the core checklist of vinyl plus–points — high–quality audio, sleeve art, liner notes, a tactile, physical experience — well and truly ticked, the Islander app goes much, much further.
There are 10 videos to watch, including interviews and exclusive live performances, and a unique 360–degree video of a live studio performance. The user controls the camera and can rotate their viewpoint around the studio while the band plays, taking in individual performances and scrutinising equipment and mic placement. Icons appear, giving supplemental information on the members of the band. Less exciting perhaps, but absolutely essential for the modern–day pop star, are the merch store and social media section, featuring embedded feeds from all of Bernhoft's social media channels.
Yet another way of interacting with Bernhoft's music is via the Loop Station.Things get even more interactive in the Music Studio and Loop Station sections. The former is an eight–channel mixer that gives you direct access to the song's stems, adjusting levels, pan and reverb, while the lyrics scroll karaoke–style across the top. There's even an additional channel where you can record your own parts over the top, via your device's built–in microphone or audio input. The Loop Station lets the user get creative in a different way. Many of Bernhoft's songs are built up using a looper pedal and here you can do the same by switching on and off the various song elements, layering them how you please. A limited number of songs are available to play with in each of these sections, but the suggestion is that more may be added in future updates. That's another great strength of the album app: the content needn't be static. The artist can keep adding new music and video, or sell additional material via in–app purchases.
"I've come from the world of CDs, to file sharing, to streaming and then back to a vinyl focus," states Bernhoft in the official press release. "What we wanted to do with the app was to bring all this together and get the feeling of a gatefold sleeve into the digital world. It's full of amazing content but the music is the heart of the app and it is in HD — exactly the way I heard it when we were creating the music in the studio for the first time."
The creation of the app was steered by Philip Tennant, a former producer and engineer whose credits include Depeche Mode, the Cure and Dexy's Midnight Runners. Like Bernhoft, he's passionate about the medium and its potential to bring the listener right into the studio.
"All the stuff that happens in the studio that I love — that's what we're trying to provide people," he explains. "That excitement of seeing a song being created, seeing how the lyrics change and the arrangements come together You don't just get the same audio quality that the artist is hearing in the studio when they're mixing. You also get all the liner notes, the lyrics sheets, the photos — these are the kind of things we'd take for ourselves during the making of a record. Then with the Loop Station and the mixing console, you can really see how the tracks were created. You can listen to the individual elements of the record and remix them yourself, so you can see what the drummer's doing, how the guitar part works with the bass."
While the Islander app achieves its objectives brilliantly, some significant questions still remain. Priced at £13.99, the app is a premium product and, at almost 2GB in size, it's not small given the relatively modest storage space on most phones and tablets. For both of these reasons, it's hard to imagine anyone buying all of their music this way. So is this a format just for hardcore fans, or will the album app become a standard mode of release alongside existing digital and physical formats? How will an audience used to skipping from artist to artist on a streaming service, or browsing their whole music library using a media player like iTunes, feel about a format that deliberately places an album as a separate entity packaged in its own discrete wrapper?
"We feel that people are not going to fill their iPads with hundreds of these things. We don't have hundreds of favourite albums, we have a few," Tennant says. "The whole point of the app is to pull people away from streaming and from buying one MP3 here and there. I understand streaming and MP3s as a way of discovering new music, but once you've heard something you like, you want to immerse yourself in it, and that's where I see the app coming in.
"It's meant to be heard as an album where you listen from start to finish. You immerse yourself in it because you care about the artist and the music, and you concentrate on it the way we used to do when we listened to vinyl albums. Letting an album play from start to finish wasn't exclusive to vinyl — we did it with CD and cassette too — but it has kind of stopped happening with streaming and playlists. This is trying to pull people back and say, 'Here's a complete artistic statement. You start here and you end there, and if you want to know more about how we created this you go to other aspects of the app and find out how it was all put together.'"
The successful Kickstarter campaign to launch the Pono high–resolution music player also taps into an evident desire for better audio quality. Does Tennant see this as part of the same picture as the album app? "Pono is very interesting," he says. "It's trying to find a similar audience, in that it's high–end audio for people who really want to listen to music. But I think it's flawed in that you have to buy new hardware, and it doesn't have any visual content. I think a lot of people nowadays watch music as much as they listen to music, and I think we've got to accommodate that. Pono has its attributes but you're still missing sleeve notes, you're missing album artwork You're missing a huge aspect of what an artist is really about, even though you are getting better sound quality."
The album app, he says, allows the artist to keep all these aspects together and present a complete picture of their work to his or her audience.
The Islander app is an impressive package and one that delivers a rich, immersive experience. Though not every album or artist perhaps merits this depth and breadth of content, it's easy to imagine a future for album apps as the medium for deluxe editions of A1 new releases and expanded reissues of classic albums from the past. The idea of sitting on a sofa, iPad in hands, and getting lost in a great record is an attractive one. The album app also arrives in good time to exploit the move towards interconnected home entertainment systems. Perhaps you'll soon be connecting your tablet to your wireless speaker system to play around with the stems of yet another remastered reissue of Dark Side Of The Moon, then flicking to some archive concert footage, streamed direct to your smart TV. It's the album reimagined as a multimedia entertainment centre.
However, before that can happen, there are still a few things that need to be sorted out. How will licensing and royalty payments work, given that this is a new format that combines a range of content — from audio and video to lyrics and sheet music — all covered by different agreements? When an album app is sold, will it register on the official charts like a standard download? What will album apps cost to make, and what price is the public willing to pay for them?
These are the kind of questions that another album app hopes to answer. A project supported by the UK's Digital R&D Fund for the Arts has been specifically looking at the viability of the app as an album format. As a test case, the project team — music agency Script, app developers AgencyMobile and researchers at the Cultures of the Digital Economy Research Institute (CoDE), part of Anglia Ruskin University in Cambridge — have produced an album app for Domino Recording Company artist François and the Atlas Mountains.
"There has been a lot of buzz around the experimental album apps released so far by a handful of artists such as Björk and Lady Gaga, but until now no one has properly looked at the costs and benefits for consumers, artists and record companies," explains Dr. Rob Touson, Director of CoDE. "We wanted to find out how receptive the audience is to consuming music in this way, and we wanted to see what artists could do with the format when given the opportunity. Most importantly, we wanted to understand the obstacles — from technical issues to the cost of development to a lack of awareness — that may need to be overcome if this format is to succeed. Although the album app has many potential strengths, questions surrounding the handling of royalties, chart eligibility and distribution remain, and these must be answered if the format is to be embraced more widely."
The Piano Ombre app was created for François and the Atlas Mountains, in part to test the waters regarding the commercial viability of the format.In designing the iOS app version of François and the Atlas Mountains' album Piano Ombre, the development team consciously stopped short of some of the more experimental interactive features seen in other album apps, sticking instead to what might constitute the features of a 'standard' album app release. The app's music player offers up the full album in the iTunes Plus (AAC) format — still compressed but, at 256kbps, higher quality than most MP3s — and the user also has the option to download the full album onto their device in MP3 and uncompressed WAV formats. This seems a sensible step to placate those who don't like the idea of only being able to listen to the album through the app. While you are listening to the album on the app, however, you can swipe left and right to bring up extensive notes on the background to each song, along with the lyrics in both French and English, which scroll in time with the song. There's also the option of turning on guitar chords above the lyrics so you can play along.
Exploring the rest of the app, you'll find a list of upcoming gigs, with the option to buy tickets directly through the app, plus band photos and a tour diary, all of which are pulled from the Internet and are continually updated. There's some background on the band, a full list of album credits, a link to the Domino web shop to buy more music by the band, links to social media, and a selection of video playlists including a nice compilation of the tracks and artists that directly influenced the making of the album.
The Sun Tracker is a neat way of drip–feeding additional content to fans.The most unusual feature is something called the Sun Tracker, apparently suggested by frontman François Marry. Tapping into the album's overarching theme of choosing light over darkness, the Sun Tracker uses the iPhone and iPad's built–in gyroscope and compass to show you where the sun is, whether it's night or day and you're inside or outside. You simply move the device around to scan your surroundings with the camera until a large red circle (as seen on the album cover) appears on screen. You can then take and share a picture. Doing so unlocks one of 24 different bonus tracks included in the app — one for each hour of the day, so to listen to them all you'll need to do a lot of sun–tracking in the middle of the night!
It's a great–looking app and enjoyable to use, again giving a sense of depth and substance missing from digital downloads. Featuring hand–drawn animation created for the app by François himself, there's a definite sense that the personality of the artist comes through, making it more quirky and alternative than Bernhoft's app, with its comparatively polished and glamourous feel. Even the Sun Tracker, as eccentric as it is, is a reminder that this is a creative work, not just a functional music delivery system.
The Piano Ombre app costs £7.49 in the Apple App Store — less than a straight digital download from the iTunes Music Store — and since the app's price includes a full, lossless digital download as well, it seems very reasonable.
"The feedback we've had from both consumers and the music industry has been very positive," says Dr Rob Toulson. "When we've put the app in front of consumers and demonstrated what it can do, the majority have been really receptive. I think the challenge will be establishing that awareness of what album apps are and the kind of experience they offer, and that may require the backing of major labels and artists, the technology companies who make the tablets and smartphones, and the big digital distributors of music like Apple, Google and Amazon."
The Piano Ombre app has scored a minor success in that it's the first album app to be recognised by the UK's Official Chart Company, albeit via a slightly circuitous route. When users download the album tracks onto their device, a sale is registered on the chart via the record company. There's no reason why album app sales shouldn't count towards the charts directly, but it will require the collective will of the key players to make it happen. So, is the music industry going to get behind this new format and give it the momentum it needs?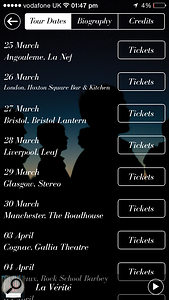 A great benefit of the app format is the potential for cross–promotion with other activities such as live shows."We've been speaking to labels, music publishers and people working in music licensing and there has been a lot of interest in the format," Toulson says. "I think everyone feels like this is going to happen — has to happen — it's just the 'when' and 'how' that are unclear. Record labels are interested in releasing albums as apps and using apps as a pre–release promotional tool, publishers see the potential to offer sheet music and music tuition videos within the apps, and artists are obviously excited about a digital format that lets them do more and get more creative than they can when their songs are just being dumped onto iTunes.
"However, with no agreements in place for who gets what in terms of fees and royalties, licensing has to be negotiated on an app–by–app basis. If the industry can come together and agree on a standard licensing template for album apps — ideally one that sees the artist and rights holders properly rewarded while leaving enough money for the record company to recoup the cost of developing the app after the digital distributor has taken their cut — the decision to go ahead and create app versions of new albums will become a much easier one to make. Because this is a new format, the cost of producing an album app is currently high, but it will come down. I think we may see the bigger record companies each developing a standard format of their own that can be customised for each of their artists and albums."
There's no doubt that we'll be seeing more music released in app format in the near future. What the longer term holds for the album app, and just how widespread the format will become, is less certain. What we can definitely say is that the days when artists and producers could just worry about making music are over, if they ever existed. Photos, videos, blogs, social media — these are all things that most media–savvy music makers are doing already, but in a world of album apps, they're part of the product rather than promotional activities supplemental to it. But an app can also serve to draw these strands together while charging hard cash for the artist's output.
The album app offers some very significant advantages to musicians and producers. The importance of album credits is often overlooked, but in the digital sphere there's often simply no record of the musicians and engineers who work hard to create the music. On top of this, the app allows the artist control how their work is presented, from the quality of the audio to the running order. Above all, it's a satisfying product with lots of added value that will hopefully encourage more people to not just pay for the music they listen to but to buy the whole album.
But will this be the format for consuming albums in the future? It seems unlikely that any format will be 'the format'. Other forms of media, from TV and film to books and magazines, are already moving towards a however–you–want–it model, where the technology serving up the content is web–based and the consumer can choose how they access it — through a web site or an app, and via their PC, smartphone, tablet or TV. So it may be with music. The vital role that album apps can play in the short term is to provide a focal point for the work that artists are producing, pulling together the diffuse strands of their output and giving them more control. If albums apps can prove there is a public appetite for a richer kind of music experience that, crucially, people are willing to pay for, the industry as a whole must surely take notice.
If you want to explore the ways in which musicians and artists are already taking advantage of the app format, here are five of the most interesting 'album apps' yet created:
Two classic creative 'album apps': Björk's Biophilia and Philip Glass's REWORK_.
Björk: Biophilia
This astonishing, mind–bending app invites users to explore a three-dimensional galaxy where each constellation is a different track from the album. Each one features abstract animations that let you interact with the music in a different way. The app will output MIDI to control external instruments and has been widely used in music education.
Philip Glass: REWORK_
The daddy of minimalist music is still down with the kids! The app version of Glass's Rework_ remix album features interactive visualisations of all 11 songs, plus the 'Glass Machine', which lets you play with polyrhythmic counterpoint by interacting with two rotating discs.
Peter Gabriel: Music Tiles
Released to coincide with the 25th anniversary of Gabriel's So album, the Music Tiles app features stems taken from the original session tracks, represented by colour–coded tiles. When the tiles are placed on a grid, the stems that play are dictated by the position of and connections between the tiles, creating new arrangements.
Jorge Drexler: n
This app from Spanish composer Drexler features three tracks — one orchestral, one choral, one vocal — written specifically as interactive pieces. The user can arrange parts on the fly and decide which elements are to be used in the composition before sharing their work with others via the Internet.
Paul McCartney: Band On The Run, McCartney, McCartney II, RAM & Wings Over America
Notable more for the artist's profile than the interactive content, five of Macca's solo albums have been re-released in app format. Featuring remastered audio, videos ranging from rehearsal footage to documentaries and interviews, rare photos and album and single artwork, the apps cost £5.49 each — significantly less than the remastered albums themselves. A sign of things to come?
Published October 2014