Musicians and video makers alike could learn plenty from a new generation of online artists like Robin Schmidt, who expand and fund their work through social media and 'crowd funding'.
NOT MADE, TO BE COMPOSITED FROM FOLDER OF PICS. Some kind of combination of the web sites and the picture of Robin please, unless you prefer something else
Whatever creative discipline you're involved in, it's likely that you'll have an online presence. Sites such as Facebook and Twitter allow creative people to build and keep in touch with communities, while others such as Vimeo, YouTube, MySpace (although the last is dwindling in recent years) and Bandcamp allow users to host content. Some sites, like Tumblr, combine blogging and social networking into a single web site.
One offshoot of social networking is 'crowd funding': financing a creative project through your audience. The artist gives rewards when the project is complete — such as signed album copies, DVDs and Blu‑rays, or even credits in the work — in return for funding to create the project. Purpose‑built crowd‑funding sites allow different levels of reward to be handed out in return for different amounts given by the funder. It's a system that's well known to Robin Schmidt, also known as El Skid, director of music videos for the likes of Feeder and Dolores O'Riordan. He's the man behind a web series called Super Massive Raver, also known as SMR, a bizarre martial-arts comedy series whose latest episodes were partly crowd funded. After seeing an interesting talk given by Robin at the Converge digital media conference (http://theconvergence.co.uk) about his experience of social media and crowd funding, I met up with him to find out what's required to run a crowd‑funding campaign.
My first question to Robin relates to how he laid the groundwork for his bid for crowd funding. My assumption is that you'll have a better chance of persuading people to fund something if they've already been able to see or hear your work. Robin concurs.
"If you have a something good to offer (and that's a key part), there are enough people out there with enough time on their hands or sufficiently interested to help you out. For SMR, we started by shooting a lot of episodes for a series and putting them on YouTube to view for free, improving our output as we went on. These weekly 'webisodes' kept people watching. Through digital marketing on Twitter and blogs, SMR became a YouTube partner page, and could be branded with our own imagery too.
"Jumping ahead a bit, by the time it came to crowd‑funding it was an easy sell, because we were already making a similar product, so we could show that we were already able to create a series. It wasn't just a storyboard pitch, but a real set of completed videos, which made it easy to pitch a grander version of what we were already doing. If you're a musician, for example, and have an EP that people can listen to online, fans are far more likely to help fund an album than if you have nothing to give them as a taster.
"There was a time when it was difficult to shoot a pilot, or record a demo or music video, but now it's relatively easy. Everyone either has a computer or knows someone who has one. If you need a promo video, someone you know will have a DSLR. The cost of creating things has come down, so it's worth the investment of time and cash to put something out there. Even if the work is a little rough around the edges, you'll get the ball rolling and build an audience, as well as keep your fans interested. If you're going to be looking for funding, you need to throw some bread on the water, because just saying "I'm amazing, give me money" won't work."
It's also important to maintain momentum, according to Robin. Audiences can get bored just waiting around for the next release, and artists need to keep them excited. You'll need to stay visible in between releases of singles, short films, and so on, and also pay close attention to the timing of your promotional efforts. Robin elaborates.
"Once you've screened a documentary or film or released a single, for example, it rapidly loses momentum. Once it's out in the public domain, it's almost like it's done with. But before you release — while there's still an appetite for it — people are asking "When's it coming out, have you seen the trailer, heard a clip?" The build-up to a release is very important, but also the tale behind it, as that's something people connect with. If you have or can create a great story behind the project or group, that's a good start for marketing.
"Something like a web series, blog or Tumblr will encourage fans to connect all the time. Unlike an album or a feature, it's a continuous thing, it doesn't get forgotten about, and there's always new content appearing. That makes it much harder for people to get distracted."
Clearly, it's not just a matter of giving away content, but also of keeping it up and holding onto people's attention, for maximum rewards. Robin: "If you're thinking of asking your audience for funding, it's a long game: you need to be starting a year in advance to get the ball rolling. A lot of artists try to start crowd campaigns just a few months in advance of the event, but you need to build trust and a fan base. You also need staying power. You have to stick around to reap a reward, and it can take 12 to 18 months to see that reward.
"Early on in your career you should be mindful of your audience engagement. You also have to be quite jealous with your audience, particularly nowadays. Give them 'stuff': give them a reason to stay, beyond just the product, or they may well jump onto something else. Give them exclusives, little downloads, video interviews. The whole social media landscape is defined by generosity."
These principles can be applied to music just as much as to film, using social media to help you make your output more engaging by adding another level of narrative and personality to the work. Up‑and‑coming British Indie act Flashguns do this very well, with a WordPress web site for announcements and a Tumblr page where they post pictures of their tours, adventures, and things that inspire them.
British Indie band Flashguns use social media well, with a WordPress web site and a Tumblr blog for posting inspiration and tour photos.
Robin has explained that keeping an audience close is very important, and giving them more than just the occasional single or video helps to keep them involved and lets them become emotionally invested in your project. You can also keep fans on your side by engaging with them through your blog and other peoples' — but how do you get an audience involved to the point where they want to fund? Do you have to do even more? Robin has some advice.
"Think laterally: hold competitions, invite them to be a part of your product, let them remix it, involve them in spreading the word online. There's a game aspect to social media; you're keeping people hooked on your brand, not just the product. The 'Raver' character from SMR even has his own Twitter profile, so people can engage with him outside of the videos.
After he placed free, weekly 'webisodes' online and promoted via social networks and blogs, Robin's Super Massive Raver became a YouTube partner page, allowing the kind of decoration you see here.
"The grand ambition for a project now is that it'll exist as video or music, an app, on TV or as webisodes, as a blog, a web site, maybe even as a feature film. You needn't use everything — it's probably impractical to do so — but picking just some of them helps a lot. Think outside of traditional promotion and hold events that relate to your product. The idea is to create something that has multiple touch‑points, ones that people can access at any time, in a nonlinear fashion. SMR, for example, is intended to be a mobile app by the end of Summer 2011."
Clearly, raising a profile, especially with an eye to funding via your audience, is about thinking a little outside of the box, as well as having a product that people want.
Robin Schmidt is a director and film maker who often gives talks on crowd funding and social media.Robin's progression through building a sufficient fan base using Twitter, many different blogs and YouTube, then becoming a YouTube partner, was logical and effective. But I wondered what it was that then made him then decide to use crowd funding to finance a series of Super Massive Raver.
"The reason I decided to crowd-fund this series of Super Massive Raver was because I thought I could do it successfully! I'd been funding everything myself up until that point, and once I realised I had enough of a following online, I reckoned that we'd make our target.
"The kind of mixture of physical comedy, martial arts and lunacy we use seems to only exist in Hong Kong film culture! The plan was to fly out there, shoot a whole series, and release at a later date. So we put together a pitch for the IndieGoGo crowd‑funding site.
"All these crowd‑funding campaigns go through arcs: you start off with a launch, your whole fan‑base takes notice, and you make some money, then the campaign suddenly grinds to a halt. You need a plan for how you market your campaign successfully. One way to do it is to parcel off your followers into types of fans, and then to go through each group and decide how you're going to get them involved. Another is to hold events to make your fans notice and donate now rather than later.
"We chose a relatively short, two-week campaign with a $5000 target. We'd raised quite a bit and had kind of stalled, and by the time we had four days left, I decided to do something else to create publicity. I noticed that a director called AD Lane of Indywood Films had been raising money on Twitter for the last two years in order to make a horror film. He's raised a substantial amount of money by going Twitter for 60 hours or so and tweeting with a live webcam! Because I was raising money for a comedy project, I decided to do a 24‑hour joke‑athon: I sat online telling jokes, using a U‑Stream feed. It was designed to prove how committed I was to the project, and to be something entertaining to tune in to. I was tweeting throughout, and many of my followers re‑tweeted the updates, raising publicity.
"I raised about $1000 in 24 hours, which took me to around $2300 dollars overall Though I didn't quite reach the target on the site, the rest of the money was given to me by a producer from LA who'd become interested in the project after seeing our campaign, so I achieved my goal in the end.
For his IndieGoGo campaign, Robin picked only one level of 'perk' or reward. Though he didn't reach his target on the site, the campaign caught the attention of someone willing to fund the rest independently.
"When I realised I wasn't going to make it on time within the bounds of IndieGoGo, but knew there was someone interested in making up the shortfall, I just asked them to fund me directly. Because of the way IndieGoGo works — with the site taking nine percent if you don't make your target — I saved a lot of cash by funding partially outside the site."
Even though Robin didn't reach his full target on the site, the consistent promotion of the campaign led to him reaching his goal outside of IndieGoGo, by finding the attention of someone who was happy to fund the rest of the series. After this experience, would he use such a crowd‑funding site to fund another project?
"In a way, yes. I was on a panel at the East End Film Festival with the chief executive of Sponsume (see 'Popular Crowd-funding Sites' box), and he was saying that the reason they want people to come to the site was to circulate to other campaigns. In order to exist, a crowd funding site needs the user to look at other projects. That's bad news if you're bringing your own crowd.
"I realised what really bugs me about specialised crowd‑funding sites: that you're paying a percentage for a hosted page with an emailing and messaging mechanism. If you have some basic computer skills, you can set up a WordPress site, install a PayPal plug‑in and use that to run your own crowd‑funding campaign, with your own web site. This way, the footfall through your page won't be driven to other projects and people won't be tempted to fund them instead."
Of course, there will be some people on crowd-funding sites who are simply browsing, but it seems true that the majority will be driven to the site by the campaigner themselves. Robin responds:
"Either way, the onus falls on you to market your campaign. Some projects do really well on crowd‑funding sites without a fan base — documentaries with social issues attached to them, for example — but if that's not what you're making, you'll need to bring people there yourself."
Robin's point is that since you're going to have to promote the campaign to your following anyway, you could do this on a site you're in full control of. This certainly seem like a valid point, especially if you have the skills to create your own site. If you set up a funding page on a specialised site but have no following, you're likely to struggle for funding unless you have a project with very broad appeal. If you have the following already, why not drive them straight to your own site?
Robin: "Exactly. When you go to a crowd-funding site, there are eight or so projects on the front page, randomly picked from a curated 'pool'. If you're not in this selection you're somewhere in the mass, and there are just too many hands out and too many mouths to feed. Coming back to the start, without already having a dedicated fanbase to market to, you're lost anyway. It seems that what a lot people are looking for with crowd‑funding sites is validation for their project, but if you don't already think your project is valid on its own merits, you're in trouble before you start!"
Nevertheless, Robin still believes, overall, in crowd funding as a valid method for getting creative projects off the ground, even if not every project is suitable for financing through a crowd‑funding site, declaring that "having been through the process I've seen the power of having a dedicated audience. But if I were to do it again, I'd spend that percentage I lost to the crowd-funding site on my own web site, something that I own and is branded by me. That way, at every single touch-point, every time the audience engage with the brand they're reminded of our message and brand, not that of the funding web site."
What can we learn from all this? Well, now that the world is so saturated with online content, your product doesn't stop with your record or film; you need to think about how to expand the experience and connect with your audience. If that means funding an event or the next big release with the help of your fans, you have to connect with the audience and make them care enough.
Robin already has a feature‑length script for his Super Massive Raver project. Will it be made a reality, and will he use crowd funding to help? Only time will tell, but he seems to have done very well so far. What I took away from our discussion is that, despite the proliferation of new methods for funding and distributing content, a successful result boils down to having a product that people want and building a dedicated fan‑base in an increasingly distracted market. In that sense, not much has changed, except that we all now have access to very powerful promotional channels and methods of distribution. It's easier to shout, but there's more noise to shout over.
If you want to be crowd funded, you need to get yourself a dedicated crowd. Throw something out there, think outside the box, and get yourself a fan-base that really cares. Then, hopefully, once you put your hand out, it'll come back full.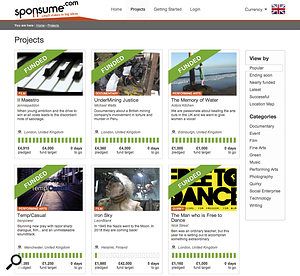 Sponsume is a relatively new crowd‑funding site that offers multiple levels of reward, and takes a higher percentage fee from those that don't reach their target.If you want to have a go at pitching to your fans and the masses for funding, you could do worse than try some of the purpose‑built sites. Every one has success stories of musicians, film‑makers and entrepreneurs funding their ideas, products and dreams using a simple framework. The merits of using these sites versus using your own page are arguable, but plenty of people have succeeded in hitting their targets using one of these popular options.
IndieGoGo currently claims to be the largest crowd‑funding web site. It's free to create a campaign on the site, while the fee charged varies as a percentage of what you raise, depending on whether you meet your target or not. If you do, it's four percent, while if you don't it's nine percent. On top of this, third‑party payment processors charge three percent. The pitch page has a nice clean layout and allows you to embed a video from Vimeo, for example. International projects are welcome.
This has a similar layout to IndieGoGo, but with an 'all or nothing' funding policy, Kickstarter currently only hosts US projects, due to using Amazon payments for processing. You only get your money if you achieve the target you set for yourself. The thinking behind this is simple: if you don't reach your target, you'll still be obliged to fulfil the rewards you've offered and complete your project with less than you needed. Kickstarter charge a five percent fee, while Amazon charge between three and five percent for credit-card processing. www.kickstarter.com
Based in the UK but offering worldwide campaign support, Sponsume is a relatively new crowd-funding site. Much like the other sites, they charge a four percent fee when you reach your goal or none percent if you don't. Also in common with the other sites, it uses a video-based pitch system and scaled rewards.
The sooner you can set up your profiles on social networks, the better, as it takes a while to build an audience and for your existing fans to realise you're online. It's likely you'll already be present on one or more of these networks or sites, and you'll find that most other sites will allow linking to them. Be sure to keep a consistent identity and username across the accounts. That way, people will be able to find you easily if they catch you live or see a video.
Though it's a site not best suited to business networking, Facebook's 'Pages' allow embedding of audio and video via plug‑ins, and allow fans to connect with and 'like' your work. Whether or not you use Facebook in the way most do — as a time sponge — it's a great way to interact with a huge number of potential fans and spread your campaign. As it stands, you'll need a personal profile in order to administer a 'page'.
The other huge social network, it allows you to speak your mind to the world in 140 characters. The 'retweeting' system is ideal for spreading the word about any kind of campaign. If a follower retweets you, all of their followers will see your post. Twitter has been used for successful fund‑raising by many different types of campaigns.
A blogging system based around speed and ease of use, Tumblr is designed more for sharing imagery, music and videos than huge text posts, though you can still write as much as you like. As such it's perfect for sharing the progress of a tour, an album or a short film, or for campaigning for funds. You can easily link it with your Twitter and Facebook accounts in order to broadcast your posts.
Once the king of social networking for bands, it's suffered in recent years from successive re‑brands and an exodus of fans to other networks. Though it's not really a great way of staying in touch with fans, it can be useful for hosting a 'kind‑of' web page, especially if you don't fancy creating one using Tumblr, WordPress or coding languages.
WordPress is not a networking site, but code that enables you to build a customised web‑page using templates or your own coding knowledge. You need your own URL and hosting space, after which you upload WordPress and then install a template, or code yourself a page. Templates are available for very little cash, and as the resulting site is yours, you can control every aspect of it.