Networking & Doing Business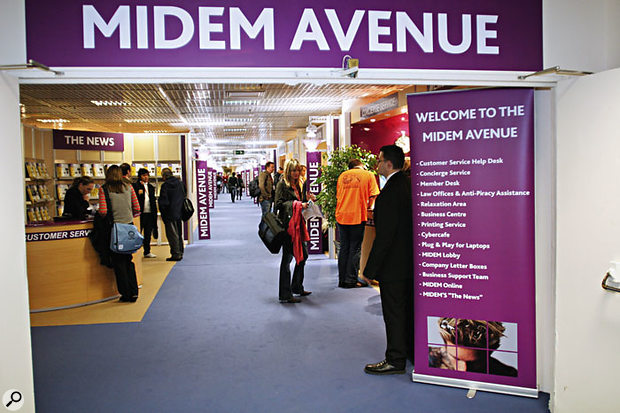 The MIDEM exhibition centre is full of resources that you can make use to do business at the conference.
The annual MIDEM conference is the music industry's biggest shop floor and networking opportunity — and whether you're an artist, a DJ or a producer, you can do business there.
The international music conference known as MIDEM celebrated its 40th anniversary this past January 22-26. The annual event, always held in beautiful Cannes, France, attracted record numbers of participants and exhibitors. Now encompassing MIDEMNet, MIDEMNet Mobile and the long-running exhibition centre, which is held in the Palais des Festivals, the conference has become the winter destination choice of music executives from all over the world. It doesn't hurt that temperatures are around 16 degrees Centigrade and that it's mostly sunny!
While some conferences consist of nothing more than some lame panels and a small trade show, MIDEM is the perfect for anyone who wants to improve their networking opportunities, mix and mingle with some of the industry's bigwigs and get your product heard by people you wouldn't normally have access to. Whether you are an up-and-coming band, producer/remixer, songwriter or artist, MIDEM has something to offer. Having attended six MIDEM conferences within the last decade, I can attest to the value of it. As an independent music publisher based in New York, I personally use the trip overseas to make contact with executives and lawyers and to catch up with my sub-publishers in certain foreign territories. Of course, the Internet has made the world much smaller and communication has significantly advanced in the 40 years of MIDEM, but there is nothing more productive than meeting someone face to face and establishing a working relationship. Readers can use this as a guide to what MIDEM has to offer; specifically, I'll take a look at what a band can get it from it, why a DJ/remixer or producer would like to check it out and what it offers musicians, songwriters and artists.
Those who have never made the trek to the conference always ask me the following question: 'Is it worth it?' I have never responded negatively to that question. In fact, MIDEM can give you anything you want out of it as long as you give it a chance, especially as the attendance at the event has been rising in recent years and was at an all-time high this year. How can you benefit from it? Let's assume you've got a band that is the hottest thing in your local area. Attending MIDEM and the trade show would give you an opportunity to network with record companies and industry executives worldwide, with the hopes of getting your music heard by individuals who wouldn't otherwise be exposed to your tunes. There are many licensing possibilities as well. Labels, both independent and major, often have representatives in attendance and they are always on the look out for new music. In fact, you would be surprised as to the level of international music knowledge that those reps have. They are usually very familiar with world music markets and the possibilities within them. Even if you're already signed to a local label and you control your own rights outside of your signed territory, take a trip into the event trade floor and you'll find hundreds of other labels from all around the world, looking to license great music.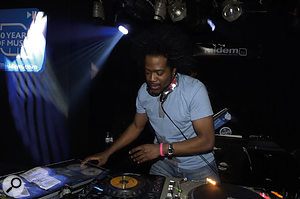 MIDEM offers both bands and DJs many opportunities to showcase their skills.Another great part of the conference for bands is the opportunity to showcase your talents for executives from all over the world. Each night and often during the day as well, MIDEM has hundreds of showcases all around the conference. At hotels, pubs, clubs and the aforementioned Palais des Festivals, there is always someone trying to get noticed. Showcasing at MIDEM is just like any other conference: you submit material and await a response. However, with MIDEM, there are even more opportunities to showcase than at normal conferences. Lots of audio manufacturers attend the event to highlight their new equipment, and many of them run showcases in their exhibitor space, held at the Palais des Festivals.
For DJs and remixers, MIDEM is your playground. First of all, I think there were just as many DJ showcases as there were bands/artists playing. Everywhere I looked, there was a DJ from somewhere, spinning long hours into the night, and many in the know are saying that the next big movement in the music industry will be from the DJ, more as an artist than as a service provider.
If you're DJing weekly at a great spot in your local region, the next step is to travel to other countries and make a name for yourself. MIDEM allows you to do just that. Managers, agents and lawyers — all of whom can negotiate deals for you — are in heavy attendance at MIDEM. For remixers, MIDEM can be the best opportunity you'll have to get your tracks known across the world. Why not attempt to pick up some remix work from a foreign label and put your best effort into it? You never know how the mix will do, and you might have your work heard by more executives than you can imagine. DJs and remixers can also take full advantage of MIDEMNet and MIDEMNet Mobile, as ringtones, ringbacks and customised digital music available on phones and PDAs are great ways to get your music heard by the masses.
For singer/songwriters and musicians, this is your world stage. MIDEM is one of the best places to set up international collaborations and get more work. Artists, musicians and songwriters from over 50 countries are there. Of course, you have to be willing to network and do the old 'schmooze', but one of the great things about MIDEM is their database of participants that is available on-line to view once a person or company is registered. This gives you a list of attendees, nicely indexed by country, which is an extremely valuable networking tool enabling you to set up meetings. In addition, the database will often include contact information for the participants, which further enables direct connection with your select parties. I personally use this information to expand my meeting schedule.
Leading figures in the music business share their experience and opinions on the conference's panel discussions.MIDEM have also recently set up what they call the 'MIDEM Lounge' in the Palais des Festivals. It's a common meeting place for individuals to greet each other, which is especially helpful when meeting someone for the first time. Every tried to find someone you're supposed to meet without knowing what they look like? They do a great job with this, setting up a large plasma TV monitor listing the parties and their prospective meeting times. The lounge is well attended and there are plenty of staff to assist you. Lots of meetings take place at the various hotels, which centre around the conference. Five-star hotels like the Martinez, Majestic and Carlton offer endless drinking opportunities and social gatherings until the break of dawn.
For anyone in attendance, there is a wonderful opportunity to learn more about our industry as the MIDEM panels are nicely attended, very informative and offer top executives as panel participants. The panels contain a very wide range of topics including A&R sit-downs, on-line marketing and distribution, music supervision for film and TV, publishing, digital music opportunities and marketing, licensing, legal seminars and more.
Overall, I look forward to MIDEM months before I even get there. It's not uncommon for participants to start scheduling meetings more than a month in advance. Some executives make half-hour or hour meetings from breakfast to dinner and then start their networking or socialising. My advice is to plan the trip more than six months in advance, especially since some musicians and bands don't always have the best economic situation. Attending MIDEM can be a bit of a drain on the wallet, but the money it costs you is far outweighed by the money you can make if the right deals or relationships are struck during the event. So save up, plan ahead and go to MIDEM! See you there!