La Siesta del Fauno's founder, Ernesto Romeo, has curated a haven for creativity in Argentina that is specialised in the intricacies of analogue and digital synthesis...
It may come as a surprise that one of the vibiest, most colourful and best-equipped studios for electronic music in the world is located in Argentina. Yet the scene in Buenos Aires is vibrant and thriving, and many international artists have also embraced the musical opportunities La Siesta del Fauno has to offer. Its founder, Ernesto Romeo, has curated a haven for creativity that is specialised in the intricacies of analogue and digital synthesis, yet open to other musical genres, and accessible to artists and producers from across the musical spectrum.
A native of Buenos Aires, Ernesto was born into a family of poets and painters in 1968. He was exposed to electronic music in the early '80s, through records by Vangelis and Jean-Michel Jarre, and around the same time he began taking piano lessons. "What made me think about starting to produce music was the incredibly emotional contact I made with electronic music during my adolescence. Even though I had not had previous musical training, I felt an urgent call to start learning," he recalls. For most of his career, he was self-taught, but eventually completed a Masters in Technology and Aesthetics in Electronic Arts at the National University of Tres de Febrero in 2009.
Ernesto Romeo acquired his first synthesizers, a Siel DK80 and a Kawai/Teisco 100, in 1988. He then founded the band project Klauss, who continue to play in duo and trio formations, sometimes with guests, and always with synth setups which would make any studio jealous. Klauss has played hundreds of shows all over South and Central America and the United States, but also in Europe, and the band has had numerous releases — most recently a collaboration with Detroit techno legend Carl Craig, as well as the album 921, which is due out in 2019.
Two Moogs and a rare E‑mu system take centre stage in the wall of modular synthesizers.
Like most musicians turned studio owners, Ernesto Romeo's first production facility was his bedroom. Later it was moved to a different space, and La Siesta del Fauno was finally created in 2011, when Romeo and his partner Pablo Gil converted a 1940s office building into the synth haven it remains. Romeo: "The most important motivational idea of our Studio Laboratory was to share a space for creation and experimentation with as many people as possible, with the specialty of making available an assorted amount of classical and contemporary instruments from different times and technologies." The following year, Romeo's brother Lucas joined the team.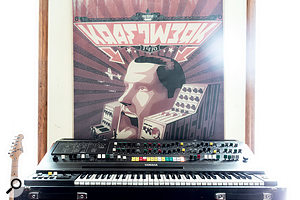 The Yamaha CS80 is one of Ernesto Romeo's favourite synths.The main studio comprises the large 45-square-metre control room, which is home to a DDA AMR-24 console as well as the largest share of the synth collection, and also a 22-square-metre live room with a Bösendorfer grand piano and a Hammond/Leslie, as well as some electric pianos and guitar amps. The studio, which is named after Claude Debussy's Prélude à l'Après-midi d'un Faune, also boasts a second, smaller studio with a more modern setup based around an SSL Matrix desk, an outboard rack and a collection of mostly modern synthesizers.
A pair of classic British instruments by EMS: the Synthi AKS and VCS3 'Putney'.The synth collection in the main room, though, is the obvious highlight. It would be much easier to list the synths Ernesto does not have in his collection rather than the ones he has on offer! It is no surprise that, when asked about his favourite ones, he can't help but list almost all of them.
Vintage drum machines sit alongside a PPG Wave 2.2.
Rare items in Ernesto Romeo's collection include the Steiner-Parker Synthacon.The modular synths definitely take centre stage, with two Moog System 15s and 960 sequencers, a rare E‑mu modular, the semi-modular Korg PS3300 and ARP 2600, again with sequencer, as well as the whole Korg MS/SQ range with sequencer and vocoder. Romeo's favourites also include the Yamaha CS80, Moog Memorymoog, Minimoog Model D and the EMS Synthi AKS and VCS3, "two instruments I can say are already part of my body".
There are also Sequential Circuits Prophet 5, T8, VS and Pro-One models, almost the entire Roland product range, as well as very rare instruments such as the Steiner-Parker Synthacon, Mellotron M400 and RSF Kobol.
Yamaha are also represented by the DX1 FM synth and CP70 piano, while the studio is also home to Argentine modular systems from Núcleo and Sebo-Synths and the Swiss modular Technosaurus Selector.
This amazing collection has helped make La Siesta del Fauno not only a hub for Argentine musicians, like Diego Tuñón from the legendary band Babasónicos, but also a destination of choice for international artists like Jimmy Van M, Marc Romboy, Robert Babicz, Francesco Tristano, Guti, Lee Van Dowsky, Patrice Baumel and DJ Hell. Ernesto Romeo is also widely known as a teacher, giving classes at his studio for Insound Academy as well as for the National University of Tres de Febrero.