Sonoma open door for low-latency Android audio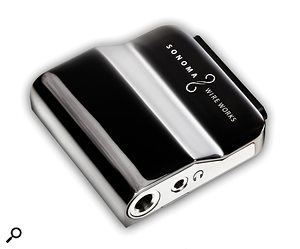 GuitarJack 2 USBWe reported recently on the release of Sonoma Wire Works' Low Latency Audio solution for Android devides, which should make real-time music making apps much more feasible on Google devices. At Musikmesse Sonoma announced a new audio interface called GuitarJack 2 USB. Their previous interface, GuitarJack Model 2 only supported use on iOS but this new interface supports Mac, PC and select mobile devices.
Sonoma are also working on a range of USB interfaces that will work with Android and iOS, but we'll keep you posted when we know more. Here's more from Sonoma Wire Works.
Press Release: Sonoma Wire Works, makers of the GuitarJack™ iOS audio I/O, have announced GuitarJack 2 USB, a multi-platform I/O interface for Mac, PC, and select mobile devices. GuitarJack 2 USB eliminates the need for multiple audio interfaces for each device and/or operating system.
Together with Sonoma's LLA™ solution for Android, GuitarJack 2 USB completes a low latency audio reference platform for OEM manufacturers of Android devices.
"We believe that the future of audio hardware and software should be multi-platform, seamlessly combining mobile, laptop and desktop recording. GuitarJack 2 USB is just the beginning." - Doug Wright, president of Sonoma Wire Works
GuitarJack 2 USB Hardware Features:
24-bit AD/DA converters
1/4 inch (6.5 mm) instrument input - nickel-plated, solid brass Switchcraft (10,000 MTBF) jack
1/8 inch (3.5 mm) stereo mic/line input
1/8 inch (3.5 mm) stereo headphone/line output with increased drive for headphones
Micro USB connector
Sleek and rugged aluminum shell
Pricing and Availability:
U.S. residents may pre-order GuitarJack 2 USB for the introductory street price of $129 ($199 MSRP) from http://sonomawireworks.com/store and it will ship in approximately 6-8 weeks. GuitarJack 2 USB will then be available from select dealers worldwide.
http://www.sonomawireworks.com/guitarjackusb