Virtual instrument experts team up with estate of iconic composer for Composer Toolkit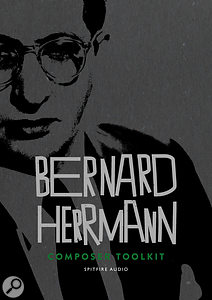 Bernard Herrmann was undoubtedly one of the most innovative film composers of all time. If you don't know the name, you'll know his work from Psycho, Taxi Driver and Citizen Kane. Now, Spitfire have worked with Herrmann's estate to present Bernard Herrmann Composer Toolkit.
The toolkit is Spitfire's first dry-stage orchestral library, and they've worked exclusively with Bernard Herrmann's estate to curate and assemble a unique set of studio orchestra ensembles, informed directly by the composer's legendary orchestration aesthetic. The whole library was recorded at the formidable Studio 1 at Air Lyndhurst by Simon Rhodes (Avatar, Grand Budapest Hotel, Spectre, Harry Potter, There Will Be Blood). 
The press release explains: "we've captured players performing as Herrmann would have had them – boisterous, lively and upfront" with patches featuring selected groups, unusual instrumental combis, chords, effects and more. 
Looking at the run-down of presets and articulations on Spitfire's site there's plenty on offer ranging from strings, flutes and brass to harp and celeste combos, through to ondes Martenot, vibes, timps and synths. 
If you're looking for a versatile new sound palette for creating lively and distinctive scores, this is probably worth exploring. Is it out now and requires NI's free Kontakt Player 5.5. Discounted introductory pricing is £339 / $399 / €409 (20% off), increasing thereafter to £429 / $499 / €509. We look forward to bringing you a review as soon as we can get a copy.
As a fun extra, Spitfire have also shared this trailer which features a previously unheard/unreleased recording from the original Psycho masters.
http://www.spitfireaudio.com/shop/a-z/bernard-herrmann-composer-toolkit/