Dina Pearlman: running the Alan R. Pearlman Foundation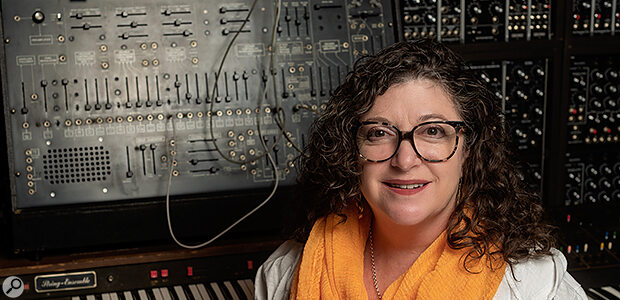 Alan R. Pearlman was responsible for some of the greatest sounding and most intuitive synthesizers of the modern age. Inspired, as so many were, by hearing Wendy Carlos' Switched On Bach, he founded Tonus in 1969, a company that would soon become ARP Instruments, and began producing synthesizers such as the legendary ARP 2500, 2600 and Odyssey.
Since his passing in 2019 at the age of 93, his daughter, Dina, has been building the Alan R. Pearlman Foundation, an organisation that seeks to preserve her father's legacy and enable as many people as possible to get hands-on with his inventions.
As with all not-for-profit organisations, Dina has faced numerous challenges, but with the help of the likes of Jean-Michel Jarre, Herbie Hancock and many other fans of Alan's work, the Foundation is beginning to realise its objectives with great success.
Chapters
00:00 - Introduction
01:18 - The Alan R. Pearlman Foundation
06:52 - The Main Aims Of The Foundation
09:12 - Women In The World Of Pioneering Synthesis
12:45 - Childhood Memories During The Early Days Of ARP
14:54 - Unearthed Footage Of The ARP Factory
23:27 - About ARPs For All
30:23 - The ARP Paradigm
34:27 - Collaborating With Bjooks
38:55 - Google Arts & Culture: Music Makers & Machines
40:47 - The Future For The Alan R. Pearlman Foundation
Dina Pearlman - Biog
Dina is the only child of Alan and Buena Pearlman and grew up with ARP Synthesizers as a backdrop for her childhood, travelling extensively and being exposed to innovative and cutting-edge technology. In her early years, she spent time playing in rock and roll bands, as well as dance and theatre. For the past thirty years, she has worked as a versatile visual arts and design professional, creative director, and educator. She has also worked extensively in photography, graphics and web design for several decades, and has a broad understanding of visual communications media.
In the last few years before his illness, Alan Pearlman started to re-examine the brave new world of synthesizers that exists today, many decades after his iconic and groundbreaking 12 years as the inventor and founder of ARP Synthesizers. During this time, he brought his daughter into the conversation. After his death in January 2019, Dina realised the need for keeping his legacy and passion alive, and with the help and encouragement of many of his former colleagues as well as the wonderful Michelle Moog-Koussa, she started the Alan R. Pearlman Foundation and ARP Archives.
Links And Credits
The Alan R. Pearlman Foundation - https://alanrpearlmanfoundation.org
All music composed, performed, recorded and performed by Alex Ball - https:// www.youtube.com/@AlexBallMusic
Interviewer: Rob Puricelli - Biog
Rob Puricelli is a Music Technologist and Instructional Designer who has a healthy obsession with classic synthesizers and their history. In conjunction with former Fairlight Studio Manager, Peter Wielk, he fixes and restores Fairlight CMI's so that they can enjoy prolonged and productive lives with new owners. He also writes reviews and articles for Sound On Sound, his own website, Failed Muso, and other music-related publications, as well as hosting a weekly livestream on YouTube for the Pro Synth Network and guesting on numerous music technology podcasts and shows. Rob also works alongside a number of manufacturers, demonstrating their products and lecturing about music technology at various educational and vocational establishments.
Twitter/Instagram/Facebook @failedmuso

About the Electronic Music podcast channel
On this channel we feature some of the pioneers of the industry, interview musicians, and talk about retro and current gear.
Available on Apple Podcasts, Google Podcasts, Spotify, Amazon or wherever you get your podcasts.