YouTube Synthesizer Historian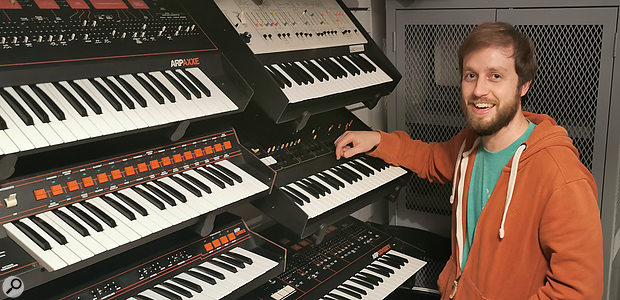 Alex Ball has built a reputation as one of the most informative and interesting synth historians of the YouTube age.
Starting with short videos about specific instruments, his work has grown into more in-depth and elaborate explorations of the companies behind the instruments and the people who used them.
Over the last year or so, Alex has been busy producing one of the most detailed examinations of the ARP company, its founder Alan R Pearlman, and the numerous people involved in making the American synthesizer manufacturer one of the most revered brands in the industry. This documentary film was made for the Alan R Pearlman Foundation, headed up by Alan's daughter Dina Pearlman, with their full support.
Chapters
00:00 - Intro and music featuring the ARP family of synths by Alex Ball
01:16 - About Alex
04:05 - The Terminator 2 Analysis
06:00 - Meeting Heroes
06:22 - How did the ARP documentary happen?
13:11 - How long was the process?
16:05 - MUSIC CLIP: ARP family of synths by Alex Ball
16:22 - What are your research methods?
18:44 - Alternate truths
20:43 - Tracking down the gear
22:30 - Addendums and the ARP Avatar
24:00 - MUSIC CLIP: 'Interlude' by Drew Schlesinger & David Torn featuring the ARP Avatar
24:35 - ARP Centaur 6
26:42 - Where do you see synth documentaries going?

31:26 - What's next in Alex Ball's world?
34:00 - What would you love to make a documentary about?
36:00 - Outro music featuring the ARP Solina by Alex Ball
Alex Ball - Biog
By day, Alex Ball is an award-winning media composer, producer and instrumentalist. By night, Alex explores his passion for synthesizers and the history of music technology, and has made documentaries covering the stories of the Roland Corporation, ARP Instruments, the Prophet Synthesizers, the Linn LM‑1 digital drum machine as well as breakdowns of iconic film scores such as Terminator 2, Escape From New York and Predator.
ARP documentary: https://youtu.be/l31RXiVSI9s
Interviewer: Rob Puricelli - Biog
Rob Puricelli is a Music Technologist and Instructional Designer who has a healthy obsession with classic synthesizers and their history. In conjunction with former Fairlight Studio Manager Peter Wielk, he fixes and restores Fairlight CMIs so that they can enjoy prolonged and productive lives with new owners.
Rob also writes reviews and articles for his website, failedmuso.com and has guested on a number of music technology podcasts and shows. He can often be found at various synthesizer shows such as SynthFest UK, where in 2019 he delivered a talk and demonstration on the history of the Fairlight in conjunction with producer Steve Levine.
About the Electronic Music podcast channel
On this channel we feature some of the pioneers of the industry, interview musicians and talk about retro and current gear.