He might not be a household name, but Steve Ouimette has made more people dance than anyone else on the planet!
"Ever since I was a kid, I used to drive my guitar teachers and the other band members crazy," laughs Steve Ouimette, "because I couldn't stand when we played a song the wrong way, so I'd sit there with a cassette player or turntable and play back parts until I could figure them out. Then I learned about the karaoke trick of summing the two-track to mono and flipping one channel out of phase so I could hear parts that might be hidden in the mix."
Steve's perfectionism has stood him in good stead, both as a composer for games and TV, and as the man behind the acclaimed Cinematic Guitars series of sample libraries from Sample Logic. But it's found its full expression in a more unusual specialism, which he estimates as making up around a third of his work: recreating hit songs for use in video games. "It became a big part of my work starting with Guitar Hero III in 2007. Activision/Neversoft hired me to record nine covers for the game — 'School's Out' by Alice Cooper was my test song — and I've been going ever since. I think I've done somewhere around 250-270 songs at this point. A good number of those were with Activision and Konami, but since 2010 it's been pretty much exclusively with Ubisoft and the Just Dance franchise."
The first stage in recreating any track is, naturally, research. "Usually it starts with just listening as much as I can. It's rare that I ever get more than a stereo track, and many of the times it's an MP3 these days. I'll put it on during my cardio workout, before I sleep, while I'm having my coffee whenever I can, to really get it into my head.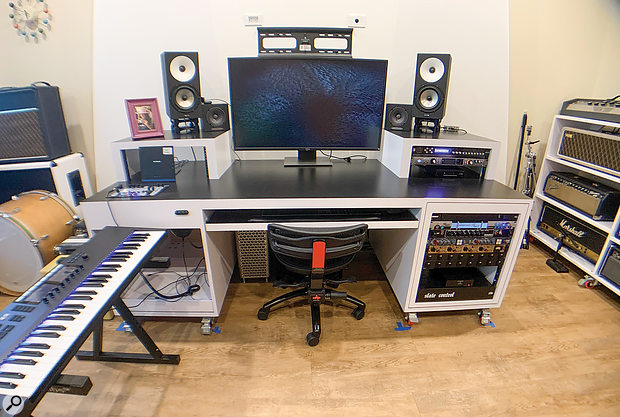 Steve Ouimette's single-room studio is highly tailored to his own needs as a composer and self-recording musician.
"I use a mix of speakers and headphones. My main monitors are Amphion One18s combined with four HSU 15-inch subs and a Linea ASC48, for a little DSP correction of my room. That's the main listening setup. And then, yes, headphones. I've been using Beyer DT770s, but they're a little bass-heavy for my taste. Still, the isolation can help pick out certain elements because they're right there in your ears. But the Amphions are definitely where I spend 85 percent of my time. Those speakers were a revelation to me. It's almost like they aren't even there it's just music coming at me!
"I also use a program called Transcribe from Seventh String Software that does the karaoke trick as well as slows down tracks, has built-in EQ choices for isolating frequencies and also has a handy tuner in it so you can get the track to concert pitch if they sped it up in mastering. Sometimes a track will come in that's slightly sharp or flat — mostly sharp — so that helps to tune it. In many cases I'll use that to tune the track and instruments to that pitch if necessary. Other than that, I'll use FabFilter Pro‑Q3 and some of the excellent tools from iZotope like Neutron. But for the most part it's just old-school listening with my ears!
"From there it's just a matter of breaking the track down to the most basic elements and going in deep to listen and pick out the details. The Internet has been a huge help, especially as it continues to grow. I'll find out where the song was recorded, who the players were, what mixing console was used, mics, instruments, amps, anything and everything. You sort of become a detective, in that you're always looking for clues as to what they may have used. Interviews and other...
You are reading one of the locked Subscriber-only articles from our latest 5 issues.
You've read 20% of this article for free, so to continue reading...
Buy & Download this Single Article in PDF format

£1.00 GBP

$1.49 USD


For less than the price of a coffee, buy now and immediately download to your computer or smartphone.

Buy & Download the Full Issue PDF
Our 'full SOS magazine' for smartphone/tablet/computer. More info...