Photo: Richard EcclestoneThe adage 'good things come to those who wait' is worth remembering if you're hoping to find success in the music industry. There may be a few fortunate artists and writers who become successful enough to earn a living solely from their music overnight, but for most of us, it takes years to get the break. SOS reader Declan Flynn has been pursuing a career in the industry for a long time, since he became fascinated with electronic music as a teenager and bought his first synth and drum machine.
Some years later he decided to take his music seriously and managed to win a place on a degree course in composition at Goldsmiths College, London. Since graduating almost 10 years ago, Declan has had to scrape together a living by juggling roles as a musician, engineer, programmer and teacher, but thanks to two recent breaks — a publishing contract and a multi-album recording deal — all that might be about to change.
Gravity, Declan's first album (recorded under his stage name, Alpha-X), was released by the label Bar De Lune last year. Packaged in a fold-out cardboard sleeve displaying spectacular photos from around the world, Gravity is a mixture of ambient synthesizer parts, sampled loops, real acoustic instruments and live vocals of various ethnic origins. Despite its 'world music' feel and glossy presentation, the album was mostly produced in Declan's small home studio with a little help from engineer and friend Dug Wolfsohn. What's more, the whole thing was done on a very tight budget, although being someone who's used to getting by on very little, Declan managed to stretch his resources to produce a very convincing result.
So it's perhaps fitting, then, that it was no more that a humble DAT recording made using an Atari-based sequencer and Roland S760 sampler that helped Declan on the road to securing his publishing and record deals. Declan's DAT track had been included on a promotional CD distributed by a fashionable chain of London restaurants, and from that well-circulated piece, he managed to gain several more commissions. "I was asked to do a recording for an album called The Arabians," explains Declan. "There's a lot of ethnic diversity where I live in London, so I managed to find an Arabic singer and put something together. The track was released in France and got a lot of club play, but the company went bust! Luckily, though, Claude Challe — who produced BuddhaBar, BuddhaBeats and other big compilation albums — had heard the album and decided to put my tracks on his next compilation.
"That album was released in France, so I needed to get a publisher who could retrieve my royalties. A friend of mine suggested I contact Atlantic Seven Productions who sounded ideal because they are a part English, part French company and, fortunately, they agreed to represent me. The owner of Atlantic Seven also runs a sample library company and asked me if I had anything else, so I gave him several CDs of music dating right back to my days at university. Some were done with just a Korg O1WFD and its internal sequencer, and others with an Atari and S760 sampler, but they still offered me an advance on half of the old material and a position as in-house composer for the music library section of the publishing company. Getting the advance was great because it was money for stuff I'd already done."
While all this was going on, one of Declan's compilation tracks attracted the interest of a label called Bar De Lune. "A friend told me that I would need to play them at least half an album of stuff, so I bought loads of new sample CDs and did about five songs in the same style. I went for an interview, got on really well with them and they signed me up; so from October 2001 to February 2002 I was working on my album Gravity."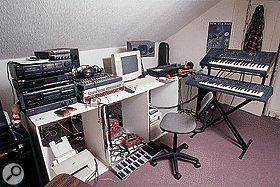 Declan's main writing area provides easy access to all his gear, including the outboard and mastering rig, the Korg MS2000 and Roland JP8000 synths and the G3 Mac.Photo: Richard Ecclestone
Despite the record and publishing contracts, Declan still creates his music from a modest home studio. The studio itself is in the converted attic of his South London flat and has been a dedicated studio for about four years. The space is big enough for Declan's gear, but it's not the ideal environment for all music production jobs, although it has at least been optimised so that release-quality mixes are possible. "Everything has moved around a lot in that room because I had complaints about my mixes from mastering engineers," admits Declan. "At first, I had the speakers set up on the wall at the far end, but the bass was far too dominant. Anyone entering the door at the opposite end could hear loads of bass, but in the middle of the room it was completely lost.
"An engineer friend who looked at the setup told me that there were two things wrong: firstly the speakers were in the wrong part of the room, so he told me to move them to where they are now, which is facing out across the shorter dimension of the room. Secondly, I had the monitors too close to the wall, so he gave me a measurement and told me to get some decent stands for them. The room is still far from perfect, but I can now hear the bass properly. I've tested it by turning a bass guitar up loud and playing a whole scale, and it now sounds very even all the way up. I've also got a prime monitoring position roughly where I sit, and since changing the room round I've never had any complaints from mastering engineers!"
Although he now has a fairly decent collection of gear, Declan's studio is still very modest by commercial standards. Not so long ago, the studio was very sparse indeed, as much of the current setup was bought with the Gravity album advance. "Bar de Lune gave me a budget of £12,500 to cover all the musical production expenses. With recording costs, musicians' fees and production the money burned up very quickly!
"The Spirit Absolute 2s, Orelle amplifier, DAT machine, TL Audio Fatman Fat 1, Mindprint En-voice, AKG 4000B, Celemony Melodyne software and TC Powercore card were all bought with the money from the album advance. Prior to that, my demos and publishing work were done with an Evolution keyboard, a Technics P30 master keyboard, a Kurzweil K2000 workstation, a JV1080 sound module and a tiny DAT player. I also had a Mac running Logic for recording, and I bought the Evolution because the Technics has weighted action that's necessary if you are playing piano or Rhodes sounds, but I also needed plastic action to play synth parts properly.
"When I upgraded, I sold some of the stuff that wasn't needed: I realised that I'd only used the Kurzweil as a low-res sampler on one track, so afterwards I bought the EXS24 software sampler, sampled my Kurzweil patches and exchanged it for a Roland JP8000. I also replaced my portable DAT with the Tascam DA20 DAT, which is only really used to monitor recording level and for A-D/D-A conversion. I usually send the signals from the Mindprint into the analogue inputs on the DAT machine, and take a digital out from the DAT because it has good converters. I mix everything using Logic but I plug the digital out into the Tascam for mix monitoring because its level metering is better than the Logic meters.
"I'm still using Logic 4.8 rather than version 5 because I'm really happy with what I've got and I'm running it on an old computer; my philosophy is if it ain't broke, don't fix it. There's nothing I can think of that I'd want to do with 5 that I can't already do and, as with all software, the more features you get, the slower the system."
Amongst Declan's computers, synths and sound modules are many unusual acoustic instruments that appear to belong to no single culture. In fact, Declan's music borrows from a number of different musical traditions, necessitating the use of a variety of acoustic instruments. "When I was recording Gravity I pre-arranged much of the album using instrument and vocal samples, but eventually I replaced much of the sample-based stuff with real musicians and singers. The flamenco track, for example, started out as samples, but I removed the guide sample vocals and replaced them with a session flamenco singer. I also listened to the techniques and styles of other vocalists and imitated ethnic vocals in places.
A room with a view: Declan's compact studio photographed from the other side — note the Technics P30 keyboard in the corner.Photo: Richard Ecclestone
"For one day I hired out a studio for £250 to record some drums, violin, bodhran and shaker. I used the studio because they specialise in folk and live stuff, but it was it a bit of a financial waste because I didn't use much of the drums in the end, and I could have recorded the violin and bodhran here."
In practice, most of Declan's acoustic and vocal parts are recorded in his home studio using some of the new gear purchased from his advances. "I bought the AKG C4000B and Mindprint voice channel so I could get a really good vocal at home, but I also use them for acoustic guitars. I usually have the Mindprint going into the DAT machine for A-D conversion and from that into the computer via its soundcard. For the Gravity album I also recorded a friend playing a five-string bass with a balanced output into a DI box, and then straight into the Mindprint. For electric guitar I use the Line 6 Pod and the DAT converters. The majority of vocals, bass and percussion I route through the Mindprint too."
For the non-acoustic part of his music, Declan uses a range of electronic software and hardware. One recently purchased software package — Celemony's Melodyne audio manipulation software — has been particularly useful for tracks that combine pre-recorded ethnic vocal and instrumental parts with electronic dance material. "I wanted to record authentic performances from ethnic musicians, but I still wanted to be able to add my mark as a Western musician by altering some of the notes and introduce interesting harmonic twists. Some of the instruments are tuned in such a way that they stay in one awkward key or scale. Melodyne offered me the potential to edit vocals and instruments in a very unique way, and it meant that I didn't upset any musicians by suggesting that they add musical elements that didn't sit well with their musical culture."
It's taken Declan many years of hard work to establish himself as a published writer and recording artist, but nevertheless, the experiences he has gathered along the way have proved to be an invaluable education. "At Goldsmiths you have learn to orchestrate, and to do that you need to understand all instruments, so I did as much as possible to learn about all the different sections of the orchestra. Goldsmiths also had an electronic music studio for its students, which gave me the chance to re-acquaint myself with the technology side of things. I couldn't believe how far things had come since I'd last used electronic gear. The synths were offering true polyphony and there were computer sequencers. They also had other interesting things like a Fairlight and a System 100, so for my third year I decided to take the option of working in the studio."
At college, Declan supplemented his grant by teaching piano and gigging. He continued these sidelines after University, but he still needed a day job and began working in a local music shop "I learnt a lot about technology from training days set up by companies like Akai and Roland, and I also met the guys from C-lab who were demonstrating Notator. The wages were terrible, but those kind of perks were good.
"That was the time when many musicians were playing to MIDI file backing tracks in pubs, and I started advertising to do that. It was a really good education because I had to break a track down into its component parts, and after a time I got really fast at it. I had to say to people that if they wanted quality they would have to pay for it, but for a little less I provided them with three-chord trick version of the song.
"I also managed to get score work from some people I knew from university. I wrote the music to about five short films, two of which were shown on Channel 4 and BBC TV. I also started teaching Music Technology at Westminster and Kingsway Colleges and Islington Music Workshop."
Declan's flat is clearly not practical for recording real drum kits, although the majority of his drum parts are programmed using Propellerhead Reason software wth a variety of samples. Declan: "My drum sounds are taken from a variety of sources including sample CDs, REX loops, Reason itself, and my own recordings of drum kits. I even use synths like the Korg MS2000 to synthesize drums sounds.
Old and new, East meets West: Declan's desk provides a home to a variety of musical instruments, including one that can be used as a spice grinder when the musicians want a curry.Photo: Richard Ecclestone"Sequencing drums is one of the few times I use MIDI these days, but as soon as I'm happy with the programming I record it as audio so that it's finished. Unfortunately I can't work like that for the publishing company because they always want me to change the balance or make cuts or edits. Sometimes they want a different lead instrument, so I have to be flexible. For them I record the mix straight onto DAT so I can change the MIDI parts if needed. That's the only time I need my Spirit Folio desk, but I very rarely use the EQ, and if I do it's to remove something fundamental like the top or bottom end. I don't tend to use EQ to boost frequencies either: if a sound doesn't sit, I won't use it and there are so many sounds in synths these days that it's easy to substitute something else.
"I use the TL Audio Fat 1 to warm the sound of stereo keyboards, synth sounds and drum loops. The Powercore card is mostly used for its reverbs during mixing — they're an improvement on the VST plug-in reverbs. The Powercore also has EQ and processing so it reduces the demands on my computer's processor."
Declan's mixes are performed in Logic, making full use of the program's large number of audio tracks. "When I was mixing Gravity I found that the best method was to set up lots of tracks so that if I wanted to change the sound, volume, pan, effect or just do something weird I could drag the audio to the appropriate channel and song position. That method required very little automation, but if automation was needed, I would usually draw it in with Hyperdraw instead of trying to move the faders with a mouse."
The challenge of completing the Gravity album project also helped Declan settle on a method for preparing his tracks for mastering. "I really like the T-Racks mastering processor so when I was getting Gravity mastered I provided the mastering engineer with several variations of each track, some with T-Racks active, some without any mastering compression and other variations with just a little processing. I really wanted to keep the T-Racks sound on some and we kept it on a track called 'Mi Corazon' with just a few additional tweaks from the engineer. He did all the coding too. I took a couple of Massive Attack albums to analyse the overall balance, and we also referred to Peter Gabriel's Us to hear how all the ethnic instruments and the bass fitted in the mix. Overall the mastering was worth paying for because the processing dramatically increased the stereo width and controlled the bottom end."
Sound design is a very important part of Declan's music, so much so that at one time he seriously considered becoming a sound designer. As you might expect, Gravity contains some imaginative soundscapes created by some equally interesting techniques. "The evolving pad at the start of the album was created by recording four different Roland JV1080 ambient pads. I programmed each one with a different type of filter — band-pass, high-pass and low-pass — and each part played a different note of a chord. I reversed two out of the four and each part was panned to a different place in the stereo field, before I added a big reverb and delay.
"Right at the start, over those evolving pads, I added different takes of me tuning in a radio, saying random things and singing various notes in to create background ambient noise. The big sonic bass boom sound was programmed on the MS2000 as was a fat kick drum sound. The main vocal part is made up from a collection of samples and my singing, and the clapping was overdubbed about six times together with real shaker and Thai drum.
"In the second track, 'Hojar', I created a dulcimer riff for the main body of the song, but I also used it at the start by taking a granulated single note sample of the dulcimer line and time-stretching it. For 'Mi Corazon' I also took a bit of audio from the body of the track to use at the start, and I put the sample through a heavy EQ processor where I was moving about 30 bands of the EQ up and down. The software didn't allow me to record it as automation, so I performed the EQ sweep in real time and recorded it to DAT — that track also has live flamenco guitar, flamenco vocals and live clapping.
"I ended the album with a sound created by taking the whole album file (all the tracks) and time-stretching it until it was just 30 seconds long, and then I had it playing forwards and backwards simultaneously!"
There must be many SOS readers who would love to give up the nine-to-five day job and earn a living from their music. In that respect, Declan Flynn's achievement is something to be admired, even though, by his own admission, money is still a little tight. "I can't just live off my advances, so I'm still doing stuff for the publishing company. There are periods when nothing's coming in, and other times when I'm really flush, but I'm getting stuff released that will bring in a royalty income in the long term. All I want is to keep on doing exactly what I do now, but to be more wealthy! I have lots of friends who make a lot of money doing pop sessions, but I just want to write great music on my terms."
AKG C4000B microphone.
Apple Power Mac beige tower G3.
Celemony Melodyne audio manipulation software.
Emagic Audiowerk8 PCI I/O Card.
Emagic EXS24 software sampler.
Emagic Logic Audio v4.8 MIDI + Audio sequencer.
Korg MS2000 synthesizer.
Line 6 Pod guitar effects processor.
Mindprint En-voice voice channel.
Propellerhead Reason virtual music studio.
Roland JP8000 synthesizer.
Roland JV1080 sound module.
Spirit Absolute 2 monitors.
Spirit Folio 16:4:2 mixer.
TC Powercore DSP effects card.
Tascam DA20 MkII DAT recorder.
Technics P30 master keyboard.
TL Audio Fat 1 compressor.