Edwyn Collins (right) and Seb Lewsley in the control room at West Heath Studios.
In 2005, a stroke left Edwyn Collins paralysed and unable to remember how to use any of his amazing collection of vintage gear. Together, he and his recording partner Seb Lewsley relearned the studio from scratch.
Within seconds of ringing the buzzer at London's West Heath Studios, the door swings open and we're met by the cheery face and welcoming left hand of Edwyn Collins, a man who's defied all odds to launch one of the most astonishing comebacks in recent music history. Just five years ago, following two successive brain haemorrhages, the highly influential ex‑Orange Juice frontman, solo artist, studio owner and record producer was left unable to walk, talk, read or write and was left without the majority of his life's memories. A combination of intensive therapy and the support of friends and loved ones — as well as his own stubborn determination to "get back to work" — have all helped to deliver his brilliant new album, Losing Sleep, which features guest appearances from Johnny Marr, the Drums, Roddy Frame, Romeo Stodart of the Magic Numbers, Ryan Jarman of the Cribs and Franz Ferdinand's Alex Kapranos and Nick McCarthy.
Pride of place at West Heath goes to Collins' 1969 Neve console.Although Edwyn still has problems with walking, due to partial paralysis on the right‑hand side of his body — a condition that also leaves him unable to strum his beloved vintage guitars — he wastes little time in leading us on a brief guided tour of the West Hampstead recording Mecca that's been his home from home for the last 15 years. This eclectic studio is stuffed to the gills with everything from rare analogue gear and beautiful vintage instruments to charity‑shop toys, paintings and other knick‑knacks, which reflect the infectious sense of humour that both Edwyn and right‑hand man Seb Lewsley inject into every recording project (or, indeed, television series — check out their hilarious West Heath Yard sitcom from the late '90s). Seb has been working as engineer and co‑producer with Edwyn for around 18 years now, and in West Heath circles, they're lovingly referred to as "the communal brain". Edwyn still has some trouble with his speech due to dysphasia, which means he can sometimes find it difficult to pick out the words he knows he wants to say.
"Dysphasia is the problem, but I'm getting better," Edwyn explains. "But it's still not easy — the dysphasia, it's weird. I'm great at singing again, but the Dingwalls concert [Electric Proms, October 2007], the first since I had a stroke, I forgot the words but… no problem, I'm great now and my singing is good. My talking is still not back to normal, let's say, but I'm persevering slowly."
The main West Heath live area.
Edwyn Collins first met Seb Lewsley in the early '90s when he was producing the Frank and Walters' debut album Trains, Boats & Planes, which was recorded at London's Sonet Studios. Seb, who was employed as an assistant there, fondly recalls how Edwyn ended up at Sonet in the first place.
"It was a good little studio, and I remember… this used to be your story," laughs Seb, gesturing to Edwyn. "You said you looked in the back of Kemp's directory and it said, 'Sonet studios, free tea and sandwiches' — so you thought, 'I can't get better than that!' So he came in because of the tea and sandwiches — it was brilliant!"
When engineer Jock Loveband had to go away towards the end of the sessions, he left Lewsley to engineer what ended up becoming the album's final track, 'High Is Low'. What was intended to be "a 30-second ditty" soon morphed into nearly three minutes of indie‑psychedelia under Seb and Edwyns' stewardship. He and Collins hit it off immediately.
"I thought Edwyn was hilarious, and was great at dispelling that tension that's in the studio," says Lewsley. "I just thought, 'Oh, this is brilliant!' We shared the same humour and the aesthetics of sound and things — not only engineering, but getting the right bit of equipment rather than spending hours trying to replicate something. Some engineers will spend hours making these sounds really tiny and quite odd and not real, and I just didn't really get that."
"I prefer natural sound," adds Edwyn. "The '60s approach to the '80s approach. The SSL desk is not for me at all. SSL is all chips inside of the thing, and I don't like chips at all. Some do, I suppose, but it's up to those guys. I prefer natural sound. It was a funny decade, the '80s. I prefer the '90s and 2000s."
A few of the vintage mics that see regular use at West Heath. Clockwise from top left: Neumann U47s in tube and FET versions, Neumann M49, PGS1 ribbon mic (the forerunner of the Coles 4038), and more vintage ribbons, including a Coles 4033 and RCA 77BX.
The first studio Edwyn Collins started was in an old coach house near Wood Green in North London, and it was there that he and Seb cemented their recording alliance. After being turfed out by their landlord, they began looking for new premises in 1994. It was during this period that Collins scored his biggest hit to date with 'A Girl Like You', hitting a peak of number four in the UK and going top 40 on the US Billboard Hot 100. The revenue gained from this runaway hit would not only help fund his new studio at West Heath Yard, it would also signal the beginning of Collins' mammoth spending spree on vintage analogue gear.
"I was passionate about collecting old gear, and it's a hobby of mine," says Edwyn.
"There's so much gear here!" adds Seb Lewsley. "Edwyn just went on a frenzy, but also got things at good prices before they all kind of went mental, so that's the reason why there's so much good stuff. And a lot of the time it came in at such a rate, you wouldn't even have a chance to actually have a go on anything. There was such an influx, and there's still stuff that we're getting used to, just finding out the character and what it's good for. That's the interesting bit, you know — rather than saying, 'Oh, let's use that on that because it's got valves or because it's germanium,' or something, you need to know what it's good for!"
It was Lewsley who ended up finding the current studio premises in West Hampstead, as Collins was busy touring the globe on the back of his new-found success as a solo artist.
"I phoned [audio dealers] the Larking brothers, because they're always going and clearing out studios and know first what studios are going down," explains Lewsley. "And Don said, 'Oh, come and look at this place in West Hampstead,' and I was living just round the corner so I thought 'That's pretty ideal.' There were a few record companies here in all the little offices and it had already been set up so this was the control room, that was the live room. I think the garages below used to be the stables for the horses for the fire station, and then they just built on top of it."
Once they decided the studio would more than fulfil their recording needs, Seb and Edwyn simply moved all their gear in and haven't looked back since.
"It's almost as we found it, including the stains up on the wall!" laughs Seb. "We never got around to doing anything except for sticking really bad posters up, but the main thing was getting it all wired up and getting the right people to come and fix the desk."
Since opening for business around 15 years ago, Seb and Edwyn have produced an impressive body of work at West Heath, including records by the Proclaimers, Space, the Cribs, Little Barrie and Robert Forster, not to mention Collins' own solo albums. Following Edwyn's stroke in 2005, Bernard Butler used the studio to produce numerous acts including Duffy, Black Kids, Cajun Dance Party and 1990s, helping to keep things ticking over while Collins was recovering. Sadly, when Edwyn did return to West Heath, his knowledge and understanding about the studio and all its gear had been lost along with many of his other memories.
"[Edwyn] knew more about the studio than I did," explains Seb Lewsley. "He'd bought all the gear and knew why he was buying it, but when he had the stroke, that person who knew everything and knew why he was using everything was gone. Before, I would just be doing all the technical hands‑on stuff like setting things up and making sure things weren't too distorted — or if they were, they were distorted for the right reason. I was creative with Edwyn as well, but that was my main thing.
"When Edwyn had the stroke, I suddenly had to be the one who thought, 'Well, why would I use that compressor in that chain with that?' I was just bamboozled, and I was really upset that Edwyn was ill as well. I just thought 'Well, do we have to get rid of the studio now?' I just kept thinking 'No, this is something that we've built up over the years. It's a really special thing! We've got to keep this going!' But I knew I had to relearn everything, and the best thing to start with was obviously the desk. I just really wanted to hone in on it and then, if I ever had any problems with a certain sound, I could think, 'Right then, I'll need to pull something else in. What piece of equipment do I need to use to solve that problem?'"
Edwyn returned to West Heath Studios in August 2005, almost as soon as he'd been released from hospital after a six‑month stay. By October, he and Seb began mixing his sixth solo album, Home Again, which had been recorded prior to Edwyn's illness, but it did not prove to be a particularly pleasant experience for Collins.
"Back then, it was kind of a strange environment to work in," says Collins. "And I wasn't sure about myself… and I said 'Seb, what is that STC? What is that Urei about? What is that EAR about… compression?' And so on. It's kind of like a weird experience to me. Dysphasia. I couldn't remember my studio. I found it a weird environment to focus on. I had to, in a way, get control, and I wanted to get myself very positive but, back then, I couldn't. It was kind of weird to me, plus I found it constantly noisy. Now, no problem, but then, my ears were jarring to an extent… 'What's that noise? What's that sound? What is it? I don't know. I have to leave the studio.' Certain frequencies of things were too weird for me."
With his right side still paralysed, Edwyn Collins is sadly unable to play any of his many guitars, though he can still frame chords with his left hand.
Although they eventually ended up postponing mixing work on Home Again for another year, Collins was determined to overcome the initial awkwardness he felt upon returning to the studio. Seb and Edwyn began studying the whys and wherefores of every piece of gear they had to hand.
"I thought it would be nice for me and Edwyn to relearn everything together," explains Lewsley. "I could go 'Edwyn, we've got that one on there because of that,' so he could think of a signal path and a chain of events. I'd say 'We've got an M49 on an acoustic, on a figure‑of‑eight [polar pattern], and it's going through a [Telefunken V] 72 and it's coming back up the desk on line, and then we're compressing it with an 1176 and we're creating all this sort of brilliance.' And this'd all be computing with Edwyn. Then, I'd be doing a guitar and he'd say, 'Put the 1176 on it,' because I'd have missed something. It was all coming back. It was coming back for me and it was coming back for him. Like I say, beforehand he was the one that knew everything and he would be the one going, 'Right, we're going to use a 4021 on the hi‑hats and then we're gonna stick that through the Raytheon,' and I'd be thinking, 'My God, what are you doing?' When he had a stroke, that was all gone and I just thought, 'Shit, I now have to be the one to do this,' so I was always trying to remember what we'd done on things. But the whole thing about learning in the studio — for anyone — is that you've got to know what pieces of equipment you have and why, and what they're good for, what their limitations are, and how to get around things with other bits of equipment."
Collins' guitar collection is matched by a selection of vintage amps and effect pedals.
Edwyn's stroke had seriously affected the speech and language part of his brain, meaning that he had to learn how to talk, read and write all over again. Remarkably, however, the musical part of Edwyn's brain remained largely intact. Although he could not strum the guitar due to the paralysis on his right‑hand side, he could remember and structure the chord shapes with his left.
"Back in hospital I was, let's say, and it's nasty, but I was a moron, I think," says Collins. "Yes, I accept that. I would say, 'The possibilities are endless, the possibilities are endless, the possibilities are endless,' over and over and over again, and I would say 'Grace Maxwell [Edwyn's wife], Grace Maxwell, Grace Maxwell, Grace Maxwell' over and over again. I was mad! But I played an acoustic guitar back in hospital in therapy and I knew the chords, simple chords. I'm cured, let's say — my talking's still got a long way to go, of course, but I'm better inside my own self. Back then in hospital, I was awkward and tragic."
'Searching For The Truth' was the first song Edwyn wrote after leaving hospital. The rest of the songs would come to him some time later and, as they did, he would record his ideas on a cheap Dictaphone. Many of the lyrics on Losing Sleep tackle the stroke and the effect it was having on the way Collins viewed himself and the world.
"What it is, I focused on how I was changing," he explains. "'What is my purpose in life? What is my position on life?' I'd had a stroke, and it was difficult to grasp my mind again, and it was difficult to focus on the verse and chorus. 'What have I said? What am I about to say? What is my angle on life? Who am I?' So, for me, it was a challenge, and I sang direct things about my life. I like fast songs and I like direct songs now. I'm back to being happy once more. I'm contented with life and I've got my purpose. My life is full of happiness and it's full of joy and compassion towards my fellow human beings."
West Heath Studios is home to a truly astonishing amount of sought‑after vintage equipment. This is but a selection of the outboard (from left, top to bottom): Binson Echorec 2 tape echo; EAR 660 compressors (x2), Audio & Design F600 compressor, LA Audio 4x4 dynamics processor, Langevin stereo limiter, Dbx 263x de‑essers (x2), Drawmer DS201 gate, Dbx 120XP subharmonic generator; Yamaha SPX90 and Alesis XTC reverbs, Universal Audio 1176 compressors (x2), Roland SDE2000 delay, unknown (possibly home‑made?) valve distortion processor and compressor, Vortexion valve mixer; API Lunchbox, Pye compressors (x3), Neve 32253 limiters (x4); Martin Audio PEQ500 and Pultec MEQ5 and MEQ3 equalisers, Altec 438A compressor, Teletronix LA2A compressor, API 5502 EQ, Lexicon MPX1 reverb, Dolby Spectral Processor; Pultec Equafilm EQs (x2), Raytheon and Dbx 160 compressors (x2).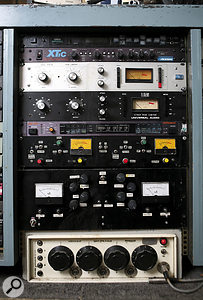 The Losing Sleep recording sessions kicked off in earnest back in November 2008 when Seb and Edwyn invited long‑time cohorts Barrie Cadogan of Little Barrie and Paul Cook of the Sex Pistols to help lay down the title track. There were a few nerves flying around but, within just a few hours, the core rhythm track was completed and they now had a template for the way the rest of the record was going to come together.
"I was really nervous," says Seb, "I hadn't been recording here for six months. I decided to leave the studio for a bit after Bernard had been here for a while because he was just getting on with it himself. We came in at one or something, everyone was hanging around and Edwyn got his Dictaphone. It was the first thing on the new album and I thought, 'This has got to go right.' I couldn't remember how to record because I hadn't been in for so long, but then I thought, 'Well, what I'm gonna do is I'm not gonna go to tape, I'm just gonna get all the sounds that I want to get and then go to the Apogee, which gives you back everything you put in.' It's an Apogee Rosetta 800 and it's clocked with a Rosendahl. I thought, 'I'll just use eight ins and use it as an eight‑track, and have four mics on the kit and then Little Barrie doing a guide guitar — which is the guitar we kept — and then Edwyn doing a guide vocal in here [the control room].' We recorded at 24‑bit, 48k. And from them coming in, having a cup of tea, listening to Edwyn's Dictaphone, us getting a tempo and a melody and a rhythm and working out 'Yeah, it's a northern soul thing!'... by about half four, we were done. But that's the way we've always recorded — immediate, and capturing the spirit of things, and that's really exciting! There are so many records that are just put through Pro Tools, and anyone can do that. Anyone can tidy up a vocal line, but it's boring!"
At West Heath, equipment that would take centre stage in many studios often just seems to be lying around, like this small selection of vintage keyboards!
The speedy, adrenalin‑fuelled recording approach that worked so well for the title track was mirrored across the remainder of the Losing Sleep recording sessions, whoever the guest musicians happened to be. One track, 'Humble', was recorded to tape using a Studer A800 MkII two‑inch 24‑track machine, but that was only because "the computer said no" on that particular day and wouldn't kick into gear. Arrangements were always thrown together as the musicians arrived at the studio.
"We stuck to really simple arrangements to make the songs just really immediate," explains Lewsley. "The whole thing was, 'Don't bore us, let's get to the chorus! Let's just make something very immediate, soundwise, and something accessible,' you know, so pretty much intro, verse, chorus, verse, chorus, solo, out or whatever… and that seemed to work, giving people space to go and do their own thing and improvise, although the structure would be there."
Multi‑instrumentalist Carwyn Ellis played a key role in helping translate Edwyn's ideas to the other guys on the sessions.
"Possibly he was my lifeline to communicate," explains Collins, "And he can also play everything… guitar, bass, drums simple… the single, 'Home Again', he played drums on that…"
"He was brilliant, Carwyn," says Seb Lewsley. "He's so talented and he just should be much bigger than he is, and his band Colorama are brilliant as well. Again, people would come in about one o'clock, have a cup of tea and then listen to what's on the magical Dictaphone. Carwyn would always be there to make sure that the track still had the sort of Edwynisms about it, so we wouldn't get too far away from his ideas. But very quickly we'd get it together. Everyone would be like, 'OK, is that what we're doing then?' 'Yeah, let's go in the live room and just rehearse it with some amps!' And everyone would run through it two or three times and we'd go, 'Right, let's record it!' And then everyone's sort of looking at each other and they're sort of playing, going, 'Errr, yeah, I know what I'm doing! Is it the chorus? Is it? OK!' What it did is it made everything really exciting because everyone's on edge and a bit worried. It was brilliant despite their fearful faces going, 'Shiiiiiiit'! They were doing a song from scratch in three hours between Edwyn and his Dictaphone and then putting things on tape. Also, working with Edwyn made them edgy as well, because they all really love him… so, again, they thought, 'Oh shit, we've gotta get this right!' And everyone did!"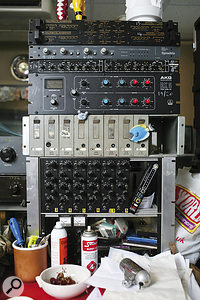 West Heath's store cupboard puts many studios to shame. Among much other gear, it's currently home to this rack, which houses eight Telefunken preamps and six Helios channel strips.Mixing‑wise, Seb and Edwyn targeted one track a day, using Edwyn's "pride and joy", his pre‑80 series Neve desk, hand‑built by Rupert Neve in 1969 for the original AIR Studios above Oxford Circus. The console was specifically used as a film dubbing console, with just 12 channels of 1064 mic/line amps and EQ. The last film it was used on was Bertolucci's The Last Emperor, and it even has four groups, so that you can utilise 'quadratic pan' if you ever happen to feel the urge.
"We aimed to do one [mix] a day, and I think that's what we did in the end," Seb explains. "The thing with this desk is there's no automation, and there's no one here that's gonna write down all the settings, so if you're coming back to do a mix, you start again from scratch and that can be really hard. One a day's nice, because you come in and set it up, get a sound, have a bit of lunch, then come back and balance things. Hopefully, you've got all the sounds, so you don't need to mess about too much."
Losing Sleep is just one of the records Edwyn and Seb have produced over the last couple of years. Recent West Heath recording artists include Comet Gain, the Cribs, Frankie & the Heartstrings, the Kinbeats, and Little Barrie and the Moons, and the studio is certainly showing no signs of slowing up at any time soon.
"It's weird, this place, because Edwyn's never advertised," says Seb Lewsley. "We don't have a web site with a list of equipment or a list of clients or anything like that. We don't even have a web site! It's always just been word of mouth, and that's always sort of sustained it really. People want to come into the studio for what it is and not what it isn't, and that's really good. People hear about it and want to get that sound, and that's what the Kinbeats did. They said, 'We really like Gorgeous George!' [Edwyn's third solo album, released in 1994], which was done on this desk. It's good working with people that like you! I'd hate to work at a commercial studio where it's like, 'Oh, who have we got in today? Oh, it's some band trying to prove themselves!'"  
Losing Sleep engineer and co‑producer Seb Lewsley takes us through some of his favourite West Heath miking techniques. "I've got an AKG D25 on the bass drum, SM57 on snare, top skin, and a [STC/Coles] 4038 behind the drummer pointing at the snare. That can give a nice overall kit sound on its own, or you can reverse the phase, gate it and key it with the snare for a roomier snare sound on the chorus or solo or wherever. We used to have [AKG] D19Cs on all the toms, the old Beatles mics, but now it's a Sennheiser MD441 on the rack and a [Neumann] U47 FET on the floor tom, and we've got a [AKG] C24 for the overheads.We've got a BBC Calrec on the hi‑hat. It's our basic setup. You can just come in, set that up and it'll sound like a drum kit. From there onwards you can start saying, 'Oh, all right, I want to put the 4021 through the Raytheon on the hi‑hat.'
"I've also got an [Neumann] M49 getting some early reflections off the wall for a room sound and a [Neumann] U48 in there [the smaller live room, with the partition doors wide open], right at the back there. You get loads of bass by the window, so it's nice to have a U48 down there, and we compress that with the Audio & Design F600 to get a big drum sound, especially if you can get the drummer to lose the cymbals — which is not always an easy thing to convince them of. For the guitars [on Losing Sleep], we used an SM57 close mic and a Telefunken U47 as the room mic, placed between six and 20 feet away, depending on the tempo and space in the track. The bass was mostly a Neumann U47 FET, but occasionally we used the AKG C12A into the Teletronix LA2A or the Urei 1176. Sometimes we DI'd, too.
"Keys were sent through to the live room into a British‑built '60s Vortexion amp. The horns were recorded with ribbon mics for close‑up, mostly with STC 4038s or [their predecessor] the PGS1, but also with an RCA 77BX and a BBC Marconi. For the room sound, I had an AKG C24, which is the stereo version of the classic C12. A lot of Edwyn's vocals were recorded using the Telefunken U47, or the Neumann U48 or the Neumann M49. Edwyn's favourite was the U47 with the VF14 tube in it, and that does sound very nice. It's very bright. It's brighter than the rest of them but it just seems to work really well with his voice, so that was a good thing. So usually it'd be the U47 through the Neve 1064A into the EAR 660 and that would be the Edwyn sound. It is lovely to have all these things. They always help, and we're kind of spoilt, really. Other vocals would also be with the U47, U48 or M49, depending on who sounded best on which mic. They'd then go into either the EAR or the Urei 1176, or sometimes the very aggressive Audio & Design F600 – that's the vocal sound on 'A Girl Like You'. It really brings out the breaths!"