Greg Ladanyi backstage with the Studer 24-track used for recording the live material on Jackson Browne's Running On Empty.
Greg Ladanyi showed up at the right time in rock history to chair sessions for Jackson Browne, Don Henley, Warren Zevon, Toto, Fleetwood Mac and the Jacksons — but while 50 percent of life may be simply showing up, the other half requires a lot of hard work...
The so-called SoCal Sound of the 1970s owed its existence, in large part, to a producer and engineer who was himself a Southern Californian. Greg Ladanyi's parents moved from the flatlands of Midwestern Indiana to sunny Los Angeles when he was one year old. "California is all I'd ever really known," Ladanyi recalls of a youth spent divided between accordion lessons and high-school sports. By the time he was 17, the accordion had morphed into keyboards and athletics gave way to evenings spend playing, and later managing and bartending, in clubs like the legendary Gazzarri's on Sunset Strip, hard by the Roxy and the Whiskey A Go Go, the centre of the LA music universe in the 1960s. Van Halen was the house band (the only one allowed by the owner to play all original songs), and the Doors, Janis Joplin and other icons of the era passed through the club while Ladanyi worked there, sparking a more enduring interest in the music business.
In the early 1970s, he had shifted to doing live sound for bands as well as managing a few of them. His first position was at a studio called Stronghold in LA. Initially, he was responsible for booking and marketing the facility as well as assisting at engineering. His partner at the time, Al Thomas, was engineering what would become Captain Beefheart's Blue Jeans And Moonbeams LP when it became apparent that there was a personality clash in the making. "They'd already given us $5,000 for the studio and we'd already spent it," Ladanyi recalls, still aghast at the memory of his first studio crisis. "I said to the producer, Andy DiMartino, 'I can engineer it.' I got behind the console and was calling my partner every 20 minutes for instructions on this or that about running the console. But I got through it, and by the time I was done, I was thoroughly in love with the idea of engineering records."
In 1974, he got a job as a runner at Sound Factory, which along with Wally Heider's, Goldstar and Sunset Sound formed the recording nucleus of Southern California pop music. The first key thing that took place there was that Ladanyi found himself being mentored by David Hassinger, the studio's owner and engineer for dozens of major rock and pop artists, including the Four Seasons, the Rolling Stones, the Grateful Dead and producer Phil Spector. "This guy was a true pioneer of music recording," he says. "I don't think I could have gotten the same education anywhere else but working with David day after day."
At Sound Factory, Ladanyi assisted with a number of major productions, including Linda Ronstadt's Hasten Down The Wind album, produced by Peter Asher and engineered by Val Garay, a pairing that would combine for most of the singer's heady years of hits in the 1970s and '80s. Through them, Ladanyi was exposed to the fundamental human elements of the Southern California sound, a blend of folk, rock and country that engineers like Garay and ultimately Ladanyi would learn to capture and put a light gloss on, but never a thick pop sheen. "After Linda they'd work on JD Souther, then Andrew Gold," he remembers. "It was on Souther's Black Rose that I moved over into engineering."
It's rare when someone can put their finger on the exact moment when their career fell into place. Ladanyi is one of the lucky few. "When Jackson Browne came in to Sound Factory, Val had already been hired to mix the Pretender album, recorded by John Haney. Something happened with scheduling and Jackson had to make a change. I'd been developing a relationship with him in the studio and I got up the nerve and asked him if I could take a shot at mixing the record. He gave the record to me and a couple of other engineers and when I came back and played my mixes for him, he said 'You've got the gig.' I was elated, I was nervous, I was everything you'd expect at a moment like that. I'd learned a lot by assisting with David Hassinger and Val Garay; they gave me my technical backbone as an engineer. But this was the moment when I had connected one-on-one with the artist."
Greg (right) with Mick Fleetwood and Billy Burnett, in 1988, working on Fleetwood Mac's Behind The Mask album.
At this point, Ladanyi makes a particularly trenchant observation. "I had the technical background. But I had also learned engineering while working on a group of very particular artists, like Jackson. They were meticulous song-crafters. The song was the centre of every project, the jumping-off point for every record and session. That was the genius of Southern California rock at the time — it was all about the song. Jackson Browne, the Eagles, Linda Ronstadt, Warren Zevon — they all worked off the song. The sound built itself up around the song. If I had learned to make records in a more pop-music culture, I would have had a whole different character as an engineer and later as a producer. The sounds stemmed from the songs. The sounds came later. It was the writing, the chords, that determined the sounds. If I had started out working on Metallica, my understanding of the basics of audio technology would have been the same, but I would have looked at sound differently."
The SoCal Sound was characterised by vocals that rode clearly above the track, recorded into warm German condenser microphones with lots of low end, and with organic instruments like acoustic guitars playing chords that often contained suspended seconds and fourths and lots of open strings. The capo — referred to as 'the cheater' by the Wrecking Crew generation of guitarists who prided themselves on being able to play Monkees records in the key of 'E' flat — became the equivalent of an effect on SoCal sessions. "The musicians were incredible players — Lee Sklar and Craig Doerge and Danny Kortchmar and Russ Kunkel," says Ladanyi. "But they were about playing together around the song and the artist. No sequencers, no synthesizers. The energy at the time was of a nucleus of a band playing, as much as possible, what the song was about. There were overdubs and fixes, but the records really got developed as they were played down by the band."
How much of a role the band played on the records is exemplified by Jackson Browne's Running On Empty, a chronicle of a band on the road in 1977, recorded in concert halls, hotel rooms and buses during a US tour. It's one of only two live albums of non-repeat material ever to have spawned a US hit single (the other was Frampton Comes Alive).
Danny Kortchmar and Jackson Browne on Browne's tour bus, recording 'Nothing But Time' from the Running On Empty album.
"It was to be a total concept record," says Ladanyi. "When Jackson first brought it up, people thought he was crazy. But he was determined he was going to do it."
Ladanyi was able to revive his old live mixing capabilities and combine them with his newfound studio skills. "The guitars played through the same amps as they used in the studio, which were little Vox and Fender Bassmans," says Ladanyi. "That way, we achieved some degree of isolation on the instruments. If we had had concert-level volume, we would have had tremendous leakage. This is where close-miking was essential. The audience microphones — we usually used a pair of Sennheiser shotguns pointed out from the stage towards the crowd and sometimes a U67 in the centre at the mix position — became the ambience microphones. When we had to do a fix on something later in the studio, we'd just duck the audience microphones a bit. We didn't put a lot of the audience mics in the final mix — compare that to the higher level of audience you hear on Frampton Comes Alive — and the fixes were never anything substantial anyway. These guys were good players.
"The concert dates were recorded to a Studer A80 24-track two-inch at 15ips Dolby A — we just took a line-level feed from the stage directly to each track on the Studer, with not much control over levels. Jackson still owns that same Studer machine. We ended up with around 150 reels of tape.
"The sessions recorded in the bus [a Continental Silver Eagle tour bus on the road in New Jersey], like 'Nothing But Time', were done in a little control room we had set up in the rear, with a Technics 12-channel mixer and a Revox two-track. It was a simple mix of Jackson and Danny [Kortchmar] on guitars, and Craig [Doerge] on Wurlitzer; we overdubbed bass drum — Russ [Kunkel] playing a cardboard box — and other percussion after bouncing the two tracks onto the Studer 24. But the lead vocals and guitars were all live. There was a lot of low-frequency rumble on those tracks, but that's what it sounds like on a bus." (Ladanyi says even more detail will be heard on the forthcoming DVD-A version. "At the beginning of 'Running On Empty', for example, you can faintly hear Jackson having a conversion with Danny Kortchmar. He sings the first line of the first verse to let him know what's going on, and then counts 'one, two, three, four' into the song.")
"Other tracks were recorded in hotel rooms and lounges — 'The Road' was recorded in Room 301 at the Cross Keys Inn, Columbia, Massachusetts; 'Cocaine' and 'Shaky Town' were done in Room 124 at the Edwardsville, Illinois, Holiday Inn — recorded by the Record Plant truck parked outside with a Studer 24-track running at 30ips, non-Dolby."
Ladanyi recorded the entire record over the course of numerous performances in several months on the road, using no monitor speakers and only the occasional headphone. "Everything was happening so fast, I just used the meters to tell me if the levels were right," he remembers. "I had to have total faith in my recording techniques. It was quite a risk, but I wasn't really nervous about it — except when the signal would disappear from the meter for a second, which happened a couple of times. We were taking a split from the stage and another was going to the FOH position, where Buford Jones was mixing the live show. So I would run back and forth between the mixing position and the backstage area where the tape machines were, constantly checking levels and how the show was going."
Running On Empty was, in many ways, the perfect recording storm — the excitement of a live performance before an audience, done with seasoned studio musicians using the same equipment they had in the studio along with studio-quality microphones and tape machines. "I mean, you might get that one night at a live concert recording, but to have it every night, night after night on the road was amazing," Ladanyi says. "You never knew where the magic night was going to be."
As the SoCal musicians moved on to other genres, they often took Ladanyi with them. One of the furthest stretches in the '80s was several sessions he engineered for the Jacksons' 1984 Victory LP. "I was really getting out of the California Sound box now," Ladanyi says. "The Jacksons were much more pop, more so than they were R&B. Lots of sequencers. It was very melody-driven, but with an R&B feel. It was a marriage of black and white pop, really.
"Michael [Jackson] was very hands-on on the songs he sang lead on. I used a U67 on his vocal; it was a tube microphone that had a warmer kind of bottom end to it. Michael's voice has less low end than Jackson's or Henley's. I used compression on an API 525 to soften the attack of the mid-range, setting it for a faster attack and with a slower release. The slower the release, the warmer the sound you get — it works for horn parts, too."
Ladanyi's geography also broadened. In the late 1980s, he travelled to Europe to work with General Public and Clannad. He began visiting Latin America regularly, working with Latino rock bands like Engenheiros Do Hawaii in Brazil and Caifanes/Jaguares in Mexico, which led to work with Latino artists in the US including Los De Abajo and the Cruzados.
Greg (right) with Saul Hernandes from Jagaures at the console at Record Plant in 1999, recording an album titled Bajo el Azul.
"They had heard of me through my work with Jackson, Don Henley and Toto," Ladanyi says. "It was a time when American music was being more heavily driven by rap, which frankly I didn't have a lot of emotional connection with. The Latino rock artists wanted to bring that pop sound like what we had gotten on Don Henley to their records. They were doing rock records with percussion influences of salsa, samba and reggae. It was a real eye-opener to me, all of it. New cultures, new musical influences, stuff I could apply what I knew to. I mean, the basics always apply — if you encounter a new instrument, or a new way of playing a familiar one, use your ears to find the right place to put the microphones."
Ladanyi was to become involved in plenty of other enduring recordings. He had moved into the co-production chair with Jackson for the singer's Hold On album in 1980, and produced records for Phoebe Snow, Warren Zevon, the Church, Fleetwood Mac and Jeff Healy over the next few years. But he was still in high demand as an engineer, and when another group of ex-studio musicians called Toto went back into the studio for their Toto IV album in 1982, they called on Ladanyi to mix the album, which contained hits including 'Rosanna' and 'Africa', and would win seven of nine Grammy nominations that year.
"Toto IV was by far the most extensive mixdown I had been involved with," says Ladanyi. "The band had three 24-track machines on some songs — up to 72 tracks. I thought 'My God, how do I make all this fit in two speakers?' The record was mixed at the Sound Factory, which was a 32-input fader/24-monitor API console — no automation and pairs of hands moving faders — Steve Lukather, David Paich, Steve Porcarro, Jeff Porcarro, and me. This was the real deal. 'Rosanna' and 'Africa' took three days each to complete the final mixdowns. These songs were mixed in sections and then cut together on the two-track. I balanced the track with EQ, compressors and effects, then we all made the fader rides together.
"I went on to record six more records with Toto. King Of Desire was the last one. We made that record at Skywalker Ranch and did it in about three or four weeks. The thing about that record was how dynamic the playing was in the era before CDs and how much fun it was to capture that. When it came time to mix, I was asked to compress it pretty heavily — that was the way you made it work for radio, or so a lot of people thought. I had to compress it more than I thought was reasonable given how dynamic the record was. Sure, compression makes it louder and more in-your-face, but you just don't experience the dimension that the band played with. Too many great records lost that element when they had to undergo compression for radio's sake."
Greg Ladanyi at the Complex in 1984.
As the '80s went on, the demand for more tracks increased, and Ladanyi was also employing more automation. "What everyone was looking for in the 1980s was ways to experiment more, and more tracks were necessary for that," he declares. "However you got them — sync'ing two analogue decks, MIDI, going to digital decks — everyone wanted more flexibility than having to combine 10 tracks of drums to six just to open up four more tracks."
Of course, it's a common complaint that this dramatic increase in the number of available tracks led to deferred decision-making on the part of engineers and producers, resulting in records that presented dozens if not hundreds of options when it came time to mix. Ladanyi's response is surprising: "You have to balance that against the enhanced level of experimentation that additional tracks affords you. Experimentation that can take a record or an artist to a different place. Granted, if there's too much stuff, the record can lose its focus and organic core. There are pros and cons to what happened. It wasn't all good or all bad."
In 1984, Jackson Browne introduced Ladanyi to Don Henley. The former drummer/vocalist/ composer for the Eagles — the band that was the essence of SoCal rock — was preparing for his first solo album. "Don had come in to sing on a Glenda Bickel record I was working on, and I was blown away by his presence," Ladanyi says. "I was very forward about it — I told him that if he ever wanted to make a record, I'd love to make it with him."
Ladanyi eventually did get called to engineer and co-produce, along with guitarist Danny Kortchmar and Henley himself, on I Can't Stand Still and Building The Perfect Beast. The overarching issue they faced was creating a sound for Henley as a solo artist that would enable him to escape from the shadow of the Eagles, one of the most successful rock bands of all time. "That was the question: how do you take Don Henley out of the context of the Eagles?" Ladanyi says. "Danny was instrumental in that; he was writing the record with Don and he was bringing in a lot of blues and R&B influences, which pulled Don away from the country and pop sounds."
Another way to do it was by using sequenced drums and synthesizers. "You never heard any of that on those Southern California recordings," says Ladanyi. 'Dirty Laundry', I Can't Stand Still 's biggest hit, had a looped keyboard part that guitar parts were built around. The song's keel was a sequenced Linn Drum part that Toto drummer Jeff Porcarro would later play over, with both live and machine drums mixed together in the end. Ladanyi also altered the philosophy of sound being subordinate to the song that had guided so many of the 'SoCal Mafia' records. "We used a lot of reverbs on the drums to create live-sounding ambiences," he explains. "But we also used a lot of gating — I'd been listening to what Phil Collins had been doing with that effect at the time. We used the robot-looking version of the EMT 250 digital reverb a lot. There was a real evolution in how records sounded going on then. Big reverbs and fast gates were a central part of that. It was very aggressive-sounding stuff. The 250 also had a short 0.8-second setting that was great for drums."
It was, in other words, the antithesis of the Southern California laid-back approach to records, and Don Henley's solo records are a case study in how an artist can create an almost entirely new persona by changing sounds and attitude. Tellingly, the hooks on most of Henley's biggest solo hits — 'Dirty Laundry', 'Boys Of Summer' and 'Sunset Grill' — are virtually devoid of the soaring three-part harmonies that characterised his earlier records with the Eagles.
Today, Ladanyi works in a small home studio based around a Nuendo system. "It was the first hard disk recording program that worked at 96kHz with 24 tracks," he says. "I do all my recording and mixing inside Nuendo with a front end comprised of the Groove Tubes Vipre mic pre and Groove Tubes compressor, Tube-tech EQ/compressor, and assorted microphones."
Ladanyi has been quite active in recent years. Recent successes include The Crickets & Their Buddies, where he engineered and produced performances by Eric Clapton, Grahan Nash, John Prine, Waylon Jennings, Nancy Griffith, Albert Lee, Peter Case, Johnny Rivers and others with members of Buddy Holly's original band, and Joe Cocker's Heart & Soul, which Ladanyi mixed.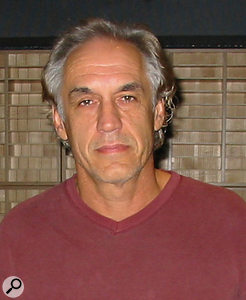 Greg Ladanyi today.
He has also completed a 5.1 remix of Running On Empty begun three years ago. Transfers of the original tapes were done through a Neve 8078 console at Jackson Browne's Groovemasters Studio. "We broke out different elements to give us around 40 tracks on some songs," Ladanyi says of the mix. "For example, we needed a guitar ride at a certain point, so we just copied that section to a spare track, processed it and wrote separate fader moves. We took some of the longer intros from the master tapes, and used some of it as ambience. But we have material that is more audible on 5.1-channel DVD-A, because you have more discrete locations. On 'Cocaine', 'Shaky Town', 'Rosie' and 'Nothing But Time' there are conversations amongst the band that you would not hear on the stereo versions. We mixed on Westlake monitors powered by Hafler amps. The LCR and surrounds are BBSM-5s, while the LFE is an Lc8.1 subwoofer.
"For the live concerts we wanted to put the listener inside the audience — with the band coming from the front speakers, just as they would at the concert — while for the tracks recorded in hotel rooms [and on the bus] we wanted to duplicate the musicians' positions around the microphone, with the listener in the very centre of room.
"We had to clean up some buzzes on the bass track, for example, using tight EQ notches — you would not hear them in the stereo mix, but here with six channels you cannot hide them any more, so we needed to do a little cleaning up. I like to use compression as an 'enhancer' of an overall performance, particularly on vocals, bass and guitars, where it can bring up the bottom end. We used different mix techniques, capturing early reflections from the recording environment and placing them in the mix to add a reality around the audience."
The only thing he says he would have changed 27 years later is the addition of a few more audience microphones. Given Ladanyi's remarkable career, that's about all one would change.