After a house move, SOS reader Russ Sowdon discovered a secret passage under his ground floor, and it led to a hidden barrel-vault cellar which he soon made into his musical den!
Literary classics like The Lion, The Witch And The Wardrobe, Alice In Wonderland, or The Secret Garden all exploit the common childhood fantasy of one day discovering a hidden doorway or passage into another world or long-forgotten den. For most of us, though, such fantasies remain just that, and the chances are that any loose floorboards, rusted gates, or ivy-covered stone slabs we come across merely lead to damp soil, and not to an underground staircase. But SOS reader Russ Sowdon did have a secret passage under his floor, and it led to a hidden barrel-vault cellar which he soon made into his musical den!
"My wife, Sue, and I moved into the house about 11 years ago, but we didn't know the cellar was there for the first three years!" laughs Russ. "Sue was talking to a neighbour who explained that our house should have a cellar somewhere, because all these houses have cellars. On that same day I was working in the garden and found a slab of stone, which I realised must be a coal-hole cover. Sue and I spoke about our discoveries later that day, so I decided to try to find the way in. First, I had to remove the stone and climb down the coal hole to find out what was down there. The room had been emptied, but the door was bricked up, so we worked out where the stairs were and knocked out the wall into the house."
Like any self-respecting home musician, Russ's first thought was the possibility of turning the cellar into a music room. Having a studio under the house meant that Russ could pursue his interest in creating pop/rock music and still be at home with his family. Today, the diminutive studio contains a PC running Emagic Logic Gold, a Fostex DMT8VL digital 8-track, an Allen &Heath GS1 mixer, a Roland D5 keyboard, and two racks of outboard gear. The arched ceiling and walls are thoroughly upholstered which, together with the studio gear, gives the place the look of a space-ship control centre from a science-fiction film. Stranger still, a home-made steel curtain rail is fixed to the roof and several sets of flowery curtains have been hung from it. Their purpose only becomes clear when they are drawn, to form a tiny vocal booth within the studio itself.
Russ's day job — teaching business skills to Halifax bank employees — takes up most of his time and his family much of the rest, so music is still something that he fits in around his other commitments. Nevertheless, it is far more than a passing fad in his life. "I've been playing in bands since I was 11 years old," explains Russ. "I was guitarist and vocalist in bands up until I was about 24. That eventually ended when me and my final band realised that we weren't going to make it. Over the last 10 years I've been part of a local covers band, mainly playing in pubs around the Yorkshire area, but since I finished with that band I started singing tenor in the local church choir, because it was a good way to access music.
"The only recordings I ever did with the bands were two-track recordings from live desks and a few demos of our own stuff. When I was growing up, studios were out of my reach, and I never even considered having one of my own until a mate of mine took me to a studio in Bridlington which was owned by Drawmer's then-distributor, Ken Giles. I remember that Ken had a load of TEAC four-track reel-to-reels and some £1000 6:4 channel-strip things that I couldn't afford, but I thought the studio was great. That sowed the seed in my mind. In fact, the first studio stuff I bought was an Atari and my Roland D5, and I got both of those from Ken Giles. Back then I was trying to learn how to use that gear in between working, spending time with my family, keeping my social life going and gigging three or four times a week, so I hadn't the time to carry it through.
"I've always thought that MIDI is interesting because you can play your ideas back and mess around with the sounds, but it was only really when things like the Fostex DMT8 came out that I started to think that home recording was becoming far more realistic than it had been in the past. Just before I bought the DMT8VL, I did try the computer route. I got a Pentium 200 with a soundcard because I thought 'a studio in a box, brilliant, off we go...' But I couldn't get the soundcard to record and play back at the same time. The capability was there but you had to be extremely technologically aware to be able to access it and I couldn't do it. So I bought the DMT8 afterwards to get some hardware that I knew would do what I wanted when I switched it on."
PC with AMD Duron 600MHz processor, 128Mb RAM and Windows 98SE
Guillemot Maxi Studio ISIS soundcard
Emagic Logic Gold MIDI + Audio sequencing software
Emagic EXS24 sampler
Fostex DMT8VL digital recording workstation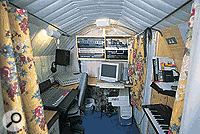 As Russ began buying studio equipment, he had to decide how he would house it all in the vault. Due to its underground location and original function, the cellar presented many problems, including damp walls, poor acoustics, bad lighting and limited space. Unperturbed, Russ began by trying to solve the damp problem.
"Although the atmosphere does feel damp, some of the other cellars around here get water shooting out of the walls when it's been raining heavily. Fortunately, ours doesn't fill with water and I think we're above the water table. Initially I had a look around for damp-proofing material and found a concrete compound called Thoroseal which I tried to paint on the walls. There was lime-wash on the walls, which I tried to scrape off at first, but it was impossible, so I just painted the concrete compound over that to seal the walls. It never really worked, because when you're below floor level you're always struggling against the invasion of the elements, so you have to learn to live with them. In the end my solution was to choose materials that don't rot, so the carpets are polypropyene, and if there is any wood I've made sure it's off the wall or grounded on some kind of plastic. I've got a dehumidifier in the studio and in the second cellar, and that is so effective that we can even dry washing down there. It basically sucks the air through a filter and the water collects in a receptacle that you just empty out every three days."
Fitting the studio into such a small cellar was no easy task either: standing height is no more than six foot at the top of the arch and the width of the space is less than an arm span. The only dimension Russ had to play with was the vault's length. Today the studio is at the far end of the cellar, while the front half of the space is being used as a kitchen utility and laundry-drying room. Russ describes some of the design choices he had to make. "The dividing wall between the wash room and music room used to be six foot the other way, so I had a small office at one end and the studio at the other. My idea was that the larger space was going to be a mastering and mixing room and the smaller space would be the vocal booth. I even had my piano down there at one stage, believe it or not. I've ended up incorporating it all into one six- by five-foot space, with its own integral booth for vocal and acoustic recording!
"I have two Siamese cats which are quite territorial, so they will piss on things. I didn't want them to piss in my £500 Genelecs, so everything that's valuable is above 'cats-bottom' level. The mixers I've had to leave on top of the work surface but I always cover them with something. There's only so many places where you can put a 16U rack in that studio: you can have it at the bottom, which is bad from a cat-piss perspective, and you also run the risk of running your chair into the rack and knocking the knobs off. Alternatively, you can fix it on the wall with an angled front, like I have. That was the most ergonomic place. In a small space you've got to build around you as best you can. I did a part-time course at Leeds College Of Music, and in their studio I had to get up from the desk and walk to the rack, which was OK, because that walking space gave me the chance to think about what I was doing, but here I can swivel round and reach everything, and that's good too."
Another important design consideration was the acoustic response of the room. Once again, Russ was methodical in his planning. "I read in a Paul White article that a concave or arched space is the worst acoustic space you can get. I realised that was true when I bought the Genelecs, which are supposed to have really good stereo imaging. Even with them I didn't have a stereo image, because the sound bounced off everything. I could pan, but there'd be no noticeable difference at all!
"So I started experimenting with the lagging that you see on the walls. There's an upholsterers nearby that supplies a lot of material to hotels and hospitals, and they have a big odds-and-ends box. I bought masses of the stuff; 12 square yards for £10. I attached wooden batons to the ceiling and used a big staple gun to fix the lagging to them.
"The lagging worked, although the room has a bass hump at about 80Hz. Realising that, I bought a graphic EQ so I could filter that hump out. I've set the EQ so it dips at about 80Hz and comes back up at about 40Hz, although the monitors roll off about there anyway. Now the room response is quite flat, and considering its size and location it's not a bad recording space."
Russ: "I've been on a four-year learning curve about studios, MIDI and computers. It's taken me that long to understand modern recording technology. The split was 95 percent learning and five percent recording. There are times that I get so frustrated that I just come up and play the piano, because I can get a nice tune out of it without the hassle. You buy the gear assuming you're going to be able to use it, then you realise that you have a lot to learn. By the time you've fully understood what your gear does, you're onto the next generation of gear. It takes such a lot of time to get everything right and to learn all the gear that the writing has to take a back seat, but I think that I've finally caught up. Now it's time to start work."
Russ's studio setup is in a constant state of flux: old pieces of gear are made redundant by newer purchases and are then sold on. On its way out at the time of the interview was the Fostex DMT8VL, which has been replaced by Logic Audio Gold. However, Russ has plans to change things further in the very near future.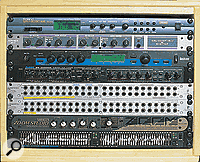 "My big problem when I was younger was money," explains Russ. "Now it's time. It takes me a day to rewire the patchbay and cable runs, so as my studio develops my next direction is to take it all inside the computer. Much as I love hands-on hardware, I have to sell it all to fund the next phase, so some of my gear is up for sale on the SOS web site as we speak. I've got Emagic Logic Audio Gold with the EXS24 sampler and my idea is to buy the Logic controller and Platinum 5 as soon as they are released, together with a PC that will run it all. I figure that processors are now fast enough to do all but the most complex reverb treatments. It might take me six months to learn the software but by the end of that period I should know it automatically enough to be able to do what I want instantly. The mouse is not as intuitive for the creative process as a control surface, and the recallability of Logic Control will mean that I can switch it off, if I have to stop and look after the children, and then pick it up where I left off. That sort of flexibility and power is worth paying for.
"Even configuring MIDI units is a step too far for me when I want to get on with writing and I have to patch something in; with Logic I can be into the sampler within a couple of seconds.
"I'm going to quieten the PC down with a quiet power supply and silent CPU fan from Quiet PC, and I'll put it together myself to save money. I'm installing a 1.3GHz Athlon processor and I'm upgrading the RAM to half a Gigabyte so I have enough to keep the sampler happy and run the software comfortably.
"There will probably be two input devices, one of which will be the Focusrite Tone Factory and the other probably a Line 6 Pod for guitar DI work. All my synthesis, sampling and mixing will take place inside the computer."
"I got a couple of superb Stagg mics for £165. I've used them to record in church and the quality is excellent — I can't praise them highly enough. Although I've got a few mates who are drummers, it would take me too long to record a kit, so I use a Zoom Rhythm Trak 234 drum machine instead. At the moment I don't use sampled kits, partly because of the cost of good CDs, but also because it's another branch of technology that I'd have to find time to explore. The Zoom does bass as well, and I have used the pads to play bass, but I prefer to play and hear real bass, so I recently bought a bass guitar. It only cost £80, so now I can have proper bass recorded into Logic through my Audio Buddy preamp and Alesis 3630 compressor.
"All this gear has been picked up second-hand, either through the SOS web site or the magazine, so it hasn't cost me much. The most expensive things I've bought are the Genelec monitors and my Lexicon MPX500, both of which I bought new because I figured they'd be good enough to hang on to. The rest of the stuff I always intended to trade in when I got more money.
"Even though the gear is continually changing, the studio design will stay more or less the same. I'm going to build the Logic Control mixer into the desk so it is ergonomically as I want it, and a lot of the outboard will go. I might hold onto my Roland 3030 reverb, which is beautiful, and the Lexicon MPX500, which is the closest you get to real space for that money, but if I find I can live with GoldVerb and PlatinumVerb, I might still sell the hardware. One of the problems down here is that once you have the PC switched on it gets really warm, so I have to open the doors. The dehumidifier will keep it warm on its own, so in the long term I intend to get an LCD monitor, which will give off less heat. Instead of all the hot rack gear, there will just be the computer. The studio will be as quiet and cool as I can get it. I started off with a single computer and that's what I want to go back to."
Russ: "The stuff I do with the church is all choral music. We sing a lot of victorian anthems and material from Handel, Mendelssohn and Purcell. That's worth capturing, so at the carol services I put the Stagg condenser mics up and I space them about six metres apart in front of the chancel. I've got a little Midiman Audio Buddy mic preamp to power the mics, and I record onto a Minidisc in stereo. That method records the organs and voices absolutely superbly."
Russ has spent so long learning how to use his gear and setting up the studio that, up until now, recording has taken a back seat. However, he aims to change that balance over the next six months. Russ describes his musical ambitions: "In an ideal world I'd be a songwriter composing popular tunes for acts to pick up. I want this studio to enable me to record demos well enough for publishers to hear what I'm trying to do. It's got to reach a certain quality threshold before I send it to a record company. Once I get into Logic Platinum, I'm confident that I'll be able to achieve that.
"I figure that a lot of the choral stuff that I work on with the local church could potentially be adapted and used as choir parts for bands. Since I've been singing, I've got so much from listening to how vocal lines run and how parts move against one another. Now I have an appreciation of choral textures, so I think that if I were to cleverly or sympathetically mix that with pop it could be quite powerful. The thought of that excites me, because it's a really untapped area. I've thought about sampling the choral recordings and twisting everything around using EXS24 in Logic, but half of me doesn't want to spoil the purity of it. I have a good feeling about that idea, but it's all pie in the sky until I can get Platinum 5 going!"
Here are two example tracks from Russ' recordings (in MP3 format).

model.mp3 Model: 'Rock production using studio'

locus.mp3 Locus: 'Church recording'
Allen & Heath GS1 mixer
Aphex 104 Aural Exciter processor
Alesis 3630 compressor
Alesis MEQ230 dual 30-band graphic EQ
Behringer Ultrapatch Pro patchbay (x2)
Dbx 263X de-esser
Emagic Logic Gold MIDI + Audio sequencer
Emagic EXS24 software sampler
Fender Studio 85 guitar combo
Focusrite Trak Master channel strip
Fostex DMT8VL digital recording workstation
Genelec 1029A monitors
Guillemot Maxi Studio ISIS soundcard
Kimbara Glassback Acoustic guitar
Lexicon MPX500 reverb processor
Midiman Audio Buddy dual mic preamp
Optimus 3-7058 dynamic mic
PC with AMD Duron 600MHz processor, 128Mb RAM and Windows 98SE
Phillips CDR770 CD recorder
Prostudio bass guitar
Roland D5 master keyboard
Shergold Masquerader electric guitar
Sony JE520 Minidisc recorder
Stagg MCO78K large-diaphragm condenser mic (x2)
Tandy PZM mic
Yamaha DB60XG soundcard/synth
Zoom 234 drum machine
Zoom 1201 multi-effects processor