Darren Seltmann & Robbie Chater
The Avalanches' acclaimed debut album Since I Left You is composed almost entirely of samples from other records — but there's nothing lazy or unimaginative about their approach to recording...
Few records from last year managed to capture the dizzy rush of the cut-and-paste aesthetic as succinctly as The Avalanches' Since I Left You. With its immaculately sewn patchwork of found sounds and gussied-up rhythms, the Australian duo's charming debut seduced almost anyone who came near it. Meanwhile, the more technically minded among us listened to the seemingly never-ending parade of sounds and shook our heads in amazement: rarely has so much hard work sounded so effortless.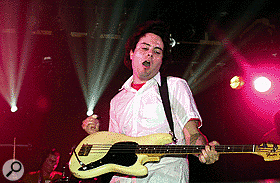 Darren Seltmann.Photo: Hayley Madden/RedfernsAs best friends Darren Seltmann and Robbie Chater will readily attest, the album was the culmination of endless nights spent toiling in the studio. The duo, who met as teenagers, have been making music together for the better part of a decade now. "Robbie went to university as soon as he got out of high school and did a media arts degree that was based on film soundtracks and things like that," Seltmann says. "He ended up hijacking the soundtrack part because everybody wanted to make films and nobody cared about the soundtracks, so we were given free rein in the studio. They'd close doors at nine at night and reopen at nine in the morning — all the other hours we could have. That was sort of the blueprint for the way we worked from there — we've really closed everything off and become very isolated. It's something that we love too much to give up."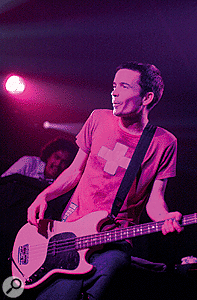 Robbie Chater.Photo: Hayley Madden/RedfernsAlthough they were blessed with an almost obsessive reverence for recording technology from the very start, it took years for the pair to settle into their sound. Brandishing names like Swinging Monkey Cocks and Quinton's Brittle Bones, their inaugural projects owed more to thrash-punk and indie than anything rooted in dance. Once they discovered sampling in 1995, however, the duo completely abandoned their rock inclinations and reinvented themselves accordingly. Having christened their new venture The Avalanches, Seltmann and Chater retained a few of their old bandmates (both Tony Diblasi and DJ Dexter Fabay still tour with the band) and gave their music a radical facelift.
A bout of well-received singles and EPs followed, and the band released their full-length debut Since I Left You to great acclaim in 2000. Recorded primarily with a Yamaha Promix 01 and Akai S2000 samplers, the album was most definitely a labour of love, and neither Seltmann nor Chater initially thought it would be widely heard. "We were really unorganised and were just sampling on the fly as tracks progressed," Chater says. "We had no idea the record would get such a wide-scale release so we saw no need to keep track of what we were using — we were definitely guilty of harbouring a 'No-one's going to listen to it anyway' sort of attitude. Plus that was in our days of getting kinda, um, lubricated so who the f**k knows. It's all kinda fuzzy!"
The muddled nature of those recording sessions means it's impossible to know for sure, but a conservative estimate from Chater places the number of samples used at upwards of an astounding 3,500. "Squinting back, most tracks had at least two S2000 programs full of samples," he says. "That's 100 keygroups per program, one sample per keygroup, multiplied by 18 songs..."
Since some of their labour-intensive compositions are essentially assembled note by note, it's no surprise to learn that the pair's heroic work ethic has proved to be their most valuable asset in the studio. Seltmann, a self-confessed sampling junkie, readily admits that their style of working would probably drive most others insane. "People think you buy a sampler and away you go, you turn into DJ Shadow or something," he laughs. "It's really a game of patience. In the beginning it was literally 'OK, I've got 10 sounds. Two are in tune.' Creating chord changes can take a week — to make the chord change that you need without plugging in an organ. There is a bizarre satisfaction to be got out of that, and maybe that's a more intense satisfaction than actually playing it yourself."
The duo's geeky reverence for crate-digging and sampling has translated into tens of thousands of man hours spent at their Akais and Technics 1200s, and their shared habits have fostered something of a healthy rivalry. "In high times, Robbie and I often have competitions," Seltmann smiles. "It's like 'OK, I did 35 records last night,' which would've taken maybe seven hours or something — that's dissecting every sparse chord on a record.
"The goal would be to do a little every day, but it is something that you can burn out on, so we do a few days on, then a few days off. The most fun part is finishing the records, because the next day you can start combining the sounds. There's definitely a mind state that we get into that's very hard to get out of. Things just don't come easy for us. I'm sure everybody says that, but I think that our main strength is patience and a real determination, where we'll spend a week finding the right kind of violin for the track. That obsessive nature is good. With an unlimited amount of time, which we generally had before the album, you can come up with results that you're happy with. The moments we enjoy the most are when a few sounds that we really love — like a beautiful noise or a nice chord — come together. Then, suddenly, your brain is totally rejuvenated and you almost go crazy with the options."
After time spent apart sampling and arranging, the pair will reconvene to swap tapes and exchange grooves. From there, they'll listen to each other's ideas and expand on whatever strikes their ear. This, according to Seltmann, is usually the genesis of a song. "It is just a game of who can stay the longest with a track," he says. "Robbie and I will make CDs for each other with elements — a rhythm or a groove that's very basic — and if we play it every day, a certain chord change might jump out. That's where we start."
In order to better facilitate the flow of ideas, the pair also share an almost identical studio setup. "It's a funny way to work," Seltmann admits. "It started with us both getting the same computer program, but now we can bring a track over and dial up the settings on everything pretty quickly. There are slight differences — Robbie's a little more obsessed with old tape machines and things like that. I'm probably a little more obsessed with having every cable the right length. The plan is, if we need to do massive mixes and if something's outgrown one studio, then everything's quite portable — it's just racks, so we might end up pulling everything together at some stage. We've never done that, but it's something that we'd imagine that we will have to do."
The commercial success of Since I Left You has enabled the duo to make significant changes to their setups: they've upgraded from Akai S2000s to S5000s and now speak excitably about the luxury of having outboard gear. "We love being overwhelmed by technology," Chater gushes. "When we made Since I Left You, we had a very basic version of Opcode's Studio Vision sequencing software and a similarly modest beige G3 and S2000 sampler, so it felt like we had to go the long way around to achieve the sounds we wanted. These days we just sit and look at our studios for hours before we start work — it's quite inspiring.
"The first program we ever had was an early version of Studio Vision, and we made the record pretty much with that — it was just when we were editing and mixing it that we used Pro Tools," Seltmann recalls. "I feel in a lot of ways since Opcode's demise we were really forced into Pro Tools. We did become a little frustrated with timing issues, with VST-driven programs, and I do think Pro Tools feels a little more solid for us. We still don't have a full Pro Tools system and most of our work is still done via MIDI, but it seems to tick away quite well. Robbie still sequences with Vision, though, on a beige G3. It's funny because we never wanted to stop using it. I still use it as a VST plug-in engine. I have this black G3 laptop with a Digigram VX Pocket Pro on it, and I just set up a digital out from a Digidesign 001 and then balance it back out into the Avalon or Universal. I simply set up a blank page, and we have thousands of these VST plug-ins so I can just basically change them if I ever need to. That's something that I missed using Pro Tools.
"We love the thought of VST plug-ins, but in the end, we don't use them that much. I used to like a lot of the Arboretum Hyperprism effects where you could kind of use a pen tool to draw sounds. I still really like a lot of the Bomb Factory stuff. They all have their own sound and they don't obviously mimic an 1176 perfectly, but..."
According to Chater, standard effects and processing techniques are not always useful in treating the samples they take from vinyl. "Often the reason we choose a particular sample is because we love the way it sounds, be it the warmth of the strings or whatever, and want to add these qualities to our work," he explains. "So the usual mangling techniques — distortion, filtering, ring modulation and so on — don't really appeal if what you were after was the tone and width of the original. In an attempt to have our cake (the warmth and tonality of great recordings) and eat it too (avoid clearing any samples) we've spent most of this year devising other ways to obscure samples. The most basic change has been in what we see as sample-worthy in the first place. Instead of loops or grooves we've both amassed large collections of chords and notes which in the past we would have ignored. These are pieced together to slowly create small sections — our new loops and grooves — with which we can construct songs.
The full Avalanches line-up, from left: Tony Diblasi, James de la Cruz, Robbie Chater, DJ Dexter Fabay and Darren Seltmann."Another sample-splintering method is what we call the 'MIDI meltdown'. It starts with a few boring days collecting sounds that sustain for a second or two, such as static string notes or little vocal 'ahhs', and looping these as smoothly as possible in the S5000. Next you spend a couple of hours getting these sounds in tune with each other and laying them out on a MIDI keyboard. Each sound is then spat out of its own S5000 output via lightpipe to the Yamaha 01V, and from there arrives on its own track in the main Pro Tools session. A rough groove is set up in the sequencer (Studio Vision) running on the other Mac.
"Usually we start by playing every note on the MIDI keyboard at once and checking that every looped sound is getting from the sampler through the 01V to Pro Tools. Then, putting Vision into record, we jam on the 01V muting and unmuting channels, cutting the different notes on and off and hoping something interesting happens. The mute events are recorded into the sequencer, from which we choose interesting sections and copy them a number of times, shifting each copy a little out of time with the one before. Pretty soon the 01V channels are flicking on and off like crazy! We've taken this to extremes, copying 20 or 30 tracks of MIDI mutes, and it can sound quite extraordinary, kind of like a really warm, organic TB303. Once there's an interesting rhythm happening with the 01V, you can go back to the MIDI keyboard and start playing chords with the loops you've collected. Because each note of the chord has its own on/off rhythm happening, things get pretty interesting. Then we put Pro Tools into record and begin jamming, one of us playing the MIDI keyboard, the other playing the Moog, bass, organ or whatever. If we're feeling inspired, we'll set up mics and improvise vocal stuff as well while we write.
"We also have the expanded analogue outs on our 5000s hard-wired to various outboard gear, including rackmounted versions of Auto-Tune, the TC Helicon Voice Prism and the Line 6 Bass Pod. The vocal processors, especially, have proved surprisingly good at f**king up samples. All the outboard is routed into the 001. Songs will usually begin as just raw samples and a simple sequence. We then turn on all the outboard, whack Pro Tools into record and begin throwing samples out of different 5000 outputs and f**king with the effects, most of which have MIDI outs so we can record everything we do. We'd like to think that the main motivation behind these approaches has been to make a different, more abstract-sounding record, not really to avoid clearing samples! We always end up back digging through records if things aren't quite right. The way we categorise our records, we have albums on hand that have just string notes and just flute notes and that's something that we would turn to in moments of terror. The other aspect would be editing the absolute shit out of everything in Pro Tools by stretching, combining, cutting and pitch-shifting. Harmony within instruments is something we're really trying for with the next record, where certain sounds will mirror other sounds but in harmony."
However, The Avalanches also know enough not to discriminate against an obvious mainstream sample when it works well within the context of a song. A finite amount of publishing money, as well as the omnipresent threat of clearance issues, meant that the band had to choose their 'big' samples wisely. Madonna's 'Holiday' is featured prominently on the record; appropriately, it's become something of a calling card. "The more rejected and unwanted the record that a sample comes from, the more appealing it is," says Seltmann. "I guess it's almost a reaction to rare record finding, but occasionally things like 'Holiday' come up. Those sort of things happen because we make tapes for each other that have little funny samples that we would never intend to clear, and 'Holiday' was one of those where we put something together, ended it with 'Holiday' and all had a big laugh. It ended up where we couldn't live without it so I guess we just had to make that one work."
Where most sample-based records come saddled with a tragic back story about compositions that had to be omitted due to legal wranglings and sample clearance issues, Since I Left You has no such sordid history. Perhaps it's a testament to their sample-obscuring abilities or how deep they dig, but — knock on wood — the Avalanches haven't encountered many difficulties in that department at all. "The album is slightly different to its original form in that it had a whole new introduction, which apparently was really recognisable, so we had to take that off straight away," Seltmann says. "I remember when we started clearing the album, the first sample we tried to clear was the first sample we heard, which was from Rodgers & Hammerstein — a beautiful introduction — and it was rejected and we thought 'The record's never coming out!' But from then on, it seemed to have a really charmed life. That was pretty much the only hiccup."
As one might imagine, the gathering and arranging of sounds for a record of this scale is only half the battle. After all, how do you set about mixing a record that is essentially comprised of 3,500 different bits? The answer is: as you go along. "We've discovered that we generally mix as we go," Seltmann reasons. "You spend months just fine-tuning that subtle balance. That's what we realised when we took this album into a studio and kind of stripped it back and recreated it. In a lot of ways, sonically, it was probably more advanced than our demo CD but in feeling, we probably didn't quite capture the right atmosphere that we had on the demo.
"We built these songs over months and months and fine-tuned the balances and the dynamics between the songs at home. When we took them into a big studio with an SSL console and a Neve console, we split all the tracks apart, but they didn't come back together in terms of unity the way we thought they would. There's so many variables in terms of gain structure and things like that. So we really panicked — suddenly we were allocated two days to achieve what took months. So we ended up doubling our mixing time in the studio, which obviously cost a lot of money. We thought that the record would just sing as soon as we took it into a big studio and instead we were left trying to get back this atmosphere that we'd really worked hard on. We learned so much, and hopefully we'll never have to go through that again. From now on, we hope that if we get the general sonic balance right from the start, we won't have to take it apart. Just making our next record is going to be hard as it is."
Before they can get started with that, the pair have some new equipment to get familiar with, especially following their recent upgrade from Akai S2000s to S5000s. Early impressions are good: "We did the album on S2000s and they're... OK for hi-hats," Seltmann jokes. "They're very harsh. It blew our minds to hear the 5000s — they're still neutral but they're on the nicer side of neutral; we love just the general tone from them. And the analogue outs sound incredible, I'm really blown away with those."
For their next effort, which they're set to start recording soon, Seltmann and Chater are aiming for a more uniform sound. In an effort to spark the creative process, the duo have begun to trade ideas and concepts for how they want this second outing to sound. "Instead of a record that goes everywhere, it'll be more of a challenge to make a record that almost sounds the same," Seltmann explains. "Something like My Bloody Valentine, where it has a tone and it's literally up to the songs to make the album still stand up. We're having little songwriting sessions and we're piecing together these little grooves, but we still haven't found the blueprint or the sound for the next record. We struggled for a year before we came up with the song 'Since I Left You' and then we said 'OK, this is the start.' So that's sort of what we need."
They'll also need — for the next little while, anyway — to say goodbye to their friends and family members. Their work methods, after all, can be a little isolating. "My fiancée is dreading the day!" Seltmann laughs. "And Robbie's girlfriend is upset that we're about to go back into this land where you eat and sleep only when you need to, and you won't go to family dinners or things like that..."