In the May issue of SOS I compared guitarists and keyboard players and their respective tendencies to modify their instruments. While keyboard players mostly seem happy with what comes out of the box, guitar players don't seem to be able to resist experimenting with changing pickups and other hardware.
The obvious exception to this rule is the modular synthesizer, and one of the more surprising directions that the synth market has taken recently is the huge resurgence of interest in all things modular. (See our news report on April's Superbooth event held in Berlin.) We have established makers such as Doepfer and Moog being joined by an ever-expanding army of boutique builders, many subscribing to the Eurorack format. At any music show where modular synths are on display, there always seems to be a crowd around them.
I say this renewed interest is surprising only insomuch as the programmable synthesizer was developed in response to the demand by keyboard players for an instrument that offered rapid access to different sounds. Now it seems we've come full circle, and gone beyond the 'it must be analogue with knobs' stage to a fascination with patchable modular instruments.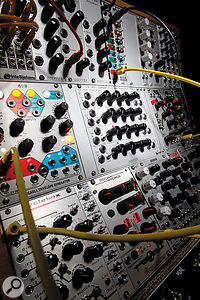 It could be argued that if you buy all your modules from the same manufacturer, then the range of sonic results you can achieve will be no different from a digitally programmable analogue instrument that incorporates the same oscillators, filters, modulators and envelope generators along with a flexible routing and modulation matrix. However, the beauty of discrete modules is that you can mix and match them, and as long as they subscribe to the same control voltage and trigger protocol (or there are converters available), you can create innovative sounds that are not available from any single off-the-shelf instrument. And if you need more oscillators or filters, you just save up and add more modules. The only trouble is that there are now so many modules available that the choice can seem overwhelming, and that's why we're launching a new column devoted to modular synths in this month's issue.
Of course we've been reviewing modular systems in Sound On Sound since the 1990s, but it seems like the time is right to embark on a regular article dedicated to reviews of individual modules, and hopefully help modular synthesists — and would-be modular synthesists — make sense of the vast array of gear now on offer.
SynthFest UK @ Sensoria
And while we're on the subject of synths, this might be a good time to mention that SOS is launching our very own festival of synthesizers at this year's Sensoria Festival in Sheffield. Called, appropriately enough, SynthFest UK, the event will take place at the Octagon Centre on Saturday 1st October, and if you've the slightest interest in synths it should be a key date in your diary. Check out www.synthfest.co.uk for more information and tickets — they're selling fast!