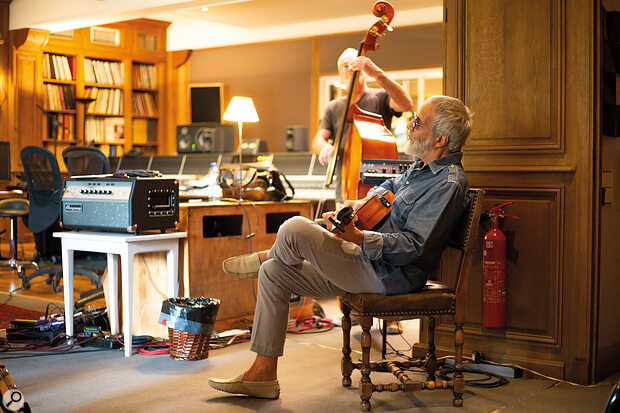 Photo: Rhys Fagan
Recorded in 1970, Tea For The Tillerman cemented Cat Stevens' place in rock history. Half a century later and under his latter‑day name Yusuf Islam, he's teamed up with original producer Paul Samwell‑Smith to re‑record it from scratch.
Cat Stevens retired from the music business in 1978, shortly after converting to Islam and changing his name to Yusuf Islam. But in 2006 he made a welcome return to mainstream popular music with An Other Cup. Two more albums followed (2009's Roadsinger and 2014's Tell 'Em I'm Gone), both released under the mononym Yusuf, before 2017's The Laughing Apple saw the familiar name of Cat Stevens appearing once again, as well as a reunion with producer Paul Samwell‑Smith and Stevens' long‑time guitarist Alun Davies. Now, in 2020, Yusuf/Cat Stevens has come full circle with the recently released Tea For The Tillerman², a re‑recording of his iconic 1970 album.
Tea For The Tillerman² was released on 28th September via Universal Music Catalogue."I always like to take on a challenge," explains Yusuf today on why he decided to revisit the album. "Because of its iconic stature in music history and in particular in my musical history, I needed to sort of approach it from a very casual point of view. And I had to make it kind of mine as well as make it relevant to me today too. The songs were written for my time but they were also written for this time too, because the subjects and themes are kind of perennial. They don't really fade and you can hear that on songs like 'Where Do The Children Play?', 'Wild World' and 'But I Might Die Tonight'."
"Initially I was nervous," adds returning producer Paul Samwell‑Smith. "It just doesn't sound like a good idea to go back in and re‑record something you recorded 50 years ago, but I did think about it. In the end, I wanted him to preserve the songs as if he was playing for the current audience. And because he's older and wiser, I wanted to reflect that in the way he sang the songs. Remember, he's been singing these songs for 50 years now. He must have sung 'Father And Son' thousands of times, so he has a certain approach to it now.
"My initial nervousness was that he would liven it up and make it different for himself so that he could become interested in it again. And I didn't think that was the right approach. Yet he never actually did that. Yusuf is a lovely man, very clever and a talented man, and what I got from him in the end was very accurate and very close. He sat on his stool playing his guitar and just sang, especially with 'Where Do The Children Play?' and 'Father And Son'. And it was absolutely lovely and what you get is a modern and new but older and wiser Yusuf. Fifty years ago he was 22 and he was a little bit angry and passionate, but nowadays he is older and wiser and that comes through."
Wanting to update and infuse the songs with a fresh approach that incorporated contemporary musical elements, Yusuf looked back to his early rhythm & blues influences for inspiration. "With some of the songs, we had to take them on a different kind of excursion," he says. "And it was more towards the blues and R&B, which has always been one of my musical loves. I grew up in that era where discos were all just playing this incredible music coming from the States. It was all R&B and even in all the clubs I would I go to, like the Animals would be there and they were doing all of that too. The whole wave of British rock just began with the blues and I was caught up in that too. And that's why you hear that kind of effect coming out now on things like 'On The Road To Find Out' and my little James Brown effort, 'Longer Boats'."
The original version of the album has aged well, and though the updated version oozes with a modern day spirit, it does so without straying too far from its original template, while the songs themselves remain as relevant as they were 50 years ago. "The songs are vital messages for the world community and what we're going through," affirms Yusuf. "They have become quite profound. I think the secret here is that I was incredibly sincere with what I was doing. It wasn't just me trying to do and make another pop song, it was me trying to express myself, my thoughts and what I was experiencing and thinking and learning. I had almost had a brush with death having contracted tuberculosis after my first little excursion into the pop music circus, and then came this moment when I started reflecting and all of the songs came out of that reality. It wasn't put on at all and I think that's why they've got longevity."
The impetus for the re‑imagined album resulted from an initial session at Benny Andersson's RMV Studio in Stockholm, Sweden after Yusuf and Samwell‑Smith had wrapped up recording 2017's The Laughing Apple at ICP Studios in Brussels, Belgium. That session in Stockholm yielded a new version of 'Wild World'. "We decided we wanted to go somewhere else," recalls Samwell‑Smith. "It was just to make a change as Yusuf likes to have a change and go somewhere and get stimulation from new surroundings and different things. So [engineer] David Hefti and I looked around and came up with Benny Andersson's studio in Stockholm, which we thought would make for a nice break. So we went out there for about 10 days to explore new material. We did some tracks and while there, we tried a few things and the new version of 'Wild World' emerged from that."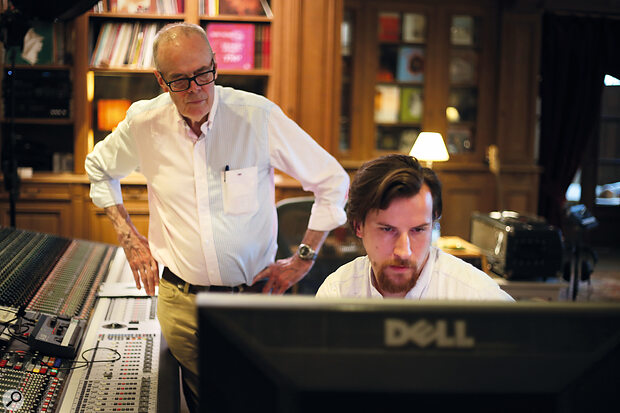 Producer Paul Samwell‑Smith (left) and engineer David Hefti.
With one track in the can, the pair booked time at La Fabrique Studios, located in the south of France, near Saint‑Rémy‑de‑Provence, where Dutch painter Vincent Van Gogh painted some of his most famous works. The studio itself is home to a rich and varied past, having once been a factory for dyeing the prestigious red jackets of Napoleon's famous Hussars and also being home to one of the largest collections of classic French films and vinyl records. Sessions for Tea For The Tillerman² would be scattered, with tracking spread over several blocks of sessions.
"The first recording sessions at La Fabrique Studios were for about a couple of weeks," reveals Samwell‑Smith. "And we did all the tracks. We did a track a day for 10 days and then did a little bit of tidying up. Then Yusuf went back to Dubai where he lives, and David [Hefti] went off to Dubai too and they did some further tidying up and overdubs. I wasn't able to get to the next session in London where Yusuf got the backing vocals done for a few of the tracks. After that, Yusuf got the orchestra done so that was another session too. It took a long time because there were a lot of gaps in between. We finished it all in August of 2019. Both Yusuf and David then went off to RAK Studios in London and spent another couple of days getting everything mixed there."
With many of the musicians involved playing several instruments, the recording sessions were open and, at times, fast moving. "I would set up the studio in the morning together with my assistant engineer Daniel," explains David Hefti, who engineered the sessions and also mixed the album.
"We tried to prepare for every possible setup, which was challenging. You don't really know who's going to play what, on which instrument and where. Yusuf also likes having the musicians in the control room while they play. Luckily, La Fabrique has one of the best control rooms I've seen for this scenario. We'd set up the drums in the small booth, there'd be a full band setup in the main recording room and many keyboard, guitar and vocal recording stations in the control room. In the main studio there was also a staircase which was a great echo chamber. We placed a speaker in there to add life to some keyboard sounds and overdubs.
Yusuf Islam and band in the large 
live/control room at La Fabrique Studios, France.
"Yusuf usually started by laying down a guitar and vocal track at the same time. Having some decent separation between the two is crucial, because later we might want to drop in just on the vocal or the guitar. Sometimes these happen after the session in Yusuf's studio or during the mixing. It always starts with the basic takes, which are lead vocal and guitar in one go. Yusuf works quite fast. We would only record two or three of those and then have a listen. We usually ended up picking a take and then maybe using a section or phrase from another take, or re‑recording a section or doing a drop‑in onto the guitar or vocal track".
On the new version of 'Father And Son', the wonders of digital technology provided the means for Yusuf to perform a duet with himself 50 years apart. "When Yusuf's son Yoriyos proposed that idea to me, I lit up because I thought it was such a great idea," says Samwell‑Smith. "To have Cat Stevens singing with himself 50 years later is wonderful. Our lovely engineer David Hefti took a track from The Troubadour in Los Angeles from an early 1970s performance when Cat Stevens was doing a live show."
While the original used nothing but the analogue technology of its day — the album was recorded onto 16‑track 3M and Studer machines, using two‑inch tapes ‑ the re‑recording used digital to its fullest. Both Samwell‑Smith and Yusuf agree that digital has made recording not only a lot easier but brought endless opportunities for sonic exploration.
"It's very different and on the whole, I am very enthusiastic about it and love it," says Samwell‑Smith. "Today I can sit here with my 27‑inch iMac and when working with an artist, we can send each other files. Back then, in order to listen to a track I would have had to pick up the two‑inch tape, go into a studio and book two or three hours there as you couldn't even hear it without booking a studio. Then I'd be sitting at my desk and then needing to get a 16‑track machine to play the thing. So it was very restrictive in some ways. But the beauty of recording back then was that because it was restrictive, it forced you to make decisions and in some ways, it was better from that point of view. But on the whole, I'm very delighted in the way technology has moved on. You can now mess around digitally. To try and put his 50‑year‑old vocal onto a modern recording would have been just impossible back then."
"I much prefer what we are doing today," concurs Yusuf. "I am a Pro Tools expert myself. I find that if there's something that is lacking today in the digital mode, then it is the acoustics. And the drums probably suffer the most because there are just so many sonics connected to white noise, and that's what the drums produce in effect. I do enjoy digital technology. If you listen to the new version of the album side by side with the original album, there is this beautiful pristine purity to the original but there is also this kind of presence to the new version."
Yusuf Islam: I do enjoy digital technology. If you listen to the new version of the album side by side with the original album, there is this beautiful pristine purity to the original but there is also this kind of presence to the new version.
For Hefti, working totally in the digital realm was the order of the day. "Everything went straight to La Fabrique's Neve 88R" he begins, "apart from the microphones in the control room, which went through Universal Audio preamps and then directly to Pro Tools. We recorded everything to Pro Tools to keep the session as fluid and fast as possible, and Yusuf likes to take a copy to his studio to add ideas by himself. On the original, Paul Samwell‑Smith had played with the Dolby system during mastering to add compression and treble to the entire mix. It was discussed to try some similar processing so I did some test recordings with Dolby, but decided not to use it or any analogue during recording. Instead we used processing digitally on a track‑by‑track basis. Apart from the desk, some outboard compressors on drums and vocals, the whole session was digital and was mixed digitally too."
The options afforded by digital technology inspired Samwell‑Smith to also experiment with some new approaches, one of which was the title track. "On the actual title track, which is only a minute long," says Samwell‑Smith, "Yusuf just plays piano and sings but instead of putting a huge choir at the end, which we did back on the original in 1970 at Island Studios, we just went in and recorded him on piano and singing. Then Yusuf and I did 12 tracks of two voices each, so we ended with 24 voices in total and it was a lot of fun. The temptation was there though that instead of having the 24 voices we could do 60, but we preferred not to do that. So this time it's just him on piano and that's how it ended up."
When it came to capturing the album's acoustic guitar tones, Samwell‑Smith adhered to a long held modus operandi. "I learned very early on a trick that I got from Joni Mitchell where she would play the acoustic guitar and sing in one pass through," he reveals. "Then she would again play the same acoustic guitar part exactly the same, all the way through. And of course because the guitar's pitch varied slightly between takes, that gave it a wonderful rich, slightly 12‑string sound. So I love doing that. On the whole I say as with the vocals, I like having well‑recorded acoustic guitars. I used to experiment doing stereo back in the day like on 'On The Road To Find Out' and stuff like that, where I would use a stereo acoustic guitar, so long as it didn't negatively impact on the vocal."
"The main guitar mic was a Telefunken M260," reveals Hefti. "I like to put an extra microphone closer to the bridge for the tone and another closer to the head of the guitar to create some space. The spill on these was too significant though and I never got to use them in the mix. The guitar mics went straight to the Neve desk and had a little dip in the bass/low‑mid frequencies to compensate a bit for the muddiness that came from keeping the mic pretty close to the guitar."
Samwell‑Smith's rule of thumb when it comes to vocals is to employ double tracking only on the backing vocals. "I'm not overly keen about doing that on the lead vocal," he confirms. "However, Yusuf is a genius for double tracking himself, as he has an uncanny ability to mirror what he did the first time around. My favourite of all is to have a single‑tracked voice in your face that is telling the story. That is my favourite means of production, but it is lovely to use double tracking when it can decorate or accentuate the main vocal."
Hefti was particular about the microphones used for the vocals. "We used a Microtech Gefell CMV563 with an M7 capsule, an Audio‑Technica AT5040 and a Shure SM7."
Hefti was particular about the microphones used for the vocals. "We used a Microtech Gefell CMV563 with an M7 capsule, an Audio‑Technica AT5040 and a Shure SM7," he says. "The first two went straight to the Neve preamps on the desk. The SM7 picked up a lot of interference along the way though, so Daniel from La Fabrique fixed it by gaining it up with an external preamp that we placed right next to the microphone. All mics routed via the same bus to a Distressor and then straight to Pro Tools. Yusuf's music and performance can be quite dynamic and I like having the uncompressed signal on the small fader to control the compression during recording."
The original album relied heavily on acoustic guitar, and while the remake remains true to that format it adds electric guitar to the sonic palette. "On this new version I've introduced more electric guitar through my friend Eric Appapoulay," enthuses Yusuf. "He has been brilliant in the way that he has taken forward my ideas of how to translate my mostly acoustic work into the electric mode. And then again, because there was always my love of Stax Records and Otis Redding, and the kind of session musicians like Muscle Shoals, so they all influenced this album in a way."
With Yusuf's other albums due to clock up 50 years as well soon, does he see himself revisiting those albums too in future?
"Not necessarily," he replies. "I've got so many new songs that I've got a whole album kind of in the pipeline. It is more or less mixed and ready to come out, but it was just because of the 50th that we had to put that on hold, and go with Tillerman². But I've got so many other songs. There are certain songs I wouldn't mind going back and doing again but, not really like this, because this is a whole homogeneous kind of tribute to one particular album which defines, for most people, my music."