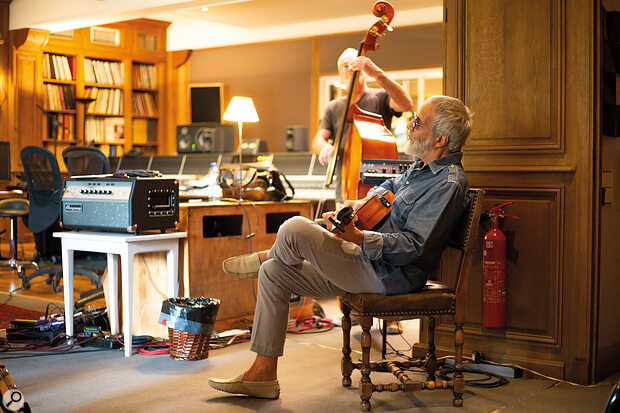 Photo: Rhys Fagan
Recorded in 1970, Tea For The Tillerman cemented Cat Stevens' place in rock history. Half a century later and under his latter‑day name Yusuf Islam, he's teamed up with original producer Paul Samwell‑Smith to re‑record it from scratch.
Cat Stevens retired from the music business in 1978, shortly after converting to Islam and changing his name to Yusuf Islam. But in 2006 he made a welcome return to mainstream popular music with An Other Cup. Two more albums followed (2009's Roadsinger and 2014's Tell 'Em I'm Gone), both released under the mononym Yusuf, before 2017's The Laughing Apple saw the familiar name of Cat Stevens appearing once again, as well as a reunion with producer Paul Samwell‑Smith and Stevens' long‑time guitarist Alun Davies. Now, in 2020, Yusuf/Cat Stevens has come full circle with the recently released Tea For The Tillerman², a re‑recording of his iconic 1970 album.
Tea For The Tillerman² was released on 28th September via Universal Music Catalogue."I always like to take on a challenge," explains Yusuf today on why he decided to revisit the album. "Because of its iconic stature in music history and in particular in my musical history, I needed to sort of approach it from a very casual point of view. And I had to make it kind of mine as well as make it relevant to me today too. The songs were written for my time but they were also written for this time too, because the subjects and themes are kind of perennial. They don't really fade and you can hear that on songs like 'Where Do The Children Play?', 'Wild World' and 'But I Might Die Tonight'."
"Initially I was nervous," adds returning producer Paul Samwell‑Smith. "It just doesn't sound like a good idea to go back in and re‑record something you recorded 50 years ago, but I did think about it. In the end, I wanted him to preserve the songs as if he was playing for the current audience. And because he's older and wiser, I wanted to reflect that in the way he sang the songs. Remember, he's been singing these songs for 50 years now. He must have sung 'Father And Son' thousands of times, so he has a certain approach to it now.
"My initial nervousness was that he would liven it up and make it different for himself so that he could become interested in it again. And I didn't think that was the right approach. Yet he never actually did that. Yusuf is a lovely man, very clever and a talented man, and what I got from him in the end was very accurate and very close. He sat on his stool playing his guitar and just sang, especially with 'Where Do The Children Play?' and 'Father And Son'. And it was absolutely lovely and what you get is a modern and new but older and wiser Yusuf. Fifty years ago he was 22 and he was a little bit angry and passionate, but nowadays he is older and wiser and that comes through."
Wanting to update and infuse the songs with a fresh approach that incorporated contemporary musical elements, Yusuf looked back to his early rhythm & blues influences for inspiration. "With some of the songs, we had to take them on a different kind of excursion," he says. "And it was more towards the blues and R&B, which has always been one of my musical loves. I grew up in that era where discos were all just playing this incredible music coming from the...
You are reading one of the locked Subscriber-only articles from our latest 5 issues.
You've read 20% of this article for free, so to continue reading...
Buy & Download this Single Article in PDF format

£1.00 GBP

$1.49 USD


For less than the price of a coffee, buy now and immediately download to your computer or smartphone.

Buy & Download the Full Issue PDF
Our 'full SOS magazine' for smartphone/tablet/computer. More info...