Audio Visual Production Software
Adobe's latest Creative Suite comes in a variety of flavours, including the video‑focused Production Premium package. We take a look at its most important components for video production.
Creative Suite 5 is the latest incarnation of Adobe's flagship software package, a package that's responsible for much of the web, print and even video media that we see around us every day. Following its introduction at NAB this year, CS5 is now on general release, so it's time we took a good look around it.
As the Creative Suite has developed and extended its reach, more programmes have been added, either by acquisition (as with internet‑focused Macromedia Flash and Dreamweaver tools, added in 2007), or as a result of development by Adobe themselves (as with On Location or Media Encoder). The Creative Suite has become super‑sized, and few of us either need or can handle the whole package. So although it's possible to order the 'Master Collection', most of us will be restricting ourselves to just some of the delights on the menu (see 'Adobe CS5 Packages' table).
The meat of CS5 is provided by Photoshop and Illustrator. Every package includes them, but from there your choice lies between the web‑directed Web Premium, the print/repro‑based Design Standard or Premium, and the video‑oriented Production Premium. Previous versions of the Creative Suite have given buyers the choice between 'Standard' or 'Premium' versions, but in CS5 the only 'Standard' version to survive is Design Standard, which includes the standard version of Photoshop rather than the Extended version used by all the other packages. As you can see from the Adobe CS5 Packages table, Adobe are asking serious money for CS5, and even the upgrade cost from CS4 is pretty significant, so what's in there to justify the big numbers?
In this review I'll be homing in on the apps that are most relevant to video production in the Production Premium version of the package, leaving some other aspects aside. Beyond Photoshop and Illustrator, the principal elements of Production Premium consist of Premiere Pro, an NLE; After Effects, an effects compositing programme; Flash, a Web animation package; and Encore, a DVD and Blu Ray authoring tool. Additionally, there are 'helper' apps such as the Media Encoder for converting your media to multifarious formats; Flash Catalyst, a new package designed to ease the conversion of media into Flash format; On Location, a location logging and monitoring tool; Device Central, which allows you to check compatibility of your project with various target hardware devices such as mobile phones or iPods; and Bridge, an asset manager to help you keep track of all your media and move it easily between applications.
With this lot at your disposal, it'll take you a while to get comfortable with the workflow and creative possibilities available, particularly since these are, in the main, heavyweight professional tools with little by way of 'wizards' or templates to get you started. However, the pedigree of the major apps is impeccable, and it's just a matter of rolling your sleeves up and getting stuck in, confident that Adobe's reputation will see you through. There's also a massive on‑line community of users out there, so you never feel stranded for long. With a 30-day full demo to try out, you can also see if it's right for you at no cost.
Although Photoshop and Illustrator are at the core of the Creative Suite, arguably the most important part of Production Premium for video producers is the NLE, Premiere Pro (pictured in the header image for this article). It's to Premiere Pro that the content created in Illustrator, Photoshop and After Effects will most often be sent, to be woven into the timeline of the programme or video being edited. It's also generally from Premiere Pro that the project will be passed on to the 'delivery' apps, such as Media Encoder and Encore. So Premiere Pro needs to stack up as a decent piece of software.
Sequence presets make setting up a sequence for a particular type of footage very easy indeed.
Premiere Pro is the descendant of the original Premiere editor, which first saw light of day in 1991. Way back then, it was capable of editing Quicktime movies of up to 160x120-pixel resolution. How things have changed! Today's Premiere Pro supports formats all the way up to 4K digital cinema, provided your computer is man enough for the task. For many of us, though, Premiere Pro is more likely to be used to edit more humble formats, and the usual suspects of DV, AVCHD, HDV and DVCProHD are catered for in the presets that are presented when you start a Project, together with support for trendy new formats such as AVCCAM, AVC‑Intra, DSLRs and the new Canon XF. Within each folder are choices of frame rate, frame size and data rate as appropriate. It's a neat way of presenting what has become a minefield of formats, and makes setting up a Project as painless as possible.
Once you're in, Premiere Pro CS5 looks a lot like its predecessor — which is unusual, as Adobe do like to change the interface! There are inevitably some differences, though: the Tools have been moved from the bottom-right corner to the top left, bringing them into line with the position of the tools in After Effects and Encore. Also new is a menu in the top right that gives easy access to the various Workspaces (preset arrangements of the different windows), which were previously accessible via the Window/Workspace menu. This, too, is in line with the other major apps in CS5, and is a welcome sign that Adobe are keen to harmonise the different interfaces.
Also in the top-right corner is a button marked 'CS Live'. This gives the user access to the fledgling CS Live Services that Adobe are gradually ramping up. CS Live Services use your Internet connection to allow you to collaborate with colleagues and clients in a variety of ways, from helping to smooth the exchange of scripts or sequences, to the ability to preview and diagnose web‑page content. It's currently free, but Adobe plan to charge a subscription fee as the system gains more features. Further information is available from http://www.adobe.com/products/creativesuite/cslive/. While potentially of interest to home-workers and freelances, it remains to be seen whether what's on offer will be widely adopted.
Though the service is in its infancy, the expanding CS Live allows collaboration across the internet.
Premiere Pro CS5 may not look so very different to its predecessors, but behind the interface things have changed radically. In fact, this isn't so much an 'upgrade' as a complete rewrite, because the CS5 version has become 64‑bit native. This allows it to unlock the performance potential of Windows 7 and Mac OSX Snow Leopard, and to take advantage of the increased amounts of RAM that these operating systems can address. This is important when you start handling HD, 2K or 4K media, as caching frames starts to need prodigious amounts of RAM. In fact, the CS5 version of Premiere Pro is 64‑bit only, and so Adobe have included an installer for the previous CS4 version, for those who aren't running a 64‑bit OS yet. You'd be mad not to upgrade to a 64‑bit OS for CS5 though; the performance lift is so huge.
The other much‑heralded change is the introduction of the Mercury playback engine. Mercury combines 64-bit processing with extensive use of the 3D acceleration available on your graphics card to massively improve timeline playback performance and responsiveness to scrubbing, shuttling and jogging through clips. The only down side of this is that your choice of graphics card is restricted: only CUDA‑enabled cards are compatible, which limits you to certain Nvidia models. A list of compatible cards is available at www.nvidia.com/object/adobe_PremiereproCS5.html.
The arrival of the Mercury playback engine for Premiere Pro has had a dramatic effect on its ability to play mixed‑format media (more than one codec type) on the timeline. Previously, Premiere Pro has lagged behind its peers in this important respect, and it's certainly been my experience that, on the same hardware, the best media replay performance came from Avid Media Composer, with Final Cut Pro close behind. Premiere Pro would often drop frames or quality in circumstances where the others sailed straight through. Not any more. Mercury has given Premiere Pro a tremendous shot in the arm, and it's now a pleasure to edit with. Even without a CUDA graphics card, you get much of the benefit of Mercury, so don't feel you have to lash out on a new card immediately.
A CUDA card will significantly enhance some encoding jobs when using Media Encoder to export your final edit. H264 acceleration is particularly impressive, and one test piece took an hour and a half to encode in a freeware encoder, but only around five minutes when using Media Encoder accelerated with a Quadro FX3800 GPU.
One aspect of Premiere Pro that Adobe should swiftly address is the lack of an in‑built intermediate codec. When editing in Avid Media Composer or FCP, you can choose which codec you want to capture and edit your media with. In Avid's case, you might use DNxHD 36, while in FCP you might use Apple ProRes. This can make editing quicker and slicker when dealing with awkward media such as AVCHD, and save disk space when dealing with full HD and resolutions beyond. Premiere Pro has no in‑built equivalent, and although there is a third‑party solution in the form of the Cineform Neoscene codec, it's not included in the Production Premium bundle. If Adobe were to include a version of Cineform or similar, it would bring the software into line with its main rivals.
From many points of view, Premiere Pro has a distinctly FCP‑like feel to it. In fact, editors familiar with FCP will feel quite at home, once some basic familiarisation has taken place. Readers of the Media Composer 5 review (Sound On Sound September 2010) will know that Avid have taken steps towards this style of timeline editing as well, and there's a feeling that editing products generally are converging in approach. This makes sense in so many ways. We take it for granted that, for example, cars should have basically the same controls in basically the same places, and so it should be with mature software types like the NLE.
In this spirit, a new approach to timeline control has arrived in CS5. The Track Panel now sports a 'Sync Lock' selector for each track, allowing the editor to choose whether clips on that track will be forced to remain in sync with clips on other tracks when trimming or other editing actions take place. Actually, this has always been possible by other means, and established Premiere Pro users may well be a little puzzled as to why the button has appeared. The fact is that this is the way Avid NLEs have traditionally dealt with timeline sync, and the suspicion has to be that Adobe are seeking to make Premiere Pro more accessible to Avid users.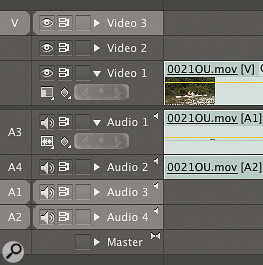 Track patching means that tracks must be selected before video and audio is dragged in.
This isn't the only example of this 'convergent' philosophy. Between CS3 and CS4, Adobe made a significant change to the editing 'logic' of Premiere Pro, with the introduction of an Avid/FCP‑like 'track patching' approach to choosing which track in the Timeline the audio and video tracks of a source clip would be placed on, when inserted or overlaid. In the new scheme, adding audio tracks required three criteria to be met. In order for a track to make it into the timeline, it must be lined up opposite the intended target timeline track and made 'available' by being enabled, while the corresponding timeline track had to be enabled as well. This was something of a necessary change, as it made it much easier to edit only selected tracks from a source clip into the timeline.
Premiere Pro's heritage is from the 'drag and drop' school of editing, and it has never been as button‑led as its rivals. This had resulted in the pro editing community, and particularly the broadcast industry. seeing Premiere Pro as, well, a bit down‑market, to be brutally honest: fine for small‑scale editing, but not suitable for efficiently churning out 60‑minute documentaries.
Is this still true? The much‑improved multi‑format playback performance and –— small niggles aside — changes to the editing would suggest that CS5 deserves the Pro in its name, and that it's 'game on' in the battle with Media Composer and FCP. Recent news also saw the BBC take on 2000 copies of Premiere Pro CS5 for its 'Creative Desktop' production initiative, so perhaps the tide is turning.
Like On Location (see below), Encore, Adobe's DVD and Blu‑ray disc-authoring package, is available as part of a Creative Suite or bundled with Premiere. The CS5 version has had a relatively modest upgrade, reflecting, perhaps, the perception in the industry that the importance of delivery of media on optical disc is declining in favour of web download, via services such as Netflix.
Encore CS5 allows creation of DVDs, Blu-rays and interactive videos, drawing upon media from Photoshop, Illustrator and the rest of the CS5 package.
With this in mind, it's perhaps not surprising that one of the most significant new features is the ability to create web DVDs with search capability. For the uninitiated, a web DVD looks to the user like a normal DVD, but the interface and media are in fact being accessed on a remote server, not a disc. The user interface is created by Encore as Flash, and the video content is delivered as Flash Video and played in Adobe's Flash Player rather than in your normal DVD‑player software.
The search capability is produced by Encore building a database from various aspects of the DVD, including subtitles, menu and button names, and even speech analysis of the content. Searches can be performed without interrupting playback, and it's all pretty impressive in operation.
Encore CS5 now supports 24p media, essential for professional Blu‑ray disc authoring and a surprising omission to date. Also, it's now possible to author Blu‑ray discs from AVCHD cameras without transcoding the media, therefore preserving the quality of the source material.
Encore is reliant on Adobe Media Encoder for transcoding video assets, and can now perform transcoding tasks in the background while work on menu structure carries on. This significantly improves workflow, and is particularly important if you're working with high‑res 4K media. Speaking of which, Encore can now handle 4K mastering to Blu‑ray discs. Finally, Encore projects are now cross‑platform, and can be easily moved from Mac to PC systems without need for conversion.
Another programme that's bundled with Premiere Pro is On Location. Designed to assist with the acquisition of your video, On Location would typically be used (unsurprisingly) on a shoot location as an aid to getting both the technical aspects of the shot right (it provides waveform monitoring of the video signal it's capturing) and the production aspects of logging shots and adding metadata. The camera's output, in addition to being recorded on tape or memory card in the camera, can be connected to a laptop and captured live.
Using On Location CS5 you can shoot video straight to a laptop, or use it as a device for logging your shots and checking them with the built‑in scopes.
On Location CS5 now allows you to work with file‑based media that you've transferred to the computer, and then re‑open captured clips for further logging. In addition to setting in and out points on media, On Location also allows Markers to be added on the fly, which can be transferred onward to Premiere Pro for editing, complete with all the metadata you've added.
It's worth noting that the formats On Location is designed to use for file‑based working and capture are limited to AVCHD, DV, DVCPro, HDV, DVCProHD, and XDCAM, so it won't appeal to those lucky enough to be shooting for Digital Cinema.
After Effects is another long‑established part of the Adobe media software empire, and over the years it has built itself a solid reputation as an effects compositor par excellence. Indeed, it's perplexing that Premiere Pro has struggled to achieve the same revered status in its market sector. The appeal of After Effects is surprisingly broad, and it's as likely to be used for creating motion graphics sequences for the web as it is for mainstream broadcast, news, advertisements and beyond, into the high end of digital cinema effects and compositing.
The class leading After Effects CS5 can be used to create everything from simple title sequences to full‑scale movie composites.
The philosophy of After Effects has always been simply to allow pretty much anything to be composited with anything else. Resolution‑independent working has been possible for many years, but it's become more tractable as computers and graphics cards have developed and increased in power. So while After Effects CS5 gains from the same Mercury playback engine and 64‑bit OS compatibility as Premiere Pro, it has for years achieved real‑time playback of complex sequences by the use of RAM Preview –— essentially rendering the composition (or a selected part — the 'work area') into RAM. CS5's ability to address vast quantities of RAM are, therefore, a big advantage when working at high resolutions. For example, with 64GB of RAM you could preview over one minute of full HD-resolution media. OK, it's not real‑time, but it's been the acceptable alternative. This has only recently been challenged by Apple's Motion, which seeks to do as much as possible in real time by making full use of the capabilities of the graphics card, but is a much less adaptable piece of software. Sharing the same playback engine also means that After Effects can work with the same range of formats as Premiere Pro, including all the popular suspects.
The new Auto Keyframe command takes some of the effort out of extensive keyframing. After Effects has always led the way with its approach to keyframing (automating parameters across time on a frame‑by‑frame or algorithmic basis), and just when you thought they'd done everything you could imagine, they come up with a new idea that makes you say "of course, how did I live without that!". This is the new Auto‑keyframe mode. Selected via a new button on the timeline toolbar, it automatically enables for keyframing any parameters you change, saving you the chore of enabling each individually. Of course, the flip‑side is that you'll probably also keyframe things you didn't intend, at least until you're used to the change.
Another cracking new tool is the Rotobrush. Similar to the Extract tool in Photoshop, the Rotobrush speeds up the extraction of moving objects from their background by allowing you to draw roughly around the object, and then intelligently analysing your brush strokes to work out where the boundary of the object must be. This is then applied to the next frame and automatically updated. You can easily adjust the shape manually to correct for its mistakes, and controls are provided to allow you to smooth, choke and feather the resulting mask. It's all very impressive in operation, and well thought out.
A new effect bundled with CS5 is DigiEffects Freeform. Freeform allows the user to warp a 2D object in 3D space by manipulating a grid, so with patience and skill you can map a 2D object onto a 3D surface. In addition to After Effects itself, two important additional applications bundled with CS5, Mocha and Color Finesse, have both been updated.
The 3D Mesh Warp tool allows you to deform 2D shapes using a three‑dimensional grid.
Imagineer Systems' Mocha v2 is an excellent tool for tracking and rotoscoping (the process of cutting out and isolating areas of a video clip), and offers a very different approach to tracking by comparison with After Effects' own inbuilt tracking.
Tracking is used to follow an object through frames of video, to keep a virtual object, which wasn't really there when video was shot, in the right place, for example. Rather than specifying tracking points within the frame, Mocha tracks planes or surfaces, so tracking perspective changes is theoretically (and practically) much easier. Mocha consists of a separate programme in which the rotoscoping and tracking takes place, and a plug‑in effect – Mocha Shape — which you can apply to a layer as a vehicle for transferring the shape and tracking data to your composition. Transferring data is a simple copy-and-paste process, and the Mocha data can also be saved separately for onward transport to systems on other workstations.
Synthetic Aperture's Color Finesse is a sophisticated colour-correction and colour‑grading tool, applied via an effect plug‑in and with its own interface. It's not necessary to export out of After Effects, as the Color Finesse interface can be launched from the plug‑in itself. The version bundled with After Effects CS5 is Color Finesse 3 LE, and it can also be used directly in Premiere Pro if you like.
Color Finesse has been upgraded to run as a 64‑bit application and has a number of new features, including a Vibrance control to give better control over image saturation, and HSL Curves controls, which allow control of saturation and lightness based on colour hue. The program also has the ability to export 3D LUTs (look‑up tables, for matching specific industry colour standards) in a variety of common formats. In addition, it now handily supports the Tangent Wave control surface, for hands-on colour grading. This and a host of other smaller improvements make it a very useful adjunct to both After Effects and Premiere Pro.
Color Finesse 3 LE allows very accurate control over colour correction and grading in its own interface.
Flash has long been the animation programme of choice for Web developers. It excels at producing compact, low bit‑rate motion graphics, in part thanks to its vector‑based format. Visitors to almost any web site with video content will also be familiar with Flash Video, a heavily‑compressed video format that belies its bit‑rate with surprisingly good picture quality. Indeed, you get the impression that, given their own way, Adobe would have all aspects of web content creation neatly under their control. It's against this background that you may have read of Apple's refusal to incorporate Flash Video compatibility into the iPhone, citing the forthcoming HTML5 standard as justification. Many in the industry suspect this as being simply corporate posturing, with Apple unwilling to kowtow to Adobe's might in the web arena.
In CS5, Adobe have introduced a new partner programme, Flash Catalyst, to take over the simpler parts of interactive Flash authoring. Flash Catalyst allows you to import artwork created in Illustrator or Photoshop, Flash Video content (.FLV or .F4V) created in Media Encoder and Flash animations (.SWF) created in Flash Professional, and arrange them all together into a complete Flash‑based interactive web page. Different pages, or 'States' can be built, and buttons programmed to take the viewer from one to the next. This all seems (and is) very basic, and leaves you with a "so what" feeling. There's nothing earth‑shatteringly new evident here; indeed, there's nothing that couldn't have been achieved previously in Flash Professional CS4, though perhaps Catalyst is a little more friendly. It feels like a rather raw new piece of software, whose power is yet to reveal itself.
However, if you switch the interface from the 'Design' Workspace — where you lay out the elements and get creative — to the 'Code' Workspace, Flash Catalyst's power does begin to reveal itself. It shows that the code associated with your pages is being generated using MXML (Macromedia eXtensible Markup Language). This offers the possibility of much more sophisticated onward development of your work in the more heavyweight Flash Builder app, if you're so inclined (not included in the Production Premium package). Flash Catalyst can actually be seen as a simple and lightweight programme for those not needing the power of Builder or the complication of Flash Professional, but retaining the ability to pass work on if necessary. Now, if Apple would just behave and get on board…..
Adobe have made useful improvements across the board, some tiny but nonetheless welcome. It's often the case that new releases concentrate on introducing tasty new features while leaving the annoying niggles of the previous version unresolved. Adobe have charted a careful course with CS5, attempting to address both the need for headline-grabbing features and the need to make their customer‑base feel that the package continues to be refined and its wrinkles ironed out.
They've also done useful work on the interface of the programmes, giving them a more consistent feel, with, for example, tools in the top left and workspaces top right. This helps give the different programmes a common identity, making it easier for users to suss out the Adobe approach. This has always been one of the strengths of Apple's Final Cut Studio, and probably the biggest weakness of Avid's Media Composer suite.
Of course, Adobe's Creative Suites are more comprehensive in their spread than either of their competitors, and the question is therefore: would you buy the Creative Suite for video production instead of Media Composer or FCP Studio? The key to answering that is how well Premiere Pro stacks up against the opposition. It has been significantly beefed up, and now looks to be a truly worthy alternative. As to whether it's good enough for dyed‑in‑the‑wool users of the others to decide to jump ship, I'm not sure. At a professional level, you may well simply buy both. At 'prosumer' level, you'd need to be sure you need the capabilities of the rest of the suite to justify the extra cost compared with FCP Studio.
That said, the package price is not unreasonable given the huge capability on offer. If you bought the Production Premium Suite for After Effects, Photoshop and Illustrator, you would already have saved around £900$1200 by comparison with buying the three separately. The same is true if your interest is in the production of Flash content: with the combined cost of Flash Professional and Flash Catalyst not far short of £1100$1100, you'd be mad not to shell out for the whole suite. Back at the beginning of this review, I described the price of Production Premium as 'serious money', but I think that, overall, Adobe have succeeded in justifying the price of the suite.
From a technological point of view, the big news has to be the wholehearted support of 64‑bit operating systems, combined with the arrival of the Mercury Engine. These two advances signal that Adobe's Creative Suite is well positioned to take advantage of the continued growth of computing power and the inexorable rise of HD video standards.  
Illustrator is a specialist vector drawing package. Vectors are not like pixels; they are mathematical components, and zooming in will not make them 'pixelated'. It's long been possible to create some vector‑based content, such as text and simple shape,s directly in any of the other CS5 apps where it's appropriate to do so, but Illustrator is for serious design work. From a video perspective, Illustrator can be very useful for drawing items that are then animated using After Effects or incorporated into Encore DVD and Blu-ray menus.
I have always found it the least intuitive and usable of the major apps of the Creative Suite. Don't get me wrong — there's massive power and potential in the programme, it just feels like hard work to realise your vision sometimes, so do expect to watch a tutorial or two if you want to use it.
New features include control over dashed lines and arrowheads, variable-width strokes, a new stretch control for brushes and new controls for handling behaviour at corners; the same bristle brush as Photoshop; a new Shape Builder tool; much‑improved support for multiple Artboards (another PostScript‑imposed limitation); convenient 'draw behind' and 'draw inside' modes; and, finally, a rather nice Perspective Grid tool for easier perspective drawing.
Photoshop has developed and matured over the years, and now has a seemingly unassailable position as the bitmap image editor of choice for professionals and well‑heeled amateurs alike. Not only is Photoshop useful for tweaking band photoshoots and the like, but in a video production context it can be used for adjusting important frames of video, as well as preparing imagery for DVD and Blu-ray menus when using Encore.
Adobe have included Bridge, essentially an image-management programme, for a few versions of the Creative Suite now, and in CS5 it's been revised to include Mini‑Bridge, a quicker, slicker and less intrusive interface to allow you to find images without all the paraphernalia of Metadata available in Bridge. You can open items from Mini‑Bridge in Photoshop, or you can drag and drop them into the Project windows of Premiere Pro and After Effects.
Painting has become very advanced, with the new Mixer Brush allowing you to blend a selected colour with the underlying colours of an image, and the result is a powerful ability to transform an image from a photo into a painting, which could lead to some great and relatively easy animations.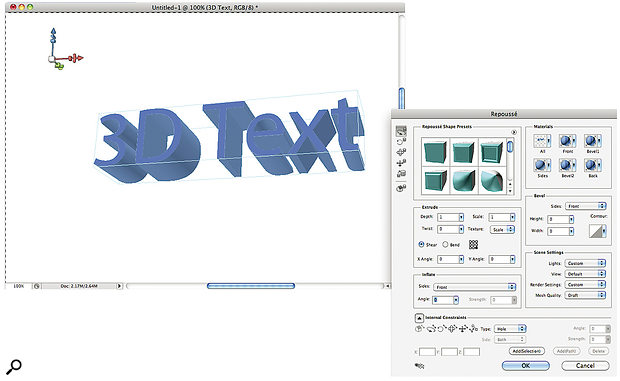 All of the above are features of 'standard' Photoshop. So what does the 'Extended' version offer in addition? In a nutshell, 3D. Introduced in CS4, Photoshop's ability to work in 3D has been improved with the addition of the 3D Repoussé commands (repoussé is from the French for 'push back', and is a technique for extruding objects — text, shapes or selections — into 3D objects). Although the 3D features are good, I was left with a distinct feeling that other, simpler, cheaper programmes, such as Xara Xtreme 4, can do a better job for less.
Photoshop Extended's extra features can, however, be useful for animating graphics in After Effects. A 3D model (created in programs such as 3DS Max or Maya, for example) can be imported and manipulated in 3D. This can then be used in an After Effects composition, retaining its 3D characteristics. It's surprisingly easy to do, and plenty of 3D models are available online to experiment with.
Pros
64‑bit video applications.
Powerful Mercury video-playback Engine.
After Effects and Photoshop best in class.
Comprehensive toolkit for production.
Consistent look and feel to applications.
Good value for money overall.
Cons
Full suite is overkill for many users.
Flash Catalyst rather limited.
Illustrator not very intuitive.
Photoshop Extended not yet extended enough.
Summary
Creative Suite 5 adds a whole host of workflow tweaks and useful features, particularly the 64‑bit video applications, the Mercury video playback engine and CUDA acceleration. The high price is justified by the range and power of the tools on offer, but do be prepared to put a lot of time into getting the best out of the tools that you're least familiar with.
information
£1773 including VAT.
Adobe 0800 028 0148
$1699
Adobe Sales +1 800 585 0774