Field Recorder App For iOS
The audio recorder app market for iOS is already pretty competitive, which shouldn't come as much of a surprise, considering the ubiquitous popularity of Apple's devices. While many of the apps are simple affairs, Audiofile Engineering (who also make apps for instrument accessory manufacturers Planet Waves) have created one that's rather well endowed. (Note that a cut‑down version of this app, designed as a companion to Blue's Mikey microphone for iOS, is available for free. Incidentally, this mic is due for an update, since the current version only works with 3G and older devices.)
Recording is armed using a similar slide control to that which unlocks iOS devices, and is initiated with a red button. There are plenty of options for timed recording, too, so you can tell the app to stop recording at a certain day or time, or after a set period defined in minutes. Izotope have created some input effects for FiRe, each of which uses some combination of multi-band dynamics processing and equalisation. Presets such as 'Dictation' and 'Outside Noise Reduction' are included, some of which provide subtle lifts of certain frequencies while others include some pretty hard gating and compression. If you activate 'Playthrough' in the Input menu, you can monitor these effects in real time as well.
Transport controls are quick and slick, with nicely implemented touch control that makes it easy to access a particular part of a wave. Playback can be carried out at various speeds, too, although it isn't pitch‑constant: slowing down lowers the pitch, while speeding up raises it.
The effect section is nicely detailed, and includes a compressor‑expander and EQ. The three‑band EQ includes a low-pass and high-pass filter, as well as a fixed‑Q but variable-frequency boost or cut, while the compressor and expander include global attack and release times, as well as their own threshold and ratio settings. It's good to see proper effects terminology used, as apps often include dumbed-down information, resorting to the '0‑10' kind of notation (which leaves far too much room for jokes about going up to 11, too).
Editing is carried out by rotating the device into portrait mode while displaying the main screen. This view shows separate takes as pre‑sliced sections (also known as Smart Edits), and allows you to trim the waves easily enough. It also allows crossfades between sections, which is useful for blending takes together.
When you're done, there are plenty of options for sharing your file. If you're sending to iTunes, you can choose AIFF, WAV, CAF, AAC, Podcast, Apple Lossless, FLAC or Ogg Vorbis formats, so you're not left wanting when it comes to compatibility, unless you particularly want MP3. All formats that support metadata can be exported with it included; the Ogg format, for example, contains no less than 17 fields. I'm sure most of us will be satisfied with artist, track and notes!
If you're looking to share a live performance straight away, FiRe has it covered, with full support for sharing directly to your Dropbox or Soundcloud account, or even uploading direct to FTP. Soundcloud sharing is a great bonus, meaning that you can record a demo, equalise and compress it a little, and upload it for your fans in no time at all.
The 'Roadmap' feature listed under 'Support' is a good idea too, allowing users to have a hand in development by rating future additional features out of five stars. The only problem here is that they're all rated at four or five! My top request, to accept signal from a dedicated mic plugged into the jack (like the MicW i486) was not an option, but hopefully it'll arrive later. For now, digital dock-connector mics and analogue headset mics will work fine with the app and recent iOS devices.
Audiofile Engineering should be commended for creating a 'complete' app. It doesn't feel like a rush job, but instead is well thought-out and comprehensive. It's wonderful to use for audio recording tasks — especially location recording — and the sharing, editing and effects options are just what you need. I really do hope that they continue to develop this app, not only adding more features but creating an iPad-specific version too. FiRe is one of those rare apps that feels like it's being continually developed, not just for promotional purposes, but for serious recording using iOS. I'm looking forward to trying out the multitrack FiRe Studio.
J G Harding
FiRe v2.03, £3.99.Audiofile Engineering FiRe v2.03, $5.99.
Microphone For iOS Devices
Considering the fact that there are so many recording apps for iPhone, it's surprising that there aren't more high-quality iOS mics designed both for capturing both performances and doing measurement. Though audio measurement is something of a niche market, the nicer measurement mics tend to be able to cross over into recording music that requires a natural presentation, as they need to be quite flat in terms of frequency response.
MicW's i436 is an omnidirectional electret measurement mic designed specifically for iOS devices, and it's quite wonderfully made. It has a dense, sleek aluminium body with a smooth shaft, and a flush mic‑capsule at the head. Because it's designed specifically for iOS devices, a TRRS mini-jack is built into the base, and power for the electret preamp is drawn and signal sent through this single connection.
An accessory kit is also available, including an extension cable and lavalier mount (for clipping to shirts and the like), a split cable that gives access to a headphone output, and a wind shield.
The mic itself complies with the IEC61672 Class 2 Sound Level Meter and ANSI S1.4 standards, though most iOS devices have a high-pass filter on the input at 200Hz, so for the class-compliant performance of the mic to be meaningful when used with an iOS device, the app must also be IEC61672 Class 2 Sound Level Meter compliant. Studio Six Digital's RTA is just such an app, including compensation curves for each iOS device and costing £7.49, while Signalscope Pro is fuller featured but more expensive, at £49.99.
The frequency response of the mic itself is relatively flat, although there is a 2dB spike at 15kHz, preceded by a smooth, 1dB dip that begins at 3kHz and reaches 0dB again at about 10kHz. If you're using the mic for testing, any app worth its salt should be able to compensate for these bumps in frequency response, but again, do check each app before purchase. The mic's sensitivity is rated at ‑44dB, so it's not the most sensitive, but it's fine for many testing and recording tasks.
As general recording mics go, this is certainly a lot nicer than the built‑in microphone of my iPhone 4. Testing side by side with the internal mic using IK Multimedia's iRig Recorder, the i436 sounded clear and natural, with the presence boost making for a flattering but not sibilant recording. The omnidirectional pattern makes it useful for band practices or interviews, where a cardioid mic would be impractical.
A good step for MicW to take would be to team up with the creators of measurement software to have specific i436 compensating presets added to the apps, as this would help users to know that both the mic and software were Class 2 compliant. Perhaps MicW could even create or commission their own such app. As it is, the mic functions well enough for the task once compensation is in place, and appears to give accurate readings as far as decibel and frequency levels are concerned.
Those looking for a cardioid solution may want to look at MicW's purpose-built recording mic, the i456, but either way the i436 is a good iOS mic for many different jobs.
J G Harding
MicW i436 £89; with accessory pack £119.MicW i436, $89; with accessory pack, $119
Vocal Looping App For iOS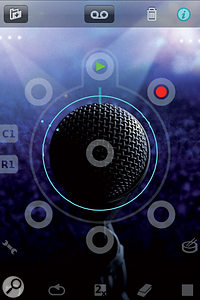 The uncomplicated Voice Jam vocal looper is a composition aid that can even feel like a creative game, depending on how you use it. Hitting the central record button starts recording, which can run for up to 30 seconds, while tapping again stops recording, at which point the recorded phrase begins to play back in a loop. Recording again layers the new sound over the top, so you can build up harmonies with ease. The resulting multi‑layered composition can also be dragged to one of the six loop nodes, to use as a starting point for another loop.
Different recording modes allow you to layer your new parts to taste, either recording to a blank loop directly, or doing so while the last loop plays, for example, making it easy to stay in the correct key and rhythm. The loops can be doubled in length, too, so you can record both short and long loops and create a nice improvised composition. Effects wise, there's a 'hard‑tune' effect and reverb available as in‑app purchases, both of which can be used for a short time in demo mode. When you're done, you can export your loops individually as files or record a live performance, uploading the results to Soundcloud directly.
It's a shame there's no click track or bpm setting in Voice Jam, as pressing the record button exactly on time is quite a challenge, and puts me off using the app as a live tool on stage. It'd be nice to be able to set 'one bar at 140bpm' for example, as that would relieve a little pressure! I managed to come up with some nice vocal harmony ideas using this app, and it certainly saved time when noting down harmony ideas, compared to using a full DAW or multitrack recorder.
Considering its low price, this app is worth checking out if you often use harmonies in your compositions and would like a refreshing, portable and quick way to compose and practice. It's also good if you want a mobile distraction that's more creative than Angry Birds!
J G Harding
£2.99.TC Helicon Voice Jam, $4.99