MIDI Interface For iOS
Since v4.2, iOS has included Core MIDI support. This allows relevant software to receive MIDI messages via the dock connector, and is very useful for musicians and producers alike.
Although not all music apps have yet taken advantage of Core MIDI, the big players in the iPhone DAW market have implemented it, and you'll soon be able to use plenty of controllers, keyboards and MIDI guitars to bash out iOS tunes.
The iConnect MIDI is designed to act as something of an iOS hub for your MIDI devices. It has two standard five‑pin MIDI In and Out channels on the rear, as well as a USB MIDI connection on the front panel. The front panel also features two miniature USB outputs, which can connect to iPhone, iPod Touch, iPad or a Windows or OS X computer. Standard MIDI drivers for all operating systems allow the device to be completely plug‑and‑play, with no time‑consuming setup involved.
All necessary cables are provided, so to start using the iConnect MIDI I just powered it up using the DC adaptor, connected a USB keyboard and the iPad to the front panel, and voila: a MIDI keyboard for iOS. The front‑mounted USB port provides up to 500ma of 5V power, enabling it to fire up a USB bus‑powered instrument. I was very happy when the YouRock Guitar (reviewed in the last issue of SOS) came to life. Controlling the Eden synth in Nanostudio with the guitar was great fun!
The USB input will recognise a hub, meaning that you can plug up to eight instruments into a hub and plug that into the iConnect MIDI's front port, driving many different MIDI channels. Routing can be very complex: you could have an iPad plugged in as a controller and an iPhone receiving data as a synth, while a group of controllers send data to a synth that's plugged into the DIN MIDI port on the back. Routing is carried out using a free iOS app. At the time of writing, this app was only available as a beta version, with a few features, such as saving and loading configurations, missing. Even in this state though, it's a convenient way to manage MIDI signal flow.
There's only one place where the iConnect MIDI has missed a trick: lack of battery power. Being wall-wart only makes it a little less portable than I'd like. Even if the battery had to be an internal Li‑ion Polymer cell, I wouldn't mind, as long as I could replace it if I wanted to. Since the iOS device and a small amp can be battery powered, it's a shame the iConnect MIDI can't be freed from the wall without a bulky DC battery converter.
For those who are serious about their MIDI, the iConnect MIDI is a solid device that does precisely what it says on the tin. It flies in the face of the reputation iOS accessories have for plastic consumer finish by being entirely metal, and looks ready to go on the road and on stage without imploding. Time to use the iPhone as a live synth! J G Harding
€160.$179
Electronics Reference Guide For Android
ElectroDroid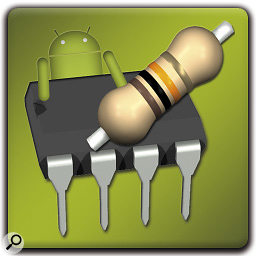 2.3 is compatible with Android 1.6 or higher, supports all screen resolutions, and is available in a wide range of European languages. It provides a very useful and remarkably comprehensive collection of electronics reference tools and aids, arranged across three tabbed sections. The app is available in both free and donation versions, the latter without a fairly innocuous advert at the bottom of the main listing pages.
The first tabbed section includes useful aids such as colour‑code interpreters for resistors with three to six bands and inductors (but not capacitors!), as well as an assortment of quick calculators for things like Ohm´s law, reactance values, voltage dividers, resistor arrays values (series and parallel, among others), capacitor charge, battery life, cable voltage drop, heat dissipation, inductor parameter design, PCB trace widths, and first‑order filter values. It also includes more complex calculators for the gain-setting resistors around op‑amps and LM317 voltage regulators, current‑limiting resistors for LEDs and time‑constant values for NE555 astables.
The second section contains pin‑out information for a wide range of common connectors, including USB and Firewire, serial and parallel computer ports, Ethernet variations, standard video interfaces such as SCART, DVI, HDMI, S‑Video and VGA, computer Molex wiring, EIDE and SATA data buses, and so on. The only audio‑specific connectors are XLRs; two-, three- and four‑terminal mini‑jacks; and the phono connector's last two forms, complete with the industry‑standard colour-coding schemes.
The third and final tab provides a Resources section, which includes a resistivity table for different metals, SWG and AWG wire-size tables, standard capacitor and resistor values, common electronic schematic symbols and abbreviations, a complete set of SI unit prefixes to sort out your yoctos (10‑24) from your yottas (1024), common button‑cell battery capacity and discharge rates, boolean logic-gate truth tables and 74000-series logic-gate constructions and pin‑outs, as well as a full set of ASCII character values in dec, oct, hex, bin and HTML formats! Phew...
This is an impressively detailed app, and it works in both portrait and landscape modes, for your comfort. It appears to be extended and updated fairly frequently, and everything I tried worked as expected. The calculators gave accurate results, the resources provided good information, and overall this is a very useful app for anyone interested in electronics and related applications. Hugh Robjohns
Free or £1.72 donation.Free or $2.79 donation.
demisoft.altervista.org/_siti_interni/electrodroid/
Keyboard & app For iPhone & iPod Touch
Akai's
The SynthStation app interface includes touchscreen controls for the main synth parameters, including effects, shown here.SynthStation 25 is a portable keyboard controller with a twist. It's a MIDI keyboard in the traditional sense, but you can also dock your iPhone or iPod Touch in the top as a sound module, making it a self‑contained music‑production system.
The main controls are 25 velocity‑sensitive miniature keys, pitch‑bend and mod wheels, and eight buttons. The top four select instruments in Akai's SynthStation app, while the bottom row consists of previous and next buttons for program selection, and octave down/up buttons. The rear panel has a power socket and switch, headphone socket, stereo RCA output and a volume control.
The keyboard can be powered by USB, four AAA batteries or mains power, but neither a USB cable nor a power supply unit is supplied. (It should be noted that your iPhone or iPod Touch will only charge when the keyboard is powered from the mains.) The bay for the iPhone is recessed and features the usual 19-pin connector on the left-hand side, as found on iPod speaker docks. The bay is 'one size fits all' and holds an iPhone 3G/3GS perfectly. I have an iPhone 4 and an iPod Touch 4G. Both of these do fit, though the iPod is left hanging slightly, as it's a thinner device than the phone.
Without an iPod or iPhone connected, the SynthStation 25 can be used as a regular MIDI controller keyboard, connected and powered by USB. Although the keyboard has miniature keys, they have a reassuring feel and quite a springy action — a good thing for a ham‑fisted keyboardist like me, as it means you need to play quite deliberately, and it reduces the amount of accidental triggering. The whole keyboard has a solid look and feel and makes the (admittedly much cheaper) Korg Nanokey seem positively toy-like in comparison.
With an iPhone or iPod docked, the keyboard can be used to play not only Akai's SynthStation app, but quite a few other apps besides. A reasonable list of compatible apps can be found at http://bit.ly/jQUYUJ. The SynthStation app itself is a straightforward combination of three synths for creating bass, chords and melody parts, as well as a drum module with over 50 kits and an Akai MPC-style interface for creating beats. Mixes can be downloaded over Wi-Fi as WAV or MIDI files. Although the app functions reasonably well it lacks any stand-out reason for purchase (it certainly doesn't exploit the resolution of the iOS devices well and some menus and legends are hard to read). I feel it should be given away with hardware of this price.
I did have a few issues with the SynthStation. On the second day of use, it stopped talking to third-party apps (only the Akai app worked), but with a bit of wiggling it started working again. I found that this issue has affected many users. While it may be that the review sample is faulty, I must say I was concerned by the dock connector in the same way that it concerns me on an iPod dock. I'm still not convinced it will stand up to repeated plugging and unplugging, especially when it also supports the weight of the device that's plugged in.
I would have like to have used the keyboard with my iPad via a dock extender cable, but the iPad required more power than was available. Perhaps it was my cable that was at fault, but I look forward to the SynthStation 49 released later this year, designed for iPad.
A few bugs aside, the keyboard itself is actually very playable and well made, so it's worth a look if you want to play synths with your iOS device. Mike Watkinson
£79; app £1.49. Prices include VAT.$79; app £1.99.