The 1.5GB Sampled Landscape library is divided into three folders: Drones, Instruments, and Landscapes. The 15 Drones aren't the passive synth tones that fill so many libraries: they're living, breathing, organic sounds comprising between two and four sample layers, with moods ranging from spiritual to deeply unsettling. The layers can be controlled via the mod wheel, MIDI expression controller, and occasionally even the pitch-bend wheel.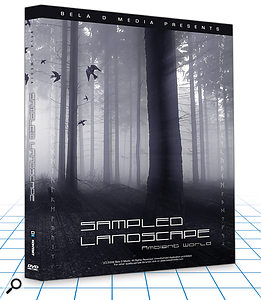 The 84 Instruments cover a lot of world music ground, and the plentiful control options this time use script‑created drop‑down menus to control the filters, EQ, effects, envelopes and even the relative levels, tuning and pan positions of the sounds in each instrument. As well as the inevitable breathy synth drones, you get didgeridoo, pads, flutes, male and female chants and mantras, bells, bowls, and chimes. Highlights include the Tibetan mantras, ethereal Ancient Voices, the trills and flourishes of the Forest, and Magical Flutes, which has extremely expressive Bansuri flutes with key-switching of various articulations, as well as atmospheric extras such as deep rumbles and whispering winds. There are few plucked instruments, but there's a nice range of ambient percussion, including bells, rainmakers, shells, and talking drums. There are even arpeggiator‑driven drums and kalimba rhythms.
The Landscapes folder contains 39 Multis of Drones and Instruments, with various background sounds and articulated extras to fade in and out, or otherwise alter. There are up to six different layers, featuring bass drones, arpeggiated drums, vocal accompaniment, wind instruments, chimes and other effects, sometimes with keyswitching. Some Landscapes are so complex that single‑finger playing is more advisable, but there are some wonderful combinations, such as Mysterious Wood, which features harp glissandos and shakuhachi phrases with layers of wind chimes, shell percussion, and whispering wind on your mod wheel. Others, such as the trumpets, war horns, the far voice of Roma, the mantras (deep earth drones), and the distant and ritual drums of War Call are more subdued and suited to traditional playing.
Sampled Landscape is a very accomplished and inspiring collection. Media composers could use this without worrying that the results will sound derivative, and with so much control, it never feels like a 'construction kit'. Martin Walker
£209 including VAT.
Time + Space +44(0)1837 55200.