Stereo Analogue Equaliser
Internal Construction & Technical Perrformance
During the course of this review, Hugh opened up the Bettermaker to find out what was inside. He also used an Audio Precision Analyzer to generate a number of test plots, showing key aspects of the Bettermaker's performance.
A view of the internal circuitry and wiring of the EQ230P.
The frequency response of the EQ230P in bypass mode, and with a variety of HPF turnover settings.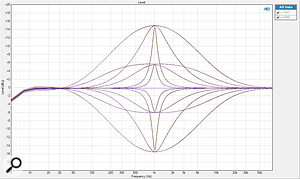 A snapshot showing the gain range and bandwidth options of the first parametric section at 1kHz.
A few plots taken from the LF section of the P-style equaliser with maximum attenuation dialed in, and increasing boost settings. Note the characteristic dip above the boost shelf.
The range of the P-style HF boost control at different frequency settings.