Active Surround Monitoring with Bass Management
Blue Sky's new active studio monitors use cutting-edge cone technology and closed-box speaker loading for improved performance.
Blue Sky is probably a new name to you. The company is a US-based start-up, backed by people with long experience in the professional monitor business — notably with Miller & Kreisel. The products are apparently designed and tested in the US, yet made in China (you'd be surprised just how many speakers from well-known UK or US brands are actually manufactured in China), and, despite being offered at a pretty competitive UK price, seem extremely well bolted together. There's a reassuring weight to them.
Photo: Mark EwingI was supplied with a complete Sky System One 5.1 system comprising five satellite speakers, one subwoofer and a two-box (desktop controller and rackmount interface) Bass Management Controller. The satellites, which go by the name of Sat 6.5, are compact two-way, magnetically shielded, active systems conforming to the usual arrangement: bi-amplifier and active filter module, heat sink, input socket and controls bolted on the back panel. The Sat 6.5 amplifiers are rated at 100W into 4Ω for both woofer and tweeter. Controls extend only to a gain control (calibrated at one end of its travel) and a power switch.
There are two features of the Sat 6.5 that differentiate it from the competition. First, it has a pretty leading-edge line-up of drivers. The 170mm bass/mid-range unit, constructed on a substantial cast-aluminium chassis, features an unusual mica-filled polypropylene hemispherical cone (OK, so a 'cone' can't in truth be hemispherical — I guess a better description is 'inverted dome') to which the voice coil is bonded via a much larger surface area than is usual. The bass/mid-range unit construction is reminiscent of that used by US hi-fi manufacture Revel and currently impressing both critics and customers.
Blue Sky Sky System One
pros
Great bass performance
Clean high-level monitoring
Properly integrated 5.1 system
Desktop setup and control
cons
summary
Not the last word in mid-range clarity or neutrality, but an effective wide bandwidth solution to 5.1 monitoring
The Sat 6.5 tweeter is a unit made by Danish specialist Vifa (presumably in their Chinese plant). It's an unusual design, described by Vifa as 'dual concentric' with a 'wave-guide centre plug'. Imagine a very shallow tweeter dome with an unusually large and compliant surround section, trapped in the middle by a small bullet-shaped plug and you're not far off. The tweeter offers the combination of good power handling, frequency response extended to over 40kHz, dispersion that holds up as well as any conventional 25mm dome, and an exceptionally low fundamental resonance. It's this low tweeter resonance that enables the Sat 6.5's crossover frequency to be set an octave lower than the usual 3kHz — to the obvious benefit of mid-range dispersion (the system crosses over before the bass/mid-range unit becomes significantly directional).
The second feature that marks the Sat 6.5 as unusual is its closed-box bass loading. Reflex ports are all but compulsory in contemporary monitor design — the result of a headlong charge for specification-inflating bass extension and small cabinet size. But, as ever, there's no free lunch, and reflex loading brings two problems. First is the compression and distortion invariably introduced by non-linear airflow through the port, and the second is the unavoidable degradation in a speaker's low-frequency time-domain performance (ports add potentially audible time delay to low frequencies). In going for closed-box loading, Blue Sky have made the common-sense, but surprisingly rare, decision not to risk degrading the satellites by trying to squeeze extra bandwidth from them.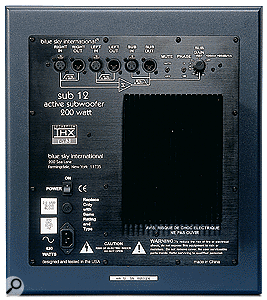 Rear panel of the Sub 12 active subwoofer.Of course, it's the matching subwoofer that gives Blue Sky the freedom not to stretch the satellites' bandwidth, and emphasis is made in the marketing material that the system is an integrated low-frequency package. Considering that there's no facility to adjust the 80Hz satellite/subwoofer crossover frequency, and that the satellites are not intended to be used without the sub, it's a justifiable claim. The subwoofer itself, the Sub 12, is a large cubic box containing a single 300mm driver (again with the hemispherical cone) and 200W mono amplifier. The amplifier module, as usual fitted to the back panel, offers only a subwoofer level control, phase reverse switch, mute switch and a set of input and output sockets. The socketry includes system inputs and satellite outputs, along with an alternative direct (unfiltered) sub input and output.
The choice of closed-box loading for the subwoofer is perhaps even more unusual than for the satellites, but again it has some sound physics at its heart. Apart from the transient and perhaps pitch-accuracy advantages of the closed box, there's also a problem particular to reflex subwoofers that it avoids. Ideally the reflex tube of a subwoofer should be both large enough in diameter to delay the onset of distortion and compression, and long enough to achieve the necessarily low tuning frequency. The problem is that these two things conflict. The larger the diameter, the longer the tube required. It gets to the point that any port large enough not to compress and distort unacceptably (and be tuned low enough) simply won't fit in the enclosure. The closed-box solution may not offer a startlingly low bass cutoff (-3dB at 30Hz) but the slow roll-off and well-behaved time-domain characteristics make good sense.
Sat 6.5's rear connections.Setting-up and using the Blue Sky system in a simple stereo monitoring configuration is simplicity itself — well, simplicity itself if you have access to balanced signals, because the Blue Sky system offers only balanced inputs and outputs. This is a sensible decision, bearing in mind the intended application of the product, but it might perhaps be a problem in some domestic or project studios. Connecting to an unbalanced output actually worked without any problems, but for critical listening the loan of a Bryston balanced preamp enabled me to use the system as intended.
Once connected to signal and mains, all that was left was to fire the system up and set the relative levels between the satellites and the subwoofer. I left the satellite gain controls in their reference position and simply adjusted the gain of the subwoofer, deciding on a setting around -6dB. Setting the sub level by ear was surprisingly easy on familiar material. Integration between sub and satellite seemed to snap into focus when the level was right — a sign, I believe, of well-judged filter design and good sub/sat integration. The subwoofer location I settled on was just to the left of the left-hand satellite and, in that position, the sub clearly integrated best with the phase switch left well alone. Reverse polarity sounded very wrong — I think you should always try a new sub position before you try reversing the phase.
The overriding impression of the Blue Sky system is one of dynamics and wide bandwidth. It is capable of levels far higher than my needs, working predominantly with small-scale acoustic recordings, and I can see it performing really well for demanding, large-scale, wide-bandwidth material — 5.1 audio/visual programme for example. Bass, as I'd hoped and expected, sounded extended, tight, tuneful and dynamic. Bass players will fall for it instantly. The top end, too, is clean and clear — if balanced on the bright side of neutral.
If I had any problem with the Blue Sky it was in the mid-range, where it lacked for me the hear-through clarity of the best designs. There seemed a characteristic, and not particularly pleasant, thickening coloration in the mid-frequencies — perhaps around the crossover region — that was apparent on strings, female voice and woodwind. It seemed to me to degrade stereo image depth and space too. As I listened more, I began to adjust to it and perhaps listen around it, but I'd question whether Blue Sky would be the best choice for more tonally critical material such as small-group jazz or classical. Monitoring for AV programme material, though, where dynamics, bandwidth and consistency are all important, seemed to me where the strengths of Sky System One lay. No surprise, I guess — that's exactly the application they are targeted at.
Blue Sky's desktop controller.But of course there's more to this system than simple stereo monitoring, and the Bass Management Controller supplied is part of its differentiation from the multitude of competing satellite and sub systems out there. The system comprises a desktop controller and 1U rackmount interface. The back panel of the mains-powered interface carries balanced input and output sockets for all 5.1 channels plus an extra subwoofer. The interface and desktop controller are connected by a generously long telephone-style lead.
Along with providing bass management functions to modify the behaviour of the subwoofer level and filtering, the controller also provides system and relative gain control and mute settings, for each of the 5.1 channels. The interface is intuitive and I had no trouble understanding and using it pretty much from scratch. There are also separate system mute and reference gain buttons, along with a system gain knob. A useful feature, considering the importance of system setup in multi-channel monitoring, is that, once all the system settings are established, the controller can be disconnected, ensuring that changes cannot be made inadvertently. The interface remembers its last settings on power-up.
Consistency and reliability in multi-channel monitoring is just as important as audio performance, so it's good that the Blue Sky system has properly integrated satellites and subwoofer, along with comprehensive and flexible control and configuration. Factor in a capable audio performance, especially at the bottom end (even bearing in mind my doubts about the mid-range sound), and the Blue Sky system makes a very strong contender for 5.1 monitoring.
Sky System One 2.1 system (pair of Sat 6.5 monitors and a Sub 12 subwoofer) £1099.99; Sky System One 5.1 system (five Sat 6.5 monitors, a Sub 12 subwoofer, and the Bass Management Controller) £2699.99. Prices include VAT.

http://abluesky.com/products/