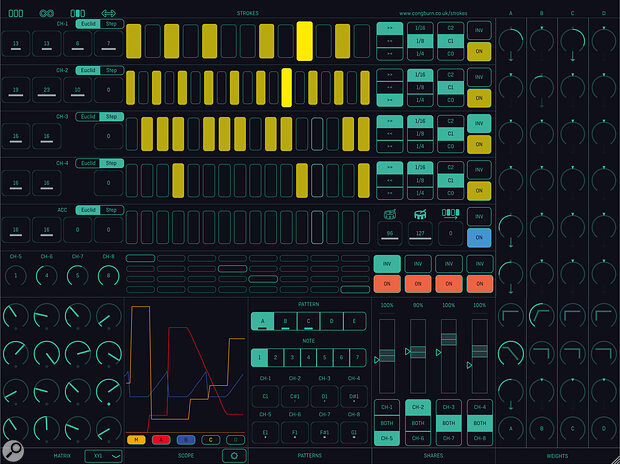 Strokes brings unconventional Eurorack‑style sequencing to your DAW.
Strokes is an unusual beast: a dedicated sequencer plug‑in that runs inside your DAW sequencer, generating MIDI note and other messages to drive other instruments of your choice, whether software or hardware. It can do simple pattern‑based programming, but also has facilities for generating patterns that you might not naturally come up with yourself, and can be a platform for exploring polyrhythms and randomness in repetition generally.
Strokes started life as a Max For Live device but now it's available as a VST3 and Audio Unit plug‑in for Windows 10/11 and Mac OS 10.11 or later. I tested version 3.4 on the Mac, and as I write an AUv3 plug‑in has just been released which will work on the iPad in hosts like AUM.
Strokes' resizeable GUI can be bewildering at first sight, but with only a little familiarity it proves very clear and straightforward. Essentially there are eight parallel 'channels' that send out MIDI notes, and 12 modulation sources alongside that generate MIDI CC messages.
Channels 1‑4, along with an adjacent Accent lane, are relatively speaking the most conventional bit of the plug‑in. The programming lanes often look and behave a bit like Roland drum machines going back decades. However, the number of steps (from 1‑32) is adjustable on a lane by lane basis, and they can run backwards and in alternating directions too. More importantly, there's another mode on offer, 'Euclid', which is distinctly un‑Roland‑like. This programs steps for you according to four dedicated parameters. Euclidean sequencing might sound esoteric, but in practice it's about dividing the chosen number of triggers as evenly as possible across the steps available. This can lead to entirely evenly distributed patterns, but also dozens of others that are more complex and syncopated. At the same time the combination of variable lane lengths, time divisions, and the other Euclidean parameters (including loop length, which can be longer or shorter than lane length) immediately open up intriguing and addictive possibilities for polyrhythms. The ability to mute channels or instantly 'invert' patterns — turning programmed steps off and empty steps on — adds a lot of flexibility for experimentation.
Channels 5‑8 occupy a separate smaller area of their own, and these really are esoteric! They're algorithmic note generators driven by interactions of events on channels 1‑4, and sometimes the accent lane. As such they are 'programmable', but in a way that's really not as most of us know it (captain). More about this, if you're interested, in the 'Logic' box.
Next up (or rather, down) is a section labelled Shares, which, to ruthlessly summarise, reduces event density on the note channels with varying degrees of randomness, for more or...
You are reading one of the locked Subscriber-only articles from our latest 5 issues.
You've read some of this article for free, so to continue reading...
✅ Log in - if you have a Subscription you bought from SOS.

Buy & Download this Single Article in PDF format

£1.00 GBP

$1.49 USD


For less than the price of a coffee, buy now and immediately download to your computer or smartphone.

Buy & Download the Full Issue PDF
Our 'full SOS magazine' for smartphone/tablet/computer. More info...

RECORDING TECHNOLOGY: Basics & Beyond
Claim your FREE 170-page digital publication
from the makers of Sound On Sound — CLICK HERE