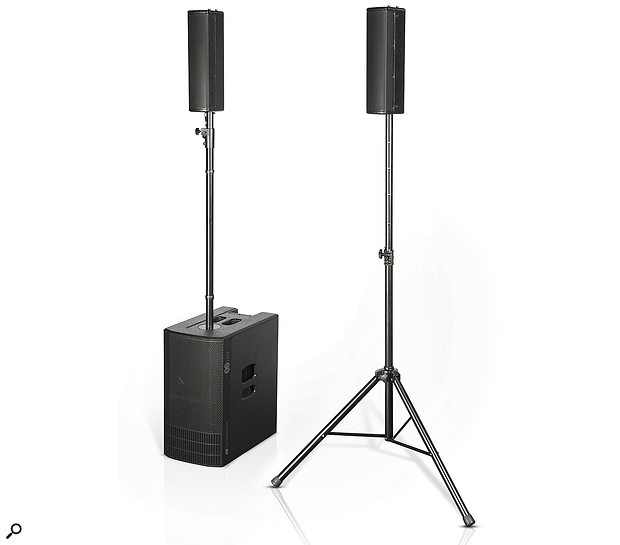 With its twin 12‑inch woofers, this compact column system packs rather more punch than your average mini line‑array.
On the face of it, the ES1203 looks like just another in a long line of mini line‑array‑style speaker systems — but stay with me, as this one includes features not found in the other systems we've tried so far, and it is also capable of a higher maximum SPL than you might expect. This is a tri‑amped system providing mono bass plus mono or stereo mids and highs — and unlike the other systems we've looked at recently, this one uses wooden enclosures for both the sub and the two columns.
The sub is reasonably compact, but it is no lightweight at almost 30kg, the reason being that in addition to housing all the electronics, it also provides living accommodation for two 12‑inch woofers in what is described as a semi‑horn enclosure. Essentially one woofer is mounted on a vertical baffle and points directly ahead while the second one sits below it on a downwardly angled baffle. Handles are provided on top and at either side.
The cabinets for both the sub and the tops are made from plywood and finished in the familiar black, scratch‑resistant coating, with a perforated steel grille protecting the front. Power comes from a Digipro G4 Class‑D amplifier pack capable of a peak power of 2400W.
The sub is based around two 12-inch woofers, in what dB Technologies call a 'semi-horn' configuration.I'm old enough to remember when all speakers and amplifiers came with bags or covers, so I'm glad to see that the ES1203 package comes with a sub cover, a bag for the tops, a telescopic 35mm pole, a pair of seven‑metre Speakon cables and an IEC power cable. With a specified frequency range of 35Hz to 20kHz between its 10dB down points, or 41Hz to 18kHz at ‑6dB, the ES1203 has a maximum SPL capability of 132dBs at one metre.
The two satellite speaker columns each house four four‑inch neodymium mid‑range drivers with one‑inch voice coils, and custom phase plugs are used to widen the horizontal coverage — specified as 97 degrees horizontal, 60 vertical. The satellites can be spaced apart separately in a stereo configuration using tripods (or using the WB‑44 install accessory), or they can be clipped together to form a mono column. Speakon connectors are available on both columns so both may be positioned away from the sub if required. The various system choices are selected from the DSP menu, and one of these features is a steering mode that allows the user to steer the speaker axis down, level or up to get the best coverage for the venue without having to physically tilt the speakers. This only works when both columns are clipped together, and I assume that it works by introducing a tiny delay into the feed for one column or the other — the same principle used in larger steerable arrays.
A robust, four‑point metal locking system latches the columns together for mono use, with release levers to unlatch them. As both columns are identical with pole‑mounting sockets at the base, using them in mono means that the top one is inverted. In stereo mode the remote column is connected via a Speakon cable. Unlike other systems I've tried, there's no direct electrical connection to the sub via the mounting system. Here the column sits on a regular pole that screws into the sub, and Speakon cables are used to link the sub to the column. When used in stereo with the columns separated, both of the sub's Speakon ouputs are used, one for each column.
An increasingly common feature on systems like this is the presence of a built‑in mixer, which here can handle up to five channels, all controlled by a DSP with its OLED user interface on the top of the sub for easy access. A familiar menu system accesses the system configuration, which includes Mono, Stereo or Double Column (two systems) modes, though I didn't find it quite as quick to navigate as those mixers that use cursor buttons. Pressing the knob selects a page or parameter and acts as an enter button to switch from parameter selection to parameter adjustment. If you get lost, you can push in the knob for three seconds to take you back to the main page, where you can access the overall level with one further push needed to get to the individual channel levels — but three seconds can feel like a very long time if you're faced with howling feedback!
The system's built‑in mixer can accommodate three mono inputs (mic/line, or mic/instrument for channel1), as well as a stereo Bluetooth stream from a phone, laptop or tablet.The first mixer channel can accept mic or instrument sources, balanced or unbalanced, via a 'combi' jack/XLR connector with three microphone gain positions preset at 0, +10 and +20 dB). This channel also has an adjustable anti‑feedback filter and a choice of two low‑cut filter settings. Instrument mode includes impedance compensation, and in both Line and Instrument mode a three‑band, swept‑mid EQ is present. Channels 2 and 3 are mic/line channels, again on jack/XLR connectors, while a separate channel can accept a stereo input via Bluetooth. A main mix page provides continuously variable level controls for all the inputs. The main system output also has access to a three‑band equaliser with a tunable mid control.
The ES1203 ships with all the necessary cabling, as well as robust bags for the sub and two top speakers.A balanced aux/mix output, which also has its own level control, can send a signal to another powered speaker system or to a stage monitor. If two systems are used in stereo, this is used to feed the second system. The DSP looking after all of this is a 56‑bit device fed from 24‑bit converters at a 48kHz sample rate. This also handles crossover duties (at 160Hz) as well as monitoring the thermal protection status and providing limiting. A USB port is provided for firmware updates.
I found the grey‑on‑black panel legend to be difficult to read in poor lighting conditions, but in reality it doesn't really matter as there are simply three input connectors and the aux output to locate. Mixer navigation is accomplished entirely using the turn‑and‑press dial, and the amber‑on‑black OLED readout is easy to see despite its small size.
Everything works as it should and the sound quality is suitably hi‑fi‑like when auditioning recorded music via the Bluetooth channel. The sub design does add a little overhang to low notes, but in a live situation the extra sense of bass this conveys might be welcome. However, I really would have preferred physical level controls for the channels — or at least for the main output, so as to allow a fast response if feedback becomes an issue. Of course, this becomes far less important if you use an external mixer, which I suspect would be the situation for most users.
The beefy sub makes this system feel more powerful than some of the more compact mini‑column systems I've tried, the trade‑off being its weight and fairly tall form factor (it measures 360 x 680 x 545 mm). A definite plus is the option to work in stereo by just adding a standard 35mm tripod. Everything looks and feels well‑engineered with any vulnerable parts recessed out of harm's way. And finally, a company that has had the sense to include the essential transit bags needed to protect the system on the way to and from gigs!  
In this price range the HK Elements system probably comes closest, but also look at JBL and some of the bigger LD Systems models.
Pros
Very well engineered.
Can be used in stereo without buying a second system.
Plenty of power.
Clear, clean sound with plenty of depth.
Transit bags and cables included!
Cons
Sub is quite heavy for a portable system.
Lack of physical level controls makes controlling the built-in mixer a bit clunky.
Summary
This is one of the more powerful mini line arrays I've tried. It delivers excellent sound quality, and comes complete with cases and cables — whether it is for you is largely a matter between you and your back.
information
$1999.
American Music & Sound +1 800 431 2609