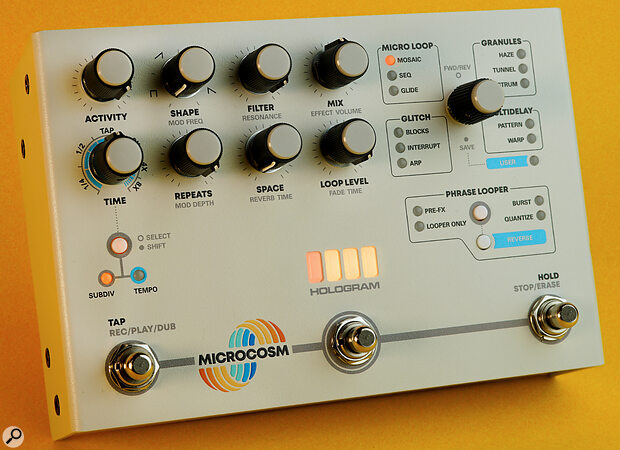 With granular processing, pitch manipulation, reverb, modulation and a looper, this isn't just a tool for guitarists.
The Microcosm is a truly unique pedal from Hologram Electronics, but that's hardly surprising — unique is precisely what we've come to expect from the masterminds behind the Infinite Jets pedal! This pedal is many things: a looper, granular sampler, delay, reverb, pitch modulator, filter... The list goes on, but at its core it is a granular processor which can reinterprate and reform your sound into something sounding more magical, be that expansive pads, deep drones, tempo‑locked rhythms or loop‑based ambience. In total, the Microcosm features 11 effect algorithms and 44 preset variations. Alongside these, you can shape your sound using built‑in modulation effects, gorgeous stereo reverb (with four selectable modes), a resonant low‑pass filter and a stereo phrase looper, which can capture up to one minute of audio. You also have a freeze function, extensive MIDI support and expression‑pedal support too.
Based on this list of features, you may already be pigeonholing the Microcosm as 'one for the ambient guitarists' but, while it may well be a wonderful tool for them, this pedal also has plenty of potential as songwriting tool, and it could be a wonderful secret weapon for producers too. You may also already be thinking that the Microcosm promises to be an overwhelming experience, but Hologram have done a great job of making this pedal seem very logical and straightforward to use; hidden features are kept to a minimum and there's an excellent manual.
The Microcosm offers both MIDI I/O and an expression pedal input.
The Microcosm is a beautiful thing to behold, a real centrepiece for one's pedalboard. Similar in size to Strymon's larger offerings, such as their Timeline and Big Sky, it's actually slightly wider. You'll find a quarter‑inch TRS mono/stereo input jack and separate left and right quarter‑inch TS output jacks on the rear panel, and I can only assume that the TRS input was chosen to save space. Still, most guitarists will use a mono input and for the rest of us it's easy enough to use a TRS cable or Y lead, so I see no issue with that decision. The input is also switchable from instrument to line levels via the global menu. You have the luxury of full‑size MIDI DIN in and out/thru connectors, and there's a conventional quarter‑inch expression input jack. Finally, there's a standard 9V DC centre‑negative power connector; the Microcosm works perfectly well with typical power bricks, but Hologram also include a power supply in the box — something which always seems to please synth players, who are less likely to have a pedalboard‑style supply to hand.
On the top, the simple but elegant aesthetic design and futuristic lights certainly demand your attention, but the three footswitches and eight control knobs are what's important in practice, and Hologram have been smart with their control choices. The central footswitch is a bypass, the left one is used for tap tempo and the right controls a Hold effect, which freezes your most recent piece of playing into a continuous playback cycle — a nice effect in its own right, of course, but it would also be great for transitions between songs.
When it comes to the knobs, there are familiar parameters such as Filter and Mix, but there are also more vague labels like Space and Activity. The reason for this is that some knobs are macro controls — in other words, one knob governs multiple parameters, to allow for easy editing and musical experimentation. For example, the Activity knob controls the density of the selected...
You are reading one of the locked Subscriber-only articles from our latest 5 issues.
You've read some of this article for free, so to continue reading...
Log in - if you have a Subscription you bought from SOS.

Buy & Download this Single Article in PDF format

£1.00 GBP

$1.49 USD


For less than the price of a coffee, buy now and immediately download to your computer or smartphone.

Buy & Download the Full Issue PDF
Our 'full SOS magazine' for smartphone/tablet/computer. More info...

RECORDING TECHNOLOGY: Basics & Beyond
Claim your FREE 170-page digital publication
from the makers of Sound On Sound — CLICK HERE