Eurorack Module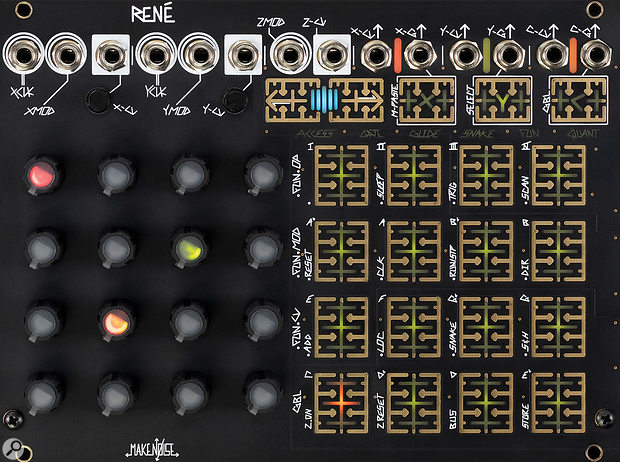 Size: 34HP. Current: +12V 235mA, -12V 0mA.
Make Noise proudly promote the René as "the world's only 3D Cartesian Music Sequencer". I had no idea either, but it's been fun finding out.
The first incarnation of Make Noise's flagship sequencer module was released back in 2011. This new version takes the concepts introduced by the original and multiplies them by three.
A brief recap. The original René was a 4x4 grid of knobs with a matching grid of touch-plates. No change there. The knobs adjust step values and the touch-plates provide...
You are reading one of the locked subscriber-only articles from our latest 5 issues.
You've only read 10% of this article, so to continue reading...
Option 1: Buy and download this single SOS article in Adobe PDF format
Buy this article now and immediately download the PDF file to your computer.
Single article PDFs look identical to the printed magazine layouts (but exclude advertisements).
Note: Some shorter articles don't always have a PDF version.
Option 2: Buy the Full Issue PDF **NEW**
From the January 2018 edition onwards, it is possible to buy a Full Issue PDF 'replica magazine' (with adverts) for the price of a handful of single PDF articles, and instantly download it. More info...
Option 3: Buy a Digital subscription from our shopstore
A Digital sub can be bought from our online Shop

Store

and used immediately, or contact our Subs staff to discuss an upgrade price to add Digital access to your existing Print subscription.