Adjustable Attenuation Hearing Protectors
With their impressive sound quality and adjustable attenuation, these off‑the‑peg earplugs give even custom‑moulded designs a run for their money.
There is nothing more important to musicians or sound engineers than their hearing. It's the thing we all use to do our job, yet it's so easy to damage beyond repair. Nowadays, fortunately, we're far more aware of the danger of prolonged exposure to high‑decibel listening environments, and less likely to fall into the trap that caught out many musicians from the '60s, '70s, and even '80s, who have permanent damage or even hearing loss.
There are now many ways to protect your hearing, from cheap foam earplugs to expensive custom moulded designs, each offering varying degrees of comfort, durability and protection. Which brings us to Norwegian company Minuendo, whose unique approach to the problem is a 'lossless' earplug that includes a stepless control enabling you to adjust the degree of sound attenuation they provide — between ‑7 and ‑25 dB — while maintaining a true 'hi‑fi' sound.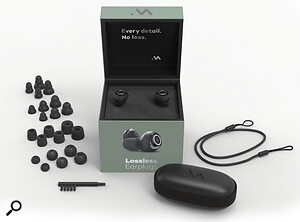 The Minuendo earplugs come with a carry case, a cleaning brush and a range of ear tips.First impressions can count for a lot, and on opening Minuendo's elegant outer box you are presented with an equally impressive package inside. The earplugs themselves sit mounted in a layer of foam. Under this is a small box that slides open, by way of a stylish ribbon pull, to reveal a wide selection of ear‑tip options in a range of sizes. Twelve different tip options are provided, from the expanding foam variety to double‑ and triple‑flanged rubber variants. A neatly folded and well‑written user guide is provided, along with a substantial zipped hard case that contains a cleaning brush and cord neck leash. The earplugs themselves also feature magnets, so they snap together to help prevent them getting lost. All in all, its a very well‑presented package that reinforces the feeling of quality of the product.
Achieving a good fit, and therefore a good seal against unwanted noise, is vital in getting any earplugs to both perform as you'd want them to and, more importantly, to protect your hearing. So it's worth taking your time and experimenting with a number of different tips to get the perfect fit. For me, the medium expanding foam set worked best and, once inserted (again, there is a technique to this to achieve the best results), they felt very comfortable.
With the earplugs in place, it was very easy to adjust the attenuation using the small slider on each earplug, from fully 'open' to fully 'closed'. In the fully closed position, the attenuation is quoted as ‑25dB. It's difficult to quantify the level of reduction, but in the fully closed position the Minuendo appeared to offer a little more reduction than my ACS custom moulded earplugs fitted with ‑20dB filters. In terms of sound quality, they obviously cut more of the high‑end frequencies but they don't sound overly bass heavy or boxy as a result. In the fully 'open' position (‑7dB) there is still a reasonable degree of attenuation, but it is easy to hear speech, making it ideal for situations where you are perhaps rehearsing, soundchecking or teaching, and need to communicate between periods of loud music.
So how do they work? That's certainly not as simple as you might imagine. Custom mould earplugs typically have a membrane filter (almost like a second eardrum), tuned to a specific dB attenuation, whereas earplugs that offer variable attenuation often feature ports or vents. Minuendo uniquely combine both methods, with the lever on each earplug adjusting the tension of a membrane six microns thick. This in itself doesn't provide a perfect frequency response, so there is a further interaction between the lever and a secondary slit, to achieve a completely natural sound right across the adjustable dB range.
...in a rehearsal or teaching scenario, the ability to switch attenuation would be a big advantage over having to constantly take your earplugs in and out.
At £122$159, these aren't cheap earplugs, but there is a surprising amount of technology squeezed into their tiny package. They look and feel extremely well made and, most importantly, they sound great. To be able to vary the level of attenuation but retain 'hi‑fi' quality is a great feature and not something available on custom moulds — which, in terms of audio quality, are their closest competitor.
Being able to tailor your earplugs to your particular environment is an incredibly useful feature. As sound levels increase (which they invariably do) at live concerts, you can adjust the Minuendo earplugs accordingly, and I can see how in a rehearsal or teaching scenario the ability to switch attenuation would be a big advantage over having to constantly take your earplugs in and out. The Minuendo earplugs are specifically promoted as stepless and this, of course, offers a continuous range of attenuation, but I can also see the potential advantage of some form of notching in the levers, to enable both earplugs to be matched in level or to revert to a preferred setting.
Overall, these Minuendo earplugs offer a cheaper alternative to custom moulds and deliver a comparable audio quality, but the flexibility of variable attenuation is a real plus point.
Pros
Adjustable attenuation.
Hi‑fi‑audio quality.
Professional look and feel.
Cheaper than custom moulds.
Cons
Expensive compared to other non‑custom moulds.
Summary
An impressive 'hi‑fi' earplug that features unique stepless attenuation and high‑end design.