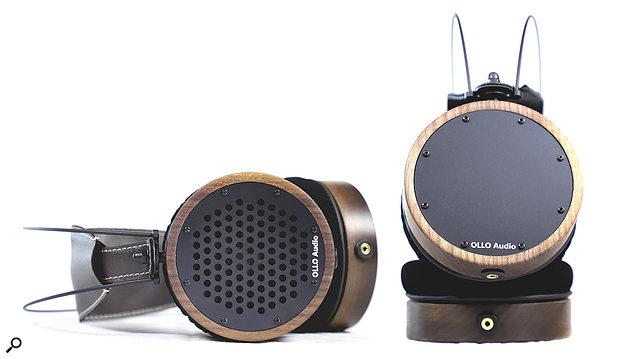 Most new headphone manufacturers target the booming hi-fi and consumer markets, but OLLO Audio are an exception. They've made their entrance with two models that are explicitly aimed at audio engineers, and their major selling point is said to be a flat frequency response, achieved without the use of DSP correction. The OLLO headphones are also intended to be fully field-serviceable, with every major component available as a spare part that can be replaced by the user.
Both the S4, aimed at mix engineers, and the S4R, intended for tracking duties, are passive headphones that employ conventional moving-coil dynamic drivers. The key difference between the two models is that in the S4R, these drivers are housed within closed earcups, whereas the S4 is an open-back design. In fact, apart from the panel that forms the outer side of the earcup, the two appear to be otherwise identical. Both are supplied in a simple cardboard box, with a soft bag but no rigid carry case. The documentation includes both individual test plots for each unit, as...
You are reading one of the locked Subscriber-only articles from our latest 5 issues.
You've read 20% of this article for free, so to continue reading...
Buy & Download this single article in PDF format

£1.00 GBP

$1.49 USD


For less than the price of a coffee, buy now and immediately download to your computer or smartphone.

Buy & Download the Full Issue PDF
Our 'replica SOS magazine' for smartphone/tablet/desktop. More info...