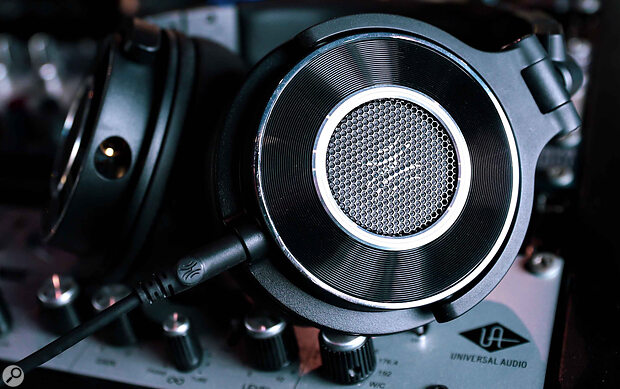 Hong Kong brand OneOdio prove that studio headphones needn't cost a fortune.
Based in Hong Kong, OneOdio have spent the last decade building up quite an impressive range of headphones, earphones and accessories. The aim is clearly to offer professional features and sound quality at an affordable price, and despite being the flagship of the OneOdio range, the Monitor 60s retail at just £59. They are closed‑back, passive headphones that use a 50mm moving‑coil driver with a neodymium magnet, and OneOdio say that they're targeted at recording studios, post‑production and broadcasting facilities.
First impressions are very good, especially considering the low cost. The cardboard packaging is luxurious, and as well as a soft pleather bag, the Monitor 60s come with no fewer than three cables: a 1.2m straight one with built‑in mic for Zoom calls and so on, plus 3m straight and curly options. One of the selling points of the Monitor 60s is that no adaptors are needed, and the designers have achieved this goal in quite a clever way. The cables attach using locking jack connectors at the base of the earcups, but whereas the right earcup has a mini‑jack socket, the left cup has a full‑size socket. The supplied curly cable terminates in a mini‑jack at one end and a quarter‑inch jack at the other, so you can simply turn it around and plug it into the other earcup to free up the appropriate connector for your interface.
The phones themselves are designed along conventional lines. The large circumaural earcups are circular in shape and hinged to permit free movement in every direction you'd want them to move. This also allows them to be folded up into the headband, providing a degree of protection when you need to cart the phones around. Contact with the sides of the head is made by "high‑protein memory earmuffs", which are about an inch deep. There's also plenty of padding on the headband, and all in all, I found them very comfortable in use.
On a decent headphone amp the bass was deep and acceptably flat...
With a nominal impedance of 38Ω and a specified sensitivity of 110dB (per Volt, one assumes, though this isn't stated), the Monitor 60s are designed to deliver plenty of level from low‑power sources. This they certainly do, and you'd have to be cursed with an unusually weedy smartphone or laptop to feel short‑changed in the loudness department. They also provide a level of isolation from external sounds that is, I would think, more than adequate for most studio tasks. What then of their audio performance?
OneOdio proudly trumpet the fact that the Monitor 60s have received a 'Hi‑Res Audio Verification' from Sony, and make free use of expressions like "audiophile" and "reference audio sound". Thanks to their slick packaging and visual resemblance to much more high‑end models from other manufacturers, it would be easy to load the Monitor 60s with unrealistic expectations. For the price, they are actually very good; but inevitably, when you compare them to other, more expensive models, some limitations are apparent. There's a noticeable and somewhat uneven emphasis in the treble which can make some sources leap out of the mix — the tambourine at the start of 'Hey Jude' made me wince a bit — and the 1kHz region seemed to me a little recessed. At the other end of the spectrum, my initial tests using a laptop headphone output weren't terribly encouraging, but on a decent headphone amp the bass was deep and acceptably flat, if perhaps not quite as well damped as I'd have liked.
Although the Monitor 60s look and feel the part, then, I'm not quite ready to add them to my list of closed‑back headphones I'd be happy to mix on. But there are many other uses for headphones in the studio, and in particular, every studio needs to have a good stock of robust, loud and comfortable cans with good isolation for musicians to use. I can't speak to the Monitor 60s' long‑term durability, but the use of detachable cables and replaceable cushions is encouraging in this respect, and they certainly tick all the other boxes. At the price, they are very much worth investigating.
Summary
The Monitor 60s are an extremely affordable and capable pair of headphones that are comfortable, smart and can be driven very loud indeed.