Berlin meets Los Angeles in a creative partnership no‑one saw coming! A surprise departure sees Orchestral Tools go west to look for America.
It's always good to see sound companies try something new. Some do it on a regular basis — Soniccouture are known for their experimental titles, Soundiron have a hot line in unusual instruments and Spitfire Audio usually have something unpredictable in the pipeline. Other developers veer off course in a sudden radical left turn, as when Vienna Symphonic Library inexplicably released an ear‑splitting rock drum kit collection guaranteed to drive a classical audience screaming from the concert hall.
The latest company to break with tradition is Orchestral Tools. In a surprise move, the Berlin‑based outfit paused their orchestral activities to bring us LA Sessions, a studio production toolkit of 27 instruments and two vocal ensembles aimed squarely at songwriters and professional producers.
To jog your memories, OT previously brought us the Metropolis cinematic series, the critically acclaimed Berlin Woodwinds/Strings/Brass/Percussion collections and, more recently, the stunning Junkie XL Brass and intriguing Star Trek‑infused Modus by Jeff Russo. While the latter introduced some innovative styles and instrument combinations, it kept its feet firmly in orchestral waters. By contrast, LA Sessions leaps out of the pool, swims the Atlantic, takes the Greyhound bus from New York to California and fetches up in Sunset Boulevard, Hollywood, home of the fabled United Recording Studios.
Orchestral Tools' Graham Ball explains: "The initial idea was to record a series of genre libraries in the best studios in the world. The goal was to have all the instruments you need for a particular style in one box — all meticulously recorded, like a live band with the sound of the room as an additional band member. And because everything's recorded in situ in the same room, all the instruments gel well together and mixing is easy."
United Recording Studio B, home of the hits since 1957.OT's first genre pick has a distinct West Coast flavour, and we're not talking Blackpool. Los Angeles is home to some of the world's finest studios, and United Recording has long been considered one of the best: founded in 1957, this studio complex has recorded everyone from Frank Sinatra, Nat King Cole and Ray Charles to Green Day, Madonna, Radiohead and Jay‑Z, and its facilities and staff are second to none.
In the carefree days before lockdown, Orchestral Tools despatched a team westwards to oversee the recording sessions. Led by CEO Hendrik Schwarzer, the OT crew prepared scores, set up mics, recorded the musicians and mixed the samples, thus maintaining the company's house style in this new, considerably warmer location. Graham Ball says: "We wanted to capture an entire studio band: guitars, bass, drums, percussion, keys, studio strings and a background soul choir. It should follow the same attention to detail as our orchestral instruments, but with the character and vibe of Los Angeles." (See 'East Meets West' box below.)
The library was recorded in United Recording's large Studio B live room, which has a 23‑foot high ceiling and supplementary isolation booths used to record some of the instrument amps. To recreate the room's legendary acoustic, the producers used a variety of elaborate miking setups: most instruments have four mic positions, while the drums and percussion have 15.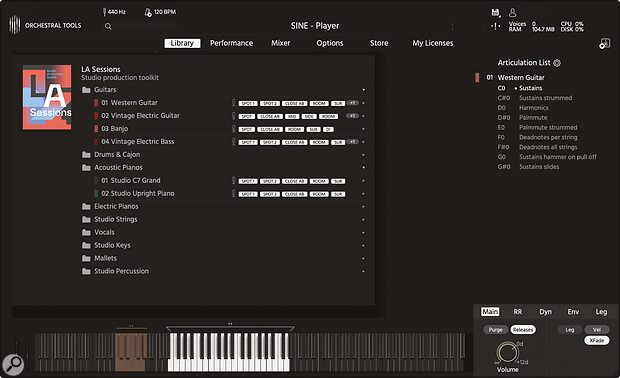 Orchestral...
You are reading one of the locked Subscriber-only articles from our latest 5 issues.
You've read 20% of this article for free, so to continue reading...
Buy & Download this Single Article in PDF format

£1.00 GBP

$1.49 USD


For less than the price of a coffee, buy now and immediately download to your computer or smartphone.

Buy & Download the Full Issue PDF
Our 'full SOS magazine' for smartphone/tablet/computer. More info...