Pop Horns
Our in-depth buyers guide takes you through the world of brass sample libraries and virtual instruments aimed at pop and rock production.
Much as we all enjoy the heroic, stirring sweep of orchestral brass, its sound doesn't cut the mustard for pop horn arrangements. The two styles use different instrumentation: classical brass comprises trumpets, trombones, French horns and tubas, while pop sections feature a mix of trumpets, trombones and saxophones, with all instruments referred to, confusingly, as 'horns'. Introducing the reedy, slightly raspy timbre of the saxophone (technically a woodwind rather than a brass-family instrument) has a marked effect on overall timbre, and the small sections generally used in pop also have a more informal, close-up sound than the massed ranks of orchestral brass, which sometimes number as many as 20 players.
We're using the word 'pop' here in its widest sense, meaning the broad church of Popular Music comprising a large number of genres: contemporary R&B, funk, neo-soul, urban, Latin, rap, hip-hop, ska, reggae, blues, rock, indie, mainstream pop and so on. Such styles require their own horn-playing techniques and a gutsy, uninhibited attitude not normally represented in conventional orchestral libraries, and the same goes for jazz and big-band horns.
Bearing in mind the orchestral/pop divide, this product round-up is an overview of brass libraries which are designed to work for the kind of pop and jazz styles listed above. Also included are products that feature pop brass along with other instruments, and a selection of solo instrument titles. In-depth SOS reviews of some of the products can be read online via the links in the 'SOS Reviews' box, while for an overview of orchestral brass libraries and instruments, please consult last month's Orchestral Brass Buyers Guide.
For those seeking a tight, focused contemporary pop/soul brass sound, Native Instruments' Session Horns
presents a quartet of solo instruments (two trumpets, trombone and tenor sax) which can be played separately or combined in virtual sections. Created by sound designer Thomas Koritke's e-instruments company, the library includes true interval-legato samples, ensuring smooth note transitions for melody writing, and supplements its straight sustained, staccatissimo and marcato multisamples with grace notes, jazzy rips, shakes, 'doits', falls and exciting Jerry Hey-style 'fp crescendos'. A Smart Voice Split auto-arrange feature intelligently allocates each note of a chord to the corresponding brass instrument, while the Animator turns played chords into authentic, oven-ready brass phrases in a variety of styles; these phrases sync to your host tempo, and can track chord changes.
Session Horns Pro expands Session Horns' content with mute trumpet, flugelhorn, alto and baritone saxes, bass trombone and tuba, which can be lashed together with the original quartet into sections of up to six instruments. New articulations include vibrato sustains and grace notes, growls, slow doits, sax trills and additional tuba short notes. The Smart Chord chord generator allows user-definable preset chord shapes to be triggered by a single key press: simple chords can be set up by selecting a root note and gender (ie. major or minor), while more complex and jazzy 7/9/11/13 shapes can be created simply by pressing a 'modifier' black-note key. Alternatively, you could figure out the chord voicings yourself and play them on your keyboard using more than one finger — don't laugh, it worked for Keith Jarrett.
Both libraries run on the free Kontakt 5 Player and the full version of Kontakt 5; Native Instruments recommends a minimum of 6GB RAM for the Pro version.
A product with a history stretching back to the hardware sampler era, AMG's Kick-Ass Brass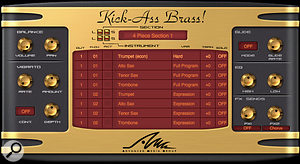 has evolved from a 2001 Akai-format sample library to today's virtual instrument, picking up a couple of SOS reviews en route. AMG founder Matt Wilkinson describes it thus: "It has a rawness that makes it what it is — not only an authentic-sounding horn library but one with balls!" Online demos indicate the instrument's trumpet, trombone and alto/tenor/baritone saxes do indeed have a strength and vigour, which positively reeks of testosterone, particularly when delivering rhythmic, accented stabs and staccatos. Though weighing in at less than a gigabyte, the drily recorded mono samples cover a good range of styles, including expressive and vibrato sustains, slurs, semitone slides, rips, falls, different lengths of swell, trills, shakes and dramatic ending notes culminating in a fall. Pre-programmed ensembles feature typical horn voicings such as trumpet an octave above trombone and saxes, making it easy to create authentic stylings. Player software that works both as a plug-in and stand-alone is included.
Prolific German producer Christian Hein released the first volume of his brass library series in 2006, and completed it by 2009; the collection was updated in 2012, and now runs on the free Kontakt Player 5 as well as the full version of Kontakt 5.0.1 and up. Chris Hein Horns Vol. 1 covers the basics with solo trumpet, trombone, alto and tenor saxes and a section made up of solo trumpet samples. Chris Hein Horns Vol. 2 consists of trumpet, trombone, bass trombone and sax ensembles of various sizes, while Chris Hein Horns Vol. 3 features muted brass — use this for the classic Miles Davis trumpet sound! Chris Hein Horns Vol. 4 provides less-common solo instruments (soprano, bass and contrabass saxes, cimbasso, flugelhorn, alphorn), a tuba and orchestral woodwinds (Eb clarinet, Bb clarinet, bass clarinet and contrabass clarinet), along with various ensemble combinations thereof.
Numbering around 80,000 mono, studio-recorded samples, this intensively sampled, powerful and dynamic collection includes excellent keyswitchable sustains (including a convincing, user-customisable legato mode), short notes, stabs, grace notes, flutter tongue, fp crescendos, shakes, falls, doits, chromatic runs and so on, thus providing a full menu of pop, funk, R&B and jazz big-band styles. All the sections in Vols. 1-4 were created by overdubbing, but that's not a criticism: the fact that the players took particular care to match their tone and delivery has created a fat, well-co-ordinated sound free of undesirable tuning artifacts. If you're feeling flush, you can buy the whole shooting match in the form of Chris Hein Horns Pro Complete Vol. 1-4, which also includes a flute. At the other end of the scale, Chris Hein Horns Compact, featuring the solo instruments playing five articulations each, is easier on the pocket. Despite its relative antiquity, this product holds its place as one of the best on the market.
A 2006 catch from their huge sample pool, Big Fish Audio's First Call Horns
has a nice selection of studio-recorded solo instruments (soprano, alto, tenor and baritone saxes, trumpet, piccolo trumpet, trombone, flugelhorn and French horn), most of which have a section version which sounds like a unison duo. Stand-outs include a fabulous, honky baritone sax with oodles of attitude; breathy, intimate alto sax quiet sustains; attention-grabbing solo trumpet big-band mannerisms; and a large 'Improvs and Riffs' section comprising over 1000 jazzy, inventive and highly varied solo performances played by trumpet and trombone (with and without mutes), flugelhorn, soprano and tenor sax. No keys or tempos are listed for these phrases, so experimentation is the order of the day.
By today's standards this is a small library with some marked technical limitations — for example, none of the samples are looped — but regardless, these instruments work well together for fat, powerful chord pads, swells, stabs and falls, and collectively cover a lot of the pop, rock and jazz bases.
Released in 2013 as a companion to their Vintage Vibe collection of retro instruments, Big Fish Audio's Vintage Horns
features trumpet (open and muted), flugelhorn, trombone, soprano, alto, tenor and baritone saxes, flute and alto flute. While aiming to emulate the sounds of classic '60s and '70s horn sections, the library stops short of adding tape hiss or vinyl distortion; instead, we're given clean, attractive multisamples with plenty of presence and bite. Bright, perky saxophones, fat-sounding, engaging trumpet and trombone, a very decent flugelhorn and a moody, film-noir Harmon-mute trumpet are all highly usable, and the flutes (which play some nice falls) add a cool, jazzy flavour.
All instruments play keyswitchable long and short notes, stabs, falls and swells, and the brass and saxes have an additional sforzando style. Programmed instrument combinations emulate the instrumentation of classic horn sections such as James Brown's JBs, the Memphis Horns and the big 'Tower Of Power' Oakland sound, while on a less hip note, you can also recreate the brass lick from that bloody Pearl & Dean cinema ad. It's available as a Reason Refill and Kontakt Player 5/Kontakt 5 or higher library.
Vir2 Instruments' Mojo Horn Section
, originally unveiled in early 2009, is a Kontakt- and Kontakt Player-based virtual instrument optimised for pop, jazz, funk and big-band styles. Boasting a large line-up of trumpet, piccolo trumpet, trombone, bass trombone, flugelhorn, soprano, alto, tenor and baritone saxes and clarinet, this is one of the most intensively programmed and well thought-out brass libraries in the known universe. Features include a customisable, speed-sensitive, triple-engine simulated legato/portamento mode with a range of controls to satisfy the most ardent tweakhead, and a Players setting which can expand each solo instrument into a virtual section of various sizes.
The articulation list varies for each instrument, but includes all the styles needed for the above-mentioned genres: in addition, nearly 2000 tempo-sync'ed phrases can adapt their pitch to all 12 keys, though they sound better if you stay close to the original played key. As mentioned in David Ricard's SOS review, getting the best out of Mojo's instruments requires familiarity with their large array of keyswitches. These are spelled out in the excellent printed manual (a welcome bonus): the keyswitch pitches are editable, so you can adjust them to fit your existing template.
If orchestral brass and pop horns are miles apart in sound, the distance between jazz big band and classical brass has to be measured in light years. Big-band brass uses a variety of mutes rarely featured in classical pieces, and the playing styles are like chalk and cheese: orchestral brass players use little or no vibrato, and struggle to produce the uninhibited growls, screams and wails which jazz horn players make (with or without their instruments).
The largest, most elaborately miked collection featured here, Fable Sounds Broadway Big Band contains over 140,000 samples optimised for authentic big-band and jazz arrangement, but also packing the styles and attitude required for a pop/rock/R&B horn section. At the heart of the library is a set of solo instruments (trumpet, trombone, soprano, alto, tenor and baritone saxes, clarinet) benefiting from true legato samples, a great asset for creating smooth, flowing big-band harmonised melody lines. A separate second instrument is provided for the trumpet, alto and tenor saxes, and 21 additional instruments, including drum kit, stand-up bass, banjo, xylophone and Latin percussion, are also included so you can create full big-band arrangements in the box. All instruments were recorded in a neutral studio acoustic, mostly in mono.
This library is big (make that very big) on keyswitches: you can instantly switch between no-vibrato, progressive-vibrato and deep-vibrato sustains, sfz crescendo, rip portamento and crescendo. Jazz mannerisms such as rips, falls, doits, shakes, flutters and growls are played with abandon, and moving-note articulations such as grace notes, semitone 'smear' bends and short upwards chromatic runs are also useful material for resourceful arrangers. The trumpet and trombone have several mute options, including the humorous plunger mute 'wah' delivery. Beginners may find the elaborate keyswitch menu daunting, but if you take the time, read the manual and learn the ropes, the musical results can be fabulous.
BBB's current Kontakt Edition takes care of all the necessary scripting behind the scenes, removing the need for the separate MIDI control application required for the original 2007 HALion version. Designed for exacting, high-end studio work, the full library is not cheap; a less pricey Broadway Lites version offers the principal brass and winds, slightly fewer articulations and a single microphone setup. At the time of writing, a spiffed-up v2.0 of the whole shebang is imminent, along with a new affordable Broadway Gig version aimed at — you guessed it — gigging players.
Project SAM's Swing!
takes an idiosyncratic approach to jazz big band, concentrating on the lighter textures of the popular swing style of the 1940s. Drawing on the ready-to-play, mixed-instrument ensemble approach of SAM's orchestral Symphobia series, the library contains a smooth-sounding, live big-band ensemble of clarinets, saxes, trumpet, trombone, contrabassoon and double bass, a saxophone section, muted and straight trumpet sections (the latter operating only in the upper register) and two low ensembles featuring combinations of baritone sax, trombone, contrabassoon and double bass; solo brass consists simply of trombone and muted trumpet. A large range of engaging and colourful velocity-controlled styles includes sfz crescendo, slides, grace notes, glissandi, falls, rips and chromatic octave runs. True-legato intervals are also included for the big-band ensemble and solo mute trumpet (with a cup mute adding a nice vintage effect to the latter), along with a set of played chords performed by the sax section and big-band ensemble.
Supporting the brass and winds is a rhythm section of brushed jazz drum kit, and electric and acoustic bass; the line-up is further expanded by nylon-strung guitar, Manouche (Django Reinhardt gipsy-style) and pedal-steel guitars, ukulele, accordion, harmonica, toy piano and, er, whistling. As you can probably tell from the last two entries, this is not a heavy-duty, hot-horns-from-hell affair, but a set of timbres designed with lighter jazz and film scoring in mind. The drums, guitars and ukulele perform tempo-sync'ed looped grooves, and for those occasions when your big-band arrangement goes completely off the rails, you can throw in some pedal-steel guitar, Hawaiian-style or country licks. Swing! runs on the free Kontakt Player 5 and the full version of Kontakt 5.4.2.
Formerly a Kontakt Player library, Garritan Jazz & Big Band
now runs exclusively on the Aria Player, a simple, solid sound engine which introduces a much-needed convolution reverb. The instrumentation includes no fewer than 11 different types of saxophone including the mothership-like subcontrabass sax, five woodwind and five brass instruments (the latter featuring several types of mute), augmented by vibraphone, harmonica, accordion, upright, fretted and fretless basses, brushed and sticked drum kit, Latin percussion and an array of electric and acoustic guitars and keyboards. All wind instruments were recorded in mono in a dry acoustic and performed at one dynamic level with no vibrato. Nevertheless, they're quick-speaking, eminently playable and can easily be layered together in user-customisable virtual sections. With its self-imposed dynamic restrictions and limited playing styles, J&BB can't compete with the lavish sound of bigger, more expensive libraries; however, its comprehensive instrumentation, convenience of use, educational value and affordability make it well worthy of consideration.
Organised along very similar lines to the above mentioned Garritan Jazz & Big Band instrument, Garritan Concert & Marching Band
brings you the sound of the American show band, the sort of quasi-military outfits you see parading about in formation at sports events wearing brightly coloured uniforms and mad plumed helmets (and they say rock musicians are weird). As well as special hats, this musical style requires a specialised instrumentation which the assiduous Gary Garritan has sampled in depth, providing a total of 14 brass instruments, nine woodwinds, the saxophone family from soprano down to bass, and a rare sax-like instrument called the sarrusophone. Non-standard items such as cornet, mellophone, tenor horn, euphonium, baritone horn, sousaphone and helicon give the library its distinctive brass flavours; also included are drums and percussion from the Tapspace Virtual Drumline 2 library, providing the bass-drum thump and high-pitched, papery, clattery sound of marching snare drum ensembles.
Sample Logic's Fanfare
received a positive review from Nick Magnus on these pages back in July 2012, since when it has been amalgamated into a new product (see below). As Nick pointed out, the library's brass line-up of euphoniums, mellophones, trombones, trumpets, tubas and contrabass bugles (aka 'contras') was performed by the world-champion US Blue Devils drum and bugle corps. To bring you the authentic American sports-event ambience, a full brass ensemble of 85 players was recorded simultaneously outdoors in a football stadium, while smaller sections of three to six instruments were studio-recorded from three mic positions. The brass ensembles sound sumptuous, and some of their pads wouldn't sound out of place in a big-budget movie score; a generous range of articulations includes stadium-recorded 'tutti' ensemble effects and various chord types. Fulfilling their mission to blur the line between music and sound design, Sample Logic have created a large, alternative menu of morphed timbres from the traditional acoustic instrument samples.
Fanfare is now part of Sample Logic's Virtual Ensemble Trilogy (VET) collection along with Rumble (marching band percussion performed by the Blue Devils) and Impakt (orchestral and world percussion), thus providing a complete marching band sound with great film music and sound-design potential.
Having entered the fray over 10 years ago as a two-instrument Gigastudio/EXS24 title, Vienna Symphonic Library's full Saxophones
collection now features the five main members of the saxophone family intensively sampled in the controlled, intimate acoustic of the Vienna Silent Stage. The library tips its hat to jazz styles with 'dirty' growling sustains, falls, portamentos and invigorating upward glissandi, but its defining characteristic is a hugely comprehensive set of superbly clean, precise articulations for every musical occasion, including stunning true legato patches, which are a joy to play. Also available from VSL are Trumpet in Bb (which has a separate version played with a classical straight mute) and Flugelhorn, both suitable for softer jazz stylings. Instruments include Vienna Instruments player software, featuring a large, user-configurable patch-switching matrix and intelligent performance detection of legato intervals, note repetitions and playing speed.
In conjunction with creative partners Xfonic, UK sampling pioneers Zero-G created Sax Supreme
, a vintage soprano saxophone recorded in an anechoic chamber with seven velocity layers and four round-robin samples per note. Complex, under-the-bonnet legato and modulation scripting ensure this instrument sounds as smooth, supple and expressive as nature intended, with mod-wheel and MIDI CC11 expression used to add a realistic, variable-speed vibrato to the straight sustains. With no articulations other than long notes on offer, the scope of the instrument is limited, but it's sensibly priced and blessed with an easy-on-the-ear, warm, yearning and emotional tone. Sax Supreme requires the full version of Kontakt 4.2.4 and up, with Kontakt 5 recommended.
"Be like Sexy Sax Man!" shouts the sales page of Embertone's Sensual Saxophone
instrument, before launching into a salacious, double-entendre-ridden description worthy of Finbarr Saunders himself. The slinky sax (which requires the full version of Kontakt 4.2.4 and up) has a cool, lubricious legato mode, a wide pitch range, a useful staccato style and a big, shiny reverb knob labelled Sex. Ribald humour apart, the instrument is very usable, and a bargain to boot.
Hot off the press as the ink dries on this article, Cmusic Production of Moscow have announced their suite of solo saxophones for Kontakt 5.
Created by musician Vladimir Kuznetsov and collectively known as SaxBand, the library comprises solo soprano, alto, tenor and baritone saxes playing keyswitchable legato, staccato, marcato, swell, rips, runs, flutter, trill, vibrato and slide articulations with an average of four velocity layers and three round robins. Online demos indicate good sound quality, intonation and musicality — you can download a free demo before buying, so there's no reason (other than not owning a computer) not to give it a whirl.
As mentioned in our recent round-up of orchestral brass products, software-modelled instruments can sound extremely realistic, and also have the advantage of consuming far less disk space and RAM than their sampled equivalents.
The European company Sample Modeling have an excellent track record with modelled solo winds and brass, starting with The Trumpet in 2008; now in its third revision, this remarkably lifelike monophonic instrument offers a good range of playing styles and mutes. A generous set of extras (cornet, piccolo trumpet, flugelhorn and three alternative trumpets), all natural-sounding and highly playable, provide subtle tonal contrasts with the pure, fat and bright-sounding main trumpet.
The modellers followed up with The Trombone, featuring two types of tenor trombone, a valve trombone and a fat, fruity bass trombone playing a gobsmacking variety of keyswitchable articulations: big-band arrangers will appreciate its velocity-controlled falls, iconic doits and excellent growl, flutter tongue and wah effects, which nail the jazz trombone sound from the 1920s to the present day. Also on hand for big-band pieces, though not necessary for pop horn arrangements, is the company's French Horn & Tuba, which includes four French horns with subtly different timbres, and a rock-steady tuba which plumbs the low bass depths. Supplied with Kontakt Player software and compatible with the full version of Kontakt (see company web site for the versions required), these modelled brass instruments are staggeringly accurate emulations of their real-life counterparts, with a wealth of timbral and performance options enabling them to sound convincing in any musical style regardless of tempo.
Formerly available as two separate titles, Sample Modeling's solo saxes have now been bundled into the single title The Saxophones
and formatted for the company's proprietary SWAM sound engine. An abbreviation of Synchronous Wavelength Acoustic Modeling, this allows (ahem) "continuous real-time interpolation among different vectors like time, dynamics, pitch and formants". Whatever that means, the effect on the soprano, alto, tenor and baritone modelled instruments is startling, yielding ultra-smooth, liquid legato/portamento lines, a great tonal and dynamic range and realistic vibrato, overblown, grace note, trill, pitch-bend, growl and flutter tongue articulations.
All the above instruments with the exception of The Trumpet were reviewed in SOS in October 2012 under the heading 'Sample Modeling Solo Winds & Brass'; the trumpet had received its own review three years earlier. (See the box below for links to both reviews.)
Wallander Instruments use a combination of additive synthesis/resynthesis and behavioural modelling to recreate the sound and expression of acoustic instruments without the use of samples.
Wallander's Orchestral & Band Brass bundles 21 brass instruments (including uncommon items like flugelhorn, bass trumpet and soprano cornet), all offering a large variety of mute options, while the Woodwinds & Saxophones library goes to town with nine types of saxophone, 18 orchestral woodwinds and a comprehensive set of recorders, comprising 35 instruments in all. Both collections run on Wallander's proprietary WIVI sound engine, included with the libraries — this plug-in requires an AU-, VST- or RTAS-compatible host.
Those looking for a truly authentic soul horns sound will find it in the shape of ILIO Entertainments' The Memphis Horns
. The legendary duo of Wayne Jackson (trumpet) and Andrew Love (tenor sax) played on more than 300 hit records, including classics like 'In The Midnight Hour', 'Soul Man', 'Knock On Wood' and 'Dock Of The Bay' which defined the sound of the soul era. Played in a choice of five different tempos, the sax-and-trumpet phrases are augmented by solo performances played on straight and muted trumpet, flugelhorn and saxophone. No single sustained notes are included, but there are some unison 'da-dit' double-accent hits and a chromatic set of played major, minor and seventh chords. It's a comprehensive lexicon of soul brass licks, and a great educational resource for anyone who wants to study the genre: grab the WAVs from the audio CD, and you're ready to rock.
More details on pop brass instrumentation, along with a musical dissertation on contemporary horn styles, can be read in our series on 'Arranging For Brass' which ran from May to August 2015.
Buying sample libraries used to be a lottery; with only hyperbolic advertising blurb and press reviews to go on, deciding on a product always involved an element of guesswork. Thankfully, things have moved on since the first brass sample library crawled from the primeval seas, and we can now listen to online demos and (in some cases) watch video walkthroughs which lay bare the details of the library in question. Whether you need intensively sampled instruments, playable horn sections, a solo saxophone, a big-band library or just a few hot brass licks, it's always a good idea to check out the demos and consider the musical and technical issues before purchasing.
We hope the above information will be helpful in clarifying some of these questions and giving you an insight into which is the best library for your music — but as ever, the bare samples will only take you so far. The important thing is to metaphorically get your hands dirty, get creatively engaged, use your musical imagination and have fun working with these great sounds!