As every Dark Side Of The Moon fan should know, a prism is a three-dimensional object that refracts light. The Qu-Bit version, one is led to suppose, is the audio equivalent. In their own words, the Prism is "a multi–dimensional signal processor that creates a framework for the spectral metamorphosis of any input signal". If I may be permitted to translate this marketing speak, Prism is an effect module capable of combining three distinct elements: delay, filter and decimation.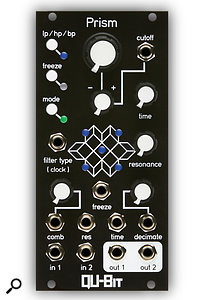 Qu-Bit Prism. Size: 12HP. Current: +12V 90mA, -12V 10mA.Housed in a smart 12HP, skiff-friendly module, the Prism is a stereo effects unit. There are two main audio inputs and outputs. The first element is the digital delay line. The time of the delay can be adjusted from very short (a few milliseconds) to around two seconds, allowing for anything from chorus, flanging and comb filtering to traditional tempo-based delays. There is no dedicated feedback...
You are reading one of the locked subscriber-only articles from our latest 5 issues.
You've only read 20% of this article, so to continue reading...
Option 1: Buy and download this single SOS article in Adobe PDF format
Buy this article now and immediately download the PDF file to your computer.
Single article PDFs look identical to the printed magazine layouts (but exclude advertisements).
Note: Some shorter articles don't always have a PDF version.
Option 2: Buy the Full Issue PDF **NEW**
From the January 2018 edition onwards, it is possible to buy a FULL ISSUE PDF 'replica magazine' (with adverts) for the price of a handful of single PDF articles, and instantly download it. More info...
Option 3: Buy a Digital subscription and open ALL web articles instantly!
A DIGITAL sub can be bought from our online Shop

Store

and used immediately. It opens ALL web articles, the tablet edition, plus Full Issue PDF download... or contact our Subs staff to discuss an upgrade price to add Digital access to your existing Print subscription.