Hot sound library new releases
Multi-format
Equipped Music just go from strength to strength with their series of trip/hip-hop loop libraries. This latest hip-hop release, for example, kept bringing to mind classic Gangsta records like Snoop Dogg's Doggystyle, Dr Dre's The Chronic, and Tupac's The Don Killuminati, as well as Notorious BIG's Ready To Die — which can only be a good thing, though whether it's safe to mention all those guys in the same sentence, I'm not quite so sure...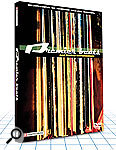 Spanning a tempo range of 85-95bpm, the drum loops exhibit a deep and easy swing reminiscent of Tupac's 'Live And Die In LA' or Ice-T's 'It Was A Good Day'. Kicks throb powerfully, as if through a low-rider's bodywork, while snares combine rich sustain with plenty of punch. Hats take a more background role, merging with the general vinyl patina to subconsciously support the general groove. What always impresses me most about the drums on Equipped releases, though, is their musicality — where most other developers just seem to be programming patterns, Equipped have found the magic ingredient that makes beats sound alive and dangerous. Certainly the drums on offer here are more than a match for Smokers Relight (which I praised back in SOS August 2007), while providing a more saturated and gritty sound that provides a useful contrast. If anything, the harder-edged feel here appealed to me personally even more. As usual, every effort seems to have been made to increase the usability of the core beat loops, from supplying various simplified versions to including a capacious one-shot section on DVD two. If this isn't enough, of course, the REX 2 files expand the possibilities even further, providing complete multitrack control over the mix.
Moving on from the drums, each beat has an accompanying mixed music loop replete with the kind of sultry added-note electric pianos, vinyl hits and crusty tempo-delays for which Equipped have such a reputation — imagine a kind of scummy mash-up of Marvin Gaye's 'What's Going On'. However, the sounds are all shot through with a consistent sweltering languor, which again contrasts pleasingly with the somehow cooler-sounding nocturnal material on Smokers Relight. There was the odd occasion when I felt that maybe the company were resting a little on their Smokers-based laurels here, but there's no getting away from the fact that this is still all really evocative material, with a disjointed, old-school feel that gels beautifully with the beats.
The music loops are also available in deconstructed one-shot form, and the electric piano and bass hits in particular are brimful of Roni Size-worthy character and grime: pop half a dozen of those and a couple of the beats into an MPC and you're laughing. As an added bonus, there's also the best collection of vinyl-noise samples I've yet come across tucked away in there, so you can dirty up any other sample library to blend in seamlessly with a Premier Beats-based arrangement.
Despite the large amount of raw material included on the two DVDs (over 2GB of loops and a further 1.2GB of one-shots, with duplication across Apple Loops, Refill, REX 2 and WAV formats), the quality is maintained at such a consistently high level that it feels like there's no end to it. In short, I can recommend this library without reservation to anyone with a penchant for powerful G-Funk swagger. Go listen to the demos, but I'm warning you now — once you've finished weeping, you'll have little choice but to flex that plastic. Mike Senior
£89.95 including VAT.
Time + Space +44 (0)1837 55200.
www.timespace.comwww.equippedmusic.com
Kontakt 2
This is a rarity: a sample library dedicated to a handmade instrument unknown to 99.5 percent of the musical community. The Hang (from the Swiss-German dialect word meaning 'hand') is an acoustic tuned-percussion instrument built along the lines of a Caribbean steel drum. Made from two domed steel shells joined at the rim, it looks like a flying saucer from the side, and resembles a kettle-gong from above. Distributed around the upper playing surface is a series of dimpled indentations, which the player strikes by hand to produce notes. The sound is softer, more melodious and sustaining than a steel drum and lacks the Caribbean pan's stridency.
Hang drums (as they're commonly known) are generally tuned to concert pitch and play a diatonic scale of seven or eight notes that varies from instrument to instrument. There's a waiting list for orders and according to its inventors, "further collaboration between art and science is needed to make it possible that other hangmakers may exist in future". I guess that means it won't be available in Woolworths just yet.
In order to bring the sound of this cultish 'sounding sculpture' to a wider public, the enterprising UK-based company Soniccouture sampled two Hangs: the first plays the notes F3, A3, Bb3, C4, E4, F4, A4, Bb4 and C5 and the second (a later model) operates in the minor scale of D3, A3, Bb3, C3, D4, E4, F4 and A4. Both have an extra, rather impure and clay-drum-like fundamental tone, pitched an octave below the bottom melody note. The impact of flesh on metal gives a soft, organic yet distinct attack and the ringing notes are clearly pitched, open-sounding and easy on the ear. As with the Javanese bonang, each note's fundamental frequency is augmented by a haze of untempered upper harmonics, creating an exotic, ethnic-sounding timbre.
The Hangs were sampled at many different dynamics using palm slaps, knuckles and fingers hits, resulting in 2.47GB of data. The finger strikes were performed in three zones round each of the dimpled 'tone fields', the central zone giving the plummiest tone. There's a choice of keyboard mappings, including one that arranges the samples chromatically across nearly three octaves. Alternatively, you can limit yourself to the Hang's original pitches and use a handy Kontakt control to transpose them into any key. A hugely entertaining 'Hang Jammer' script generates endlessly-repeating notes at a user-selected rhythmic value, with total control over the tempo, degree of pitch variation, randomisation and octave range — a great way of creating unpredictable, slightly deranged, gamelan-like grooves.
Despite my views on capital punishment, this is one Hang I'm happy to see brought back. There's nothing quite like it on the market, the producers have done a diligent and exhaustive sampling job and it's sensibly priced, so if you're on the lookout for new sounds I suggest you buy a copy before it gets plastered over umpteen movie soundtracks. Dave Stewart
DVD-ROM £61, download £58. Prices include VAT.
www.soniccouture.com
REX 2 & Stylus RMX
You may not have heard of Hans Scheffler, but if you're into any kind of electronic music you've almost certainly heard his work because he's been behind the development of products such as Access Virus TI, Spectrasonics Stylus RMX, and Roland's V-Synths, to name just a few. This new REX 2 and Stylus RMX library has been put together by Hans to cater for musicians working in styles ranging from electro-house to glitch, but there's nothing to stop you heading into grime territory as well, if you slap a few of these samples round the chops with a bitcrusher.
I was immediately impressed by how clearly the DVD was organised. The library's roughly 500MB core is provided by the 60 main construction kits, each of which gives you separate REX files for a full mixed beat; versions of that beat without kick, snare, or both; and all the separate instrument layers. These files have been consistently named and are always assigned to the same trigger keys in Stylus RMX's Groove Menu mode irrespective of the kit you're using, so you can reliably guess what element of the beat each key will trigger even before you touch it. And in case you're not working in Stylus RMX, the files are also named so that they always fall into the same order, offering many of the same advantages.
The full mixes from each kit are duplicated into separate 'menu' folders, which makes it dead easy to browse the kit material. There are 10 separate themed folders too, containing related layers from each of the kits — snares, say, or hi-hats. This kind of attention to practical usability reminds me of the best of the Spectrasonics libraries, and other developers would do well to emulate it, because it's one of the main things that characterises the long-lived titles that people have learnt to rely on when production deadlines loom.
The sounds are another really strong suit. It is child's play to fill a DVD with bloops and sqwerks these days, but much more difficult to give these kinds of timbres the definition they have here, reminiscent of the clarity Spike Stent achieved for Mirwais Ahmadzai on Madonna's Music and American Life albums. There's also a nice range of sounds here, between the jack-hammer kicks and snares of the more hard-hitting loops and the background textural variations of the softer loops, full of delicate and animated stereo twitterings. Mixing and matching elements between kits is such a doddle that this only extends the reach of the material more.
What might appeal to some users slightly less, however, is that most of Beat Bandit has quite a mechanical groove, and while this gives many of the patterns a powerful robotic pulse, by the same token others end up sounding a little bit flat-footed. I'd certainly be tempted to combine Beat Bandit elements with live loops from other libraries in practice, for a more balanced combination of sonic firepower and danceability. Nevertheless, I'd highly recommend this library to anyone working with electronic beats. The cracking combination of great raw audio and exemplary usability makes it ideal for genre-hopping, and I reckon it's likely to continue giving you sterling use (and re-use) for years, while most other, less approachable libraries gather dust. Mike Senior
£39.99 including VAT.
Time + Space +44 (0)1837 55200.
www.timespace.comwww.ninevoltaudio.com
Multi-format
This DVD is another new title in Loopmasters' forward-looking Artist Series, and features the talents of Dave Wallace, Kieron Bailey and Brent Newitt (otherwise known as Aquasky), who have been stirring up the breaks scene on both sides of the Atlantic, not only with their own tunes, but also via their independent label (Passenger Records) and through collaborations with people like the Ragga Twins and Friction. What you get here is a selection of evergreen samples from their work during the past decade, as well as a load of bang-up-to-date, newly-created material.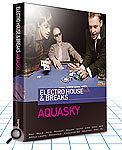 The heart of the sound set is 360MB of drum, synth, and vocal loops, but this is supplemented with a further 300MB of special-effects one-shots, single drum hits and synth multisamples. As with other titles I've looked at in this range, this doesn't add up to the 'more than 1.5GB of material' billed on the DVD packaging, as Loopmasters appear to have taken the liberty of including all the multi-format duplicate samples in their calculations. However, the library's 16-bit sample resolution and wide-ranging archive of meticulously categorised synth multisamples means that it can still deliver serious value at its fairly slimline price.
What struck me most forcibly about these samples is the rich and in-your-face sound design, and I'd recommend it to anyone seeking inspirational synthetic sounds. There's lots of grit and power to both the bass and synth sounds, but not without some tongue-in-cheek '80s cheese and arcade-game influences that give the whole production a great playful feel — pretty much in keeping with the DVD cover art, in fact. Effects are as creatively abused as you'd hope, but the well-judged reverb, delay, and particularly modulation effects help give an unusually wide-screen sound that sets Aquasky's material a little apart from the herd.
What lets the library down slightly for me, though, is that the actual musical material doesn't quite live up to the sound design. The drums are a case in point: they certainly pack a steely punch and drive the groove along efficiently, but despite a few occasional sparks of frenetic stuttering brilliance, the programming just seems a bit short on flair. Some of the bass and instrument parts also sound rather 'one finger and an arpeggiator', which left me a bit underwhelmed once familiarity had taken the edge off the sonic first impressions. And those few samples that go more out on a limb mostly seem to end up outside the realms of realistic usability.
In my experience, dance-style vocal samples almost always seem emotionally bankrupt, either because of over-knowing attempts at titillation or cringe-inducing clichés, and although Rebecca Riley's contributions here are better than some specimens I've heard, she does still fall into both these traps with some frequency. The Ragga Twins (Demon Rockers and Flinty Badman), on the other hand, are bundles of fun, with their cocksure delivery and slightly mashed vocal sound seemingly bearing the mark of too much fast living. All in all, then, Aquasky is a good place to go if you've already got enough musical ideas to be going on with but find yourself short of meaty and inspirational sounds. Mike Senior
£34.95 including VAT.
Time + Space +44 (0)1837 55200.
www.timespace.comwww.loopmasters.com