Obviously, a good multimedia system is better than a bad one, but will a good one do in a home studio?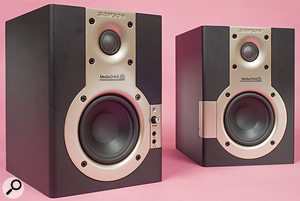 If you're running a serious project studio with the aim of producing release-quality material, then you need the best monitors you can afford. However, if you're more concerned with songwriting or making basic demos and you currently use off-the-shelf multimedia desktop speakers with your computer, you could still benefit from upgrading to a better multimedia speaker. Samson's MediaOne active monitor range is aimed at exactly this market, and the company's expectation is that the same speakers will be used for recording, music playback and gaming.
The MediaOne 4a monitors reviewed here are essentially passive speakers, in that they use passive crossovers set at 4kHz, but one of the speaker cabinets also houses a 20 plus 20W stereo power amplifier that drives both channels — which means that the more correct description for them is 'powered', as opposed to 'active' monitors. The latter term generally describes systems where separate amplifiers drive the woofer and tweeter, each fed from an electronic crossover.
The rear panel of the right (master) speaker.The rear-ported and rather stylish cabinets play host to a copolymer-cone four-inch woofer and a one-inch, ferrofluid-cooled, Neodymium-powered silk-dome tweeter, set in a waveguide to control its dispersion. There's a front-panel volume control for the power amplifier, as well as a headphone output and an additional 3.5mm auxiliary input for connecting a personal MP3 player or other line-level source. The main inputs are on the rear panel and (for convenience of interfacing with consumer computer soundcards) these are on RCA phonos, rather than the more usual jacks and XLRs that we've come to expect. There's a further spring-clip terminal link to the unpowered speaker. A two-metre cable to link the speakers is also included in the kit.
The power switch and AC power connection are located on the rear panel of the powered-speaker housing, and the rear panel itself is made of sheet steel, with a small heatsink mounted on it to help cool the power amplifiers. The cabinets, which measure 168 x 194 x 232mm and weigh 16lbs (7.3kg) per pair, are conventional boxes, each with two rear-facing ports, and have a black satin finish with an attractive trim around the drivers. Magnetic shielding is incorporated, which means that the speakers can be used in close proximity to CRT-style monitors. The frequency response is quoted as being 65Hz to 23kHz (there are no limits specified), and the graph printed on the rear panel shows a fairly brisk fall-off below 100Hz.
Given their size, these speakers deliver a fairly punchy sound, though the 100 to 150Hz region has a slightly boxy character — no doubt due to some enthusiastic cabinet tuning being used to maximise the low-frequency extension. A bit of loose cotton wool stuffed into the ports helps to tame this, as does mounting the speakers on resilient pads or solid stands. As these are desktop speakers designed for close-up work, there's no lack of level when they're only a couple of feet from your head, and the sound stays tight unless you really go over the top. The silk tweeters deliver a creditably smooth high end, and the relatively small woofers keep the mid-range reasonably clear and controlled. While it would be unfair to compare the Media One 4as with more expensive studio monitors, they behave much better than many multimedia speakers, and with the 'cotton wool in the ports' modification the bass end tightens up significantly too. It's also worth noting that in small spaces or untreated rooms, small speakers often behave better than their full-range counterparts, as they don't excite the low-frequency room modes so strongly.
Ultimately, these speakers achieve what they set out to do, which is to plug the gap between typical multimedia speakers and studio monitors. If you have the space and the budget, I'd recommend that you buy something better, but if your studio lives on a computer desk and you simply want to improve on the nasty speakers that came with the computer, without spending a fortune, then the Samson Media One 4as are certainly up to the challenge. 
When it comes to quality multimedia speakers, there are a few other worthy contenders, such as those by Blue Sky and Event. If you're currently working with cheap multimedia speakers, you should notice a significant improvement by moving up to any of them, and they won't break the bank.
Pros
Good-quality desktop speakers.
Reasonably priced.
Cons
There's only so far you can go with multimedia speakers in a studio.
Summary
The Media One 4as straddle the gap between budget multimedia speakers and dedicated studio monitors, and are a worthy upgrade from the former if you're not ready for the latter.
information
£129 per pair including VAT.
Sound Technology
+44 (0)1462 480000.