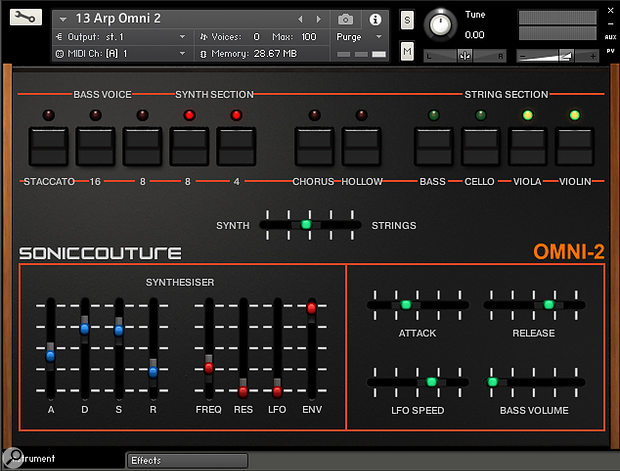 The ARP Omni 2.
Soniccouture's fabled loft yields further synth treasure...
It's been five years since Soniccouture released the original Attic but, perhaps because its selection of 10 instruments was a bit too eclectic, it never seemed to attract the attention it deserved. But my interest was greatly piqued when the company released The Attic 2. This retains all 10 of the earlier instruments but adds eight more, including some important vintage instruments as well as further obscuria. None of these are physically modelled. Instead, they're based upon libraries of 24-bit, 48kHz note-by-note samples modified by digital filters, contours, modulators and effects within Kontakt. This means that there's little point comparing them forensically with the originals; while the underlying tones should be accurate, the sounds obtained after shaping may not. This is especially true when you discover the extra panels of 'inauthentic controls' provided on some of the instruments. These provide facilities that weren't present on the original instruments, although I have to credit Soniccouture for resisting the urge to extend them too far, thus compromising the characters and quirks of the originals.
The first of the new instruments is sampled from an ARP Omni 2 (shown above). Unfortunately, it doesn't emulate the operation of the original entirely accurately. The major difference lies in the implementation of the Chorus button. On an Omni 2, this slows down the phasers that create the ensemble effect and redirects the output from the synthesizer section through them and then through the string section's VCA. In Attic 2 only the raw 4' synth wave is passed through the phasers in this mode, which means that you can't recreate many of the sounds of the original. It also has a few noisy samples. Listen to the viola and violin samples under G6 and G#6 and you'll hear something that sounds much like a protesting VCA. There's also a hum that's audible if you play notes that don't mask it. The instrument can sound great and it's fully polyphonic rather than offering just the paraphonic response of the original, but I recommend that Soniccouture revisit it. The Omni 2 deserves better.
Next comes the Cheetah MS800, perhaps the most unfathomable synthesizer ever released. To emulate it, Soniccouture have sampled...
You are reading one of the locked Subscriber-only articles from our latest 5 issues.
You've read 20% of this article for free, so to continue reading...
Buy & Download this single article in PDF format

£1.00 GBP

$1.49 USD


For less than the price of a coffee, buy now and immediately download to your computer or smartphone.

Buy & Download the Full Issue PDF
Our 'replica SOS magazine' for smartphone/tablet/desktop. More info...