Polyconvolution Synthesizer Plug-in [Mac/Win]
The Phobos interface houses four sound source units, three convolver units and the central convolution triangle, which routes and mixes signals into the convolvers.
A collaboration with a renowned composer and electronic music pioneer launches Spitfire Audio into outer space.
Internationally renowned artist, visionary producer, industry pioneer, prophet, technological wizard, superstar DJ, musical genius... Most of us would be content with just one of these accolades, but Brian Transeau seems to have acquired the full set. Better known as BT, this American composer, multi-instrumentalist, programmer, technologist and software developer has won a well-deserved reputation as a trailblazing artist, producing high-quality trance and intelligent dance tracks before anyone had dreamed up names for those genres. A combination of super programming skills, uncanny sonic dexterity and a deep musicality honed by years of conservatory study have combined to produce a musical polymath, a digital Renaissance man of the 21st Century. Peter Gabriel called him "not only a virtuoso programmer, but an extremely gifted musician," high praise from an artist known to work only with the best.
Highlights of BT's recording career include the critically acclaimed This Binary Universe (2006) and the orchestral Electronic Opus, launched by a Kickstarter campaign which raised a quarter of a million dollars. In between making 10 solo albums, BT fitted in a string of live appearances and teamed up with iZotope to create commercial versions of his Stutter Edit and Break Tweaker plug-ins, the former named after his much-copied trademark programming style. However, his first and enduring love is film music, as evidenced by scores for The Fast & The Furious, Monster and the Anthony Hopkins vehicle Solace.
Developed in conjunction with Spitfire Audio and developer Martin Robinson, the Phobos synthesizer plug-in represents a confluence of BT's diverse interests, with particular applications for film music. He explains: "I started interacting with the Spitfire team because I love their products, they're awesome. I was excited that they were interested in making something that was not just a sound library. We talked about making a signature library, and I said, I can definitely do that, AND I have this crazy idea about using convolution as a synthesis modality. I started putting together some little proof-of-concepts and sending them through, and then everybody's freaking out like four-year olds and we decided to build a synthesizer. It's taken us two years, but it's been an amazing experience."
The result is BT Phobos Polyconvolution Synthesizer, which works as a plug-in on Mac and Windows systems. Unlike Spitfire's other wares, it's not a Kontakt library, but a proprietary piece of software which plays only the samples BT created for the product. There is no stand-alone desktop version — having installed the software and samples, you simply launch Phobos as a plug-in instrument inside your DAW. You can order it on hard drive, but an Internet connection is required in order to download Spitfire's Library Manager and install a few remaining small files (approximately 50MB in size).
Phobos's content is divided into rhythm loops and tonal (ie. pitched) sounds. The loops play in perfect sync with each other at your song tempo, while the sustained tonal samples provide a large array of pads, textures and atmospheres. Nothing revolutionary so far, but this plug-in's ground-breaking feature is its 'polyconvolver' engine, which enables you to mutate any of its sounds by convolving it with any other internal sound source. By this method, the contours of a beat can be applied to a sustained pad sound, and you can also convolve one tonal sample with another, producing otherworldly pitched ambiences and effects.
A historic parallel is the Vocoder, which works by superimposing one audio signal's characteristic on another. For example, speak into a microphone while holding a sustained keyboard chord, and the vocoder obligingly burbles the fabled electronic Sparky 'talking piano' sound. Substituting a drum loop for the mic input creates a rhythmic pitched effect which resembles some of Phobos's sonic territory, though it has to be said that the new plug-in's capabilities far exceed those of a Vocoder. (See the 'Convoluted Explanation' box for more info.)
We can assume one of the reasons for Phobos's two-year build is the sheer size of the library BT created, which is on a scale Spitfire's Christian Henson describes as 'biblical': 2402 hand-crafted samples (referred to as 'sound sources') presented in 716 presets. About 300 of the presets were created by BT, while the remainder were concocted by Mr Henson and his henchmen, including Paul Thompson and Richard Devine.
Each of the four sources is represented by a small numbered 'puck'. The placement of the puck on the convolution triangle controls the level sent to each convolver: here, sources one and two are sent at full volume to convolvers one and two respectively, while sound sources three and four are both sent to convolver three. Moving the pucks away from the corners of the triangle reduces their send level to the convolver in question, while placing a puck in the centre sends it equally to all three convolvers.Phobos's interface is simpler than it first appears. Each of the four units spread across the top houses a sound source, enabling you to play up to four loops or tonal sounds simultaneously. If you want to audition the sounds separately (which is advisable when trying to get to grips with their brain-boggling quantity), you can mute sources two, three and four and audition just the first unit. There is no solo button.
Positioned around the points of the central large triangle are three convolver units, labelled W, X and Y. As explained above, the sounds loaded into these slots are mutated by the four sources in a devilish way, the full ramifications of which have yet to be fully explored — in fact, investigating all the sonic possibilities would take longer than the estimated life of the universe. The degree of processing applied to each source is determined by the central Convolution Triangle, which acts like a four-channel, three-bus mixer: its points correspond to convolvers W, X and Y, so moving the small numbered triangles towards one of the corners feeds that sound source into the convolver in question. Again, you can mute any of the convolvers for auditioning purposes.
I
The keyboard range of each source and convolver can be adjusted to create a keyboard split (top) or a four-way layering — do the latter, and you can trigger all four sources with one MIDI note.n addition to the triangular master control, each source unit has a 'dry' and wet' volume setting. The former determines how much of the unconvolved signal you hear, while the latter offers fine control over the level of signal sent to the convolver. Also on hand is a powerful high-pass filter, an important part of Phobos's sonic profile that can instantly reduce a thunderous, warehouse-shaking beat to a tinny lo-fi chirruping.
BT's rhythm programming chops, superbly demonstrated in his Breakz From The Nu Skool library (reviewed in SOS back in April 2002), have got even better in the intervening years. His Phobos beats are a masterful display of signature techniques, juxtaposing huge, sub-bass kicks and beefy synthetic snares with tiny slivers of metallic, processed percussive noise, throwaway, tongue-in-cheek buzzes and glitches, resulting in a contemporary funk feel so intense it would provoke outbreaks of boogaloo dancing in the House of Lords.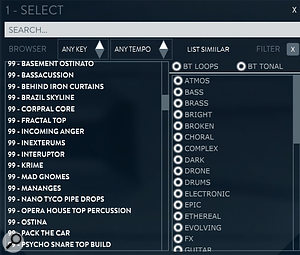 A searchable browser reduces the brain strain of locating Phobos' huge number of sources and presets.A typical example is the preset 'Block Rock Break', which contains four loops. The first is a strong pop-rock beat driven by an immense-sounding kick. Number two sounds more synthetic, with a more syncopated kick pattern; the third is a live drum break with a hyped-up, crashy snare, while the fourth is a processed, busy, high-frequency beat with a continual pronounced reverb wash. Surprisingly, reducing the latter's high-pass filter setting to zero reveals it to be a big, bassy tribal funk pattern with a dark, cavernous sound. Any one of these loops sounds great on its own, but thanks to BT's 'molecular' sample-accurate editing, they can be played simultaneously to great effect with no flams.
The mappings section allows you to create your own modulation setups, which can be applied to both sources and convolvers.Reflecting BT's successful forays into film music, many of the 840 loops he created for Phobos have a cinematic quality. That's not to say they serve up the standard menu of thunderous taiko and bass drum hits, as BT explains: "Of course you have movies where things blow up, these big, huge epic moments, but more often than not we're writing things to support dialogue, to support very subtle interaction between two characters. We want to keep the scene moving forward and the emotional integrity of what's happening, without adding something rhythmic that's so overly complex that it speaks more than what's happening visually." With that in mind, while there are plenty of banging Prodigy/electronica-style loops in Phobos, there's an equal number of subdued, quiet, percolating, pulsing rhythmic patterns, which would make ideal underscore material.
In the hybrid melodic/rhythmic department, I enjoyed the mysterious, ritualistic Seven Years In Tibet flavour of 'Dark Waters', the epic, portentous, driving drone of 'Medieval Darkness' and 'Timed In Silence', and the unsettling, subtle pulsing of 'Beaches Of Dover', all excellent movie cues in the making. Space doesn't allow an exhaustive description of Phobos's tonal material, but I've outlined a few of my personal highlights in the 'Journey Planner' box.
Phobos' advanced controls allow you to alter pan, level, envelope, start offset, pitch, speed ratio and time/pitch behaviour of the samples. Also included are two simple, extremely effective high-pass and low-pass filters.When playing Phobos, it's not immediately obvious that rhythm loops can track tempo in two different ways. The default method is that loops play at a fixed pitch regardless of which key you press, but automatically change pitch when you change tempo (an old-school technique not employed much nowadays). An alternative, more contemporary approach uses time-stretching to make the loop snap to any tempo without changing its pitch. To select the latter mode, you have to open a sound source's edit page and change the 'HQ Interp' setting to 'Time/Pitch'.
Phobos' programmable LFOs can be used to create rhythmic pulsing and (at higher frequencies) 'stutter edit' effects.Phobos doesn't have built-in effects such as reverb or distortion, but its powerful set of advanced controls justify its 'synthesizer' moniker. Clicking on a sound source's edit button opens windows containing a host of parameters, including a low-pass filter which can nicely warm up the sound. LFO modulation is also available for '80s-style, single-note pulsing synth patterns. When experimenting with these controls, my Eureka moment came when I realised that to make pitched sounds pulse rhythmically in response to convolution inputs, you have to edit their envelopes — when the envelope is set to full sustain not much happens, but when you kill the sustain and shorten the decay, magical pulsing things start to happen!
Once I figured out the interface I found Phobos pretty easy to use, though I sometimes had to squint to make out the small parameter names, shown in blue-grey over a navy blue background. Happily, the interface (which defaults to a rather dinky size on screen) can now be resized to your heart's content, so we myopic users can operate the plug-in without pressing our noses up against the screen.
As others have commented, I was surprised to find you can't save your edits as user presets inside the plug-in — you have to use your DAW's preset saving system instead. (Don't worry, it works fine.) Another minor drawback is that if you change a parameter, the factory preset name immediately vanishes from the screen, so it's best to make a mental note of what it's called before starting to mess with it!
Pigeonholing is the curse of the creative artist. No-one likes to be reduced to a stereotype, and trying to do so with a multi-discipline practitioner like BT gets you nowhere fast; calling him an 'EDM artist' or 'DJ' is hopelessly reductive, while the 'film composer' tag tells you nothing about his programming and coding skills. Similarly, Spitfire's BT Phobos defies easy categorisation; you could say it's a sound library with synthesizer capabilities or a synth powered by a huge sample library, but labelling it as simply one or the other doesn't do it justice.
Personally, whatever anyone wants to call it, I'm happy to have access to this great collection of rhythmic and textural material: a film composer's dream, and a source of endless creative fun.  
Phobos's polyconvolution feature is unique: there's nothing quite like it on the market, but if you can track down copies of BT's old EastWest Breakz From The Nu Skool and Twisted Textures sound libraries, you'll get a flavour of the prodigious programming chops and fervent sonic imagination that went into creating Phobos.
Will humans ever fly to Mars? Only time will tell, though apparently there's been a steep rise in UK applicants since the Brexit referendum. Whatever the future holds, those seeking temporary escape from the grim realities of life on the crust can take a trip to the larger of Mars' two moons in Spitfire and BT's marvellous space/time machine. Below are some of the highlights I encountered on this cosmic journey.
BT Rhythm Loops
Black Star Sea: reverberant ethnic percussion and an offbeat low drum combine in a futuristic film cue.
Boots On: instantly identifiable as BT, an excellent groove featuring intermittent mad buzzes.
Damaged: brilliant half-time trip-hop feel enlivened by shakers and tiny hi-hat-like noises.
Dark Chimes: very silly high-pitched 'snare' offbeats.
Discopunk: delightfully straight-ahead kick, snare and hi-hat beat.
Glitchethnika: classic 16th-note congas as heard in 1950s film soundtracks, but played in time.
Kick Snare Pulse 1: love the reverb on this kick.
Muster Luster: fantastic ultra-funky groove featuring more entertaining buzzy noises.
The Roller: an updated, hip version of the busy Latin perc grooves found on many early sample CDs.
Funktion, Sound Experiment, Darkuka Industrial 1, Megalomaniac: all classic BT beats.
BT Hybrid Melodic-Rhythmic
All Open Blue: an onbeat Motown groove for the 22nd century.
Awakening: light utopian percussion groove overlaid with a blissful sustained major-chord pad.
Belief In The Unknown: half time, lo-fi detuned trip-hop groove.
Call The Cops: nicely synthetic, hi-hat driven rock/pop beat.
Comunion (sic): Indian-flavoured hand percussion groove with convolved pad sound.
Expander 1: expectant, breathy 16th-note pulsing.
Moving Forward: great feel, does what it says on the tin.
BT Tonal Sounds
12 Californian Sea Lions: nice organ pedal drone.
A CS80's Last Words: mega blow-your-socks-off distorted bass racket.
Abundance: amazing huge orchestral drone.
Aggregiate: nice minor 9th chord.
All Ghosts 3: scary post-nuclear white noise blast.
Alternative Reality: Alien-style disturbing spaceship ambience.
Atonal Shmorges: blissed-out, harmonically ambiguous droney pad sound. Don't play chords with this.
Rittle Truth: great pluck sound, I just wish it had been multisampled!
The Future: beautiful, softly evolving major chord with added 2nd and 4th intervals.
A Minor Place: as above, this time a minor chord.
Spitfire Audio/Christian Henson Presets
Shank Shank Wiggle Wiggle: nice, positive groove.
Hit & Quit: Subtle, forward-motion perc-driven beat — increase sustain to hear the full effect!
BT explains Phobos' genesis: "A good six years ago, I had this crazy idea — what if you made impulse responses that had an inherent tonality to them? And further, what if these impulse responses had palindromic loops in them, and were using really interesting instruments and sound design? Then I thought, what if you made them so you could change their pitch, and what if you turned that idea into a full-blown polyphonic synthesizer, where you're using IRs and then feeding some kind of rhythmic stimulus into them?"
While the 'what if?' questions have been answered by the phenomenal sounds emerging from Phobos, some may be wondering what 'polyconvolution' is. Here's a brief explanation: in the audio world, convolution is a mathematical way of combining two signals to form a third signal. A common application is the 'convolution reverb' found in many software instruments, where a recorded sample of the reverberation of an acoustic space (called an impulse response or 'IR') is applied to an incoming audio signal in order to digitally simulate the reverb characteristics of that space.
Phobos extends the idea by (in the makers' words) "convolving one sound with one or more others to produce totally new sounds." According to Christian Henson, the 'poly' part refers to the fact that there's a different convolution engine for every voice, making it possible for convoluted sounds to track the keyboard and play polyphonically.
BT Phobos uses 21.2GB of disk space once installed, and requires Mac OS 10.10 and higher or Windows 7/8/10. Spitfire recommends 16GB of RAM and a 2.5GHz i7 quad-core processor, with a minimum requirement of 2.8GHz i5 dual core and 8GB of RAM.
Installation on Windows 7 is clunky: you have to download a designated Windows 7 installer from Spitfire's Library Manager page, run the .exe file and enter your account log-in details. A text-based 'LM Console' black screen appears, listing all the Spitfire products you own (including Phobos) by number. You then write in Phobos' number and type in the path for the folder you want to put it in (example: C:\Spitfire BT Phobos library). Press enter, and the download starts. This is all nicely demonstrated in the 'Installing BT Phobos on Windows 7' video, which you can see at https://youtu.be/DTrcZCLemEw.
If you purchase the product on hard drive, you'll need to copy the files onto your system drive before performing the above procedure — the LM Console tool recognises the data you installed, and will skip most of the download process and just install the remaining few files. Unfortunately, due to some unidentifiable Internet arse, this failed to work when I tried it, but Spitfire's excellent support team were able to sort things out. I'm told my problem is a rare one, but it does point up the need to allow sufficient time when installing a new product — don't try it in the middle of a recording session, or half an hour before you're due on stage!
Pros
Contains a huge collection of tempo-sync'ed beats and atmospheric textures created by a world-class rhythm programmer and sound design wizard.
As well as being as funky as hell, BT's loops cover moody, subtle and quiet cinematic territory.
The unique polyconvolution engine is a great, creative source of new sounds and textures.
Presets can be edited to a high degree.
Cons
Windows 7 installation is clunky.
Edited presets are stored in your DAW rather than inside Phobos.
Summary
Designed in conjunction with electronica wiz BT, Spitfire Audio's Phobos polyconvolution synth contains a huge collection of specially created loops and textures, ranging from devastatingly funky beats to dark, brooding and subtle liquid-sounding cinematic atmospheres. Its secret weapon is the polyconvolution engine, which mashes things up delightfully.