Rating: **** 4/5 Stars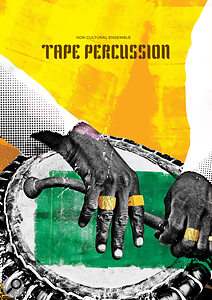 This inexpensive instrument by Spitfire is described as "Explosive Afro‑percussion meets dub and free jazz". The super simple GUI, which will be familiar to anyone who has used a Spitfire LABS library, allows limited adjustment of reverb, saturation, attack and release but also facilitates fading between dry and heavily effected versions of the sounds using the right‑most fader. The left fader adjusts the Expression (essentially volume), and a keyboard showing which keys are active is located at the bottom of the window. To the left of the keyboard is a dialogue box that shows the purpose of any currently selected control.
There are four one‑shot acoustic jazz kits, an electronic kit and six one‑shot African percussion kits for creating your own rhythms. The six percussion kits are available with the different instruments mapped to different keys in the same way as the acoustic kits. These percussion sounds are mainly West African drums, shakers, muted metal bells and so on, and as the right‑hand fader is increased, the heavily processed version of the sound is mixed in, often including dynamic filtering and/or saturation. The acoustic sounds, which are multi‑sampled, include round‑robin triggering. The raw drum kits have an earthy, jazzy feel but turn up the effects slider and they become something altogether more abstract, taking on reverb, repeat delays and radical filtering. Each kit has its own tonal character and with the effects ramped up the sounds would fit well into anything from EDM to dub.
The Kit Loops section comprises eight rhythmic loops ranging from 80 bpm to 170 bpm, but note that these loops are played at their original tempo, so if you need to repurpose them for a different tempo, it is probably best to bounce them as audio and then use your DAW's time‑stretch facilities to make them fit your track. Alternatively, Logic users could turn them into Apple Loops for future use. Usefully, you can use different keys to trigger either the full loop or the various layers from which the loop is built, where some of the parts make very effective toppers for other drum loops you may be using.
Overall this is an unusual collection of processed drum and percussion sounds which doesn't slot neatly into any single particular genre but which does have a lot to offer for the experimental musician. It also provides access to useful North African percussion sounds and loops. Nok Cultural Ensemble: Tape Percussion isn't expensive, so even if you use only a few of the sounds it will be worth the ticket price. The simple GUI also means you can keep on making music without getting bogged down in technicalities.
£29
$29