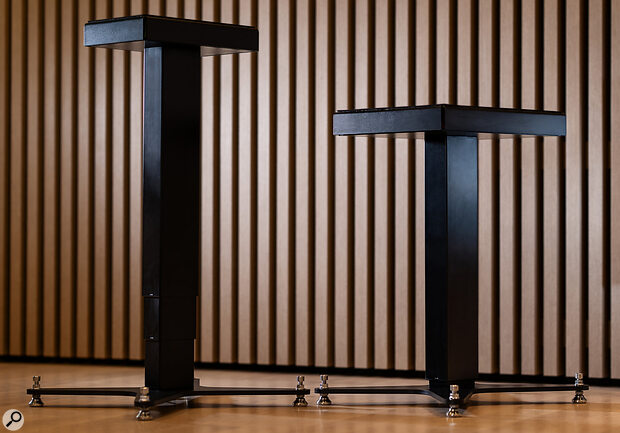 Sit/stand desks are becoming the norm in many work environments, and with these motorised speaker stands, your monitors needn't be left behind!
Studio work typically involves sitting in front of a mixing console and/or DAW for many hours at a time, but even if you use supportive chairs and get desk and screen heights exactly right, remaining seated for hours on end has never been the healthiest of lifestyles. Shockingly, it was discovered back in the 1950s that bus drivers were twice as likely to suffer a heart attack as their bus conductor colleagues who spent their working day on their feet, rather than seated! It's taken a scarily long time for modern working practices to catch up, but sit/stand desks are increasingly common in offices today, which is a good thing in my book.
In the studio environment, one obvious difficulty with a sit/stand approach is that it makes it hard to know how high up to mount the monitor speakers. Ideally, the tweeters should be at ear height, but there could be half a metre or more difference between sitting and standing. Of course, height‑adjustable speaker stands are available, but most require fiddly manual adjustment and can't be altered easily with the speakers in place. Fortunately, Space Lab Systems have an elegant solution.
Founded by Tim Crossley and Matt Schaefer of Crossley Acoustics, along with Alex Sterling of Precision Sound Studios — both being New York businesses — Space Lab Systems' first product is called LIFT: a motorised speaker stand designed by people who implicitly appreciate the requirements and expectations of the professional audio industry.
LIFT's design comprises four main parts: a heavy steel X‑shaped floor‑plate with four height‑adjustable and non‑marking articulated rubber feet; a motorised telescopic pillar; an isolation platform to support the speaker; and an electronic control pack with a wired remote‑control panel. Obviously, speaker sizes and weights vary considerably, so the LIFT is available with two different sizes of isolation platform and three different speaker load ratings. These must be specified at time of purchase, and LIFT stands can be supplied singly, as a pair, or as a triple set (for LCR applications).
Each stand ships flat‑packed in its own (heavy) box, but construction is very straightforward. Four M6 hex bolts (with 'shakeproof' locking washers) secure the 100 x 60mm pillar to the floor‑plate, and four more attach the isolation platform to the top of the pillar (through a cut‑out in the top panel). Space Lab Systems include a T‑handled hex driver to tighten everything up, and I had both stands fully assembled and working in less than 15 minutes.
The floor‑plate has an overall footprint of 390 x 440mm, but its X‑shape means that it can be tucked closely against desk frames and table legs, which makes speaker placement much easier than would have been the case with a solid rectangular base.
The isolation platform atop the pillar looks chunky at roughly 50mm high, but the construction is elegant and effective. A slightly under‑sized steel base‑plate bolts directly onto the top of the pillar, with four Sylomer foam blocks glued at its corners to support and isolate a 'top hat' made from folded steel. A neoprene pad on this top hat helps to keep the speaker in place, although there is no practical means of securing the speaker (at least, not without defeating the isolation), which will be an issue for companies with strict Health & Safety policies.
Although deceptively simple, this isolation platform was developed in partnership with AMC Mecanocaucho — respected specialists in industrial vibration control — and it is claimed to provide effective mechanical decoupling for the speaker at frequencies above the isolator's natural resonance of 8.8Hz (when loaded within the stated weight range). The heavy steel top hat plays a fundamental role in pre‑loading the Sylomer foam to ensure it remains in the optimum compression range, even with the lightest speakers.
Rather than develop their own motorised columns — a complex and costly business — Space Lab Systems have sourced the telescopic pillar, along with its controller electronics and remote‑control panel, from a Danish company called LINAK. Very well‑known for their linear actuators, LINAK's products are found in all sorts of demanding applications, both professional and domestic, including in medical benches, beds and patient lifts, professional and domestic sit/stand desks and reception counters, farming equipment, automatic solar shading, and many more besides.
In this application, the LIFT's three‑section telescopic pillar allows the speaker platform to be adjusted from 622mm at its lowest, up to 1283mm, moving at around 35mm per second. This allows the stand to move from its lowest to its highest position in about 18 seconds, so practical height adjustments are pleasingly fast.
I was slightly surprised to find that the smallest section of the telescopic pillar is at the bottom, but even at full height the column remains reassuringly stiff and stable, with minimal top‑plate movement when a lateral force is applied. This is important as you don't want the speaker rocking back and forth with every kick drum beat! Although the LIFT stand is never going to hold a speaker in space as solidly as a conventional multi‑pillared fixed stand, it's certainly much more rigid than most of the manually adjustable stands I've tried over the years, and I was perfectly happy with both its performance and rigidity in my studio setting.
I mentioned that two speaker platform sizes are available. The Small option measures 200 x 300mm, while the Large is 300 x 400mm. With the smaller platform fitted the all‑up weight of the stand is 17.1kg, and that rises to 21.9kg with the large platform.
Both platform sizes can be specified with either light, medium or heavy load ratings, the differences being accommodated by different densities and sizes of the internal Sylomer blocks. The light option covers speakers in the range of 5‑12kg, medium spans 12‑20kg, and the heavy grade copes with 20‑41kg. To make life easier Sound Lab Systems provide a configuration chart on the website which lists most nearfield and midfield studio monitor speakers along with the recommended platform options. I use Neumann KH310 monitors in my studio, and Space Lab Systems recommended the large platform with medium‑grade isolation, so that's what I've tested here.
Of course, a monitor upgrade could also require a different isolation platform size or load rating, and at the time of writing the company's web shop doesn't offer the option to purchase replacement platforms. Thankfully, I'm told that alternative platforms are available on request directly from Space Lab Systems or their distributors, so the LIFT stand will survive speaker changes, which is important considering the initial investment!
The LIFT stands are a delight to use as they make such light and convenient work of adjusting speaker heights with precision.
Stands can be levelled in situ from above using four adjustable feet with lock nuts on each floor‑plate. Without speakers on the stands, I found I could adjust and secure the feet positions using just my fingers quite easily, but an 8mm hex key and adjustable spanner would be needed to achieve the necessary torque if a speaker is loading the stand. The feet have plenty of adjustment range to cope with uneven surfaces, allowing the base to be made completely stable and speaker heights to be matched precisely.
Once levelled, the next stage is to connect everything together. A short flying lead with a latching connector emerges from the base of each pillar, and 2.1m power/control cables are provided to link the stands to the controller box. This means the monitor speakers can be placed up to roughly 4m apart, which is more than enough for any near/midfield setup. The CBD6S controller box supplied for the review is a Class 2 double‑insulated device with three latching power output sockets and a two‑pole (C18) IEC mains inlet accepting 100‑240 V AC. A standard C13 IEC mains cable (fitted with the appropriate local mains plug) was provided for connection to a wall outlet.
The wired remote‑control panel is connected to the control box via an RJ45 connector, and an angled mounting bracket is supplied to fix this panel under a desktop, if required. Six membrane switches allow the stands to be raised or lowered manually, and to store and recall three height presets, which could be used for instant access to fully down, seated position and standing position heights, for example.
With everything plugged in and power supplied to the control box, the pillar motors must first be calibrated and synchronised by pressing and holding the Down button for a few seconds until all pillars have settled. Thereafter the height can be adjusted as required, with all connected stands moving together with perfectly synchronised heights.
The LIFT stands are a delight to use, as they make such light and convenient work of adjusting speaker heights with precision. This makes them a perfect solution for speaker reviewers(!), but also for anyone who wants to work both seated and standing, or for studios where it's useful to lower nearfield monitors out of the way of the main monitors, perhaps.
From a sound point of view, the isolation platforms proved highly effective, with no obvious vibration detectable in the columns and no coloration or ringing from the stand itself. This isolation feature alone is worth a good chunk of the cost and will provide an immediate sound improvement over speakers resting on console meter bridges or desk shelves! The stereo imaging and depth were just as stable, wide, and deep as with my previous stands, and I have no qualms at all about the practical effectiveness of the LIFT stands in my studio.
The build quality can't be faulted either. The steel is laser‑cut, the fittings are high‑quality from the chromed feet to the chunky bolts, and these LIFT stands look professional and robust. Although not cheap by any means — a pair of stands costs as much as a single professional studio monitor — they offer a unique and very practical solution. And while they won't be a viable investment for everyone, Space Lab Systems' LIFT stands will undoubtedly appeal to, and be easily justified by, professional studios and anyone else who would benefit from motorised, remote‑controlled, height‑adjustable speaker stands with integral isolation platforms. I am very impressed.
Pros
Excellent build quality.
Effective isolation platforms.
Pairs or triple stands can be adjusted in perfect synchronism.
Reliable, well‑proven mechanics and electronics.
Cons
No facility for securing speakers to the isolation platform.
Expensive.
Summary
A unique, elegant, and nicely engineered range of motorised height‑adjustable speaker stands.
Information
£1649 per pair including VAT.
SX Pro +44 (0)800 6522 320
Small platform $1599, large platform $1699. Prices are per pair, excluding tax & shipping.