Full-range monitoring is all well and good, but many engineers swear by the use of a secondary 'grot box' monitor system — and for more reasons than you might think...
The vast majority of monitors we review in SOS strive to achieve fidelity: faithful reproduction of the sound that they are fed. The most commonly discussed aspect of this is frequency response; that is, the ability of the speaker to reproduce sound across the entire range of human hearing, from 20Hz to 20kHz. Why, then, would anyone want a studio monitor that is severly restricted in this regard, to the point that it sounds more like a cheap radio than a professional, full-range studio monitor?
Well, part of the reason is precisely because it sounds like a cheap radio! Studio hermits might consider it a heresy to listen to music on budget sound systems, but many music consumers will only ever hear music that way. Or to put it another way, you might be proud of that ultra-low bass drop or airy high-frequency ear candy in your mix, but if these elements become inaudible when someone's
The Auratone 5C Super Sound Cube was introduced in the '70s, and is still in common use today. Here you can see it perching on the meter bridge, between the two white-coned Yamaha NS10s. listening on a DAB radio or through a set of laptop speakers, your hours of toil might be completely lost on them. So the idea of playing your mix through a so-called 'grot box' is obviously not without merit.
But the story is in fact a little more complicated than that. 'Normal' studio monitors, of the type you probably own, achieve their full-range frequency response by having two drivers share the work: a large woofer for the low frequencies, and a small tweeter for the highs. The downfall of this approach is that getting them to work together perfectly (the idea of 'driver integration') is always a compromise. The frequency at which one driver stops working and the other starts, known as the crossover frequency, is particularly troublesome — and through a cruel twist of fate, invariably lands in the crucial mid-range, which is where most of the 'action' of a mix (vocals, guitars, keys...) resides.
All of the monitors on the next two pages get around this by quite simply having only one driver. While their disadvantage is that the driver is neither big enough to reproduce extreme lows, nor light enough to output extreme highs, such speakers provide an extremely useful 'focus' on the mid-range, allowing you to concentrate on getting the balance between the vocals and the 'main' instruments right, before you get carried away with your earth-shaking sub frequencies and bat-bothering highs.
One thing you may notice about monitors of this type is that many of them are sold singly, rather than in pairs. A lot of engineers opt to use just one single-driver speaker for mix referencing, rather than two, and for good reason. We often extol the virtues of checking your mixes for mono compatibility (of which more later), but there is in fact a difference between listening to a mono signal over stereo speakers, and listening to a single speaker. The way in which the sound from two spaced speakers interacts causes a significant bass boost, thus compromising your monitoring integrity. With all your music coming from just one, however, this effect is negated.
One of the big advantages to monitoring in mono is that the artificial sense of separation that can be achieved with panning is thrown out of the equation. By way of illustration, imagine you're mixing a track with two guitars. If you pan them to either side of the mix, they will become quite distinct, and it will be easy to pick out which guitar is playing which notes. If that track then gets collapsed to mono — a not-uncommon occurrence, given the prevalence of mono laptop speakers, DAB radios, televisions and so on — the spatial separation you've created with panning will be lost, and you could conceivably end up with your two guitar parts fighting for space and creating a mid-range mush in the process. By building up your mix in mono to start with, you'll ensure that all the elements have their own space across the frequency spectrum — and once you've got that aspect nailed, you can start having fun with your stereo panorama.
Arguably the archetypal 'grot box' speaker is the Auratone 5C Super Sound Cube. About as simple as it's possible for a speaker to be, this innocuous little cube can still be seen gracing countless mixing-console meter bridges to this day. Although the driver technology is getting pretty long in the tooth compared to most of the speakers overleaf, the principle is exactly the same. Long discontinued, Auratone 5Cs can still be found second-hand, and a new Limited Edition version is in the works from a 'revitalised' Auratone Pro Audio (www.auratoneproaudio.com). Watch this space!
A secondary set of 'grot box' monitors can be invaluable in making sure your mixes translate well to a range of systems. Here's our selection of current models, with links to the SOS review where available.
Although they now make a range of very respectable microphones, Avantone's first entry to the pages of SOS was with their passive MixCube single-driver speaker. The MixCube Active is, in essence, the same monitor, but with a built-in 60W Class-AB amplifier. Construction is of MDF, with an attractive gloss finish, and they're available in either cream or black. In our review, we praised their more hi-fi sound compared with that of the original Auratone, their minimal distortion and fast transient response.
Avantone Active MixCube
Hand-made in the UK, using Sapele wood cabinets, it's probably fair to say that these are the classiest-looking speakers here! They are passive, presenting a nominal 8Ω impedance, and so require a separate amplifier, though their makers say they can be powered from pretty much anything between an old hi-fi and a Bryston. In our review, we praised them for their excellent clarity in the mid-range, and their extremely low distortion.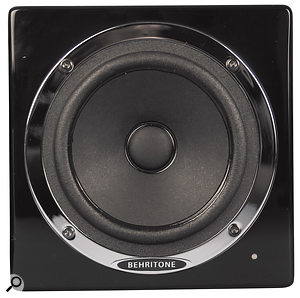 Behringer C50A
Powered by a 30W, Class-D amplifier, the C50A is the more 'hi-fi' of Behringer's single-driver speakers (the C5A, by contrast, has a more limited frequency response and is intended to perform more like the original Auratone). Complete with XLR, jack and RCA inputs, the C50A also has a threaded hole in the base, which allows you to set it on top of a microphone stand.
Canford Audio Diecast
Like the Littlepapercones, the Triple P Pyramids are passive, and so require a separate amplifier (an impedance of 8Ω is presented to the amp). Their 110 x 50mm driver is built into a sealed acrylic cabinet, and they connect with the outside world via 4mm banana plugs. In our review, we found them to be a valuable mix-checking tool, especially where the mid-range requires attention.
Fostex 6301B
Specified with a 90Hz to 13kHz frequency response, the Diecast speaker couldn't be much simpler. Its cabinet is of aluminium construction, its cone of paper, and other than its XLR input and front-panel volume control, there's little else going on! Usefully, though, Canford Audio make a range of brackets to allow it to be mounted on to walls, and for those whose workspaces feature lots of rackmount gear, Diecasts can optionally be mounted into a 3U rack frame, either singly or in stereo pairs.
Littlepapercones
Constructed from cast aluminium, these active speakers feature a 10cm driver powered by a 10W RMS amplifier. Their frequency response is quoted as 80Hz to 13kHz, and they usefully present their on switch and volume control on the front, for ease of access. The 6301B is also available in BX and BD versions, which feature an analogue XLR input and a digital AES3 input, respectively.
Triple P Pyramid
Avantone Active MixCube
Review: http://sosm.ag/mixcube
£425 (pair)
SCV London +44 (0)330 122 2500
Behringer C50A
Review: http://sosm.ag/c5ac50a
£94.99 (single)
The Music Group +49 2154 9206 4149
Canford Audio Diecast
£222.84 (single)
Canford Audio +44 (0)191 418 1122
Fostex 6301B
£180 (single)
SCV London +44 (0)330 122 2500
Littlepapercones
Review: http://sosm.ag/papercones
£162 (single)
Littlepapercones +44 (0)20 3441 5120
Triple P Pyramid
Review: http://sosm.ag/tppyramids
£255.31 (pair)
DACS Audio +44 (0)1914 382500
All prices include VAT.
Avantone Active MixCube
Review: http://sosm.ag/mixcube
$469 (pair)
Avantone Pro +1 845 642 3697
Behringer C50A
Review: http://sosm.ag/c5ac50a
$129.99 (single)
The Music Group +1 425 672 0816
Canford Audio Diecast
$367.87 (single)
Canford Audio +44 (0)191 418 1133
Fostex 6301B
$249 (single)
American Music & Sound +1 800 431 2609
Littlepapercones
Review: http://sosm.ag/papercones
$326.42 (single)
Littlepapercones +44 (0)20 3441 5120
Triple P Pyramid
Review: http://sosm.ag/tppyramids
$299 (pair)