The biggest name in studio consoles have announced their first mixer designed exclusively for the stage. We took a trip to SSL's factory in Oxford to see what the fuss was about...
Founded in 1969, SSL are now established as world leaders in music, post-production and broadcast consoles, both analogue and digital — so it has always been a question of when, not if, SSL would dip their toe in the live-sound market. Even so, the announcement of the SSL Live at Frankfurt's Musikmesse caught many unawares. Developed in what appears to have been total secrecy, it created, for many, the biggest buzz of the show, drawing crowds of onlookers waiting to catch a glimpse of this strange new beast.
This Summer, I took a trip to SSL's demo studios, next door to their factory in Oxford, to get an advance preview of this brand-new console. So what have they given us? Well, to start with, the figures are impressive: this is a flagship desk with the features to match. Up to 976 inputs and outputs are available, configurable as 192 audio 'paths' all running at 96kHz using SSL's new Tempest 64-bit DSP platform. Paths define the desk's routing, and can be used for channels, auxiliaries, stems or buses. Of the 192 audio paths available, 144 have full processing capabilities and 48 have more restricted controls, and are for use when EQ or dynamics are not required. All the processing is built into the console, as is a variable amount of I/O.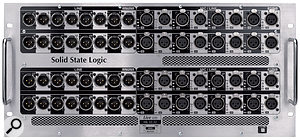 The range of SSL Live I/O stageboxes includes the ML3232 (top), the D3232 (middle) and the MADI Concentrator (bottom).
Connectivity is based on a combination of digital and analogue I/O, and the desk can be equipped with various local I/O configurations. The standard analogue configuration includes 14 mic/line ins, two talkback inputs, 12 line outs and four headphone/monitor outs, with space to add an extra 16 analogue inputs and outputs. The basic AES/EBU option provides four AES3 inputs and outputs (expandable to eight pairs), while the standard MADI option comprises two pairs of coaxial MADI connectors (expandable to four) and two pairs of optical sockets, all of which are duplicated for redundancy. They can also be run individually, if redundancy isn't needed, making up to 12 independent MADI connections, while an extra optical MADI socket is intended for connecting digital effects.
For larger systems, the desk can be fitted with I/O cards that use SSL's proprietary Blacklight II protocol, which can carry 256 channels at 96kHz — the equivalent of eight MADI connections. This uses a single multimode fibre to transfer the data to and from SSL's MADI Concentrator box (normally located on stage), which can then distribute signals to a second SSL Live console, or other MADI devices. When two consoles are sharing a single input, one can be nominated as the master gain controller.
With consoles such as this, the stagebox systems and interfaces are vital. These come in the form of the ML3232, a 32-preamp, 32-line-out 6U rack; the D3232 AES/EBU stagebox, which has 16 stereo AES3 inputs and outputs (for 32 I/O); and the aforementioned MADI Concentrator, which has a redundant pair of Blacklight II sockets (expandable to two pairs) on the front, and eight redundant pairs of MADI coaxial sockets (expandable to 16). The ML3232 can be upgraded with an analogue split card for duplicated analogue outputs from all its preamps, and both the ML3232 and D3232 have additional MADI outputs for sending audio to a second SSL Live console. The analogue side of things, in both the ML3232 and the local I/O, is based on SSL's popular 'SuperAnalogue' circuitry, with 24-bit/96kHz A-D/D-A conversion taking place throughout.
Construction-wise, there is a certain weight to the desk — a toughness to the chassis that gives you confidence. This is a desk that has a good degree of metal work! And while it isn't a small desk, it is reasonably compact, so should satisfy the demands of production managers wanting to save space, whilst providing a large enough control surface for most engineers.
As standard, the desk comes with two 12-channel fader control banks (known as Tiles): one to the lower left and one in the centre, but with the option to add another one to the upper left beside the central touch screen — and this is the 36-fader version that I saw. All the faders are 100mm, motorised, touch-sensitive types, and the Tiles can be set up as layers, with five vertical banks each. To the right of the lower-central fader section is a nominal master output and control section. A large 19-inch touchscreen sits in the centre of the desk, and to the right of this is a smaller touchscreen, surrounded by a series of switches and encoders. There is also the option to connect a third external screen, which gives you an overview of all the input and output routing, as well as channel level and any clipping.
On first appearances the desk seemed logical and reasonably uncluttered, and it was obvious to me straight away how some of the sections worked. Around the smaller screen a selection of buttons and encoders clearly made this area a dedicated channel-strip section. From here, access to dynamics and equalisation was easy and straightforward. However, as with most digital desks, the Live offers the ability to do the same thing in different ways, and I was soon able to drive the desk entirely from the central section quite easily.
Both touchscreens were easy and fast to use. As the owner of a touchscreen phone I am more than familiar with swiping, pinching, tapping and dragging visual images. Using these increasingly popular techniques it is possible to choose and boost EQ frequencies, control filter Qs, and turn features off and on.
A good deal of time and care has obviously been spent on making the desk 'feel' right. I particularly liked the way the encoders behaved, where there was a good deal of control available in the first few moves of the knob. So often, digital desks can feel unresponsive. For example, when you boost an EQ band you usually want to do so in a very logarithmic way, adding a bit of EQ gradually, with a good deal of nuance. With some desks it can feel almost impossible without some kind of visual feedback to know how much you are adding, but with this desk it was a lot more intuitive and I felt much more in control.
The desk layout is incredibly flexible, with the fader banks being totally assignable. Channels can be placed where you need them on the surface, and you can place an input channel next to an output, next to an auxiliary in virtually any combination you desire.
One feature I found incredibly handy is called Spill, which enables the individual channels feeding a stereo bus to be folded away under a single fader. If you need access to them, pressing Spill will lay them out across the adjacent faders, and they can then be folded back when you have made adjustments. This gives you a fast and easy way to access, say, a set of keyboard channels, or some toms, whilst minimising the number of faders used on the surface during the show.
SSL have adopted a system called Stem groups, which function in a similar way to analogue sub groups, but which have all the routing, EQ and dynamic processing of a channel. This allows you to group drums and apply overall compression or EQ, as well as to send groups out to auxiliaries from just one place. Dry stems are available too, which use up less processing.
The desk also offers the more traditional VCA-style control. Channels can be assigned to multiple VCAs, of which there are a generous 36. There are also 10 mute groups which have dedicated buttons in the master section (or Tile). It is worth pointing out at this point that all outputs and groups can be set as mono, stereo or LCR, so the desk is ideal for theatrical work where left/centre/right outputs are needed.
Next to each fader, along with the solo and mute buttons, is a button marked mysteriously with a 'Q'. This is a great button! The Q stands for Query, and selecting it shows you everything that is routed to or from that fader — a great timesaver, and incredibly useful when you are trying to work out why you can't hear a channel over the PA and realise it is because you forgot to assign it to stereo out! Each channel also has a Select button to bring it up for on-screen editing, along with a 14-segment level meter, and five-segment compression and gate meters for each fader.
The desk can be configured with a wide range of analogue and digital I/O options.
As mentioned, 144 of the audio paths have full four-band parametric EQ, which is switchable between constant-Q mode and an 'SSL Legacy' mode, offering the classic SSL analogue sound. There are high- and low-pass filters with selectable slopes, an SSL compressor, an expander/gate and a delay line, plus two insert points that can be slotted in at any point on the channel strip. The console is able to change the order of processing blocks in real time, giving you the chance to place compressors pre or post EQ or auxiliaries, for example.
As you'd expect, the desk comes with a host of built in plug-ins based on those of previous digital SSL consoles, as well as the Duende range. SSL have successfully modelled many aspects of their hardware range, including their analogue EQ, famous bus compressor and even their analogue desks' listen-mic compressor. All of these are available alongside the built-in EQ and dynamics.
Other effects available include a harmonic saturator, de-esser, dynamic EQ, transient shaper, various delays, modulation effects and four reverb algorithms based on the popular X-Verb plug-in. One unusual processing feature is Dialogue Automix. This powerful tool allows an engineer to assign up to 12 mics to the plug-in, with Automix then making fast, virtually transparent fades between them in response to the incoming signal. Used in broadcast to help switch between different presenters whilst minimising off-mic noise, its potential in live work is huge. The algorithm maintains unity across the mic group whilst keeping the sound smoothly balanced, and channels can be given extra weight so they can be favoured more. I can think of numerous situations where this automatic pair of helping hands would be a boon, such as reducing spill between backing vocals and keeping them under the lead vocal level when all are singing.
Built-in noise generation, a precision SPL meter and FFT analysis are also present and, usefully, every channel has its own phase-adjustment tool. This uses first- and second-order all-pass filters to shift phase at any point over 360 degrees. This gives much greater control than the more common polarity-reverse switch, and to have this on every fully featured path is a winner for me!
There are, of course, many features of the desk that I did not have time to explore, but I was pleased to find that all of my questions were answered positively. Can I lock off channel gains and phantom power to not change on a recall? Can I easily update settings across multiple scenes? Is there a big screen to show me what I was locking off and what would change? All affirmative! More importantly, though: do I feel I could mix a show on the desk next time I saw it? Yes. Would I be confident? Well... reasonably! Looking around at the current market, SSL seem to have taken the best of many of their competitors' ideas and incorporated them in a console that also builds on the hard work that has been done in the past with their other digital consoles.
Admittedly, it's unlikely that many SOS readers will be able to afford to buy this desk for themselves — the SSL Live is expected to cost between £48,000$84,000 and £75,000$130,000, depending on the configuration. However, live consoles of this calibre are not normally bought by engineers, but by rental companies, usually because engineers request to hire them. These requests come as a result of having tried them at a show, or having heard about them from fellow engineers, and if a console becomes popular, such as Yamaha's PM5D, it gets bought in large numbers, often spawning a whole range of other consoles at a cheaper price. Without the development of the original flagship PM1D, for example, we would have no PM5D, no M7CL, no LS9, and so on. Will the SSL Live form the start of a similar range? Only time will tell!