The Cubasis workflow is very similar under Android to that found under iOS.
Can Steinberg recreate the Cubasis DAW experience on Android?
Whatever the relative merits of iOS and Android in other contexts, when it comes to mobile music creation, iOS has an undoubted lead. With sole control over both hardware and software, Apple have created a consistent development environment with strong support for audio and MIDI. For app developers this is a big deal and, as a consequence, the Apple App Store is well populated with music apps compared to the Google Play Store.
All of which perhaps makes it surprising that Steinberg have decided to take the plunge with Android and released Cubasis 3.1 on to the Google Play Store. Under iOS, Cubasis brings a very familiar desktop-style workflow to your mobile device. So how does Cubasis 3.1 for Android stack up against its very successful iOS sibling?
Well, let's start by saying that, with a couple of notable (and beyond Steinberg's control) exceptions that I'll come to in a minute, this is pretty much a full port of the latest Cubasis 3.1 iOS version. That means you get the same slick UI design, a well-featured audio+MIDI recording and editing environment, a very solid mixer, a modest (but very usable) collection of virtual instrument sounds, and a suite of bundled corrective and creative effects processing options. You also have access to a number of the in-app purchase options that can expand the effects and virtual instrument capabilities if you wish to.
There are perhaps two obvious gotchas. First, Android does not currently include equivalent technologies to Inter-App Audio (IAA) or Audio Units (AUv3) plug‑ins. As such, like other Android music apps, Cubasis for Android is very much its own world; there is no third-party plug‑in support. Second, while you can connect external audio and MIDI hardware to an Android device — for example, using an On The Go (OTG) USB cable — given the hugely diverse nature of Android hardware, it's very difficult to predict what might or might not work. It's also worth noting that (sensibly at this stage) Steinberg have confined Cubasis for Android to a 2-in/2-out configuration.
The software requires Android 8.0 or later and a device with 64-bit CPU supporting arm64-v8a ABI. I tested on a fairly modest Huawei P10 and, for what it's worth, it was mostly a positive experience. Within the app, I found the workflow very similar to my iOS system. MicroSonic, Micrologue and the MiniSampler instruments are all included, as are Steinberg's very efficient suite of audio processors. However, without access to some top-end third-party effects and instrument plug‑ins (and iOS has an abundance of them), Steinberg's own additional instrument and effects IAPs are well worth adding.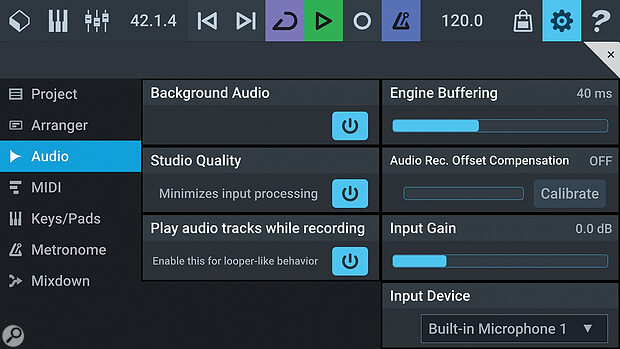 The Settings options include ways to optimise your audio/MIDI performance but using external hardware may remain a challenge under Android for some users.
Used with my Android device's internal audio, performance was actually pretty good. I was able to do the usual playback of my multitrack project, record basic audio via the internal microphone and play in MIDI parts using Cubasis's virtual keyboard. As a means of creating rough musical sketches while on the move, this is a well-featured environment within which to work. Attempting to use an external audio/MIDI interface connected via OTG USB proved less satisfying, despite the fact it was a Steinberg device (a UR22 MkII). Audio out and MIDI in worked well enough but I could not seem to get Cubasis to identify the two audio inputs. An older Focusrite interface also proved problematic.
Hats off to Steinberg for taking the Android plunge; here's hoping that the Android experience eventually becomes as impressive as that already possible under iOS.
I'm totally sympathetic to Steinberg's position here; Android seems to be a good distance behind iOS in audio/MIDI terms. However, this is clearly a problem for potential users who would like to fully capitalise on the potential Cubasis offers as a serious recording, editing and mixing platform. Steinberg have suggested that a free Cubasis LE version (as available for iOS) may appear at some stage so users can try before they buy; this would make a lot of sense under Android, so fingers crossed it happens. Until then, users may have to take a bit of a shot in the dark if they want to use Cubasis for Android with external hardware.
Over time, I'm sure early adopter experiences will help identify hardware configurations that work consistently, and this will undoubtedly help. That said, if you are prepared — initially at least — to treat Cubasis as a powerful standalone musical sketchpad for your Android-based mobile music-making, you will still be able to get some great things done. Hats off to Steinberg for taking the Android plunge; here's hoping that the Android experience eventually becomes as impressive as that already possible under iOS.
Pros
Slick Cubasis workflow carried over from iOS version.
Excellent range of features for capturing song ideas.
Useful additional instrument and effects options available via IAP.
Cons
No third-party plug‑in support under Android.
Audio and MIDI hardware compatibility may be a challenge.
Currently no Cubasis LE version available.
Summary
Bringing Cubasis to Android is a brave move by Steinberg. It's a great, self-contained, environment for mobile music creation, but audio/MIDI hardware compatibility for Android users is currently less predictable than under iOS.