Firewire Audio Interface (Mac/PC)
The Phase 88 Rack, in both PCI and Firewire variants, offers eight analogue ins and outs at a highly affordable price.Photo: Mark Ewing
Terratec's range of affordable audio interfaces now includes two attractive Firewire options: the eight-in/out Phase 88 Rack FW and the two-in/four-out Phase 24 FW.
Terratec's Phase product line aims to offer professional features at bargain prices, and with the introduction of the Phase 88 Rack under review here, it now encompasses PCI, Firewire and USB formats. It offers the popular arrangement of eight analogue inputs and eight analogue outputs, plus a healthy complement of digital I/O, all for a very competitive £360.
Although it's based on the Phase 88 card I reviewed in SOS April 2004, this time round the I/O is housed in a very professional-looking rack module rather than a desktop or drive-bay-mounted breakout box, and it also offers new features, such as balanced analogue inputs and outputs, gain controls for all eight inputs, two mic preamps, two MIDI inputs and outputs instead of one, plus the addition of word clock in and out. For just £60 more than the retail price of the Phase 88, this seems excellent value for money — and for those who don't need so much I/O, Terratec also offer the even more affordable Phase 24 FW (see box later).
Hopefully, not too many musicians will get confused between the existing Phase 88 and the new Phase 88 Rack, but things get more complicated: the Phase 88 Rack is itself available in two different models, which outwardly look almost identical. The packaging simply states 'Alternative PCI or Firewire interface', but you don't get both options in the same box — whereas the rack unit of the PCI version has a D-type connector on the back panel and is bundled with the associated Phase 88 PCI card interface, the Phase 88 Rack FW sports two Firewire connectors and a front-panel Firewire logo.
If you buy the PCI version you can retrofit Terratec's optional Firewire interface (and vice versa according to the manual), but the box I received showed no indication of which model it contained. There are quite a number of differences between the two, as I'll explain.
The PCI version has drivers that support Windows 98SE, Me, 2000, XP and Mac OS X Core Audio/MIDI, and its S/PDIF I/O is provided in co-axial format on the PCI card. This card is identical to the one bundled with the original Phase 88 model, which means that you can internally synchronise the Phase 88 Rack PCI with other Terratec products including the Phase 88 and EWS 88MT/D and EWS Mic 2/8, using the on-card Sync In and Out connectors. The PCI drivers support up to four cards, so you can achieve up to 40 simultaneous audio inputs and outputs. However, if you want to switch between word clock or S/PDIF external clock, you have to do it using a jumper on the PCI card — not much fun once it's fitted inside your computer!
With a comprehensive monitor mixer, clear display of clock settings, and software switching of mic/line input sensitivity, the Terratec Control Panel provides comprehensive control over the Rack FW.Photo: Mark Ewing
Meanwhile, the Firewire version only supports Windows XP SP1 and higher or Mac OS 10.3.4 or higher, cannot at present be cascaded to expand the I/O totals, and loses the card's co-axial S/PDIF I/O in favour of a pair of optical Toslink connectors on the rack's rear panel. This time you can freely switch between word clock and S/PDIF clock using the Control Panel utility. Finally, if you power up the unit without a Firewire connection, the Rack FW version can be used as a stand-alone A-D/D-A converter box, and you can even alter its digital mixer settings in real time using MIDI controller data, instead of using the software Control Panel.
We received the Firewire version of the Phase 88 Rack for review, although as I noted, there was nothing on the box to indicate which version was inside. It was bundled with a generous four-metre-long six-pin to six-pin Firewire cable, a four-pin to six-pin adaptor for laptop use, and associated 12V AC wall-wart power supply — like many others, this interface can't be powered from the Firewire buss.
The front panel contains a pair of XLR mic input sockets, a pair of five-pin DIN MIDI In and Out sockets, eight input gain controls with associated signal and clipping LEDs, a button providing global 48V phantom power for the mic inputs, and an LED power indicator. The rear panel houses 16 quarter-inch jack sockets for unbalanced/balanced operation of the eight line inputs and outputs, the second MIDI In and Out, S/PDIF optical in and out, a 15-pin connector for the supplied word clock breakout cable which terminates in a pair of BNC sockets, the PSU input socket, and the interface panel, which is different for FW and PCI versions.
On the Firewire review model this panel houses an identical pair of Firewire sockets, plus four LEDs to indicate successful IEEE 1394 communication, word clock selected, external clock sync (from S/PDIF or word clock), and valid sync. My only layout quibble is that these indicators would be much better placed on the front panel; thankfully, the software utility displays successful sync each time you change sample rate, which does provide reasonable feedback.
Photo: Mark EwingAlong with the Phase 88 Rack FW described in the main text, Terratec also sent their Phase 24 FW, a compact interface with a single pair of balanced analogue inputs and outputs on the back panel, plus S/PDIF co-axial in and out, single MIDI In and Out, and a further unbalanced stereo output on the front panel with thumbwheel level control, which can either be used for headphones or another stereo line output.
It's housed in an attractive and robust metal case and bundled with its own Velcro-sealed carry-case. Unlike its stablemate, the Phase 24 FW can be powered from the Firewire buss, but a 9V AC wall-wart is also supplied for those whose computers only offer four-pin Firewire ports.
Unlike the Phase 88 Rack FW, the 24 FW's converters support higher sample rates up to 192kHz, and it provides a typical 109dBA signal-to-noise ratio for its A-D converters — 9dB quieter than the Rack — and 111dBA for the D-A converters, again slightly better than its big brother. Its drivers are also totally different, although they too support only Windows XP SP1 or Mac OS 10.3.4 or later. The Control Panel provides a useful relay-switched low/mid/high sensitivity option for the inputs to cope with different signal levels, and a similar range of monitor mixer settings to its bigger brother.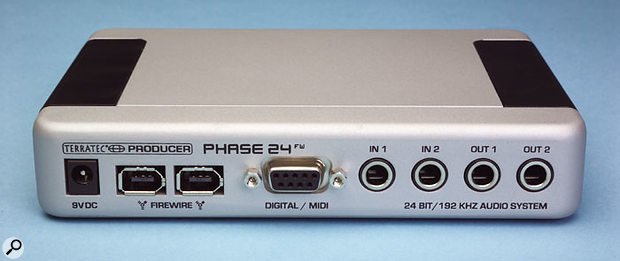 Unlike its larger brother, the Phase 24 FW can be powered from the Firewire buss.Photo: Mark Ewing
I confirmed the 109dBA dynamic range at 44.1kHz sample rate using Rightmark's Audio Analyser, and as expected, this dropped slightly to 103dBA at 96kHz and 101dBA at 192kHz, although the analogue bandwidth didn't extend at all at these higher rates, with a -0.5dB point just above 20kHz in each case. Nevertheless, my usual double-blind listening tests against my own Emu 1820M and Echo Mia soon showed that once again the Emu's low-jitter clock provide the most focused and warm sound, closely followed by the Phase 24 (giving it similar audio quality to the 192kHz-capable converters of both M Audio's Audiophile 192 and ESI's Julia), with the Mia slightly behind with a touch of harshness from its its AK4528 converters.
Driver quality seemed good too: as with the Phase 88 Rack FW I managed a 2.2ms ASIO latency in Cubase SX 3, while the GSIF driver once again worked faultlessly, even when I allocated the same pair of outputs to each application. The MME-WDM drivers were again multi-channel, but performed well. Overall, I was impressed with this robust and straightforward interface, which provides excellent audio quality for the price, and as many ins and outs as many musicians will ever need for either a desktop or laptop setup. It looks good, sounds good, and is easy on the pocket — what more could you ask?
As usual, I installed the drivers for Windows XP, and for the first time ever found that the manufacturer had supplied me with a CD-R containing drivers newer than those on the web site. Terratec are unusual in providing their GSIF drivers for Gigastudio owners as a separate install option, but I had no problems getting the MME-WDM, ASIO and GSIF drivers installed, along with the associated Control Panel utility.
Although the software installation appeared to be successful, the review unit initially refused to record or play back any audio at all. After much investigation I eventually traced the problem to a bad connection between the circuit boards, which was resolved by re-seating the digital board into the main circuit board. Terratec subsequently confirmed that this was due to a design flaw in early production units, which they have now solved by adding an additional bracket inside the case. If you find that your unit is affected by this problem, contact your country's Terratec distributor and they will replace it with a new one, free of charge. I also encountered some hum on analogue input one — not enough to be audible at normal listening levels, but significantly worse than the other seven inputs. This might have been a fault specific to the review unit, but shouldn't happen.
Opening the case did let me confirm that the Phase 88 Rack uses the same AK4524 converters as its EWS88MT and Phase 88 predecessors. The Control Panel of the Phase 88 Rack is likewise almost identical to that of the Phase 88, apart from extra options to switch inputs 7/8 between the rear-panel Line sockets and the front-panel Mic sockets. However, for the Firewire series Terratec have streamlined various features.
The largest area is devoted to the Digital Mixer, used for monitoring purposes, with level sliders, mute and stereo link buttons for the eight analogue inputs, the stereo digital input (greyed out until a valid signal is detected), and for any two of the eight analogue or two digital WAV playback channels. These signals are mixed together and then sent to the Master section, which has its own master fader, mute and stereo link buttons, while its routing selector lets you decide where the stereo output of the mixer is routed, chosen from the four stereo pairs of analogue outputs, the stereo digital output, or 'Mixer Off', which leaves all physical outputs routed by default to the appropriate WAV playback channel.
The Phase 88 Rack becomes a Firewire device thanks to the inclusion of an interface board with two Firewire sockets and some sync LEDs.Photo: Mark Ewing
The peak-reading level meters of the Phase 88 and Phase 88 Rack PCI are omitted on the Firewire rack version, as are the multi-card selections, both presumably because of bandwidth considerations. The Master Clock section provides a useful extra S/PDIF Detection indicator, but its Internal/External, sample rate, and external clock rate detection displays are almost identical.
Terratec's previous EWS 88MT and Phase 88 have suffered from ground-loop problems in some setups, and one of the benefits of the Phase 88 Rack's fully balanced analogue I/O is that for those with compatible gear, most ground-loop problems disappear. I certainly found it quiet and relatively clean, and despite using exactly the same converters, the Phase 88 Rack FW managed a dynamic range of 100dBA at 24-bit/44.1kHz, exactly in line with the manufacturer's spec, and 4dB better than the Phase 88. At 96kHz both models had slightly worse background noise levels of 99dBA, but the dynamic range of the Rack model dropped to 93dBA due to the presence of a crop of low-level spectral lines above 1kHz. Its 96kHz frequency response was also -0.5dB down at 20kHz compared with the 44kHz of the Phase 88, although at the low end it was more extended, being only -0.2dB down at 4Hz. Stereo crosstalk figures for the Rack model measured about 4dB better, although 50Hz hum levels were about 8dB higher — not that this will usually be audible.
So how did it sound in subjective terms? My double-blind listening tests of the Phase 88 Rack FW against my own Emu 1820M and Echo Mia cards produced some interesting findings. I consistently picked out the Phase 88 Rack as having the warmest sound, possibly because its frequency response is the most extended at the low end, albeit by only 0.05dB at 20Hz. I could also pick out the slight harshness of the Mia, and the most natural sound of the Emu. Overall, the Emu came out on top yet again — as you might expect, given its more expensive converters and low-jitter clock — but I preferred the warm yet clear sound of the Phase 88 Rack to the Mia, even though the latter has a significantly better dynamic range. Technical specs don't always provide the final word.
I had no problems using the mic inputs, although there's a hefty click when you switch between mic/line sensitivity using the Control Panel, so turn your monitors down first. The S/PDIF and MIDI I/O also worked fine. Driver quality seemed good too — I didn't quite achieve the lowest available ASIO latency setting of 2.0ms on my PC when running Cubase SX 3, but did manage a very close 2.2ms, and the GSIF driver also worked faultlessly with Gigastudio, even when I allocated the same pair of outputs to each application.
The MME-WDM drivers are multi-channel, like those of many recent interfaces. This makes them more difficult to use with applications that prefer their drivers to show up as multiple stereo pairs, but they managed a very typical 45ms Play Ahead setting in NI's Pro 53, while the Direct Sound drivers achieved a better than average 25ms. Sonar 's lowest successful Effective Latency with the WDM drivers proved to be a reasonably good 10.2ms, but in ASIO mode I once again achieved 2.2ms.
Sample rates: 32, 44.1, 48, 88.2 and 96 kHz from internal clock.
Analogue inputs: eight, balanced/unbalanced TRS quarter-inch jack, 33dB gain range, inputs 7 and 8 switchable to balanced mic sensitivity on XLR sockets, with optional global +48V phantom power.
Analogue outputs: eight, balanced/unbalanced TRS quarter-inch jack.
Digital I/O: S/PDIF in and out on Toslink optical (FW model) or phono co-axial (PCI model), word clock in and out, two MIDI Ins and Outs.
A-D converters: 24-bit 64x oversampling (part of AK4524 codec chip).
Input SNR: 100dBA typical at 48kHz sample rate.
D-A converters: 24-bit 128x oversampling (part of AK4524 codec chip).
Output SNR: 109dBA typical at 48kHz sample rate.
Frequency response: not stated.
Terratec always seem to provide great value for money with their products, although sometimes the clever shortcuts they take to keep their prices keen can end up being confusing to the user. I was, for instance, a little puzzled about the differences between the PCI and Firewire variants, and slightly concerned by the problems I had getting the review model to work. Nevertheless, the Phase 88 Rack FW provides good subjective audio quality, even though its AKM 4524 converters are outclassed by many more recent designs (including its cheaper Phase 24 stablemate!), and £360 is an excellent retail price for an eight-in/eight-out analogue product.
If you're prepared to pay a little more, you could consider the greater number of inputs provided by Guillemot's Hercules 1612 FW or the ADAT expansion potential of M-Audio's Firewire 1814, but the closest competitor to the Phase 88 Rack FW must be Edirol's FA101, now selling on the street at around the same price. It also offers fully balanced analogue I/O with two mic input options, but in its favour one of these can be switched to high-impedance instrument mode for use with guitars; it also has an additional headphone output, supports 192kHz sample rate, can be powered from the Firewire buss, and its case is half the size, making it more suitable for location work. On the other hand, the Phase 88 Rack FW offers twice as many MIDI inputs and outputs, handy individual level controls on each analogue input, and it looks more impressive when mounted in a rack! Only you can decide which feature set is more appropriate to your needs — Terratec have just made your final choice just that little bit more difficult.
Pros
Excellent value for money.
Individual gain controls on every input.
Good subjective audio quality, particularly at 24-bit/44.1kHz.
Cons
Relatively poor 96kHz performance.
Hum on analogue input channel one.
Confusing list of differences between the Firewire and PCI versions.
Summary
While I have a couple of reservations about the audio quality of the Phase 88 Rack FW, it certainly provides excellent value for money, and I suspect it will sell and sell.
information
Phase 88 Rack FW £360; Phase 24 FW £165. Prices include VAT.
SCV London +44 (0)20 8418 1470.
+44 (0)20 8418 0624.